Author: bill November 28, 2021, Updated: December 4, 2021
No matter how many cruises I take, the final day is always a struggle.  On one hand, I want to do it all, filling in all the experiential gaps.  On the other hand, I want to do as little as possible and just absorb every moment in the hope it will slow down time.  On this sailing, I did the latter, but still managed to pack in a few new things.  In this final day's post, I'll share a couple things we did, but also, share some observations from our first Princess Cruises experience.
A Magical Morning
The weather for this cruise has been mixed, varying by day and hour.  This morning I woke up, though, to clear skies and smooth seas - the smoothest of the cruise, in fact.  I had breakfast at the World Fresh Marketplace buffet (the longest restaurant name in the industry, I suspect), and sat by a window to take it in.  In hindsight, I should have walked just aft and enjoyed my breakfast at the Wake View pool, as I did some days.  Such great views there - make sure you don't miss it.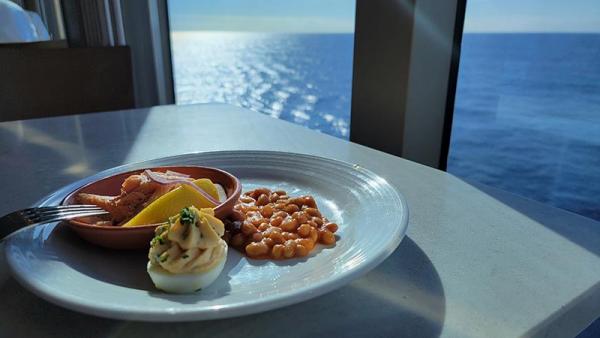 Gauging Crowd Levels While Filming
I needed to spend a little time filming the ship for future projects, so I started going deck by deck.  Being a sea day, this gave me a good opportunity to see where the action was, and how the ship was handling a day where every guest was on board, and likely, eager to be out and about taking in the last day.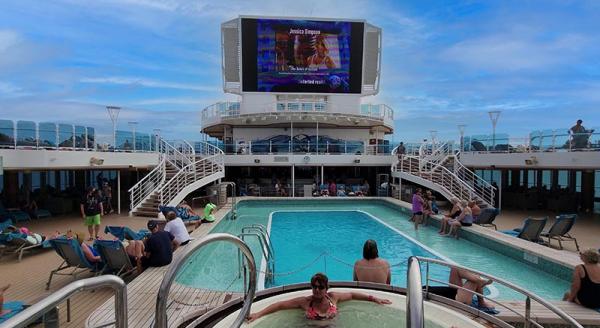 There are 2,027 guests on this sailing, and the ship can accommodate 3,660, which comes out to 55% occupancy.  This is important to keep in mind on any of the sailings this year, as you don't want to get the wrong impression about how the ship will handle things under "normal" circumstances.  If I imagine twice the number of guests onboard, it would certainly feel a lot busier.  Not so much that I think it'd be crowded by any means, but certainly more lively, and I can see how there could be waits at places like Alfredo's, the complimentary pizza restaurant onboard.  The pools, I suspect, wouldn't be an issue, though.  The Sky Pool areas (main pools) were often busy, but manageable, and I'd imagine that with many more guests one consequence would simply be that more guests would spread out and head to The Retreat Pool and the Wake View Pool.  
The Elusive Pool Band & Wake View
One thing about Princess that really left an impression was the variety of live music, not just during shows, but throughout the day.  This was perhaps most apparent in the Piazza, where relaxing music played often, but there were other musicians working various venues.  It seemed, though, somehow, that every time I went by the main pool area the band was just setting up or breaking down.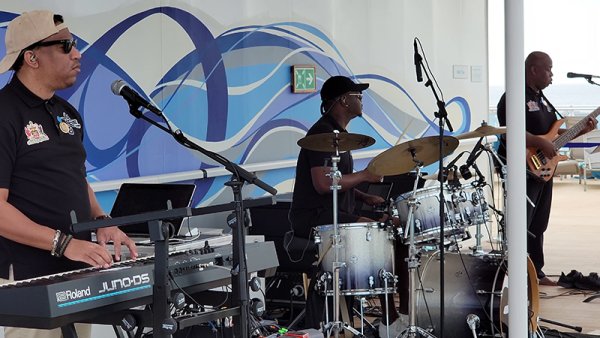 Finally, today, I got to catch Xcite out on deck for a few minutes.  They generally play on a balcony of sorts above the pool area, and the volume made the music audible, but conversation still possible - much more so than the levels on Odyssey of the Seas a couple weeks ago.  This five piece band played a lot of the music you associate with a Caribbean cruise.  In fact, that's something I liked about Princess: they had a lot of the qualities that Caribbean cruises became known for in years past, but they also don't feel dated at all.
After enjoying the music for a bit, I ended up back at the Wake View Pool just sitting and enjoying the natural light and beautiful views.  While there, I found myself a little bit hungry, and decided, instead of checking out the buffet, that I'd order food right to the bar via the Ocean Medallion app.  They have so many food options for delivery, most complimentary, though some with a small up-charge.  I actually wanted a simple grilled cheese, which I eventually found under the kids menu, rather than the sandwich section.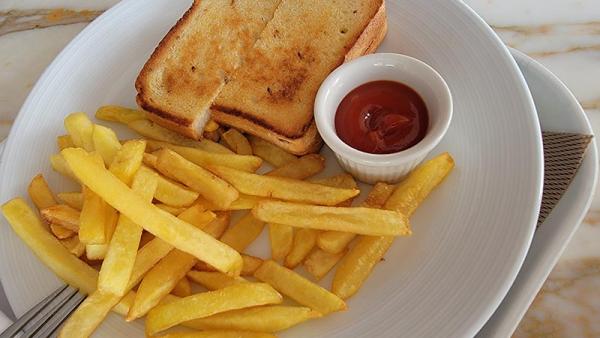 A Non-Trivial Number of Options
I'm not usually a big trivia person while cruising.  I don't dislike it, but I don't usually go either.  On this sailing, though, we ended up playing trivia games a few times, and today was no exception.  Part of this is because our traveling companions were excited about (and good at) trivia, but also, there was more trivia on this cruise than any I've seen.  Music, movies, Disney, general, commercials - the list goes on.  I attended Disney trivia on this, the final day, and did...okay.  I think we tied for second or third out of probably 15 groups.  As a big Disney fan, I was humbled, though some day, some place, there will be Disney parks trivia and I will prevail.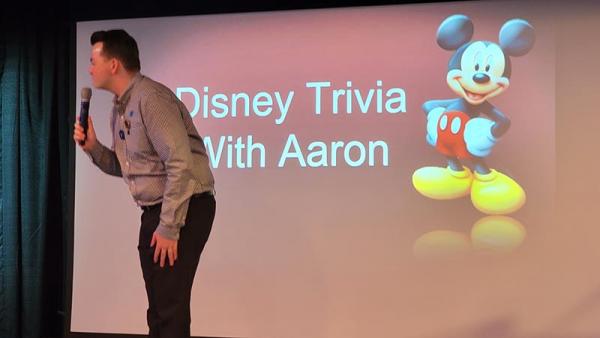 After this, Larissa attended a trivia game called, "Ask a Finn" and...I'm sorry, this was Meet the Captain.  My error.  These events on ships can vary from amusing to forced, and she said that Captain Heikki Laakkonen was amusing and personable.  I actually recommend cruisers, especially new cruisers, check out these events, as they're usually a short and neat insight into captains' career paths, and provides some factoids about the ships themselves.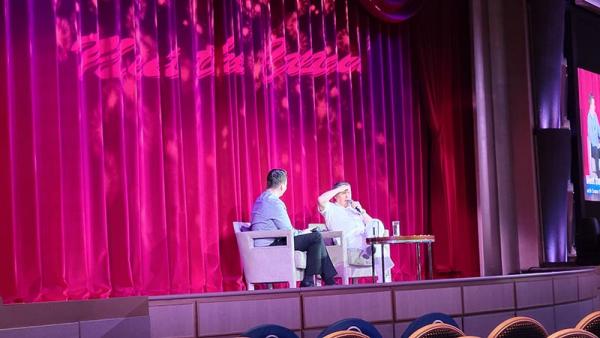 The Forbidden Sanctuary
One place on Sky Princess we didn't try out, which we wanted to, was The Sanctuary.  This is a covered (not enclosed) deck all the way forward, with a large hot tub, cabanas, and loungers.  There are a ton of staff here, and as the name would imply, it's meant to be a quiet and relaxing space.  There are a few options for guests wanting to try this out.  You can rent a lounger for half the day for $20 per person, the full day for $40, or there are several options that include semi-private cabanas.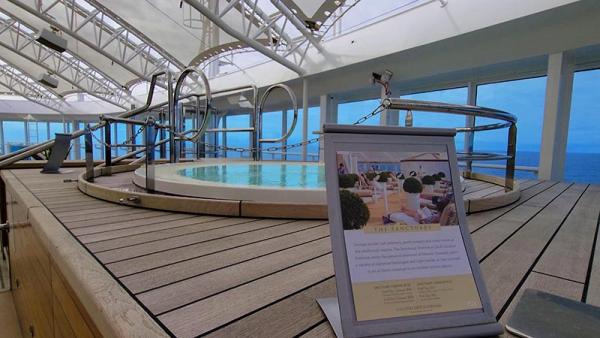 Unfortunately, I failed to account for the popularity of this area, and went yesterday to book it for today, but found they were full, and had a long wait list.  Anytime you'd pass by, though, you wouldn't notice, as it seemed mostly empty.  I suspect that, in part, many guests book it but don't spend the entire time there.  I did want to try this out, as the area looks lovely, but I honestly don't feel I missed out either.  The availability of bar staff at all of the pools meant the enhanced service in The Sanctuary wasn't as enticing, and while they offered food service, the Ocean Medallion app meant you could get a snack almost anywhere.  To add to this, on most days, there was plenty of space at the nearby Retreat Pool, which was also quieter (no music, kids, etc).  It's possible that on a full sailing the value prop for The Sanctuary would be better, and I could imagine them charging more for it as well.
An Eating Frenzy...For Research
Gelato
Sometimes on the last day you realize there are things you really wanted to try, and now it's the last chance.  This is true of the gelateria on deck five, which serves a variety of gelato flavors and toppings.  Unfortunately, I remembered it was too close to dinner...but alas, I'll do anything for "research."  
There is an additional charge for these options, even though you can get complimentary ice cream elsewhere.  Celebrity Cruises has a similar offering, though without as many flavors.  I tried the strawberry, which was around $3.  While it didn't blow me away, it tasted good, and on future sailings, I'd come back earlier in the voyage, perhaps when wanting to cool off.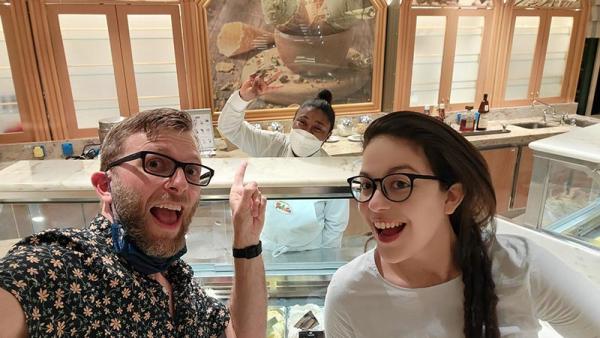 Sabatini's
Our friends really enjoyed Sabitini's a couple nights ago and wanted to return for the final evening.  Given there were a few items on the menu which were interesting to me, but which I'd not yet tried, I was happy to go back.  I should mention, by the way, that Princess was kind enough to invite me to enjoy Sabitini's once on them, and in fact, my friend Eric treated me the second time.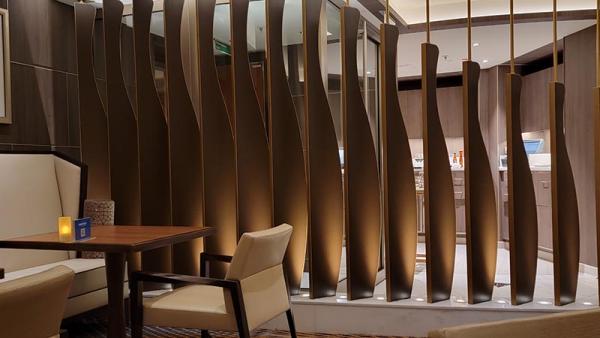 This time, I ordered as my main dish, sole picatta.  It came perfectly cooked with a light but creamy sauce.  I'd describe it as extremely well balanced, in that the parts of the dish came together well and made something greater than the sum of its parts.  I actually preferred it to the eggplant parm I had earlier in the cruise.  For dessert, I was ready to tap out, and just asked for a handful of berries, which they happily delivered.  How cruise ships always keep berries fresh, when they last just two days in my fridge, I'll never know.
The Last Supper with Jazz
Our evening ended at the Take 5 Jazz club, once again.  I liked this venue enough that our next Princess cruise, if on a Royal Class ship, will certainly be on Sky, Enchanted, or Discovery, to ensure we can hang out here again.  I do hope the Larry King Trio is back on, whenever we sail.  To take a bit home with us, we even purchased one of Larry's CDs in the onboard shop.  Some cruise lines let musicians hawk their CDs onboard, and I wish they all would, as there are so many great musicians you might not otherwise get a chance to experience.  We also bought a CD by Cassia Mathews, a singer and musician whom we enjoyed in The Piazza several times.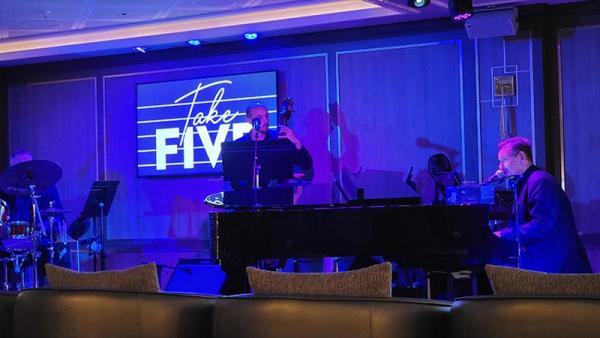 Much to my surprise, as I sipped Talisker and listened to music, lamenting the end of our cruise, my friend Eric was messing with his phone in a way that I could tell was him ordering more food.  Sure enough, just a couple minutes later, staff showed up with two sandwiches, right to our table in the jazz club.  At this point, I'm less impressed by the technology than I am by his ability to keep eating.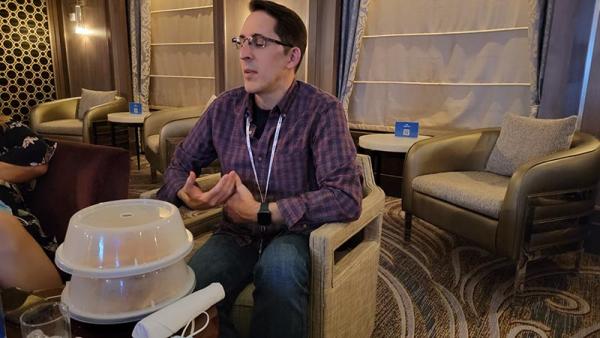 Disembarkation
The disembarkation process was pretty much the same as any other I've experienced.  One nice thing was that we got an extra hour of sleep on the final night, which is always welcomed.  This is because St Thomas and St Maarten don't observe daylight savings, so we set our clocks forward on night two, and set them back on the last night.  This works out well on Eastern Caribbean sailings during half the year.

We actually arrived at a different terminal (2) than we departed from (21), which isn't common, but can happen.  Princess shuttled guests to the mid-port garage near terminal 21.  This added ten minutes or so to the process, but wasn't that big of a deal for us.  When we got to mid-port, we were able to see Celebrity Apex, which we'll be sailing in January (join us with special deals for our first group cruise!).  We also saw Caribbean Princess, which is a different class of ship from Princess Cruises, and I'm more curious about now than ever.  Perhaps we'll get to see her even closer up in the coming months.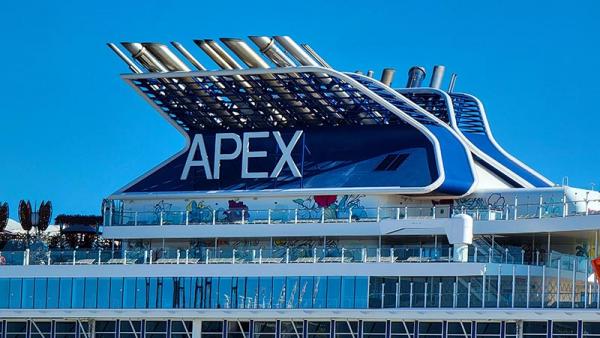 Stray Observations
The onboard displays are useful thoughtfully presented: Most ships now have large displays showing schedules, deck plans, etc.  These, however, may be the first I've actually used.  The user interface is intuitive, and it's much easier to view the day's schedule on a large screen.  I also think it's neat that illustrations used for ports are of actual places.  The Port Everglades/Ft Lauderdale screen shows the park we usually broadcast from.


Before disembarking I took a look at our friends' room, which was a standard interior.  It was actually quite nice, and the closet layout typical to Princess ships makes it feel all the larger and better organized.  While I'd love to enjoy a mini-suite again, like we did this time, I'd be pretty content in a standard room on Sky Princess - even though I really don't like that they still use shower curtains instead of shower doors.


Our first impression of Princess Cruises was a good one, but a brand new ship at 55% occupancy isn't the best sample, either, so we plan on coming back in the next year - likely in the next few months.  Maybe on Caribbean Princess?  Or perhaps Discovery.  So many options!  I now have a better idea of whom I can recommend Princess to, compared to other lines they compete most closely with, such as Holland America Line and Celebrity Cruises.

Live Blog Links: