Author: Bill November 24, 2021, Updated: November 28, 2021
St Thomas is a gorgeous island in the US Virgin Islands, and everyone should get off the ship to enjoy not the famous jewelry stores, but the blue waters, sandy beaches, and spectacular views of the archipelago from atop the forested mountains.  I, personally, stayed on board however.  I did, however, have my favorite meal of the cruise so far.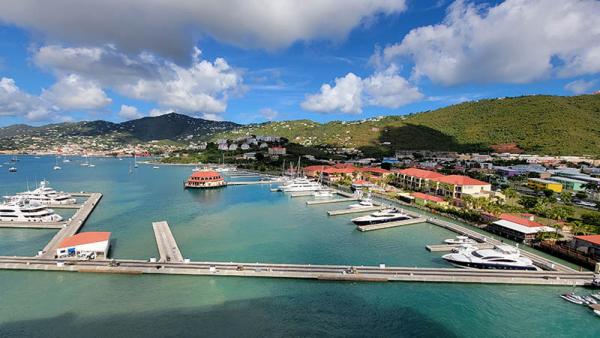 First, The Daily Grind
I woke up bright and early...too early.  Larissa set her alarm for a meeting this morning forgetting that we are one hour ahead of South Florida time.  Eventually I conceded I'd not fall back asleep and got an early start on my work day.  First though, breakfast.
Breakfast in World Marketplace
If you've read my live blogs you've seen me lament about cruise ship breakfasts.  There are standouts, like Cagney's on NCL (for suite guests), and the plethora of options on Scarlet Lady, but I'm often let down.  After a few days I've got to say that the variety of options in Sky Princess' buffet are very good.  There are more options than the typical "eggs" (intentionally in quotes) and pastries.  One interesting thing they have is, next to the omelet bar, a sort of scrambled eggs station.  There you can order scrambled eggs cooked to order with salmon and other items.  Other standsouts are fresh baked goods, sofrito poached eggs, curries, and quality espresso.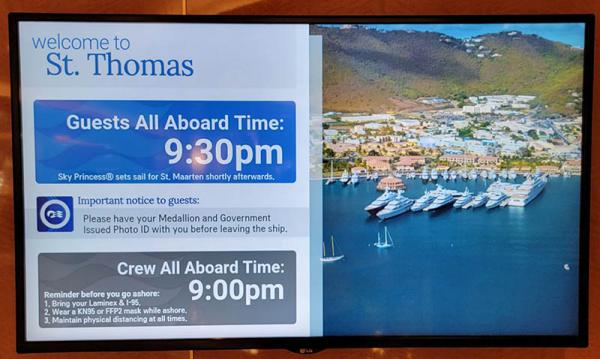 Internet Connectivity Update
Princess is the only cruise line I've seen advertise the idea of working from a cruise ship, and generally speaking their connectivity has been pretty good.  That said, we've had a couple issues, mostly the inability to connect to any OpenVPN connection - a protocol commonly used by businesses.  Others on Princess haven't had an issue, so I did raise this with the staff, but it's not been resolved yet.  I was really hoping for a flawless connection so we could stay on.  For the overwhelming majority of guests though, I suspect this will be just fine.  Still, I hope I find on our next Princess sailing that I can keep recommending them as a good "work from a cruise ship" line.
Princess Cruises' Pizza Legacy
Earlier in the cruise we had some pizza by the pool and I was truly impressed.  For years, the line has had a reputation for good pizza - something the industry isn't always great with.  I took a break for lunch and we went to Alfredo's, a completely separate restaurant on deck seven of The Piazza, which is complimentary.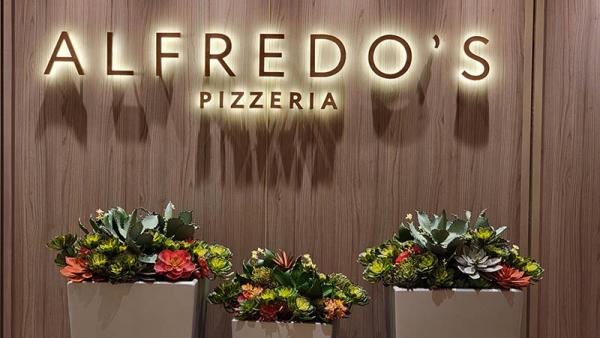 They serve several Italian dishes, but mostly pizza.  We got a vegetarian pizza as well as a bowl of minestrone soup.  The soup was wonderfully fresh, and I have zero complaints about the pizza, though I actually felt the pizza I had on deck was better.  Please don't get me wrong though, I really liked the pizza here, and suspect I'll be back.  The location also offers nice views, and seemingly, outdoor seating - though no one took advantage of that today, perhaps because of the heat while in port.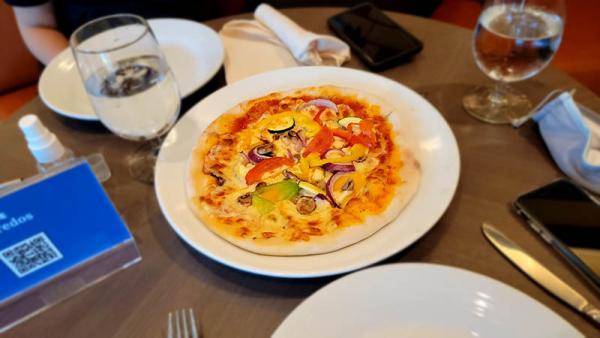 A Hidden Pool on Sky Princess
After working I decided yesterday's hot tub experience was a great one, so after taking a walk all around the deck and enjoying the amazing sunset, I looked out for warm water with a view.  This led me to a pool that is VERY easy to miss on this ship, The Retreat Pool.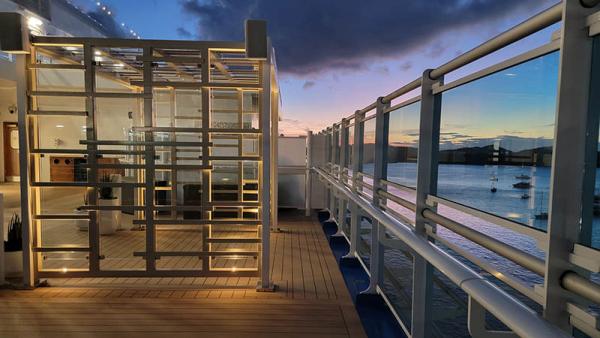 On deck 17 you'll find a pool and sun deck, surrounded by glass stateroom corridors and topped with a sun deck that is adorned with plants, artistic cabanas, and a hot tub.  To me, this area seems like it was meant specifically for suite guests, and the rooms in this area are indeed suites.  Almost any guests can enjoy this tranquil pool area though...as long as they're at least 18 years old.  It's worth mentioning that Princess doesn't have much in the way of exclusive suite areas, though I'm sure their suites are lovely (and this pool area shares a name with Celebrity's suite experience, which you can see a video review of here).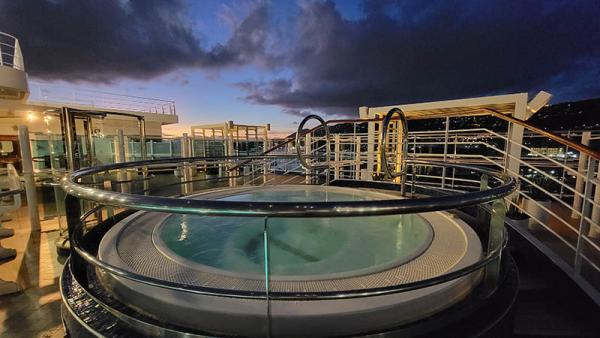 Nighttime Margaritas
No, not the punk band I just made up in my head, but what I opted for after enjoying The Retreat pool area.  We went to the Wake View Bar and the aft infinity pool.  This is a gorgeous area, though we ironically went not when the pool looked out over the wake, but while it stared at the bow of Norwegian Escape, docked behind us.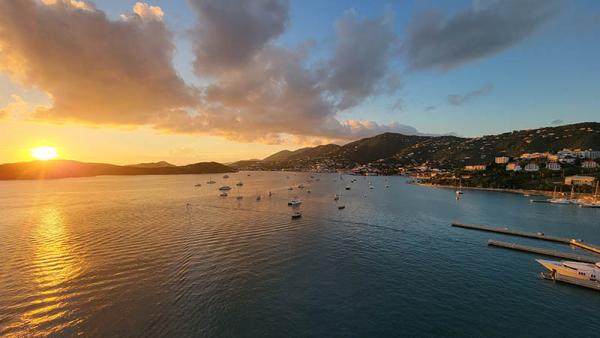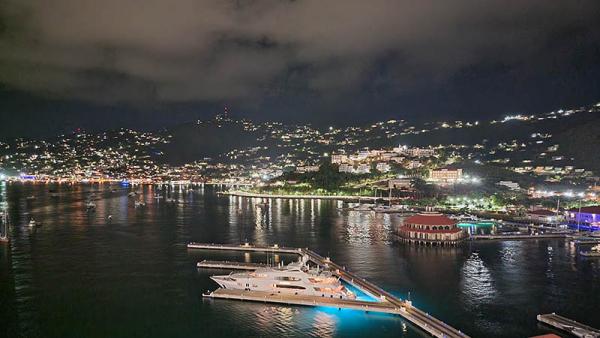 I sat out at the pool and ordered a skinny margarita.  Bartenders on this ship haven't been immediately familiar with a skinny margarita (which can be made several ways, generally opting for lime juice over sour mix), but every bartender has happily made just what I want after a quick explainer.  The only thing tricky about this area is that it's hard to get to unless you're very intentionally looking for it - much like The Retreat Pool in fact.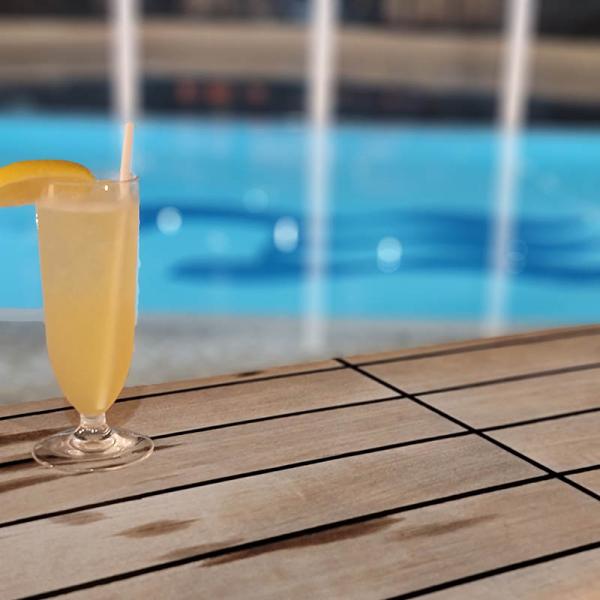 A Better Italian Meal Than Sabitini's
We had a late dinner tonight in the main dining room.  Tonight's menu was Italian themed, which was funny after going to the specialty Italian restaurant last night.  While that meal was enjoyable, tonight's in the main dining room was actually better.  We both had mushroom lasagna for our entree, and I'm not sure I've ever had a better lasagna of any kind.  It wasn't too mushy like some, with al dente layers of pasta, fresh marinara sauce, fragrant cheeses, and spongy, earthy mushrooms.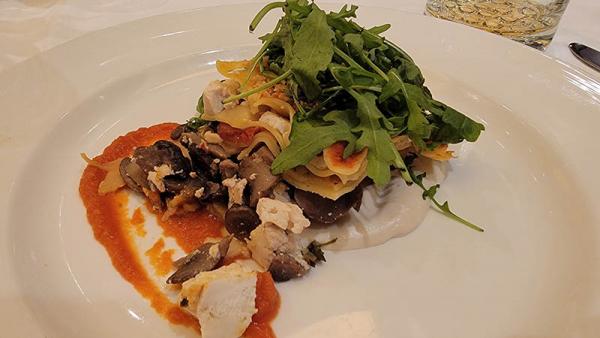 The dinner ended on a great note as well.  I ordered a dessert sampler, but was greeted not only with my order, but a plate full of Italian cookies and a napkin to take any extras back to the room for a late night snack.  This was not only another great demonstration of excellent service from, in this case, Oscar, but a wonderful testament to the bakery onboard.  I'd repeat tonight's meal on almost any evening, if I could.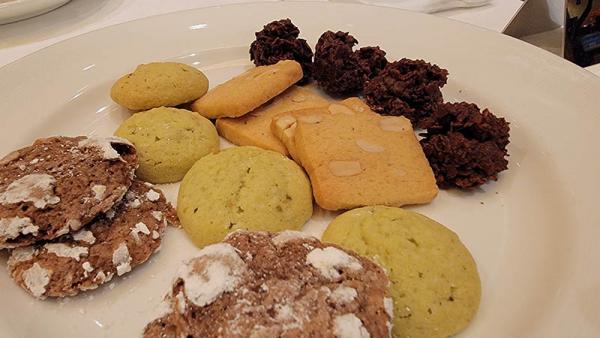 The Final Early Evening
We actually thought about going ashore in St Thomas today - a lovely port that we were docked in until almost 10pm.  At the end though we were very tired, and tomorrow is when mini-vacation starts, as Larissa is off work and I'm off most of the day.  We'll be in St Maarten, which is one of my favorite destinations.  I suspect we'll swing by The Holland House, where we went before our Celebrity Millennium cruise this June.  Who knows, maybe we'll come back with a giant cheese wheel.
Stray Observations
Take Five, the Jazz Lounge we've made "home base" (big thanks to the Larry King Trio) has a large touchscreen jukebox of sorts.  It costs nothing, and is not something i've seen on a ship.  This is great for when the band takes their well-deserved breaks.


There are various pieces of art on the upper decks which are either made from or contain the princess "Sea Witch" logo.  The one below just begged to be shared.

Live Blog Links: