Author: Bill November 26, 2017, Updated: November 18, 2021
The last day of any cruise is a sad one, but to us, it's a bit easier when the last day is a port day as the distraction of going ashore keeps us from dwelling on the inevitable.  On the final day of our Nieuw Amsterdam sailing we found ourselves visiting Half Moon Cay, Holland America Line's private island in the Bahamas.  We enjoyed the tropical paradise, thought about how it compared to other private islands, and then went back onboard to absorb the last hours of what Nieuw Amsterdam had to offer us this cruise, including dining in the Pinnacle Grill.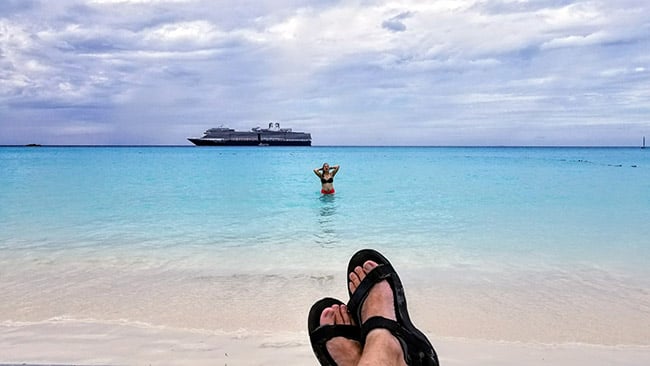 Our First Glimpse of Half Moon Cay
When you book a cruise you never really know which way you'll be facing in most ports, and this cruise continuously left our verandah facing the ocean rather than our destination.  Upon waking up this morning and looking forward to the tropical colors I'd seen in photos of Half Moon Cay, I threw open the balcony curtains to find... that I'd have to get my first glimpse of the island while heading to breakfast.  No complaints about a peaceful ocean view here, we just thought it was funny.
Heading to the Lido for breakfast at about 9:30am, we strolled across deck nine past the pool and finally saw the island, looking as beautiful as we'd seen in photos.  From this angle, we could see the shape of the white-sand beach and the origin of "Half Moon" was clear.  We could also see guests who woke up earlier than us heading from the ship to the island on double-decker tenders – small boats which take guests back and forth, since Half Moon Cay doesn't have a pier.
As we at I noticed a sign on a table which advertised a grilled lobster lunch on the island – and surprisingly, no mention of an upcharge.  I know many guests look forward to lobster on formal nights, so if that's you, but you feel more comfortable donning board shorts than a cummerbund then this is a nice option.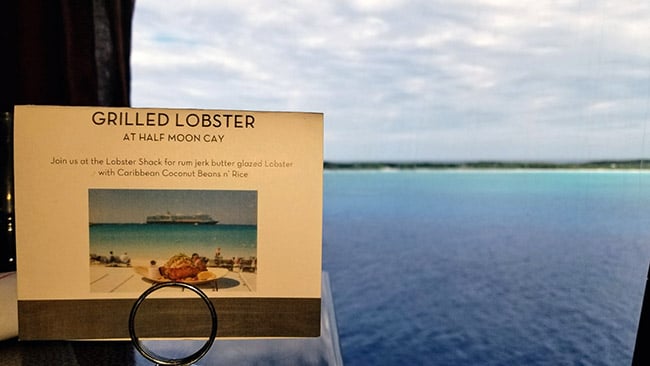 Continuing with our morning ritual we then grabbed espresso from Exploration Café along with a fantastic view.  Deck 11 forward with panoramic windows – the place to catch a glimpse of the entire length of the private destination we were about to enjoy.
Heading Ashore – Smooth Sailing
Tendering operations can get a bit backed up on larger ships, but a few factors seem to make this ride ashore an easy one.  First, Nieuw Amsterdam has a maximum capacity of 2,100 guests, far fewer than some newer ships.  Second, often it's the first few tenders that are the busiest, and we didn't exactly rush out of bed at dawn.  Lastly, in some ports, some ships use lifeboats to shuttle guests onto islands, but in this case, Half Moon Cay has several double-decker boats kept at the island just for this purpose.  I failed to check the capacity, but I'd estimate that each boat could carry 175+ passengers.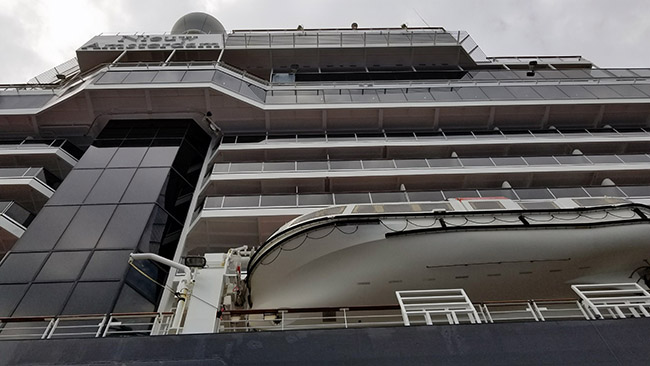 The capacity of these boats means you won't find yourself waiting in the A deck hall for several boats to load and unload, but the downside is that depending on when you board, you may find yourself on a bobbing boat for a but before leaving the ship.  Keep this in mind if you are prone to motion-sickness, you'll want to see if you can time it so you're on the tender for as little time as possible, and you may want to consider wearing Sea-Bands, something we'll discuss more in a moment.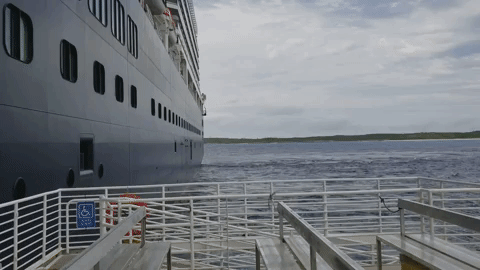 Once we started moving, it took only about five minutes to get to the island.  As the boat gets closer you pull into a small protected harbor cut from the rock, making the process of disembarking silky smooth even in rough seas.  A ramp lowers on the front of the vessel and you step right into a small town square of sorts, where there is a decorative fountain a few shops, an information booth, etc.  While we'd always prefer to simply dock rather than tender, I must say this experience was one of the smoothest I remember on a ship of this size.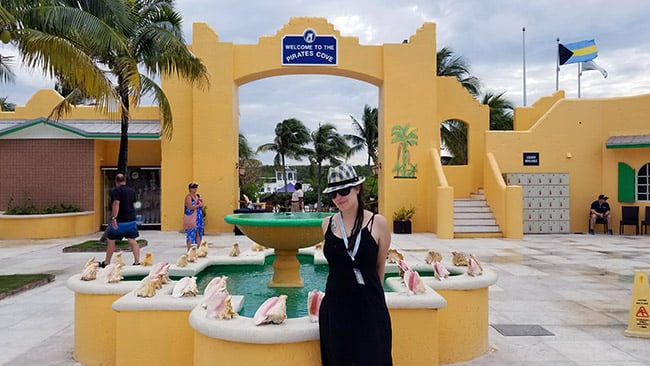 Do Everything on Half Moon Cay – or Enjoy Doing Nothing
We didn't book any excursion or make any plans for Half Moon, as we figured we'd just want to explore.  One glimpse of the maps around the island however who you there is plenty to do – if you want.  Swim with stingrays, rent watercraft, or even for a horse-ride on the beach.  One things we noticed is that if you follow the signs to the stingray area, you can go watch them swim around in a bay on the other side without paying for the swimming experience.  Similarly, if feeling up to a hike you go to the area where the horses are stabled and you may get a glimpse of them as well.  There is also beach equipment for rent, and beach cabanas and villas.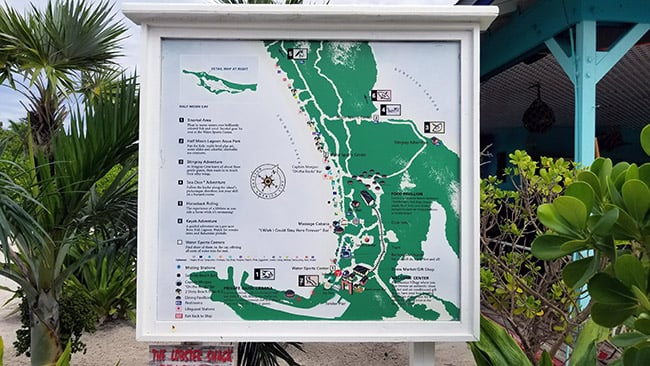 One thing interesting about the cabanas is that they have a number of types for a variety of desires and budgets.  A small cabana on the beach includes an A/C (though they're open-air), padded loungers, shade, snorkeling gear, a fridge, shower, and a ride to and from the area where you arrive on the island.  Want to go big?  There are two story villas with private restrooms and hot tubs, or even a 1600 square-foot over-the-water house, which you can get with butler service, unlimited Dom Perignon, fine dining and drinks for 12, a slide into the ocean, and more.  Prices range from around $300 to a bit less than the cost of a brand-new Chevy Cruze.  While these aren't cheap, I can certainly see the value, and we've rented cabanas at other private destinations before which cost more but don't seem to include as much.  We'll probably give this a whirl next time we're lucky enough to visit Half Moon Cay.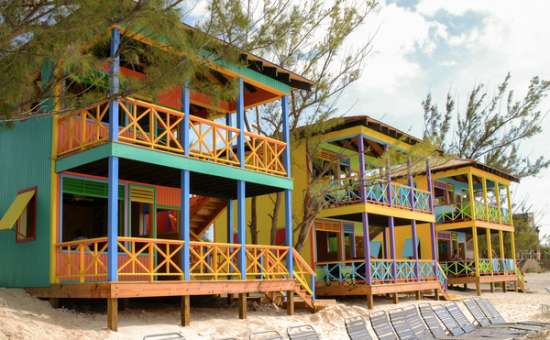 If you just want to hang out on the beach, we didn't see any shortage of loungers at all, even at peak time.  The one area that seems to get a bit busy is the section of the beach closest to the harbor.  There isn't any advantage of being here, aside from it being just a few feet closer.  Take a walk (or use the tram service which takes you around the island) and enjoy the long beautiful beach.  While we had some cloudy skies and an occasional sprinkle, the colors were still pretty, and the clear topaz water met some of the softest sand we've ever put our feet it.  It was like powder – in fact my only complaint about the beach was that the sand was so soft it almost felt fake.  Not a bad problem to have.
Food and Drink at Half Moon Cay
The layout of the island is actually a bit confusing (at least it was to us), but it seemed like there was a bar everywhere you turned – and none were crowded, so getting a drink was easy.  It's important to know that one big difference in the way drink packages are handled on Holland American Line (and all other Carnival Corp brands) compared to Royal Caribbean and NCL, is that if you have a drink package (which we did), your drinks at Half Moon Cay are not included.  While it'd be nice if they were, we don't usually find ourselves having more than a couple of drinks at these types of destinations, as it's often warm, and we have little trouble falling asleep on a beautiful beach regardless of cocktails. 
For lunch we stopped by the main restaurant on site and found a somewhat typical beach-BBQ arrangement, which guests seemed to enjoy.  Personally, we usually snack on the beach and find more intersection options on the ship – but you won't go hungry here.  Service was fast, and there were many queues operating smoothly.  The facility itself, the building where you get your food, could probably use some theming to be honest.  It felt very industrialized and not "tropical" at all.  It didn't dampen our enjoyment, but it was quite noticeable compared to other private islands.  We'd also have like some better dessert options aside from ice-cream and some small sweet cakes which were just okay.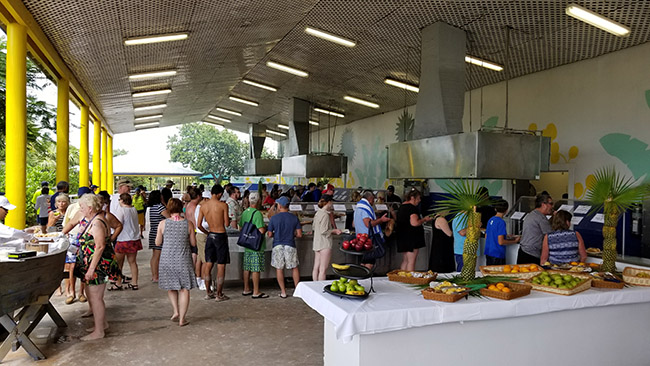 Before and after lunch we visited a large bar shaped like a pirate ship.  It has two levels (well, two and a half) and going up top offers some spectacular views of the cruise ship as well as the beach.  While there, it seemed the "half level" I mentioned was being used for a private event – I'm not sure if it was a loyalty event or if some guests just rented it out, but it certainly made a neat place for a get-together.  If you are looking to set up shop on the beach, and you don't need to be near Club HAL (the kids area), I'd head toward the pirate ship.  You get a neat bar, a quiet section of beach, a short walk to food, and you're very close to a tram stop, so you're not hiking to the far end of the island.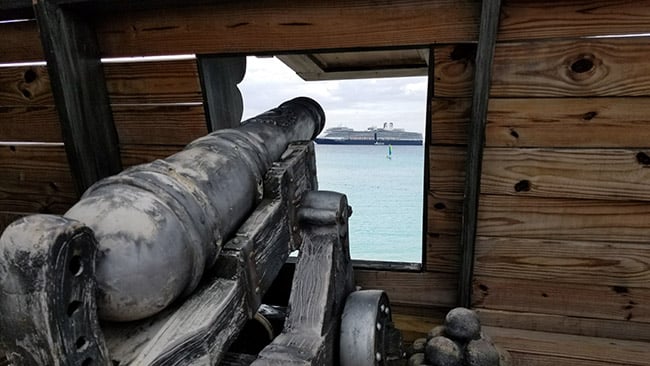 All too soon, it was time to head back to the ship (the last tender was at 2:30pm since we had to head several hundred miles back to Port Everglades overnight).  The ride back to Nieuw Amsterdam was as uneventful as the ride onto the island, though by this time the wind and waves had picked up a bit, so we bounced around trying to unload.  The HAL staff was as helpful as always, assisting guests and making sure everyone was safe.
A New Unpleasant First
We're fortunate enough to cruise a lot, and neither of us have ever experienced motion-sickness, until this night.  With Nieuw Amsterdam speeding along at about 20 knots, and thunder-storms developing around us, we started to feel the motion a bit.  Nothing extraordinary really, but noticeable.  Larissa began to feel a bit off which took us both by surprise.  She doesn't know why she felt differently this time, but luckily, we had a plan.
I actually keep a few Sea-Bands in my luggage in case I overhear any other passengers not feeling well – I just don't like the idea of someone not feeling well while on vacation.  This meant for the first time ever, we were able to personally test them out.  The results?  About 15 minutes after putting the wrist-bands on, she felt fine.  We then took a walk on the promenade, had a few drinks, and kept enjoying our evening as if nothing had happened.  We even headed out by the aft pool, where the bar was sheltered from the rain but we could enjoy the sloshing of the pool water and the lightening off in the distance.
Saving the Best for Last –Pinnacle Grill
Pinnacle Grill is Holland America Line's signature specialty restaurant, and can be found across their fleet.  With cuisine and wines all inspired by the Pacific Northwest, they have a larger and more varied menu than some signature restaurants on other lines, which tend to be steakhouses (such as Chops, Fahrenheit 555, Cagney's, etc).  The location of Pinnacle Grill on Nieuw Amsterdam is interesting, as it's actually located just off the atrium, with part of the restaurant extending further back away from the open space.  The Pinnacle Lounge is across the atrium from the restaurant, and the whole arrangement almost feels as if it was an afterthought, though that isn't the case.  I take no issue with the placement at all – in fact, I rather like it – it's just quite different as we usually see these venues either on a high deck, or tucked away somewhere.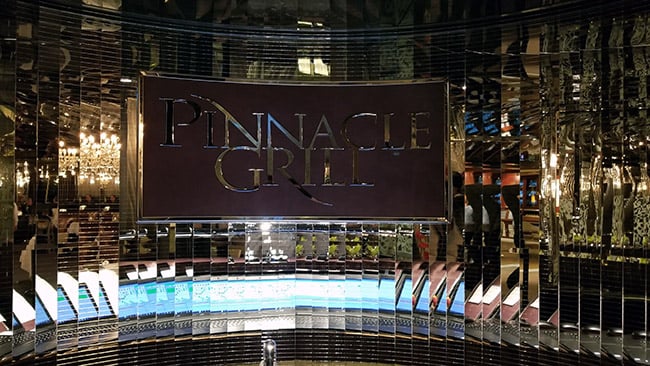 As has been mentioned before, Larissa and I are vegetarian, so while we always manage to find things we enjoy, we didn't know what to expect in Pinnacle, and were pleasantly surprised.  In fact, not only were there are many items which were already vegetarian, but the staff immediately identified a number of options which could be adapted.  We ordered several appetizers, a soup, main courses, sides, and even asked for a side of a risotto that was on the menu as a main course.
All items were clearly made to order, which meant it wasn't a speedy meal, and that was fine with us.  Our waiter, Michael, was the only Dutch non-officer we met on Nieuw Amsterdam and was not only fantastic at his job, but a delight to speak with.  He explained every dish, and ensured seemed to genuinely care that we enjoyed every detail. 
While everything we had was worthy of its own review and description, my favorite part of the meal was the tomato soup, which surprised me as it had some distinctly Thai characteristics, including a strong lemongrass aroma.  I'll want to try a whole new set of items on our next visit, but will certainly repeat that soup.  I may need to repeat the polenta-stuff eggplant as well - this is going to be hard.  They did offer up the recipe, but we're pretty sure we'd not be able to do the dish justice.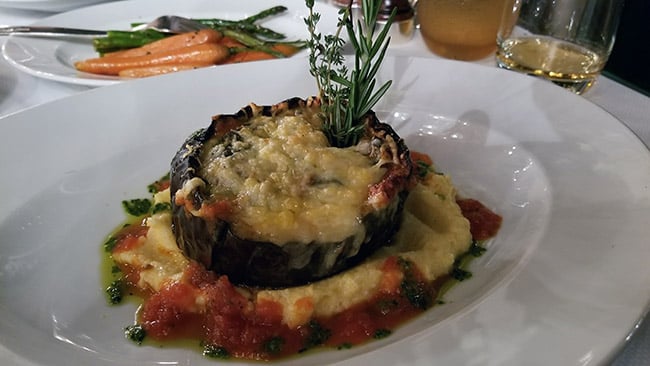 Dessert came in the form of several selections (we couldn't decide) including "Not-So-Classic Baked Alaska" with Ben and Jerry's Cherry Garcia ice cream.  It was neat to experience this modern take on a cruise classic, and the fact that one of the key ingredients was actually store-bought didn't take a thing away.  We also had a soufflé, which many know is a tricky dish to get right, and interestingly, the first one that came out wasn't to our waiter's liking.  We saw him preparing to bring it out, then he came over to our table, apologized, said it didn't rise to his liking and that another would be out shortly.  A great meal takes a team of uncompromising and talented people, and they were all onboard for this, our final dinner on Nieuw Amsterdam.  I'd heard many guests rave about Pinnacle Grill and now I get it – we can't wait to go back.
The Final Hours
The final evening of any cruise is not only sad because vacation is almost over, but it's also time to say goodbye to new friends you met on the ship.  For us this included a number of folks we enjoyed at the Piano Bar each evening, including David (the pianist), Josh (the bassist from BB King All-Stars), and a number of guests from a variety of countries.  After enjoying the final set in the Piano Bar, those of us still standing grabbed a final drink from the nearby casino bar and said our goodbyes…after chatting for hours longer than anyone should be awake on the final night of a cruise.  It was well worth it though.
Preparing for Disembarkation
Heading back up to our stateroom we changed into the clothes we'd be wearing off the ship in the morning and placed our bags outside the stateroom.  Here we noticed a few interesting differences on Holland America Line.  First, bags needed to be out by midnight, which seems a bit later than we've otherwise experienced.  This was nice as it took much of the pressure off to rush things to completion.  Our favorite difference though?  According to the documents we got with our luggage tags, we were able to stay in our stateroom until our number was called the next morning.  Most cruise lines want to start turning all the rooms around right away, so once you leave for breakfast you're in a sort of disembarkation purgatory until you leave – which also means you're schlepping your luggage through the Lido.  We also noticed a luggage-scale by reception on deck 1, which we've seen on some ships, and is certainly nice if you've got a flight to catch after your cruise.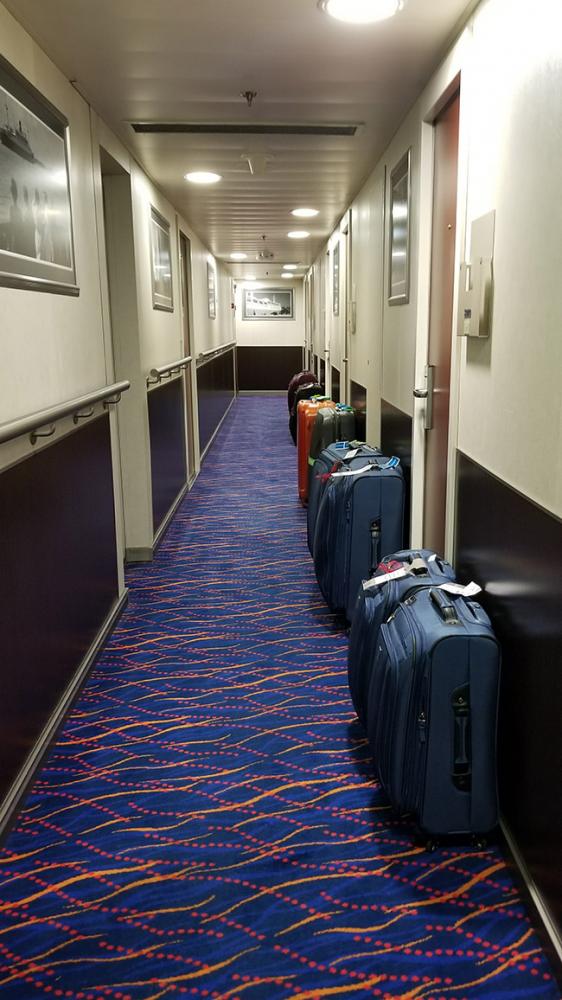 Wrap Up
Our first experience with Holland America Lines was a truly successful one.  This cruise was everything we wanted – a quiet sailing where there was nothing we were obligated to do, and destinations that were new and exciting to us, but still very relaxing.  We now want to see more of Puerto Plata and try out a cabana on Half Moon Cay, a destination that may feel more like a private island than any of the others.  The Nieuw Amsterdam is a beautiful ship, and a nice size, but we now want to try an even more intimate HAL vessel, perhaps someplace where the sand is replaced with snow, and the pool deck's umbrellas moved aside in favor of blankets.  Regardless of where we sail with them next, or the ship we chose, so much of what we look forward to will be the little things, like the fresh-cut flowers in public spaces, and the nearly magical quality of staff to appear the moment you need anything at all.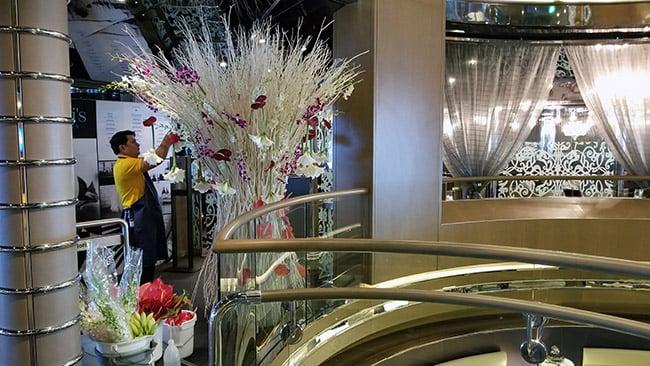 The ship, its staff, and food all exceeded our expectations, leading us to draw some conclusions on this historic cruise line which alluded us for too long.  In a world where every cruise line has something to offer, Holland America is an incredible value for those who don't need water-slides or nightly dance-parties, instead preferring personal service and a calm atmosphere, without emptying their children's college funds for a small ship experience on a luxury line.  They remind us of the "good old days", the way cruising was in decades past, not because they're stuck there, but because they've embraced so many of the things that make modern cruising great while still offering a classic experience, and it's clear that the journey is one they care about preserving, regardless of the destination.   
Check out some more photos below, and look at other live blogs from this sailing.
Nieuw Amsterdam Live Blog Preamble
Nieuw Amsterdam Live Blog Day 1 – Embarkation
Nieuw Amsterdam Live Blog Day 2 – Key West
Nieuw Amsterdam Live Blog Day 3 – Sea Day
Niuew Amsterdam Live Blog Day 4 – Grand Turk
Niuew Amsterdam Live Blog Day 5 – Amber Cove
Niuew Amsterdam Live Blog Day 6 – Sea Day
Niuew Amsterdam Live Blog Day 7 – Half Moon Cay