Submitted by

Bill

on Tue, 11/21/2017 - 11:59
Today we woke up to the kind of sea day everyone wants while sailing the Caribbean, though everybody else started their great day a few hours earlier. After being up a bit late last night, a time-zone change, and a lack of morning-obligations we found ourselves up and moving around 11am. Despite this, we feel like we really got to enjoy the ship during the day, including a stroll, beer-tasting, a cooking class, and a beautiful start to our evening out on deck.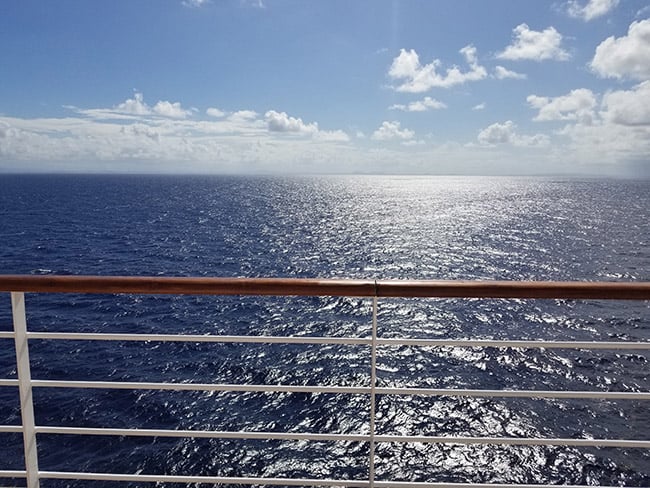 Breakfast: We bet it was great.
By the time we'd figured out how to tie our shoes this morning breakfast was just starting…on a ship somewhere in the Pacific. We headed to the Lido Marketplace for an early lunch and enjoyed an assortment of options including a zucchini pancake which, while not breakfast, was flavorful and unique. I'm finding that more than on other cruises we're enjoying an assortment of items at the buffet without stuffing ourselves on any particular item. Desserts were again great, including a cheesecake that was just the right density and sweetness.
Something to keep in mind if you're sailing Holland America for the first time after experiencing other lines, is that the buffet doesn't have the same thing on both sides. Some items are repeats, but a "Distant Lands" section is only on one side, with different options opposite that. It's not inconvenient as the space isn't a large as on some mega-ships where doing a full lap would be a hike, but not being used to this we did miss some items today that we didn't see until leaving.
After a nice meal, we headed for coffee (and to do some writing).
The Crow's Nest – Our "Home Base" on Nieuw Amsterdam
It seems we often find a place that is our "default spot", and on Nieuw Amsterdam that's quickly shaping up to be The Crow's Nest, which is on the top deck (11) all the way forward. Beautiful panoramic windows wrap the front and offer an approximately 270 degree view. There is of course a bar and the area is attached to Exploration Café [presented by the New York Time], which we've mentioned before, and the library.
In researching the ship I actually figured this might be a place we'd enjoy, and contemplated upgrading to one of the handful of rooms just steps from the bar at the Crow's Nest, but alas, the price didn't drop to what I was comfortable paying.
As I sipped my coffee at a table near the front windows the venue started filling up as it was trivia time. We didn't play today or yesterday, but may give it a whirl during this cruise, as I've known most of the answers (which probably speaks more to the selection of questions than my intelligence) and enjoy digging deep for random knowledge. Today however, while others played I did some writing, an activity that according to Leo, one of the bar-staff, goes best with a glass of Laphroaig.
America's Test Kitchen
Last year HAL partnered with America's Test Kitchen, a popular program on PBS which finds tips and tricks in the kitchen, using easy to find ingredient and requiring no special tools. They test everything from the best way to drain tofu to figuring out how to perfectly time your banana purchases.

Larissa headed to the lounge for today's presentation, which was "Meatless Mondays". She's not a big cook, but we both enjoy the practicality of the PBS program, so the concept was surprisingly appealing to us. Well attended, the primary presenter was actually with America's Test Kitchen, and not a member of HAL's culinary staff. Some great tips were offered up as they did live cooking demonstrations, filling the area with a great aroma that turned out to be a tease. It turns out that for health-code reasons, they're not allowed to serve any of the food that they make during the presentation. In addition to the demonstration, answering questions, and making everyone hungry, they also handed out handy recipe cards and other literature. Tomorrow they're covering chilis, which if you saw our Periscope from Key West in May, you'll know is something that really gets me excited.
How much beer is a taste?
On the first full day of the cruise one of the bar staff chatted us up and asked if we'd be interested in a beer tasting. What was interesting is that there was no cost to us – this tasting (and apparently some, but not all others) is included with the elite beverage package. Sold.
We got to the 3pm tasting a few minutes early. Instead of being at one of the many bars, it was actually held in Tamarind, the specialty restaurant we enjoyed on the first night. The tables were all set with four beers each (maybe 8oz pours?), a placemat with some information about each, a bag of popcorn, and a slice of pizza. We thought the pizza and popcorn were a bit odd, but certainly welcome – who doesn't like munching on salty food while enjoying beer?
The four beers were Peroni, Blue Moon, Boddingtons, and Guinness. Given the beer selection we mentioned yesterday, we thought these were pretty tame choices, but they made for a good combination while discussing the history and brewing process of the world's oldest alcoholic beverage. The gentleman presenting did a great job with banter, interacting and adapting well to the audience while providing some interesting information. He even asked some beer-related trivia questions, awarding winners with bottles of beer.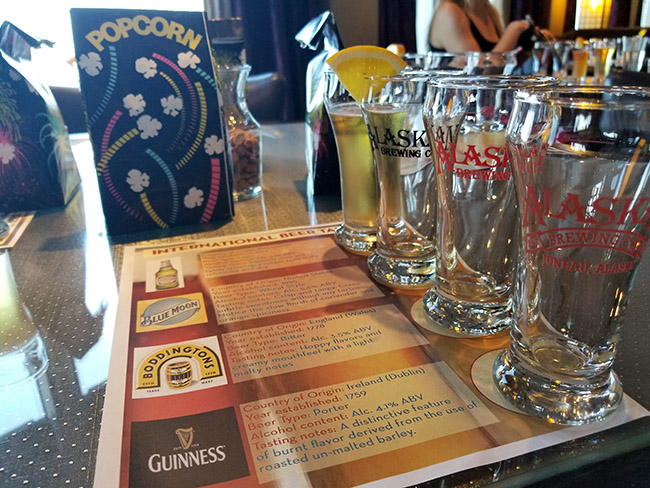 All in all, the tasting was fun, and I enjoyed the beer, though I don't know if I'd do it again. I think you end up with two different types of folks at these events – those who are already interested in beer and don't get a ton out of it (aside from beer), and those who are taking all of this information in for the very first time (and hopefully branching out from their normal Miller Lite). I fall into the first group, and if anything, am starting to feel more of a connoisseur of shipboard tastings than the beers themselves – and that's a problem we're happy to have.
Sea Days – The Cruise Equivalent of Lazy Sundays
What would a sea day be without a nap? Ya know what, I don't want to know. After the beer tasting we came up to the Crow's Nest and had coffee (oh, and they have stroopwafels!) Laying back int eh comfy chairs facing the ocean we lasted about five minutes before becoming those weird folks passed out, mouth agape, in a public lounge. I came to for a moment, collected a zombie-Larissa, and we had a proper nap back in the stateroom.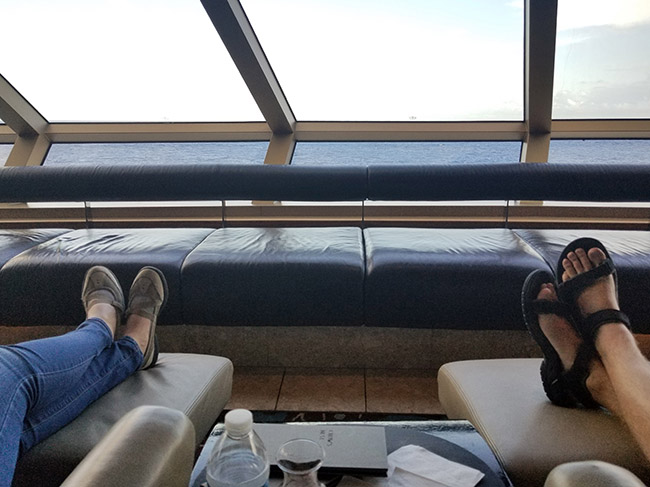 Waking up to the alarm and the sun, low in the sky and targeting our bed, we got up to enjoy the last bit of daylight out on deck. This brings us back to one of the things I really miss on other ships, the aft pool. Traditional cruise ships always had an aft pool, usually on a middle-deck, where the long deck terminates over the wake-trail. It's just a beautiful open space with great views, and we love it on Nieuw Amsterdam. We enjoyed a drink at the outside bar, got some compliments on my classy Titanic Swim Team shirt, and watch the sky darken as Koningsdam sailed just behind and then beside us.

Our Version of Lobster Night
Tonight is a "Gala Night", HAL's version of a formal night. While many guests wore formal gowns and tuxedos (usually just one at a time, but we're not here to judge), some were decidedly less formal, though we didn't see anyone turned away. I wore a nice button-down shirt and dark chinos and felt adequately dressed.
On many ships, formal night means lobster, and this was no exception. We were in for our own treat though – Indian food. We love Indian food, and asked the previous night about making this happen. We were served a three course Indian meal, with the main dishes being channa masala and bangan bartha, and really enjoyed it all. My only complaint was the naan, which was just the wrong consistency. That in mind, to do it right requires a special type of oven which we can't imagine any ship has.
After eating entirely too much we then…had more. Our dessert selections came off the main menu and once again (if this gets old let us know), HAL did a great job with sweets. Additionally the sommelier informed us that there was a promotion tonight which included souvenir glasses if we ordered cordials…and surprisingly, this was covered with our beverage packages. We had some liqueurs and got some rather nice shot glasses that have HAL logos and such on pewter-like medallions – neat. We were also presented with a special vegetarian menu which we could order from for tomorrow - many vegan options here for those so inclined.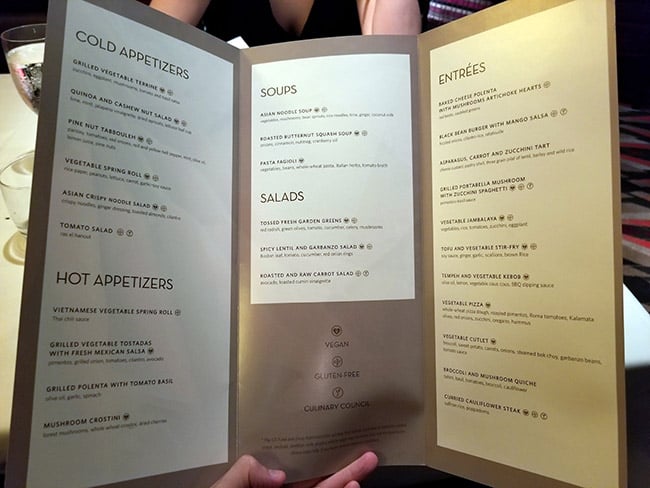 The Song Before the Storm
After eating entirely too much, and knowing we've got an early tour scheduled in Grand Turk, we stopped by the Piano Bar for just a couple of songs and left just as they had an early last call (maybe 11:50pm). As we headed back to the stateroom you could feel things rocking a bit, which serves as a nice reminder we're sailing. Once in the room we could hear the wind whistling outside, which we hadn't heard through the well-soundproofed door until now. There was some rain but tomorrow's forecast shows things should clear after the morning.
Tomorrow – Grand Turk
As best as I can recall this is a new port to us, so we booked a simple ride around the island which lasts two hours. I figure this was we can get an idea of what's out there, and head back to any particular points of interest with plenty of time remaining in the day. There is also a beach area with facilities right where we berth, so it could serve as a nice beach day – though we've got Half Moon Cay for that.
Check out some more photos below, and look at other live blogs from this sailing.
Nieuw Amsterdam Live Blog Preamble
Nieuw Amsterdam Live Blog Day 1 – Embarkation
Nieuw Amsterdam Live Blog Day 2 – Key West
Nieuw Amsterdam Live Blog Day 3 – Sea Day
Niuew Amsterdam Live Blog Day 4 – Grand Turk
Niuew Amsterdam Live Blog Day 5 – Amber Cove
Niuew Amsterdam Live Blog Day 6 – Sea Day
Niuew Amsterdam Live Blog Day 7 – Half Moon Cay