Submitted by

Bill

on Thu, 11/23/2017 - 10:39
Amber Cove is just outside of the city of Puero Plata in the Dominican Republic. The lush mountains of the Island of Hispaniola overlook a beautiful resort, our third destination on this seven-night cruise. We took a cab to the city to get a spectacular (and scary) view, checked out what the resort had to offer, and enjoyed the ship once more…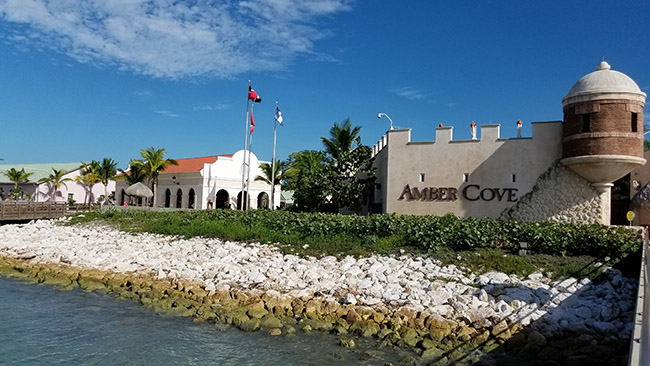 Starting the Day Off Slowly
After another late evening, we rolled out of bed, had a light breakfast, and of course, got coffee. What made this coffee trip spectacular however was the view of Amber Cover from Explorations Café on deck 11 forward.
As soon as we finished our coffee we realized we had some much to explore ashore that we needed to get moving. We headed to the room to finish getting ready and again found that like ninjas, our stateroom attendants had already made it look like we're not slobs – we need these guys to come home with us.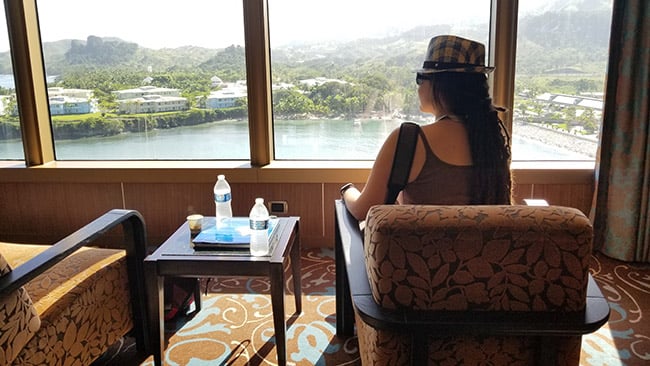 Puerto Plata & The Terrific Teleferico
Before enjoying all that Amber Cove has to offer (which we'll cover in a moment), we wanted to head into Puerto Plata to check out a cable car system that takes you to the top of Montana Isabella. We'd heard great things about the views from the top but honestly hadn't researched it much – we just heard it was pretty.
We strolled to the taxi area at Amber Cove to start out journey, and didn't expect to pay much as the DR is quite inexpensive for Americans. Because the area is a private cruise center however, you can't get a normal cab – only those allowed in the facility. The good news is that all cabs were brand new vans, with comfy seats and cold A/C, the bad news is that getting to the teleferico was $30 each way for up to five passengers. If you pay for the round-trip fare, they'll also wait for you (true of a city visit as well with these cabs). We spoke with a few others guests waiting for rides, and planned with the employees helping organize the cabs and found a couple from the Carnival Splendor (also in port with us) who were willing to split the fare – and $30 round-trip seemed more palatable.
A quick search found a number of tour companies selling tickets to the teleferico for up to $50USD – but if you go to the actual website for the attraction (which is part of the DR's national park system), it turns out you can buy a ticket for only $7.50USD or so. Buyer beware anytime businesses are reselling tickets for something that you think "oh, so I can't just walk up and get in?"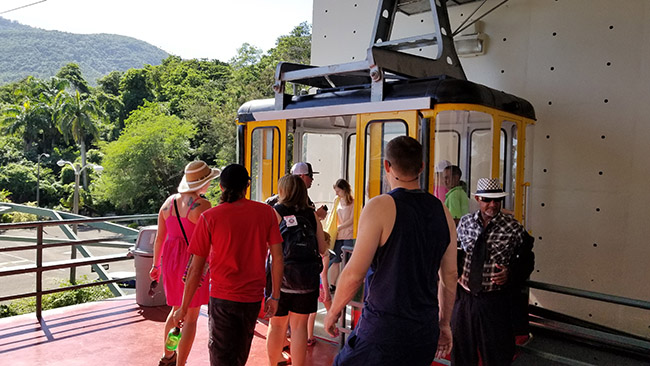 The ride up is about ten minutes, and when you get off there is much to see and do. We didn't realize that up top there was a restaurant, many trails, ponds, etc – so with better planning we may have spent more time. Our guide walked us through some of the areas for 20 or 30 minutes and explained the flora, fauna, and the history – he was quite good. He also helped us take some pictures which were a bit touristy for our taste, but pretty funny and we liked them. Check out more photos at the bottom of this post.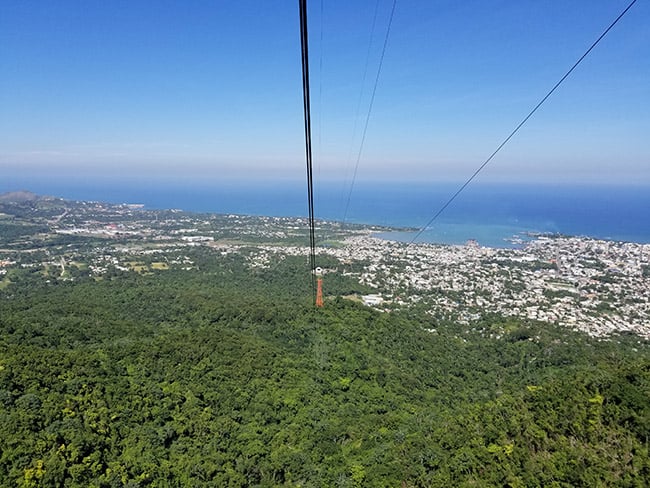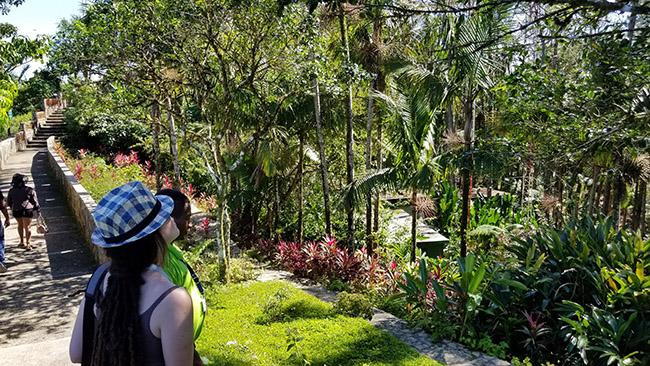 After heading back down (which thankfully, took the same ten minutes, and not seconds with loud crashing noises), we tipped our guide and got back into the van to head back to Amber Cove. I really can't recommend the teleferico enough, it was beautiful, but educational as well. I had expectations of a nice view, but both the view and the experience exceeded them. If we'd have got up a bit earlier we'd have been inclined to explore the city of Puerto Plata a bit more, as, at least from the top of the mountain, it was really pretty. That in mind, there was plenty ahead of us back near the ship.
Amber Cove
Built just several years for the exclusive use of Carnival Corporation cruise lines, Amber Cover is situated about 20 minutes from the city of Puerto Plata. This means that you can chose to head into the city for it's history, architecture, and great beaches, or enjoy your time at Amber Cove, which is essentially a private resort.
There are restaurants, bars, a zip line, cabanas, loungers, and of course – shops. We were in port with the Carnival Splendor, and from what I can tell the port would only support two ships at once. Despite being "full" in this way, the area never felt crowded, and I can't imagine you'd have any trouble getting a lounger, meal, etc.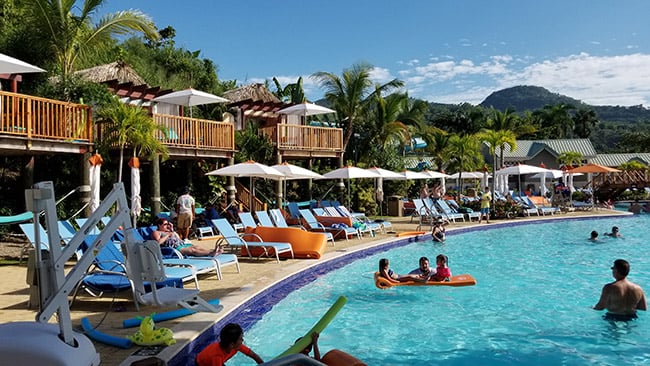 The resort section is to the right when coming off the dock and you quickly notice that there is no sandy beach in this area. While the loungers and pool are free, there are optional expenses (you can see a larger version of the price sheet below in the photo gallery). The food and drinks are not included with your cruise, but we found drink prices to be the same as Holland America, and much cheaper than Carnival (tropical frozen drinks were $8USD – and the mango beverage we had was really fresh and flavorful). There is a VIP area with loungers, two story cabanas (with misters and hammocks), cabanas on the ocean, as well as a zip line, water bikes, kayaks, and more. Amber Cover really lets you dive in as deep (or not) as you'd like.
Up at the top of a hill, near where the zip line loading area is found, you can visit Sky Bar, offering fantastic panoramic views of the property. The down side is there isn't a publicly accessible elevator that we could find – and there are quite a few steps to get up there. This make the $20 unlimited zip line package somewhat self-limiting for many.
If you head to the left when coming off the dock you can visit the shopping area which has a variety of local crafts, jewelry, etc, as well as the same type of things you see in every port where the port name was clearly stenciled on. There were two interesting things we noticed here though. First, there is a building with persons there to offer up helpful info, the history of the Dominican Republic, etc, and one other service: passport stamping. If you like cruising but wish you had a full passport better reflective of your journeys, you can come here and get it stamped –nifty. The next thing that stood out was that there is two story bar and restaurant (the same as the one in the resort area) behind the shops, which is a bit more serene than the resort location, and has a great view of the harbor, rocky coast, and a Rui Resort.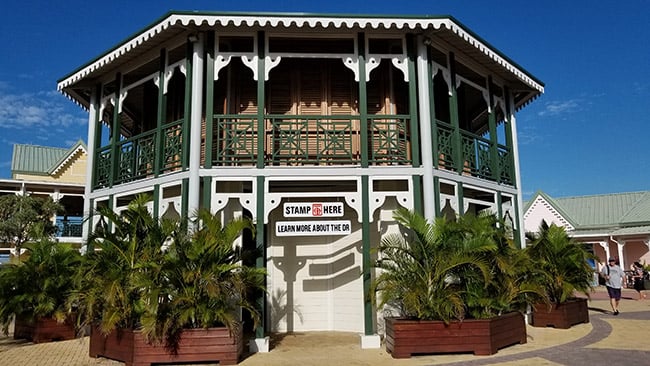 A Casual Evening Meal
We realized we'd not yet had dinner in the Lido Restaurant, and being pretty tired from the day's adventures this seemed a good opportunity. Holland America Line actually posts menus for the Lido Restaurant's dinner earlier in the day, and we noticed that many of the selections were very similar to what the main dining room (The Manhattan Dining Room) had.
It didn't seem that the Lido is a popular dinner option for guests, at least on this cruise, but the food was excellent. Drink service was a tad slower than when we'd been there for lunch (or at dinner in the main dining room), but perhaps this was just an anomaly.
Frozen Planet (and Theater) & More Music
After eating we headed decided to go to the theater for an interesting showing of BBC's Frozen Planer. The Frozen Planet series has amazing views and stories of nature in the arctic and Antarctic. What made this special is that the scenes were introduced by the producer (on screen), and the score was played by several of the musicians onboard. I must say that while I'm usually apprehensive about spending my cruise time watching a movie, this was very neat. The live music (and comfy chairs in the theater) made for a great experience and I hope they do this with other BBC series.
We went from the theater to the Piano Bar with what felt like a third of the ship. It wasn't that things felt crowded, but this was definitely David's most popular show so far, and he kept it going later than scheduled – finally stopping around 1am. Not only can he work the crowd while singing and playing piano, but he really enjoys when others want to try their hand at singing as he plays. You don't need to be a great singer at all, he makes guests feel comfortable to have good time with it, something a bit different than other shipboard piano-bar entertainers we've seen.
Tomorrow – Sea Days Are the Best Days
Tomorrow is a sea day and we've got little (if anything planned) but breakfast in the main dining room. It's also starting to feel scarily like the cruise is coming to an end, as we'll probably start packing up some of the dirty clothes so we can enjoy Friday in Half Moon Cay. The weather is forecast to be nice both days so we may try and lay out by the pool a "once briefly each cruise" ritual we have – it seems almost requisite. Someone's gotta do it.
Check out some more photos below, and look at other live blogs from this sailing.
Nieuw Amsterdam Live Blog Preamble
Nieuw Amsterdam Live Blog Day 1 – Embarkation
Nieuw Amsterdam Live Blog Day 2 – Key West
Nieuw Amsterdam Live Blog Day 3 – Sea Day
Niuew Amsterdam Live Blog Day 4 – Grand Turk
Niuew Amsterdam Live Blog Day 5 – Amber Cove
Niuew Amsterdam Live Blog Day 6 – Sea Day
Niuew Amsterdam Live Blog Day 7 – Half Moon Cay