Author: Bill November 15, 2017, Updated: November 18, 2021
Saturday November 18th we'll be setting sail once again, this time on Holland America Line's ms Nieuw Amsterdam for seven nights.  We're always excited to cruise, but this is particularly exciting as it will be our first time personally experiencing Holland America.  In fact, while our last live blog was so exciting because of the itinerary (Cuba), this cruise is all about the ship (well, mostly).  The plan is to update the blog as often as we can, but internet connectivity isn't the strong-suit of this sailing, so check out the highlights below, and look forward to live-ish updates.

Our Itinerary - Low Impact Caribbean
Sometimes you book a cruise to see new places, sometimes you book a cruise just to get away.  In this case our plan is to relax and do very little, something this itinerary is conducive to - though three of the four ports will actually be new to us.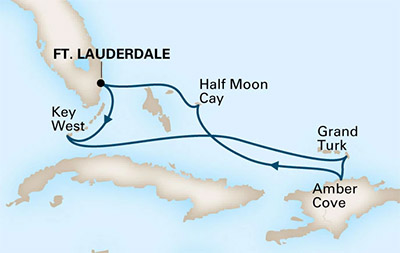 Key West - This is the only port on this trip we've visited.  I enjoy cruising to Key West, as despite living in South Florida, I refuse to drive there (one road, low speed limits, don't get me started).  There are some great historic sites as well as a fantastic atmosphere and bar scene.  Many times we opt to buy Old Town Trolley tickets, which allow "hop on-hop off" access to a network of trollies that go all around the island.  In my opinion it's an easy and stress free way to get around and offers interesting narration as well.  Back in May we ended up just walking around, found some neat bars, and ate some spicy stuff.  I don't know which route we'll go this time - but I don't see us doing any organized tour. 
Quick Tip: If you're looking at cruises which call on Key West and they're identical except for the order of the ports, know that going to Key West after visiting non-US ports means you'll have to go through a customs and immigration process upon your arrival.  So, all things being equal, an itinerary which has Key West as it's first port is ideal.
Grand Turk - The capital island of the Turks & Caicos, Grand Turk, as best as I can tell, is not a bustling metropolis.  Some claim that Christopher Columbus landed here, and not the island of San Salvador, and we're going to crack that mystery!  Okay, we're probably just going to tour the city instead - but ya know, we'll keep our eyes peeled.  Because we've already got a beach day planned (see Half Moon Cay below), there is a reasonably priced tour of the city that seems low-impact and would allow me to safely say, "yep, I've seen Grand Turk!".  Seeing new places is always exciting, so while that previous sentence may not win me any copywriting work from their department of tourism, I'm kind of excited going into a destination knowing so little about it.
Amber Cove - The Dominican Republic is on the island of Hispanola along with Haiti, so while we've been to this island, we've never been to the DR.  Amber Cove is a private resort for use by Carnival Corporation vessels, and interestingly, doesn't have a beach.  There is a large pool area, zip-lines, restaurants, etc - so many guests, from what we can tell, stick to that area.  Only a short drive away however is the city of Puerto Plata, so I suspect we'll either jump in a cab and explore the city, or perhaps just head to a funicular which promises some nice views of the sea, mountains...and our ship.   
Half Moon Cay - Most of the larger cruise lines have private destinations (several, actually), and Half Moon Cay is a private island in the Bahamas which is visited by ships belonging to Carnival Corporation (and technically, it falls specifically under Holland America Line).  The island (also known as Little San Salvador Island) has been used by Carnival Corp since 1997 but I've somehow never made it there.  We expect this to be our principle "beach day", enjoying the amazing looking shoreline.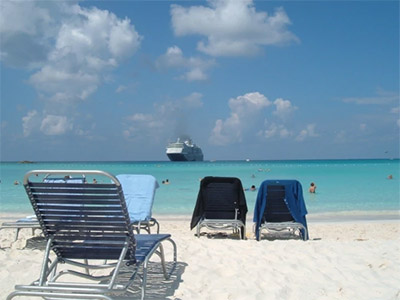 ms Nieuw Amsterdam - The Way Ships Should Look
I've written before about the design changes to ships over the years, and discussed how I like classic-looking ships (dark hulls...mmmm).  For the most part, that is exactly what Holland America seems to deliver - not only in appearance, but in layout as well.  The massive Royal Promenade on Royal Caribbean ships and fancy features of the Carnival Vista are nice - but not what we're looking for on this trip.  Our hope is that Holland America will deliver us a somewhat "classic" cruising experience, and doing so on a ship barely eight years old means we don't expect to sacrifice any onboard comforts.  
I've been asked before about Holland America, often from people who think it's primarily seniors on-board.  We'll see what the demographics look like on our sailing, and we're sure there will be far fewer families compared to the contemporary lines - but this is all fine by us, and something we've come to love, such as on our Oceania Regatta sailing in 2015.  So the ship isn't old, we're betting many of the passengers are younger than you think, but what is old about Holland America?  The line itself.  They've been sailing since 1871, originally as the Netherlands-America Steamship Company.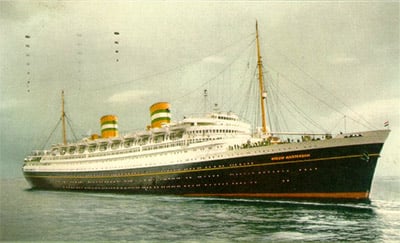 To go along with that classic cruising experience, we're hoping and expecting for service and quality that can really only be delivered when you have a nearly two to one passenger to crew ratio (compare that to the nearly three to one ratio we see on some mega-ships).  We're also eager to experience the America's Test Kitchen cooking demos we wrote about last year.  Oh, and Nieuw Amsterdam has a venue called BB King's Blues Club which we're very excited about.  To us, there are few things that are as relaxing as good vocals and horns while sipping a drink on a ship.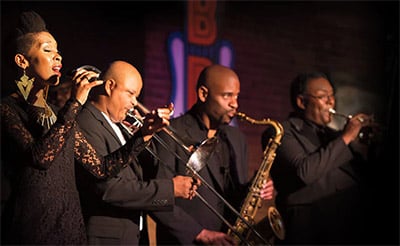 Why This Sailing
Last year we sailed on Royal Caribbean's Independence of the Seas over Thanksgiving and really enjoyed it (in fact, we booked another Indy sailing right after - read why didn't take it) and we planned on the same sailing this year with our friends Matt and Marissa from RoyalCaribbeanBlog.com. They couldn't make it at first, so we switched up to try something new and different (Holland America!) - but now they're going to be sailing Indy anyway, so you can follow that live blog, as well on RoyalCaribbeanBlog.com.  Unless our feelings drastically change after this cruise, I suspect cruising Thanksgiving will become standard for us - low stress and really low prices.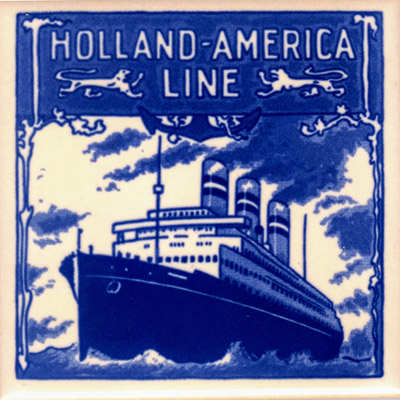 Holland America has long been on my radar, both as someone who is a fan of ocean-liner history, and as someone who appreciates the relaxed pace of classic cruising.  We don't have children, and we're pretty tame folks, so we suspect the activity level and feeling of the ships will be right up our alley.  If I was asked to plot them now, based on what I know, I suspect we'll find them a bit quieter than Celebrity, but far more lively than say, Oceania.  Over the years I've heard nothing but good things from those who sail HAL with the right expectations, so this sailing could be rather formative to our cruising future.
Wrap Up
The cruise is still three days away, which many of you know, means I'll have a one-track mind until we're on the ship. In the next three days, be sure to let us know if there is something you want to see or learn about that we can keep an eye out for.  Oh, and be sure to catch out sail-away broadcast as we leave Port Everglades on Saturday.  Now, if anyone is looking for me, I'll be sleeping off a bunch of Benadryl while stretched over my packed bags, hoping to wake up just in time to board.
Have you sailed the Nieuw Amsterdam?  What did you think?  Have tips for us in any of our ports of call?  Comment below or reach out on Facebook or Twitter!
Nieuw Amsterdam Live Blog Preamble
Nieuw Amsterdam Live Blog Day 1 – Embarkation
Nieuw Amsterdam Live Blog Day 2 – Key West
Nieuw Amsterdam Live Blog Day 3 – Sea Day
Niuew Amsterdam Live Blog Day 4 – Grand Turk
Niuew Amsterdam Live Blog Day 5 – Amber Cove
Niuew Amsterdam Live Blog Day 6 – Sea Day
Niuew Amsterdam Live Blog Day 7 – Half Moon Cay