Author: Bill
From traditional ships to floating hotels.
For decades cruise ships became more advanced and more spacious, but despite these changes, ships still looked like ships. With Royal Caribbean's launch of Voyager of The Seas in November of 1998 however, things started to look quite different. With this behemoth (the largest cruise ship at the time) came the first rock wall and ice rink at sea, as well as the Royal Promenade. The ice rink and rock wall were, and still are, impressive. The Royal Promenade however was something truly different.
Up until this ship, the major venues on cruise ships all had views of the sea. Part of this was to be expected by guests – you're on a ship after all. Another part however was out of necessity, as the size of ships never allowed for any reasonably large venue to be located above the water line and not come up against the windows of the ship or the outdoor promenade. The size of the Voyager of The Seas made it possible to essentially put a shopping and dining district inside of the ship in a way that to this day, makes strolling the Royal Promenade an experience which in no way reveals that passengers are on a ship rather than on land.
Two things happened as a result of The Royal Promenade. First, passengers, potential passengers, and the industry as a whole were wowed by the scale of this. Both the novelty and the utility are genuinely significant – you could do things, such as stage parades, in this venue that couldn't be done on other ships. The second is that people weary of cruising, perhaps holding antiquated and largely inaccurate ideas of what cruising is, suddenly found advertising that portrayed experiences reminiscent of fancy hotels and even the malls found in large Vegas resorts. Resistance that some may have had about being "stuck on a ship" may have been worn down by this take on cruise ship design.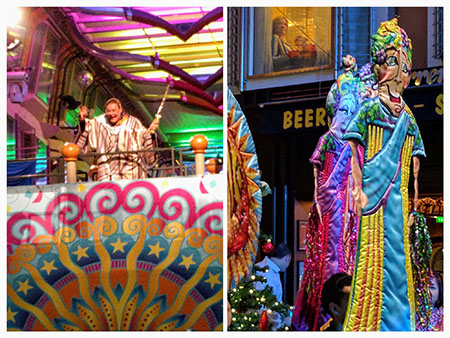 One point which I'd overlooked until I'd already started on this article is the social utility of the Royal Promenade (thanks to @JB6BB on Periscope who brought this point up). Because this venue is a long wide corridor of sorts, it's almost certain that every passenger will find him or herself navigating past the shops and lounges in this space. It becomes the place to run into your new friends and old, and a logical meeting place. The grand staircases of past ocean liners or even large atriums of ships in the nineties served some of this purpose, but not with the same efficiency, and with far fewer options for entertainment once you arrived.

The concept of this "hotel-like" experience at sea was a hit, and seems to have continuing popularity. The success of the Voyager of The Seas lead to other Voyager Class ships, as well as Freedom and Oasis class ships with similar Royal Promenades and other "inward facing" designs. When launched, the 225k gross ton Oasis was seen as a class of ship so far removed from what cruise ships had become that it's truly stunning, and worthy of a separate discussion. Staying focused however, note that the Oasis not only features a Royal Promenade, but even more venues that don't see the ocean at all. One trademark of Oasis class ships is the neighborhood concept, which brilliantly divides the ship into sections for the sake of theming and easy navigation. Two of these neighborhoods, Central Park, and Entertainment Place have no views of the ocean at all, despite Central Park being an outdoor venue. The familiar Royal Promenade technically has some windows, but they're curiously covered with film offering limited visibility, and the venue, like on other ships, is completely focused on looking into the ship, rather than enjoying being at sea.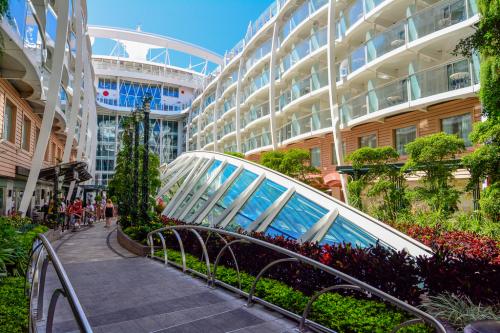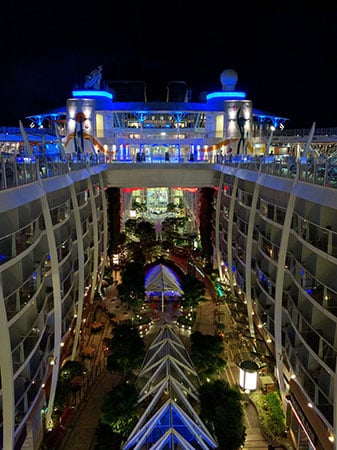 A total of eleven Royal Caribbean ships like this have been designed, with more slated. This isn't a knock on these experiences by the way. While I truly love knowing I'm at sea, I've sailed two Freedom Class, one Voyager Class, and one Oasis class ships and each time had a fantastic cruise. These ships all have great spaces with views, from the iconic Viking Crown Lounge on Freedom and Voyager Class ships, to the amazing open decks on Oasis Class ships, with more linear space from which to view the water than any ship at sea. Most of the time however, I couldn't help feel like the fact that I was on a ship was something that could be easily forgotten any moment I wasn't in one of a few select spaces.

This trend in modern cruise ship design evolved in a different way to Norwegian Cruise Line as well, where in 2010 the launched the 156k gross ton, 4100 passenger Norwegian Epic. The Epic didn't feature the same massive central indoor venue, but instead, the central areas of gathering and commerce onboard, including the large O'Sheehan's Pub, are located mid-ship on decks six, seven, and eight (at "678 Ocean Place"). Despite many of these spaces going up against the exterior walls of the ship, they lack windows, and very much focus on a quality hotel experience rather than any focus of being on a ship. This overall design continued on the Breakaway, Getaway, Escape, and Joy.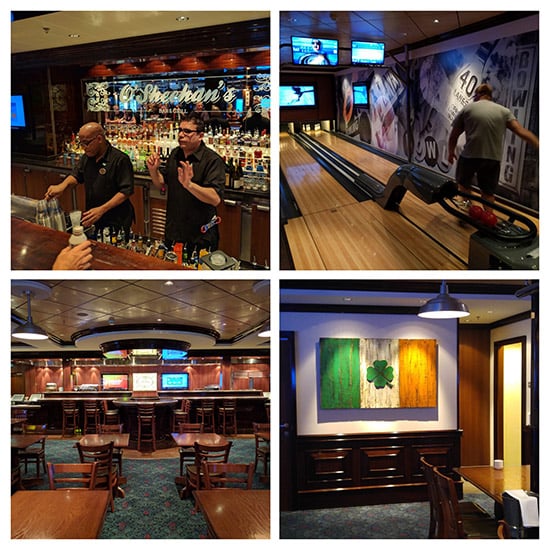 Like Royal Caribbean's latest ships, NCL does have some fantastic places that connect passengers with the sea. The Escape, Getaway, and Breakaway have areas called The Waterfront, which is an oceanfront promenade with seating for a number of bars and restaurants. You can enjoy a stroll and stop at any of the areas for a drink, a snack, or just a seat. It's a fantastic concept that I think every ship needs.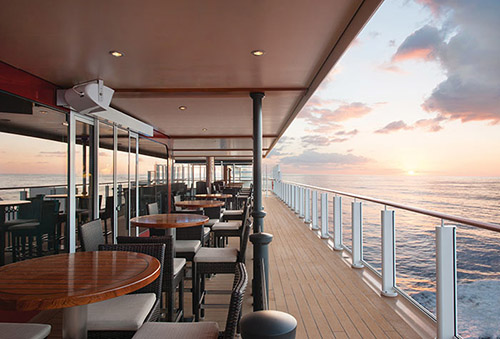 The only conclusion I've been able to reach over the past several years as I've watched these ships fill up, with guests seemingly clamoring for more of these "floating hotels" is that contemporary cruise lines found a set of features and design styles that resonates with many people, attracting repeat cruisers as well as those who, for any number of reasons, hadn't sailed before. While my preference on the matter, is no secret, I've continued to be happy for the success of the industry. I want more people to enjoy cruising. I also recognize that this trend has largely been isolated to the contemporary part of the market, with Royal Caribbean and NCL. Even Carnival, the cruise line who tends to attract a high percentage of first-time cruisers, has largely bucked this trend, sticking with more traditional designs and builds. Celebrity, Holland America, Princess, and others, continuing up in the market, have continued to develop ships that focus on the classic experience, while still innovating and staying modern. The point is, this formula has worked for some cruise lines and I'm happy, especially since when I want a more classic approach, there are plenty of cruise lines that can serve that up, just as there are many options for the "floating hotel" experience. Both have great merit.
What will ships looks like over the next decade?
In the past several months there have been a number of new ships and projects revealed that will be sailing in the next two years. Much to my surprise, these ships, from MSC, Norwegian, Carnival, and Celebrity, have very much focused on the water, on facing out to the sea. The 154k gross ton MSC Seaside, as you can guess by its name, is one of those ships. She sets sail in December of 2017, promises, "The highest ratios of open-air spaces: 13,100 SQM. 3.2 SQM per lower berth", with a wide 360 degree outdoor promenade and vast open deck towards the aft.

The 134k gross ton Carnival Vista has a feature called "SkyRide" which is a track of elevated bikes, allowing passengers to pedal and race over the open decks. The reasonably traditional shape of the vessel allows for great ocean views from other popular venues such as the Red Frog Pub and Cucina del Capitano offer guests plenty of opportunities to take in the seafaring experience markedly more passively than the SkyRide.

Norwegian is very mum on Project Leonardo, but the first of the 140k gross ton ships will be coming out in June of 2020 and the renderings appear to be a bit more traditional in shape than some of the other NCL vessels, which featuring the wide promenades we're growing to expect, and a curiously large venue at the stern which has windows that appear to stretch roughly 300 degrees around.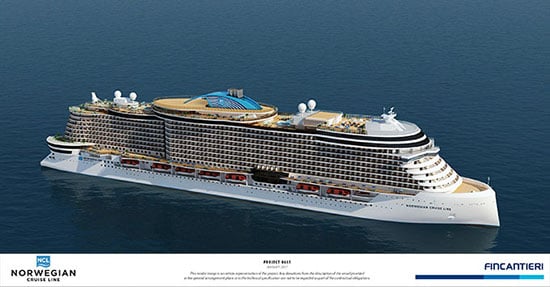 Lastly, you may have read on CruiseHabit.com about the recently revealed Celebrity Edge, an amazing new class of 130k gross ton vessels, the first of which sets sail December of 2018. The Edge promises to leave the future behind, but also pushes big on the idea of looking out to the sea, including in the nearly 70% of room featuring Infinite Verandas, allowing your stateroom to go, "to the water's edge with the touch of a button." These rooms have verandas that can open up to the rest of the stateroom, and glass that can close off the veranda to allow that area to be used as part of a larger stateroom living area while providing climate controlled views of the sea from floor to ceiling. The Edge will also feature Magic Carpet, a dining, lounge, and live music venue which cantilevers over the sea off the starboard side, and moves between different decks for different occasions, also serving as a tender launch at the water's edge.
Conclusion
All of these new builds have left me so excited that ships of tomorrow will indeed offer the feeling of being at sea. I can't help but wonder however what the sentiment will be from those cruisers who, over the past two decades, have come to love and embrace the idea of floating hotels. Has the market matured to where cruise lines no longer need to constantly compare their offering to a land-based one to lure new cruisers onboard? Will lines split into those embracing the oceangoing experience and those catering to guests looking for a land-based resort which happens to be docked at new port every couple of days? There is no right or wrong, and I'd love to think there is so much demand that both philosophies can succeed. While I have my preference, I don't think there's much doubt that I'll need to thoroughly explore each and every ship, as each has something great to offer, though I'll always strive to find a bar facing the waves and the sunset.
By the way, since we discussed the Royal Promenade quite a bit, and it is such an awesome venue, be sure to check out the episode of the RoyalCaribbeanBlog.com podcast all about it!
What do you think about floating hotels and cruise ship venues which don't have views of the ocean? Do you like being constantly reminded that you're on a ship, or do you like disconnecting from that feeling? Let us know in the comments below, or reach out on Facebook or Twitter!