Author: Bill March 13, 2017, Updated: September 1, 2021
Today in South Florida, Celebrity Cruises Chairman Richard Fain and President & CEO Lisa Lutoff-Perlo shared details of the 117,000 GT Celebrity Edge.  From an elevating cantilever bar to Infinite Verandahs and her own tenders, "Edge Launches", everything on this ship seems to have been designed to look out to the water. This ship looks like it will really be something special.  Now, while we go book a cruise on Edge, take a look below at just some of what she'll have to offer next year (be sure to check the gallery at the bottom) and look forward to more updates soon.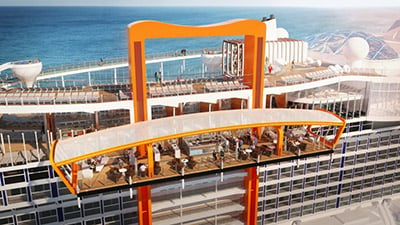 Resort Deck
The new Edge features multiple amazing new options for cruisers.  The Resort Deck offers a asymmetrical outward-facing pool deck, a winding jogging track, and the new Rooftop Garden which Celebrity calls a "living urban playscape".  Guests can enjoy two-story martini hot tubs and high-ceilinged private cabanas with ocean views (we *love* cabanas).  There aren't like an cabanas that you've seen before - they're massive and look right out to the water.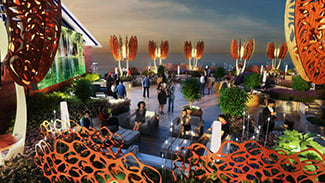 Magic Carpet
A big highlight for those wanting to enjoy the ocean and the views is the new "Magic Carpet" which cantilevers over the ocean off the starboard side and travels up and down 13 decks!  Enjoy a drink at the bar and even live entertainment as you travel vertically over the sea.  This promises to offer amazing new vantage points as you'll be able to see not only to the side of the ship, but forward and aft.  No word on which staterooms or venues may have temporarily restricted views as the Magic Carpet "flies by".
The Destination Gateway & Edge Launches
The Destination Getaway is an area that serves as an embarkation lounge as well as a multi-purpose space when not docked.  The idea of an embarkation lounge is nothing new, but has faded as we've seen ships with large atriums and other "inward-facing" spaces, where the Edge promises more views of the ocean and what awaits.  What's interesting here is that Celebrity says, "When the Magic Carpet is positioned here, The Destination Gateway serves as a comfortable and welcoming environment that leads to the Edge Launches℠ for transportation ashore."  This is because the Magic Carpet can be lowered all the way down to near the water line and serve as a platform of sorts for tender operations.  We wonder if Magic Carpet can move quick enough to help alleviate the busy elevators found on almost all ships during peak embarkation and debarkation times.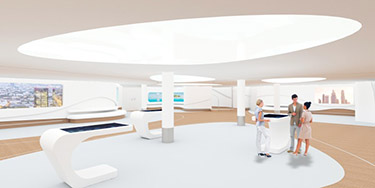 What are Edge Launches?  While we've become accustomed to ships using their lifeboats for tendering to shore (or third party boats kept in port), there was a time that one of my favorite ships, the SS Norway carried her own tenders, ensuring guests could travel in comfort.  The Edge Launches will take us back to these days of the Norway's tenders, which we're excited about.  They promise air conditioning, bucket seats, and large windows.  This is a welcome change and helps to make every part of the experience as comfortable and luxurious.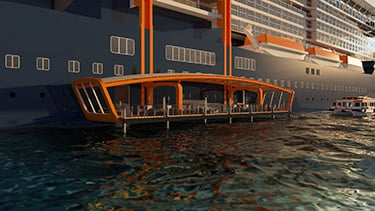 Infinite Verandahs
There are lots of new and amazing things about staterooms on the Celebrity Edge.  Some of these innovations are about size and space (king sized beds!?), others focus on decor, others technology (you'll be able to open your stateroom door with your smartphone...which hopefully means I won't lose my key card as frequently).  Out of all the announced features and amenities however, one stands out above the rest, 918 staterooms with "Infinite Verandahs" (16 of them singles).  These were designed in cooperation with Kelly Hoppen (of Kelly Hoppen Interiors) but with more in mind than just a modernization on existing staterooms.  Celebrity aimed to build rooms with bigger beds, bigger bathrooms, more living space, and a closer connection to the ocean, and they've done it.  Not just by these staterooms being 23% larger than verandah staterooms on the Solstice class, but by allowing the verandahs to be part of the stateroom with clear French doors going to the outside, and then a lowerable top section of the verandah window to create a "Florida room" sort of effect.  Enjoy your verandah as inside space, or take in the fresh air.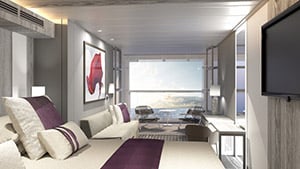 Celebrity Edge By The Numbers
Capacity (Double Occupancy): 2,918
Crew: 1,320
Guest Decks: 14
Staterooms: 1,467
Tonnage: ~129,500
Length: 1,004 feet
Beam: 128 feet
Draught: 27 feet
Cruising Speed: 22 knots
My Take
Curiously missing were any images of the ship as a whole from the outside.  We realize it's a bit early on but would have loved to have seen the ship on which we'll be traveling on soon.  All in all however, this is an amazing looking vessel which hits many of my "wants".  
The Celebrity Edge is the first ship from Celebrity Cruises to be designed (and revealed) in 3D, and that's helped us live the experience a bit before we're lucky enough to enjoy it in person.  The promise of a "unique, outward-facing design that brings the sea closer than ever to guests" seems to be coming into fruition.  The idea that Celebrity is trying to take advantage of ocean views and make that part of the experience is a welcome change from many modern ships coming from most contemporary and premium lines these days, where modern features have been welcome, but largely reminiscent of land-based hotels, compromising the vistas and "ship feeling" that many cruisers still enjoy.  The Edge brings back those great views but with amazing new modern takes.
Nate Berkus, the famous designer and TV personality was also on hand for today's announcements, sharing some details of the Edge that he contributed to in yet another one of his roles, as the Celebrity Edge Design Ambassador.  He seems to have brought a very different perspective to the build, and despite his experience, he's new to the world of cruising (he even called the ship a "boat" during the press event).  We hope this trend of leveraging outside designers, new to this realm, will continue industry-wide, while avoiding the "hotel look" becoming standard.  So far, the contemporary design with a nod to the classic views has left us wanting more, but we'll have to wait until her first sailing.  Celebrity Edge will homeport in Fort Lauderdale, FL., making her first sailing December 16, 2018.
What do you think about this new design?  Let us know in the comments below, or reach out on Facebook or Twitter!