Author: bill August 30, 2016, Updated: September 1, 2016
I'm frequently asked about my favorite ship.  This is a tough question.  I don't have children, but I imagine it's only slightly more difficult for me to pick my favorite ship than for parents to pick their favorite child.  Come on parents, you know you have a favorite.
While I still can't tell you what my favorite ship is, there are certainly some that stand out more than others.  Maybe one is the prettiest, another has the most amenities, and some I might just love out of nostalgia.  For this reason, I'm sharing with you the first in what will be a series of articles offering a brief summary of one of my favorite ships.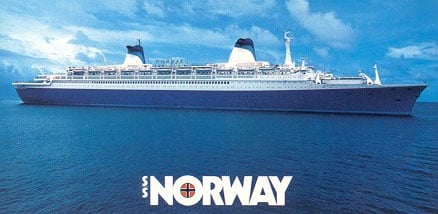 The SS Norway has many superlatives, but I'll admit, having sailed her a number of times, always as a child, nostalgia, as well as my love of ocean liner history, plays a big a big part in making her stand out.
Service as The France
The SS France was put into service in February of 1962 by Compagnie Générale Transatlantique, a French ocean liner company.  She was a sleek vessel with classic lines, reminiscent of grand ocean liners of her era, but coming in at 1,037 feet (316 meters), she was the longest passenger ship in the world.  To offer some perspective, where these days we see one vessel after another getting longer, taller, and wider, the SS France held the title of the longest passenger vessel until construction of the Queen Mary 2 over 40 years later.  In fact, all these years later, the 227,000 gross ton Harmony of the Seas is only 81 feet longer than the 66,300 gross ton SS France.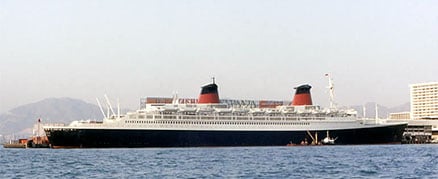 She was designed to replace the line's aging fleet as they struggled to compete in a world where air travel was present, but ships continued to hold on to their presence in the business of taking passengers across the Atlantic. 
Trivia: The SS France and the Harmony of the Seas were both built at the Chantiers de l'Atlantique ship yard in Saint-Nazaire, France
Times changed as they do and jet travel became more economical, fuel prices surged, and the government subsidies that once helped prop up The France's service were no longer enough.  In 1979, after several years of sitting dormant, she was purchased by Knut Kloster, president and co-founder of NCL.
Service as The Norway…and a little emotion
In 1981 NCL, who'd been operating smaller purpose built cruise ships and former cruise ferries in the Caribbean for over a decade, completed an $80 million overhaul of the ship formerly known as The France, and in Oslo, christened her the Norway.  This was the first, and really the only time a purpose built ocean liner was turned into cruise ship.  This meant that pools were built on open decks (the upper deck pool was previously covered), public spaces rearranged to facilitate a single class arrangement, and the vessel modernized from stem to stern.  This was the Norway I knew. 
During her service with NCL she went through changes, including the addition of two penthouse decks at the very top, but she always remained a ship with a very different feel than the rest of the fleet.  Her elegant lines on the outside paired perfectly with dark wood throughout many of the public spaces, larger, grander venues, and options that other cruise ships at the time simply didn't have the space for.  One that sticks out was Sven's Ice-Cream Parlor all the way aft on the International Deck.  Most kids love ice-cream, and I was no different – but ice-cream on a cruise?  On the Norway?  That was something special then, as the memories are now.  One trip with my parents and grandparents I recall my grandmother and I getting a bit lost on the ship, separated from the family.  We waited on a bench near Sven's until my parents found us, a high seas adventure, that to this day, my 82-year-old grandmother recalls as the time my parents got lost without us on the Norway.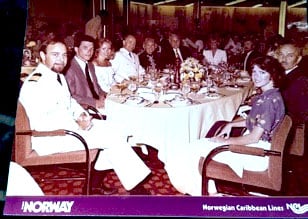 Trivia: The main pool on the Norway had windows allowing guests to see the legs of swimmers.

Another thing that sticks out in my memory is actually how passengers got into various ports.  The Norway, being built for Transatlantic service, had a deep cut to the hull, giving her a much deeper draught than cruise ships.  This meant that while other ships in the NCL fleet, such as the MS Starward, could easily dock in many ports, the Norway often had trouble fitting, and needed to use tender service.  NCL wasn't blind to this issue however, and fitted the prow of the Norway with two large, double-deck tenders, with articulating cranes to lower them into the water.  They were named the, Little Norway I and Little Norway II.  Last I know, at least one of these boats is still used to shuttle NCL passengers between current NCL vessels and Great Stirrup Cay, their private out-island in the Bahamas.  As a child, I remember talking about the ship that was, "so big she carries her own tenders!"  My classmates weren't impressed, but I was, even more so when my father's friends would occasionally hold me up to the helm of one of the tenders, allowing me to feel like I was steering as we headed into port.


The Norway continued making these memories for myself and thousands of others until May 25, 2003, when a boiler exploded in the engine room, killing eight crew members.  There is debate as to how feasible repair was, but ultimately it was decided that she be retired for the last time as NCL built up a newer fleet of purpose built cruise ships, including the Pride of America, for which the Norway served as quarters for those training to be the Pride's crew.
Obviously, I still love cruising, and by most measures, ships have drastically improved.  Much like someone's first Christmas morning, or first time seeing snow fall, I'm not sure I'll be able to recapture some of the emotions that the memories of the Norway, and he unique past, bring to mind.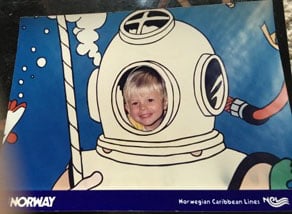 If you want to see what the Norway was really like, take a look at this great video shot only a week before her days at sea.  Thanks to Harold Smiley Davis, the camera and jib operator for this video, and his site, The Television and Motion Picture Network. 

Do you have memories of the Norway, or the France?  What's your favorite ship?  Share in the comments below!