Author: bill April 26, 2018, Updated: February 19, 2022
Cunard Line has had many famous ocean liners, but each with distinct legacies. The Queen Elizabeth 2 (QE2) is just one of them, but her storied history is especially meaningful to those of us who have been lucky enough to sail her as well as those with an understanding of her place in history.  Last week in Dubai, UAE, the QE2 re-opened to guests, though these visitors will have a distinctly different experience as they wake up each day in the same place aboard a sparkling new hotel at Mina Rashid.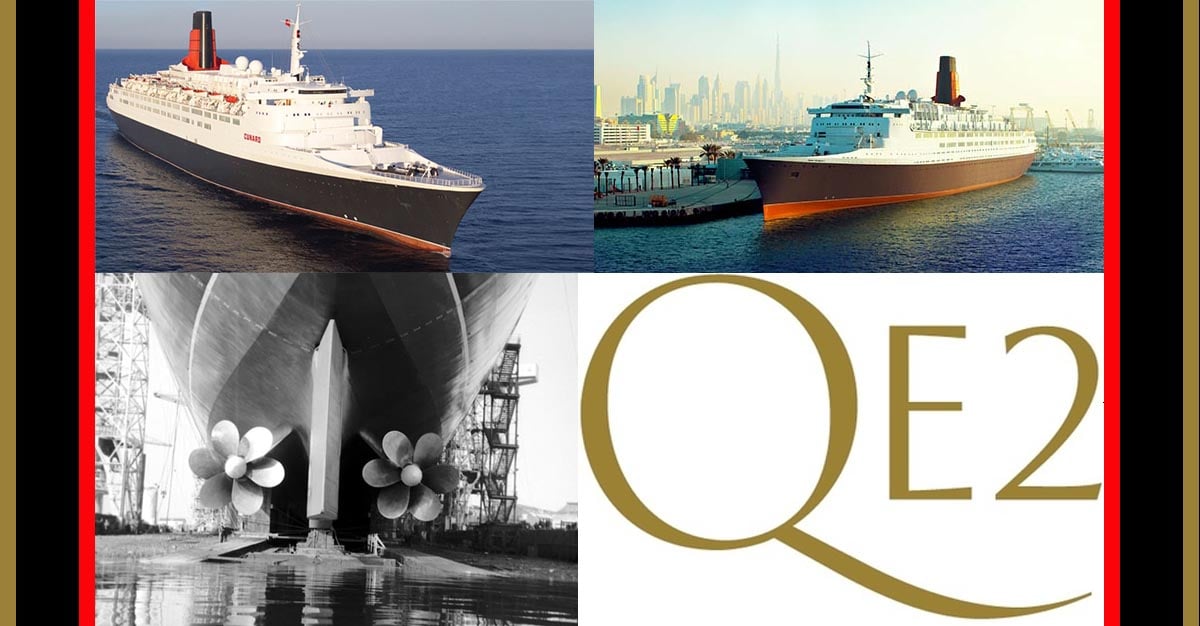 History of the QE2
While we could go on for hours about this great liner, we'll try and keep this short.  In the first part of the 1900's, ocean liners were, as the book is titled, "the only way to cross" and Cunard reigned supreme, carrying passengers safely, quickly, and in luxury.  By The 1960's, this method of travel was still popular, yet Cunard Line's RMS Queen Mary and RMS Queen Elizabeth, both launched in the 1930's, were getting a bit long in the tooth, and Cunard needed a replacement, which would become the only vessel with regularly schedule trans-Atlantic service, while also being designed to cruise the Mediterranean, Caribbean, and other parts of the word in the summer months.  
The QE2 entered service in 1969 with all the grandeur of the liners before her. In 1982 she was commissioned by the British government to aid in the Falklands War. This wasn't the first time a Cunard ship was brought to war, but it would be the last, as the days of the British government offering financial assistance to Cunard in exchange for their duty to country have long passed.
She didn't always sail full as air-travel began to reign supreme, but she continued to be "the" way to cross for many, hosting movie-stars, dignitaries, and British royalty all over the world.
You can read more about war commission of ocean liners and other historical tidbits in our A Brief History of the Blue Riband - The Fastest Passenger Ships to Sail the Atlantic.
After the war, she continued passenger service for decades more while cruising changed, but became an increasingly competitive industry with high-tech ships and a greater variety of discerning consumers.  Eventually, her less-efficient engines, relatively small size (despite spending years as one of the largest passenger vessels in the world), and the world's thirst for bigger and better things lead to her being decommissioned in 2008, a day that this writer will always remember, and maybe even shed a tear thinking about.
For years there were plans to turn her into a floating hotel, like the RMS Queen Mary (in Long Beach, CA), but the cost, logistics, and global politics meant a series of changes and acquisitions delayed the process until April of 2018.
QE2 Hotel
QE2 may always be thought of as a Cunard Line ship, but as a hotel, she's now owned by PCFC Hotels - part of the Dubai government's Ports, Customs and Free Zones Corporation.  She's now a permanent fixture of the famous Dubai skyline, docked at Mina Rashid, looking ready to sail, despite no longer having her engines affixed.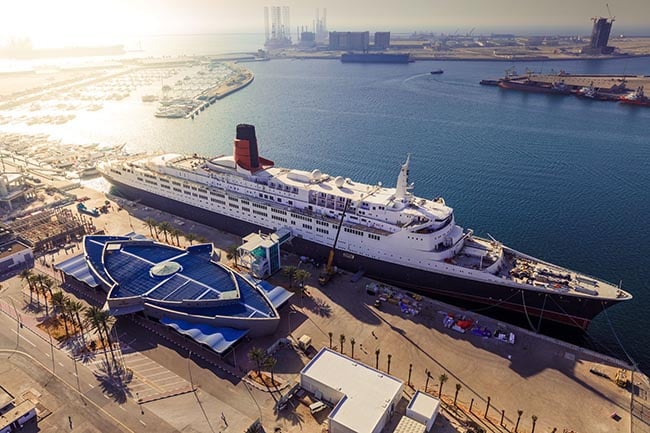 In addition to hotel accommodations, significant investment has rejuvenated much of the ship in an effort to make her a dining and entertainment attraction, though only hotel sections and some dining venues have opened as part of her initial "soft opening."  Guests will experience a selection of restored rooms and suites, five of the planned 13 restaurants and bars, as well as the adjacent QE2 Heritage Exhibition.
"We have dedicated more than 2.7 million man-hours into transforming this legendary ocean liner into the multi-faceted tourist destination that she is today and I am very proud to reintroduce her to the world as she embarks on the next stage of her celebrated journey. It has been an honor to work on this wonderful project and to help ensure that our lovely Lady lives up to her new slogan: still making history." - Hamza Mustafa, CEO of PCFC Hotels
Interestingly (and in our opinion, importantly), much of the restoration of the 13-deck hotel has restored her to her former glory – with some sections looking more reminiscent of the ocean-liner's life in the 1970's and 80's, ahead of a series of refurbishments.  Much of the period furniture, artwork, and Cunard memorabilia has been integrated into the project. Of course, despite efforts to restore much of her original beauty, she's been updated technologically.
Near the hotel lobby is the QE2 Exhibition – an interactive museum showcasing QE2 during the 60's when she was a modern marvel in technology and style.
From small but well appointed 'cabins' starting at 183 square feet, to the 820 square foot Royal Suites she offers 13 room and suite categories for guests to experience – though those rooms are no longer divided by class or restaurant category.  In her sailing days, only guests in the the most spacious and luxurious accommodations, known as Queen's Grille Suites, were permitted to dine the Queen's Grille. Remember, being designed as an ocean liner in the late 60's, verandahs are few and far between on QE2, found only in select rooms - a distinct difference from more modern vessels.
Want to read about another great liner which became a cruise ship and was once divided into classes?  Check out Billy's Favorite Ships - The Story of The SS Norway a.k.a. The SS France.
The two largest suites in the hotel, which include a conservatory, private dining room, and more, are offered by invitation only.
One famous venue, The Chart Room, now operates as a lounge and restaurant.  This space has a nautical theme and continues to offer nautical charts, which passengers of decades past used to chart their own voyage across the world.  Also to be enjoyed in this initial opening is The Golden Lion – a traditional English pub. Also familiar to past guests is the Yacht Club – a, "chic rendition" of the former aft lounge as well as the new location for afternoon tea (which used to be held in the Queens Room, a ballroom one deck below the Grand Lounge, QE2's theater).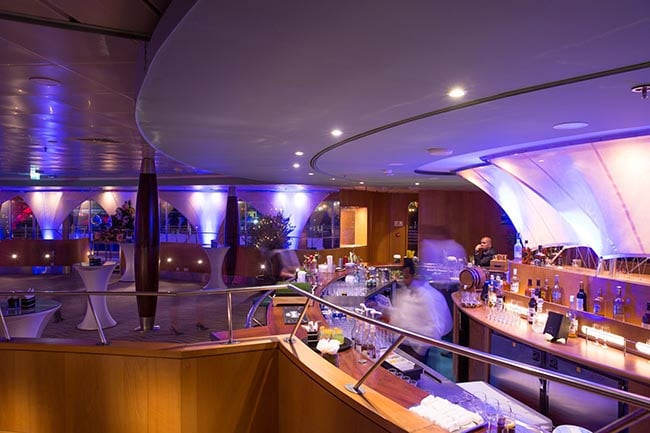 The hotel's signature restaurant is The Queens Grill, once regarded as one of the finest restaurants at sea, hosting a relatively small percentage of guests. (This writer feels incredibly privileged to have been one of them.)
The grand launch of the QE2 as a hotel will take place in October 2018.
Billy's Thoughts
Much like it's difficult to describe cruising adequately to someone who has not experienced it, so too is it challenging to explain the emotion I personally have when thinking about this ship and what has become of it.  While I have mixed feelings about the transformation, my apprehensions are largely illogical, as I know she couldn't have sailed forever, and recognize that keeping her on display and with well-maintained purpose is a far better fate than that of her sister, RMS Queen Elizabeth (more on this in an upcoming article). 
Interested in what happens as ships get older? Check out Dry docks, constant maintenance, and retirement. The aging process of ships.
To me, the QE2 represented not just a series of amazing experiences, but a unique style, and several roles in history which we'll likely never see again in the world of passenger ocean-travel.  Even if an identical vessel were built, we remember and love things partially for the time in which they exist in our minds, and despite the great crossings I hope I have ahead, I'll never again be able to sit just between the Yacht Club the Grand Lounge, watching the North Atlantic pass by, knowing there were no distractions to interfere with that moment in my much simpler (younger) life. I'll never again stand on the bridge wing with Commodore Warwick as we sailed through the Norwegian Fjords.  That which is within our control however, seems in good hands, as the inclusion of some of her original styling as well as spaces dedicated to her history (something which Cunard continues to do on their ships) make me feel much better than if she was a Mandarin Oriental or St Regis wrapped in metal and topped with a long-decommissioned funnel.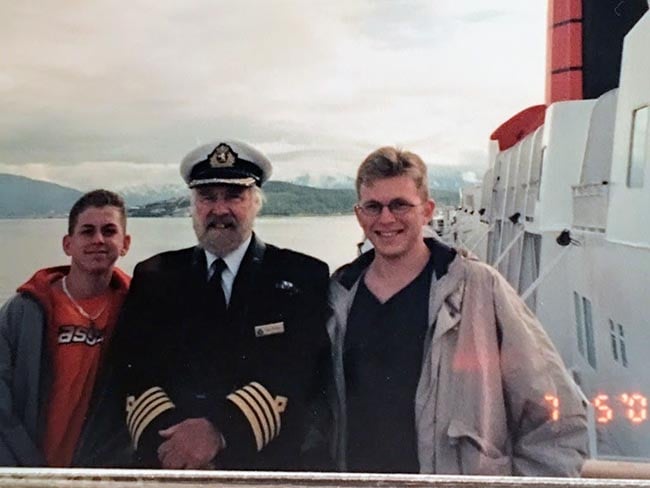 No matter the great job they may have done in her transformation (I say may, as I've of course started making irrational decisions about flights to Dubai so I can judge properly) this progress makes it all very real for me, bringing a sad sense of closure.  While Cunard's current Queens, including QM2, are fantastic vessels, the fact remains that there will never be another ship with the story of QE2. Should I ever be fortunate to stay aboard her as a hotel, it will be bitter-sweet waking up with the realization that while history continues to steam on, overnight we remained in port, and QE2's fog horn remains silent.
Have you sailed QE2? What would you like to happen to your favorite ships?  Comment below or reach out on Facebook or Twitter!