Submitted by

Bill

on Thu, 09/22/2016 - 21:08
We like to picture ships as most of us experience them - clean, shiny, and new. The fact is however that ships don't last forever. How do cruise ships stay so youthful, and what happens when they get a bit long in the tooth?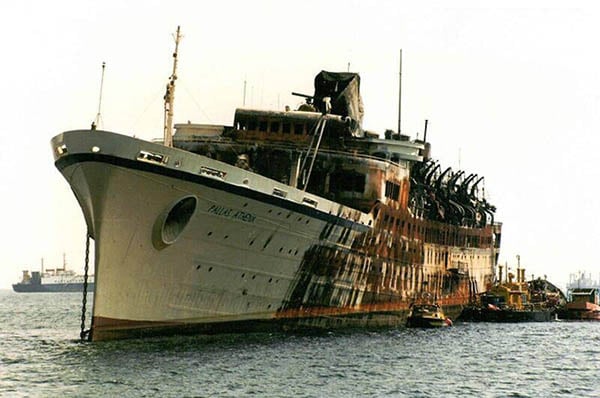 In an ideal world, things that we take care of last forever. Obviously, this isn't reality, and modern cruise ships can easily serve 300,000 guests a year, while battling salt-water, sun, occasional storms, and endless cleaning, remodeling, etc. When a ship has been sailing fifteen or more years for one line, that doesn't mean they're just sent to scrap - often they continue to have long, prosperous lives at sea.
The Daily Grind
Ships that have come out in the last decade or so, like the Celebrity Solstice and Carnival Vista are in their very first phases of life. They, like the rest of their lines' modern fleets, undergo maintenance day and night while passengers enjoy their vacations. Have you ever seen your ship being painted while in port and think you must be sailing during a maintenance window? Nope, generally the crew is always repainting some part of the ship to protect her against the elements, and keep her looking nice. The same goes for window washing, a task performed on or by motorized rigs on many newer ships. While you sleep in your stateroom (or party at the bar), the crew is hard at work moving every deck chair and piece of outdoor furniture, hosing down any dirt (and lots of sea salt) from the deck, railings, etc, and putting it all back for you to enjoy in the morning (or, if you're the one at the bar, in the early afternoon). Meanwhile, below deck, maintenance is being performed on various mechanical, electrical, and plumbing systems. Of course things still come up during the day, and you might get a glimpse at some of the more pedestrian tasks, such as light bulbs being replaced, etc. All of this great work however is not enough to keep the ship safe and comfortable.
Dry Dock
You've probably heard the term "dry dock". This refers to a ship being taken out of the water for inspection and maintenance. Safety of Life At Sea (aka SOLAS, an international maritime treaty) requires that passenger vessels' hulls be inspected at least every year (and most cruise lines do this much more frequently with divers while in port). In addition however, two inspections must be completed out of the water (that's the "dry" part) every five years, with no more than three years between inspections. Because this important inspection takes place without passengers, it's also the time that cruise lines use to do their refurbishments. Depending on the last time a ship was in dry dock, how new the ship is, and quite simply, guests demands, a dry dock may be only a week or so while carpets are replaced, paint stripped, etc, or they could be several weeks while all new venues are built.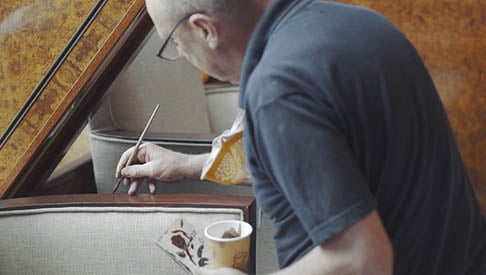 Just this summer Cunard's QM2, the only purpose-built ocean liner sailing today, emerged from a $132 million dry dock, the largest of any passenger vessel in history. Numerous restaurants were redesigned, staterooms redone, additional kennels added, and mechanical improvements made - some to increase fuel efficiency and reduce emissions. The QM2's dry dock is an extreme example, but other large refurbishments do occur. In 2013 the Disney Magic underwent a refurbishment which saw several venues re-imagined including a major overhaul of the buffet area (turning Topsider's into Cabanas) and the addition of the AquaDunk, a particularly thrilling waterslide. Her renovations were such that the hull had to be extended, preventing her from fitting through the Panama Canal until it's expansion two years later. As a final example, in 2013, Royal Caribbean's, Enchantment of The Seas was cut in half and extended by 73 feet at an estimated cost of $40 million.
Ultimately, these dry docks are critical, not only ensuring a ship is safe and seaworthy, but as you see, ensuring she stays clean, modern, and feeling new. They are one of the biggest reasons these massive machines/hotels/cities can serve us for so long.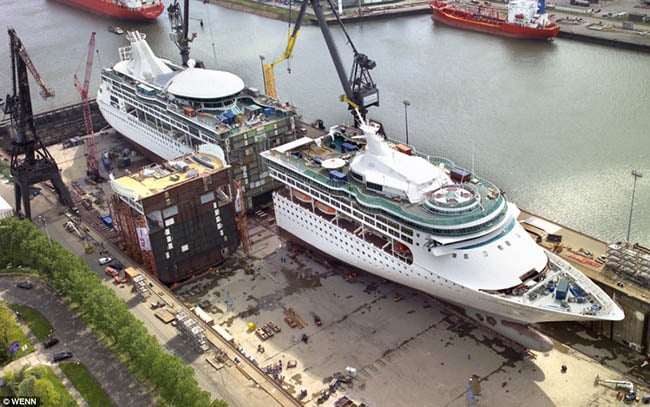 Ships' Second Lives
After some time a ship may not be in line with a cruise line's target market. Maybe they're looking for larger vessels, or just fewer vessels. This means new ships are built and the ones they have must go somewhere. The most common path is for these ships to get transfered to other brands. Often, this means a ship may stay with the same company, but change brands within that company. For example, in 2013, after 16 years of service, Royal Caribbean's Monarch of The Seas became the MS Monarch for Pullmantur, Royal Caribbean International's brand that focuses mainly in Spanish speaking markets. Princess Cruises' Regal Princess (the first one, not the ship currently sailing under this name) became the P&O Pacific Dawn in 2007, after 16 years of service with Princess.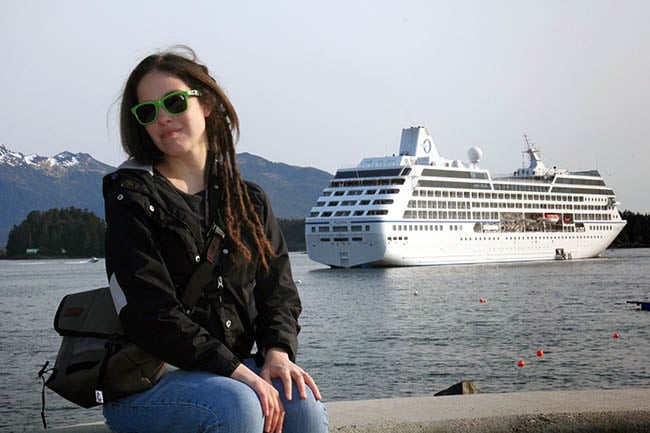 Ships don't always move to "sister" companies, nor are the moves necessarily a step down in any way. A cruise line looking to add a specific type of vessel in their fleet may find great value in a ship who no longer fits the market goals of another cruise line. Other times, things just don't work out. When Renaissance Cruises went out of business in 2001, they had a fleet of eight R Class ships which were sold off to Oceania, Princess, and Azamara. In fact, the R Eight was sold to Swan Hellenic Cruises operating as the Minerva II, and then to Princess, operated as the Royal Princess (the first one), who then sold it to sister company Fathom, which now operates her as the Adonia, sailing on "impact cruises" to the Dominican Republic and Cuba.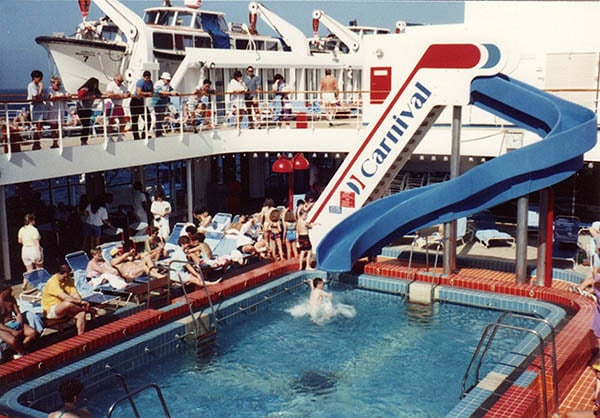 These transitions are common, and many readers have sailed on these ships in their second lives without knowing it. Eventually however, these ships are again sold as large ferries, or used as cheap casino ships which don't have the need for the latest and greatest amenities, and often stay close to shore.
Nothing Lasts Forever
While the same strict maintenance requirements exist after a ship might be sold to another cruise line, nothing lasts forever. Like an aging car, the maintenance costs may become too high, or the overall styling of a ship may just be out of date. Ten to twenty years ago a big reason for a ship taking it's final sailing was because of the inefficient steam turbines and dated propulsion systems that polluted more, were less maneuverable, and more prone to failure. When these factors start to weigh on an operation the ships are sent to scrap. You've probably heard this before, but what is it really like?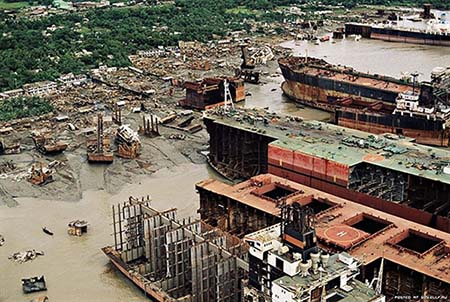 Scrap yards generally exist in developing nations in Asia, and the job of beaching these giant vessels, then using gas torches to cut the valuable metal and parts away is a very dangerous one. Fifty workers may take three months to break down a 40k ton vessel. Metal is either sold to be melted or cut into reinforcement bars, and brokers come in just before or after beaching to take away any remaining furniture or equipment of value. While much of the ship is re-used, there are problems with this process, as hazardous materials often end up sitting on beaches. Stockpiled in Bangladesh, for example, are 79,000 tons of asbestos, 240,000 tons of PCBs and 210,000 tons of Ozone-depleting substances.
Notable Exceptions
Imagining a hunk of rusting metal being torn apart by underpaid workers is something we should remember as we help make the world a better place, but it does seem like a low note on which to end this article. Instead, I'll share a few notable exceptions to what we discussed above.
Royal Caribbean operated Empress of The Seas from 1990 until 2008 when she was moved to sister company Pullmantur and operated as the Empress. In 2015 however, relations between Cuba and the United States thawed, and it seemed tourism wouldn't be far off. In 2015 she was moved back into the Royal Caribbean fleet as the company needed a smaller vessel prepared to tend to the smaller and less developed ports of Cuba, but didn't have anything in their fleet ready to use. After millions in refurbishing and rebranding, in 2016 the Empress of The Seas was back sailing for Royal Caribbean, though not yet to Cuba as government approval is pending at the writing of this article.

Cunard Line has a long history of famous and beautiful ocean liners. One of the most famous is the Queen Mary, in service from 1936 to 1967. When she left service she was permanently docked (with engines removed) at the Port of Long Beach in California. There she continues to serve as a hotel and museum. This is by far, the oldest true ocean liner you can still visit.
Quick Fact - One thing you won't find on the Queen Mary in Long Beach? Her horn. The great liner's original horn is currently in service on Cunard's QM2.
Do you have a story about being on a ship just before or after it was sold off to another line? Have you ever seen a casino ship and recognized the classic funnel of an old Carnival ship? Let us know in the comments below!