Submitted by

Bill

on Fri, 11/24/2017 - 00:35
Sometimes we cruise to enjoy the destinations, the activities, and the entertainment – other times we cruise for the sake of leaving our cares behind. Today's sea day on Holland America Line's Nieuw Amsterdam was one of those days we just wanted to look around and bask in the enjoyment of doing nothing. Don't worry, we still managed to do something, or else we wouldn't have much to write about.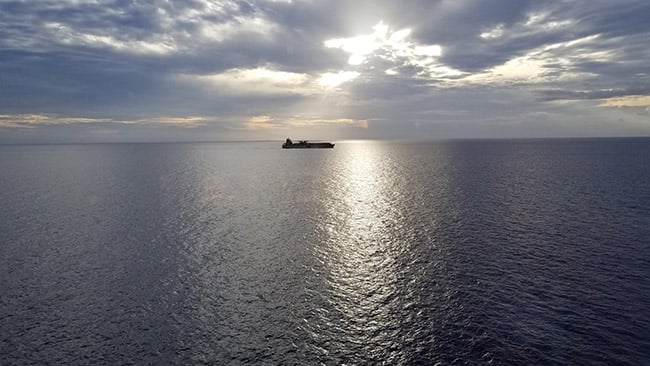 Breakfast – I can't believe we waited to experience this!
Up to today we'd spend this cruise having breakfast in the Lido Restaurant, and had enjoyed a number of items, including the crepe station. Speaking of which, in the future we may have trouble waking up any day a crepe station isn't a morning option – potential employers take note. That in mind, today we opted to try out the main dining room for breakfast, and it was magical.
I'm very lucky to cruise often, so anytime I complain about anything related to cruising, I immediately feel like a jerk. To that point, I've complained many times that shipboard breakfasts are often lacking. Sure, having a hot complimentary breakfast only two minutes away from your bed is amazing even if you get only a pop-tart and instant coffee, but each weekend on land we go to any number of local diners and enjoy a great breakfast which usually surpasses cruise breakfasts in terms of overall satisfaction. Today however was different.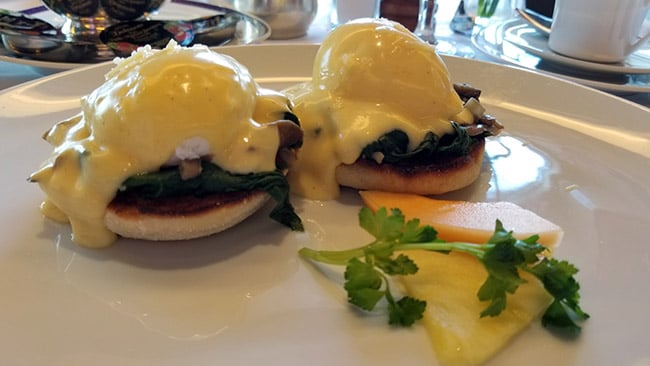 Arriving in the main dining room at 9:15am, 15 minutes before closing, we were handed a larger menu that what we've come to expect even on high-end cruise lines. My eyes immediately jumped to the wild-mushroom eggs-benedict and the banana-bread French-toast. Sold. Everything ordered came hot and without compromise. On Sunday I'll be having breakfast somewhere near home and wishing that meal came from the ship – I can't recall feeling that way about breakfast before.
"Hello World" – A Surprise Broadcast from Our Balcony
Breakfast (with espresso of course) having prepared us for an arduous sea day, we headed to the stateroom to sit out on the balcony with a bottle of champagne. Why? We're on vacation! While there, I realized that we were off the coast of Great Inagua Island, and well within cellular range, so I took the opportunity to jump on Periscope and share the amazing morning ocean view with many of you.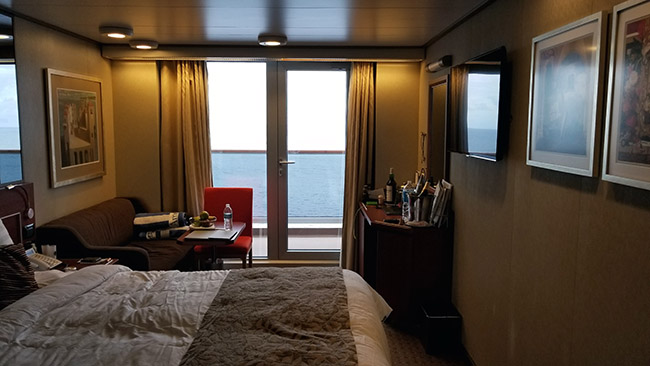 Candidly, there are fleeting moments when I think, "oh man, a nap instead of a social-media update would be nice." Those moments however are easily eclipsed by spontaneous occurrences like this morning's, where I get to share my view with the world, answer cruising questions, and talk ship. The sun on the water was beautiful, the quiet sound of water be pushed by the ship's gracefully-shaped hull, and of course the taste of vacation and champagne – it was fantastic. On this Thanksgiving in the US, I sincerely thank all of you who joined me in the past and strive to join me in the future as we hang out and you allow me to share my love of cruising.
Indian Food & A Sun Tan?
We've enjoyed the food on Holland America, but something we'd enjoyed on several lines (especially Royal Caribbean & Celebrity) but hadn't yet seen on Holland America, was Indian food at the buffet. Lunch today included several curries, poppadum, onion badje, and more. We know this isn't everyone's thing, and there were plenty of options, but we were really happy.
What goes well with Indian curries? Laying out in the sun. Okay, maybe not but it worked out for us this time. So far in the cruise we'd not just enjoyed the Caribbean sun, and on the last sea day it seemed like the right thing to do, so we headed out to the aft pool for some rays.
The aft pool deck is essentially an open deck with loungers and tables spread about. It offers great views and we wish more modern ships had aft pools like ocean-liners of the past. Instead of a lounger we sat at table and chairs (with an umbrella of course). This offered some shade, kept us from falling asleep, and was quite comfy. The table and chairs are always set for meal service as well, because in addition to convenient bar service, you can enjoy a meal from the nearby Lido Restaurant by the pool, or get fresh pizza (made to order!) as well.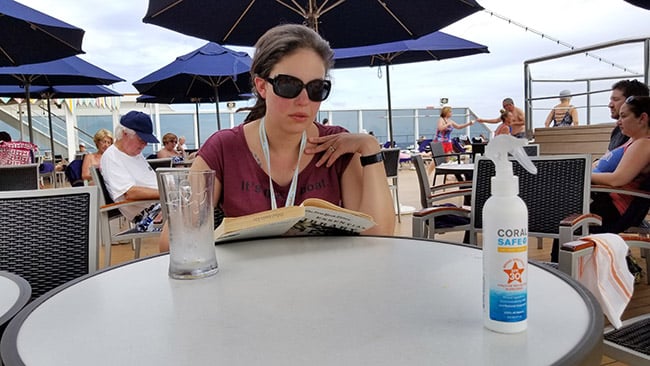 Those who have followed some of my past adventures should take note that I did apply sunscreen this time (I really am getting better about his), and as Larissa tried to read I chatted her up while enjoying the beautiful views. The pool itself was pretty crowded actually, more than I'd seen it all this cruise, but plenty of deck chairs were still available if I'd not been so content to sit right where I was.
Expanding Our Bar Experiences for Research
It occurred to us that aside from muster, we'd not gone to the Ocean Bar, a vaguely nautical-themed bar spanning the beam, midship, deck three. The room has a great feel, but also seems underutilized (something we'll touch on in a moment). Here we noticed several Thanksgiving Day drink specials, a combination of words we don't think we've ever typed. Larissa tried a few of them (again, for research) before we headed up to The Crow's Nest.
Despite loving The Crow's Nest, we'd not spend too much time together enjoying the space unless it was for coffee, and we'd not sat at the bar itself at all, instead ordering our drinks from the comfy seats near the panoramic windows. Similar to the Ocean Bar, we realized how underused this space was. Sure, you could enjoy trivia towel-folding classes there (yes, really), but with so much space, great views, a dance floor, and a small stage – it seemed like there was so much more they could do with this forward-lounge.
Chatting with some of the bar staff, they shared that there used to be live music in The Crow's Nest, but since brining on BB King's All-Stars, they'd dropped that offering. Now we really enjoy BB King's All-Stars, and we understand an eight-piece band of that caliber eats at a cruise line's entertainment budget, but we'd love some live entertainment (especially after dinner) in other lounges like this. As it turns out, in just a couple weeks the Nieuw Amsterdam is undergoing a two-week drydock in Freeport, and there will be some changes to the Crow's Nest – we hope they leave open the possibility of live music.
Canatel…Cano…Canaletto Italian Dining
Canaletto, a name we've screwed up on each Periscope this sailing, is an Italian specialty restaurant which is actually situated in a corner of the Lido Restaurant. While some separation is there, don't come here for immersive theming. For an extra $15/person we enjoyed a somewhat family-style Italian meal, ordering several vegetarian options from the menu plus several "custom" items and surprises which they whipped up for us.

I try and judge specialty dining compared to the main dining room experience. In the case of Canaletto I'd say it's an upgrade, but not a massive upgrade. You have a slightly more intimate venue, where the wait staff clearly has fewer tables than in the main dining room, and the food comes out so hot that it's either made to order or dangerously radioactive. The experience didn't blow us away, but we had a great meal and shockingly we didn't feel "oh my god, it's time for bed" full afterward, which was a nice change from many specialty restaurants on ships where the goal seems to be stuffing you in an effort to shore-up the value prop. Interestingly, I may be inclined to rate Canaletto a bit higher if the main dining room on Nieuw Amsterdam wasn't so good – though an adjustment in ambiance would help, too.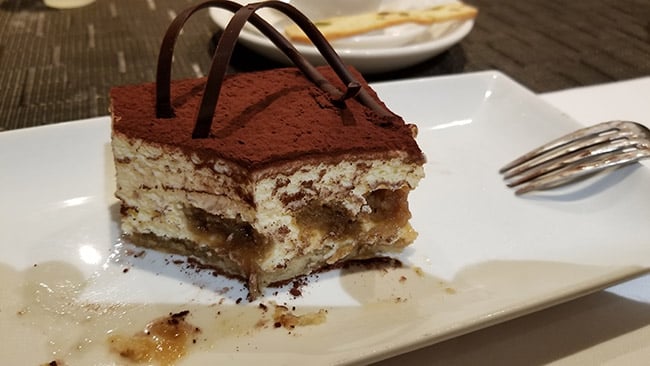 BB King All-Stars – Midship for Safety
After dinner, we went back to the Queen's Lounge to catch BB King's All-Stars once again. Holland America did very well in setting up this group. As we discussed the other night, they are a fantastic group of musicians, and among the eight of them, there is no weak-link. The venue this evening was packed (for at least two of their sets we caught), making it clear that this was the place to be. If the show was on the bow my laptop would have slid off the desk in the stateroom. If you're on a Vista Class ship and find yourself at a packed show for these performers, check each of the large-circular booths, as they easily seat three couples, and with such a high-energy show, no one is afraid to share the space.
As we jumped, clapped, stomped our feet, and sang along to the show the hard-working bar staff came around with a number of small dessert items, which was a really nice touch, though we were barely able to enjoy any of it after a great meal a short time earlier. It's hard to imagine how they managed to bring by snacks, keep drinks full, and not interrupt the show despite the packed house, but they do it.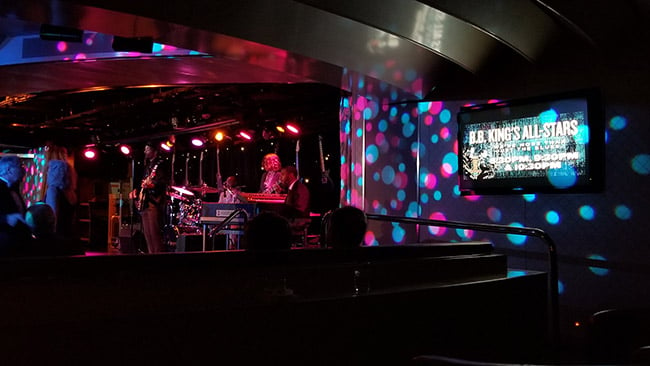 In addition to great music and drinks, one other thing happened during the show. The lead female vocalist, Katrina, shared a personal and touching story (related to today's date) and then sang one of the most passionate renditions of "I Will Always Love You" I've ever been lucky enough to hear. If there was a person in that lounge not sobbing by the end I'd like to meet them. Even the other members of the band needed a moment. You can't rehearse passion in performance.
The "Remember When" Piano Bar
We've discussed the Piano Bar the past few days as it's been a fun venue to enjoy music, make friends, and make fools of ourselves. We heard from several sources today that during the December dry-dock, this venue will be removed to make more room for the casino. We can only hope that the same quality and feeling will continue in a different (perhaps totally new) space on Nieuw Amsterdam, but it's hard not to think about being one of the last groups of passengers to enjoy this space. Such is life though, as ships change all the time. Venues, shows, and restaurants come and go. As we've written before, it's easy to reminisce about the past, but overall, changes in the world of cruising have been good ones in our opinion.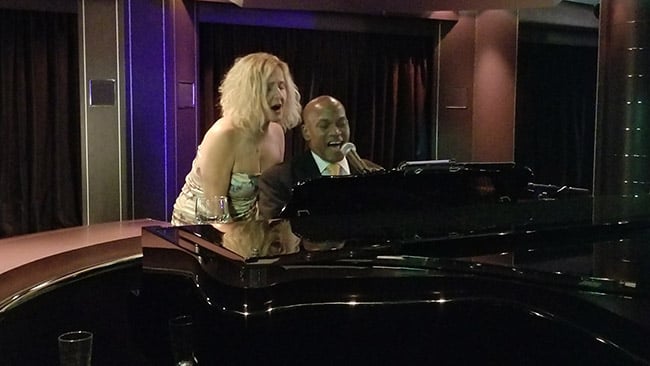 Tomorrow - Half Moon Cay
Tomorrow we stop at Half Moon Cay, Holland America Line's private island in the Bahamas. We've seen great photos and heard great stories from those who have visited on HAL (and other Carnival brand lines), and we're excited to see it for ourselves. This is a tender port, so we've got a short ride to the beach tomorrow and then we'll be exploring the quiet oasis.
We'll be comparing the island to other private destinations such as NCL's Great Stirrup Cay, Royal Caribbean's Labadee, and Disney's Castaway Cay. Hopefully we'll get to share pictures and video with you on Twitter, Facebook, and Periscope.
Stray Observations
Holland America Line's Nieuw Amsterdam spends 70% of the year cruising the Caribbean, but they bring a little bit of Alaska to you, with some of the coldest A/C at sea. Seriously, bring a jacket.
Like some other ships, there are three elevator banks on Nieuw Amsterdam, which, in our opinion, is far nicer than some ships with only two banks, and it doesn't feel like any space is lost to this situation.
If you're at a bar on Niew Amsterdam, then you're not far from a restroom. Unlike ships where most public restrooms are by the stairwells (which does make them easy to find), you won't have to go that far on this ship. This is helpful given HAL's great happy hour specials.
Maybe it's demographics, maybe it's the Dancing With the Stars partnership HAL heavily marketed some time ago, but we've seen some passengers onboard who are incredible dancers. They planned this too, donning dancing oxfords and other tools of the trade (or hobby, as the case may be).
Check out some more photos below, and look at other live blogs from this sailing.
Nieuw Amsterdam Live Blog Preamble
Nieuw Amsterdam Live Blog Day 1 – Embarkation
Nieuw Amsterdam Live Blog Day 2 – Key West
Nieuw Amsterdam Live Blog Day 3 – Sea Day
Niuew Amsterdam Live Blog Day 4 – Grand Turk
Niuew Amsterdam Live Blog Day 5 – Amber Cove
Niuew Amsterdam Live Blog Day 6 – Sea Day
Niuew Amsterdam Live Blog Day 7 – Half Moon Cay