Submitted by

Bill

on Sun, 11/19/2017 - 10:52
Embarkation day is one of the most exciting days of any cruise - you're vacation is just starting and you've got so much ahead of you! At the same time, even when it all goes smoothly, there are logistics (unpacking for example), muster drill, and other things that make the day pass by quickly. Despite this, we had an enjoyable day, so we'll quickly recap our embarkation process, initial observations, and our first evening on Holland America Line's m/s Nieuw Amsterdam.
Arrival & Embarkation Process
This cruise started in Port Everglades (Fort Lauderdale), so the port is an easy 30 minute drive. We opted to take Lyft to get to the port, as it's easy and cheap (as we've discussed), and for us, it costs less than parking at the port for a week. We arrived at about 11:50am, despite our assigned boarding time being 1:00pm. The terminal was nothing to look at, but things were nicely organized with plenty of friendly staff. The entire time from curb to walking onboard was 15 minutes, if that. As we boarded I did notice we were next to HAL's Prinsendam, which used to be the Royal Viking Sun. This isn't critical to the story - but I was excited, so I took a pic.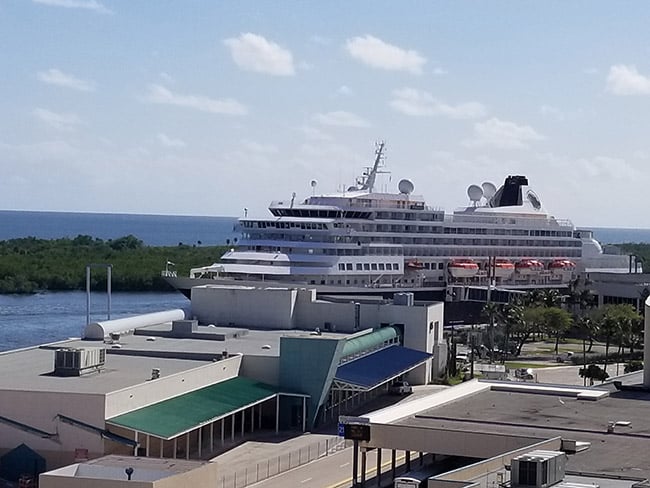 First Impressions
When you board a Holland America ship there are two things which, depending on your cruising history, you may not be accustomed to. First, white-gloved staff at ready to help with bags (if you need), but also to help you find your stateroom. We carried on very little and wanted to explore, but this was clearly something helpful for some of the more senior guests, or maybe those who just carried on too much luggage. Second thing that's different? Staterooms are ready quite early - generally by the time you board, which meant we went from curb to our stateroom in maybe 20 minutes. This is great - as even though we didn't carry much on, it's nice to feel "home" and not need to carry bags around while exploring.
The ship is gorgeous. I'd seen videos, which had already surprised me a bit, as I wasn't expecting such contemporary decor, but it's quite nice. The whole ship is themed in a sort of retro/art-deco (I'm no art major here) New York theme. Why? For those who drifted off in history class, New York was originally called New Amsterdam when colonized by the Dutch. I'll get a good picture later, but the elevators actually do a great job of giving you a deco NYC feel - which is neat as I feel elevators are rarely styled or themed.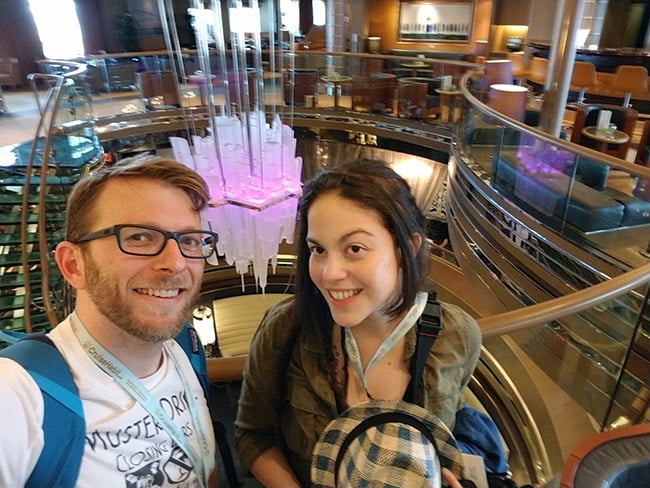 Nothing on the ship was out of place - if someone said she was brand new you'd really have to search for a sign that this wasn't true. Glass elevators midship, many lounges with great views, and a small but beautiful atrium all point to the type of ship design I enjoy.
We had lunch in the Lido Restaurant, which is a buffet area. The food was actually the best I think I've had at a ship buffet since sailing Oceania. Nothing we had (including dessert) seemed to be made in bulk - and service was great. On Holland America, at least for the first few days, the staff serves you at the buffet. Some don't like this - I do. It's easy and seems more sanitary. The space itself is very pretty and offers nice views. We had a little trouble finding a table at first, not for lack of space, but because many of the tables were set up for six - though there aren't many large parties on the ship - this may have been the only downside so far - but it wasn't a big deal. The buffet was definitely the happening place for embarkation day lunch, but it still wasn't crowded. On many ships that first meal seems like you're trying to run into a full sports stadium as it's being evacuated - but the flow was fine, and walking around to find a table was really a non-issue.
Evening Dining
For dinner we decided to try Tamarind, the Asian fusion specialty restaurant. It's usually $25/person, but on embarkation day all specialty venues offered 25% off. Food and service was very good. We're vegetarian (though on cruises I occasionally have fish once or twice). Despite having many great sushi options, we went with fully vegetarian options and didn't feel like the experience or value was compromised. The meal is five courses and has so many options that I think even a less-adventurous eater would be quite satiated by the options. Oh, and I'm a dessert person - so I need to mention, while the whole meal was great, the signature dessert - Tamarind Chocolate - was something I could eat every day. If you like chocolate, you need to experience this. One odd thing was that I felt the lighting was too warm - not a big deal, but something I'd change.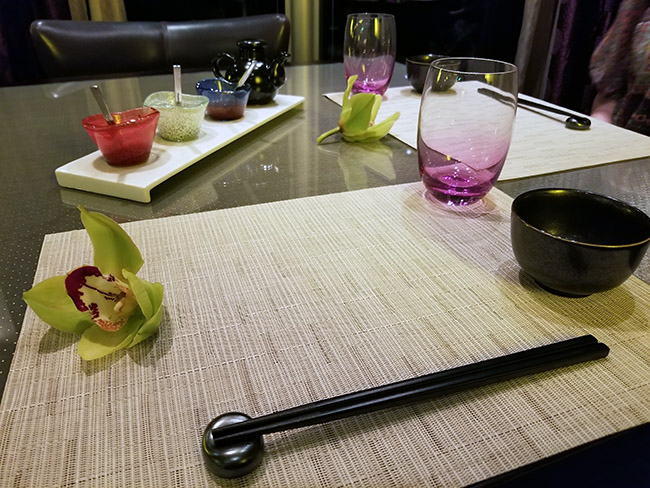 Entertainment
There is a lounge that is used for a few things, including a permanent band on Nieuw Amsterdam called the BB King All-Stars. The space is a classic ship lounge, but with ample room for cocktail tables in front of the chairs (and great service to keep that drink full, too), and a wood dance floor which was well used by guests. As for the music - the band was amazing. They didn't play just blues, but crossed a number of generations and genres - many with a blues-style though. They're all great musicians and performers in general - there is no weak-link in this group, and I suspect we'll see them perform every single night. We really enjoyed this.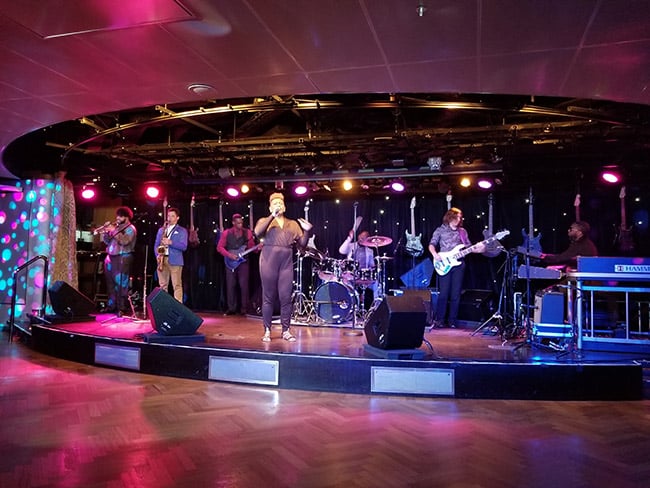 After the BB King All-Stars we headed to the Piano Bar where David Anthony, from Chattanooga really worked the crowd. It was slightly lower-energy than some piano bars, but felt nice. David seems like a really nice guy (we chatted for a few and he kindly tolerated my scotch-driven cruise ramblings) who has an incredible voice which seems to find a place with any song you can name. What set him apart was that if he didn't know a song perfectly, he didn't shy away - he made it a group activity. He'd sometimes pause mid-song to tell a funny story, or he'd parody a line or two for fun. He really made it a great experience where you weren't just watching a piano-player, but you were part of a group of friends laughing - and one of them happens to be a great musician. I can't wait to see what tonight's show brings.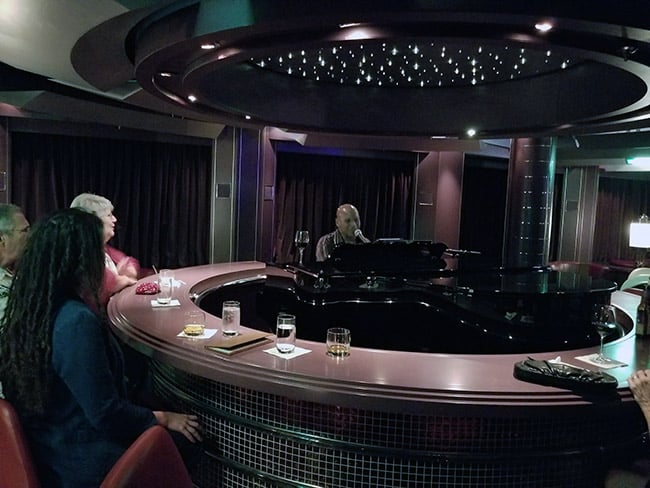 Wrap Up
Our first day was really fantastic and HAL made an excellent first impression. The staff has been great and while there are roughly 2,000 passengers on-board, it really feels more like there are 50 - no joke. At night the pool area is gorgeous, so you may find a few pics of one of us napping there are some point during the cruise, but only after enjoying some music down below. Next stop is Key West, where we have no plans. Oh, we did book a tour for Grand Turk while at Exploration's Cafe, the onboard coffee bar. They make it really easy, with a series of computers there which let you check on things and book excursions in seconds - truly.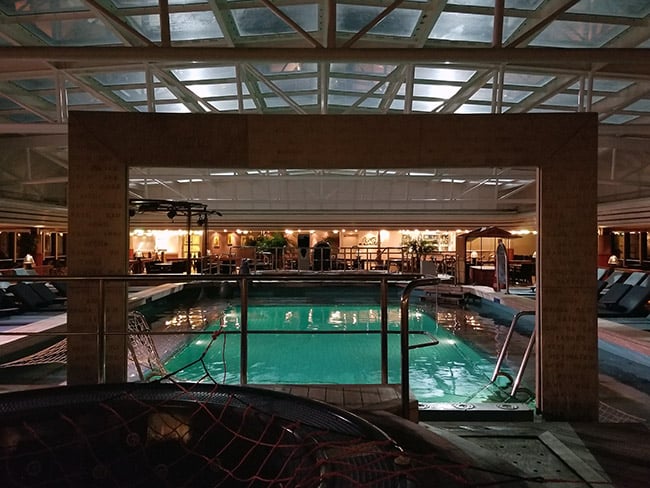 Now it's time to sign off - we have lots more cruising to do! If the rest of the trip is as good as embarkation day we'll be thrilled. Look forward to stateroom pics and more of a ship tour, perhaps on a sea-day. Be sure to check the rest of the pics below!
Nieuw Amsterdam Live Blog Preamble
Nieuw Amsterdam Live Blog Day 1 – Embarkation
Nieuw Amsterdam Live Blog Day 2 – Key West
Nieuw Amsterdam Live Blog Day 3 – Sea Day
Niuew Amsterdam Live Blog Day 4 – Grand Turk
Niuew Amsterdam Live Blog Day 5 – Amber Cove
Niuew Amsterdam Live Blog Day 6 – Sea Day
Niuew Amsterdam Live Blog Day 7 – Half Moon Cay