Author: Bill July 5, 2018, Updated: July 14, 2018
This Saturday (July 7) we'll be setting sail and enjoying seven nights in the Caribbean and bringing all the details to you.  What makes this particularly exciting for us is that like our November sailing on Holland America, we're trying out a cruise line that is completely new to us: MSC Seaside.  To add to the excitement, we're scheduled to sail to a couple of ports that we've not visited in many years.  
The Itinerary
This seven night sailing leaves out of Seaside's home port of PortMiami, a bit over 90 minutes from where we live.  There are three scheduled ports of call (more on why we're emphasizing scheduled in a moment): San Juan, St Maarten, and Nassau.  Part of the reason we picked this sailing was timing, but another big factor is the itinerary - we wanted plenty of sea days, but have been longing to visit Puerto Rico and St Maarten since we had to cancel our February sailing, which had a similar itinerary.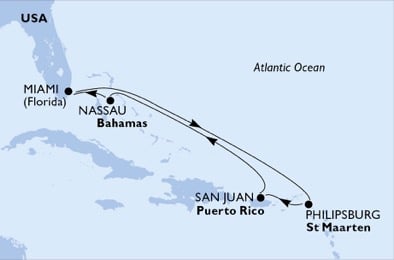 Sint Maarten/St Martin
This is a unique place in the world not only for it's beauty, but for the fact that the island is split in two.  The northern half is a French overseas collectivity, and the southern half is part of the Kingdom of the Netherlands.  While we're docking in Philipsburg (on the Dutch side), it's quite easy to visit both parts of the island.  If you've spent any time on YouTube watching videos in the Caribbean, you've probably seen planes taking off and landing right near a beach - Maho Beach in Sint Maareten.  We don't yet have plans for this day, but will have to figure it out soon.  We're looking to experience at least two different spots on the island: one distinctly French, the other distinctly Dutch.  We're always open to suggestions - just comment below!
San Juan
San Juan has a lot to offer, but I think we're going to start at Castillo San Felipe del Morro (often referred to as El Morro), a fort in the oldest part of the city.  This 16th century citadel is now part of the US National Park Service.  As a kid I remember visiting and being amazed by the steep ramps cannons were carted up, the views of the ocean, and the amazing construction.  After that we'll be walking around Old San Juan and sampling some local fare.  I also downloaded a walking-tour app for my phone so we don't just stroll by something we'd have wanted to learn more about.
Nassau
People who cruise the Caribbean frequently often knock Nassau and don't think there is much to do in the city - but we actually like Nassau.  From the pier you're a short walk to beaches, resorts, the pirate museum (which I love), a brewery, a distillery, a chocolatier, and more!  We usually try and take a walk to find something we've not seen before - or at least recently.  That in mind, because we'll be sailing Seaside, we may just want the extra time onboard to explore - we'll see.
MSC Seaside - A Polarizing Ship We're Excited to Sail
MSC Seaside is the first ship that MSC built specifically for the North American Market.  The line has had great success in the European market and has recently experienced rapid growth.  Over the years though they've sometimes had trouble resonating with North Americans.  Some guests love the experiences they have, others find more comfort in lines that focus primarily on North America.  While Seaside was built for North America (in fact, it's built to resemble condos of the Miami skyline), many guests still travel from Europe to sail her - part of why she departs at 7:00pm, giving adequate time for those arriving on international flights.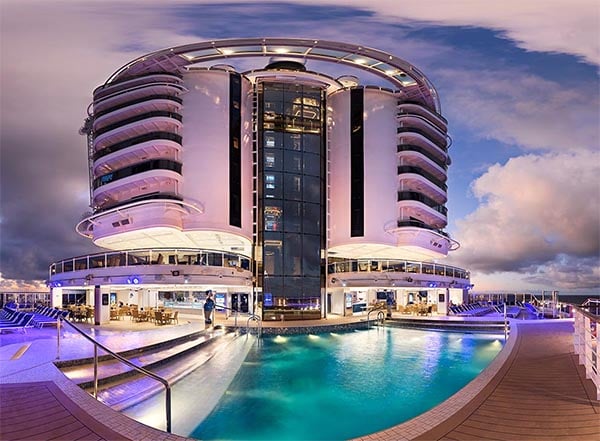 The mixed feelings others have had is a big factor in our decision - we want to see for ourselves!  Frankly, after a lot of reading and hours of terribly stressful YouTube watching (it's a rough life), I'm inclined to think that we're going to have a blast, and that some of the factors others haven't been fans of will be right up our alley.  That's one beauty of cruising: the choices.  What is undeniable is that MSC Seaside is a remarkable looking ship.  When she launched last year it was clear that she was very unique in both design and some of her amenities, including the longest zip-line at sea, a Venchi chocolate bar, and more.
Speaking of amenities, we're also really interested to see how MSC's different types of "experiences" work out.  On MSC, you book your room, along with a certain level of experience, which can affect your dining, drinks, access to special parts of the ship, special spa rates, and more.  The experiences are called Bella, Fantastica, Wellness, Aurea, and Yatch Club.  We booked the Fantastic experience and got a complimentary beverage package (a promotion independent of the package).  We'll talk more about our booking and accommodations once we sail.
Entertainment on Seaside is also unique, with a different production show each evening - but not Broadway mashups or even shortened plays like we see on other ships.  The entertainment involves opera, acrobatics, and some really unusual (but interesting) things, like a show featuring Michael Jackson impersonators.  I suspect that this will be the first seven-night cruise I've taken in a long time (if ever) where we try to catch the main show every evening.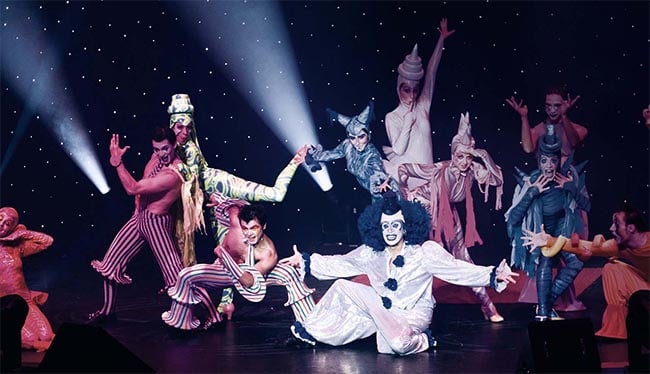 What About Beryl?
No, not the friendly lady at the UPS Store down the street from me - the tropical storm.  As I write this (and put off packing), Tropical Storm Beryl is roughly 500 miles NE of French Guiana - quite far from Miami.  Current forecasts show she'll be over the middle part of Lesser Antilles (the islands from Trinidad and Tobago north to the British Virgin Islands) sometime late Sunday night.  We're scheduled to be in San Juan (right next to the British Virgin Islands) on Tuesday, so depending on what happens with the speed and track of the storm, it isn't out of the realm of possibility that our itinerary could be modified.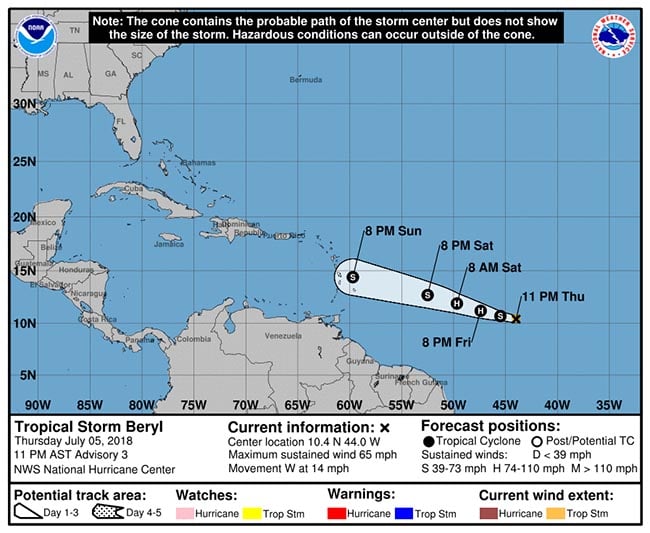 The good news for us is that it almost certainly won't affect our embarkation, and isn't likely to impact disembarkation either, so just like us, MSC will be monitoring the storm and making adjustments as needed.  Remember, most cruises during the Atlantic hurricane season aren't affected by storms, and when they are it's usually a matter of itinerary changes: ships go around storms, not into them.  If you want to learn more about how cruise ships hand hurricane season, why you shouldn't worry about this (but how and why you should prepare and plan), check out this article on cruising during hurricane season.
Wrap Up
This is sure to be an exciting time, with many new experiences.  Frankly, it's also a badly needed getaway for us - so there will be some laying around as well.  Be sure to come along with us...virtually!  We'll be posting a blog every day, talking about our experience and sharing photos.  When possible, we'll also broadcast live on Periscope and Facebook, and share images on Twitter and Instagram - so be sure you follow us!
If there is something you want to see on this trip then let us know and we'll try and make that happen.  If you've got tips for us, we always welcome those as well.  The fun starts Saturday (July 7) afternoon, and you can look for our broadcast when we sail around 7:00pm EDT!
Tips, questions, wondering which one of those costumed characters is actually Billy from a high school theater production?  Comment below, or reach out on Twitter of Facebook.
MSC Seaside Live Blog Preamble
MSC Seaside Live Blog Embarkation, Day 1
MSC Seaside Live Blog Sea Day, Day 2
MSC Seaside Live Blog Sea Day, Day 3
MSC Seaside Live Blog St Martin/Sint Maarten, Day 4
MSC Seaside Live Blog San Juan, Day 5
MSC Seaside Live Blog Sea Day, Day 6