Submitted by

Bill

on Tue, 07/10/2018 - 00:34
After being out a bit late yesterday evening we woke up feeling like a thousand...Yen. A late start to breakfast got us moving (along with some espresso) and we were determined to try some of the outdoor fun MSC Seaside has to offer.
Aquaventure
I strapped on a GoPro and we headed to the Aquaventure area to sign up for the zip line and find out what the process is to load up. Unfortunately, what we learned was that high winds not only added a bit of churn to the sea, but also closed the zip line. We signed up either way so that we'd be ready when they open up again. This process involved a waiver and payment. The zip line costs $5 a turn, or $20 for as much as you'd like to go for the whole cruise - and that covers everyone in your stateroom. We paid the $20 and decided to head to the water slides since the activity waiver was now signed off, we had a wristband, and were otherwise ready for fun.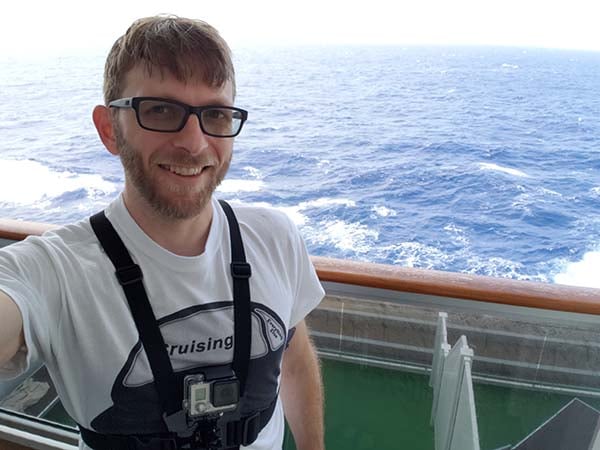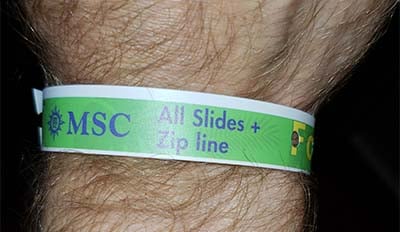 There isn't great signage for the water slides or the zip line - you really have to ask someone your first time. After that it's quite simple. Aside from the children's slides, there are two sets. One slide which you go down individually or in tandem on a tube - and it's very fast. The other set of slides are identical to one another and you can race the person in the adjacent slide. There is a huge demand for the tube slide, and we waited almost an hour - though the line is in the shade, which we appreciated. To ride the other slides there was less than a five minute wait.
Lunch
We opted for lunch in the Marketplace Cafe and had what may have been the best meal of the cruise so far. There were a ton of options today, and not a bad one in the bunch. Often on ship buffets you can check out a few stations and bet that the rest of the restaurant is a repeat of those stations. On this ship it's a bit different, as while there are many repeat stations, you'll miss entire unique stations as well as some individually unique options if you don't do a full lap first. We're glad we did.
We opted to sit all the way in the back today and noticed that there are stations that allow you to swipe your key card (or wristband) and serve yourself wine, beer, or soda. This is a very cool feature, though it didn't seem too popular - at least while we were there.
MSC Seaside in the Evening
I love the way many ships are lit at night, and Seaside is no exception. Even the sun-beds by the Miami Beach pool have accent lighting. We strolled around enjoying the colors, and noted that the MSC logo isn't illuminated on the stack. This isn't important, but is somewhat unusual. We also made another stop at Venchi for some chocolate elixirs. While there Larissa noticed a World Cup made of chocolate.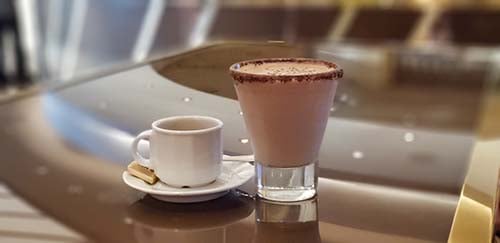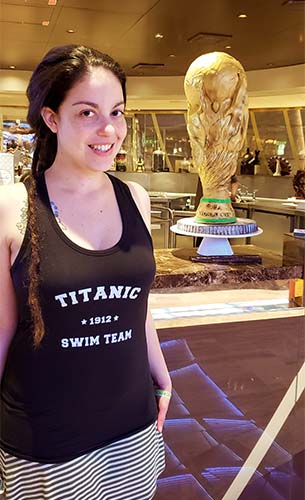 If you read yesterday's blog you saw that I raved about last night's production show. Tonight's show was Wizard, and was also quite good. I'd say the performers were more "in sync" tonight, and we liked the theme more than last night - but I think The Dream (last night) was more impressive. The show featured inspiration from The Adams Family, which we enjoyed quite a bit. Another great show and we look forward to more.
Teppanyaki Restaurant by Roy Yamaguchi
We opted to make a reservation (via the MSC for Me app) for the specialty teppanyaki restaurant onboard. The cost ranges from $20-55 per person depending on which prix-fixe option you choose. Our reservation was for 9:30pm, and we arrived early. While waiting, we had a drink at the Wine & Cocktail Bar outside of the speciality venues - a great bar which you'd never find if you're not going to dinner there. Unfortunately, the group wasn't called into the room until about 9:50pm. We entered a dining room with four large tables and were presented menus. The staff was very friendly, asked about food allergies several times (very thorough), and were great. What wasn't great was that between the seating delay, introductions, etc, we didn't get our first course until 10:15pm. Despite only being partially full, we spent quite a bit of time waiting in a very loud room (the noise factor is really just part of the teppanyaki experience - but not something I love).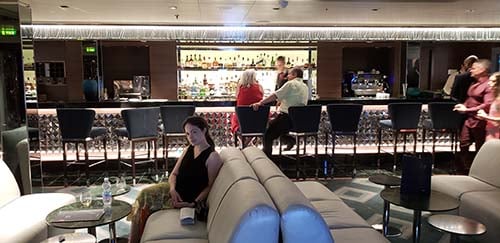 Our food was prepared in the back (rather than by the chef at our table) because of a food allergy concern. Again, they were really great about food allergies and cross-contamination. The only issue with this was that our food came out very much "out of sync" with the others at our table. This wasn't a big issue, but was very noticeable - as if the team in back wasn't noting the stage the meal was in out in the dining room.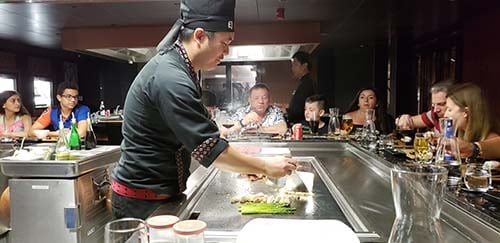 The experience was pretty typical of this style of dining, and I'd be lying if I said I'm not a tad over it - though Joseph, our chef, was fantastic. He was very high-energy, knew how to read the crowd. As far as food, the others are our table seemed pleased. We had a vegetarian option (on the menu), and it would have been nice if they'd have gone a bit farther in adding a protein, or even more mushrooms or veggies. The meal was good (that much salt and butter always is), but was heavier on the rice and noddles than other veggie options I've had. Dessert however was fantastic. They caramelized sugar and pineapple slices and put a scoop of ice-cream on top (ginger or vanilla, your choice). It was very good and something I'll try and replicate at home.
Wondering about dietary restrictions at sea? We go over what you should do - whether you're vegetarian, vegan, have allergies, etc.
While the experience was overall mixed at this venue, and I'm not sure I'd do it again, I really do want to call out Joseph for being fantastic. Despite the challenges, everyone was really great to us.
Late Night Entertainment
We wrapped up the evening at Seaview Lounge, enjoy the Bourbon Quartet. The lounge is a nice spot, and somewhat easy to miss despite it's size near many other goings-on midship. The four piece band of Italians play a variety of music onboard, but seem to really enjoy jazz. We chatted with the group between sets and enjoyed their company and music. It seems very likely we'll be back here to enjoy them each and every evening during this sailing. For now though, it's late, and we need to be up to explore Sint Maarten tomorrow!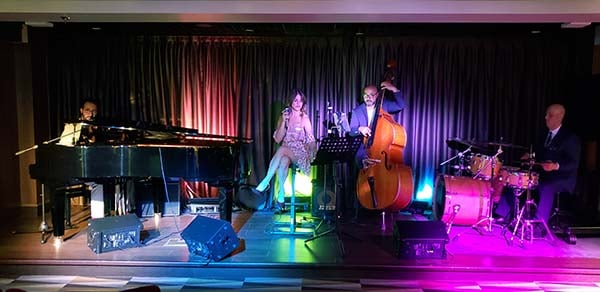 Stray Observations
In addition to your stateroom attendant being able to see if your key is in the door (indicating you're in the room), you can also press buttons to indicate you'd like to be left alone or that you need the room serviced. This is great, and something all ships had when I was a kid - but for some reason I've not seen this in many years.
The Garage Lounge is a neat looking venue, and I keep returning in hopes of finding some period music.
The Bridge of Signs offers a neat (albeit somewhat scary view) through the glass floor. It's also a great place to watch the wake-trail - and who doesn't like that?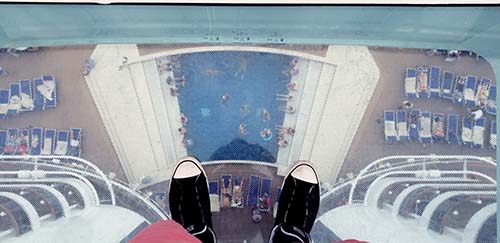 Thinking of sailing MSC? What do you do on sea days? Comment below, or reach out on Twitter of Facebook.
MSC Seaside Live Blog Preamble
MSC Seaside Live Blog Embarkation, Day 1
MSC Seaside Live Blog Sea Day, Day 2
MSC Seaside Live Blog Sea Day, Day 3
MSC Seaside Live Blog St Martin/Sint Maarten, Day 4
MSC Seaside Live Blog San Juan, Day 5
MSC Seaside Live Blog Sea Day, Day 6