Author: bill November 20, 2020, Updated: November 22, 2020
Cruise lines want to remind the world what awaits when cruising returns, and Norwegian Cruise Line (NCL) is taking to streaming to whet our whistles. November 19th kicked off their new docuseries, "EMBARK – The Series". Is it a commercial? A documentary? Both?
It begins with two episodes called "EMBARK NCL Spotlight Series," showcasing "the iconic Broadway and West End caliber entertainment found across the Norwegian fleet." The first episode, which we watched as it streamed for the first time, was filmed in London's West End Garrick Theatre, with a reunion of the cast of"The Choir of Man".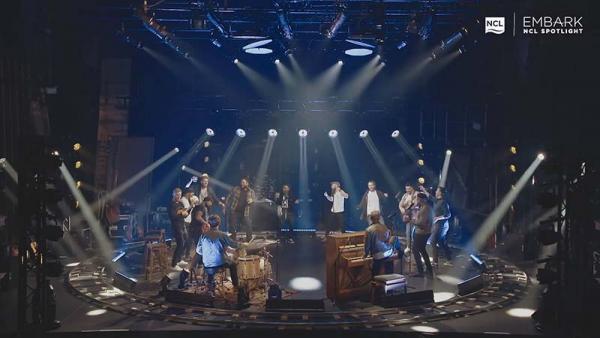 The Choir of Man - How This Project Came to Be
"The Choir of Man" is a show featured on Norwegian Escape and Norwegian Encore, and is performed all over the world. Candidly, until now we'd not actually seen "The Choir of Man" anywhere, so I'll let NCL's wordsmiths tell you a bit about the show below before I share my take on it.
"The Choir of Man" is an immersive pub experience featuring ordinary guys who perform everything from sing-along classics to classic rock. Traditionally set in a neighborhood pub, the show highlights the importance of community and human connection through a series of songs, poetry and intimate conversations.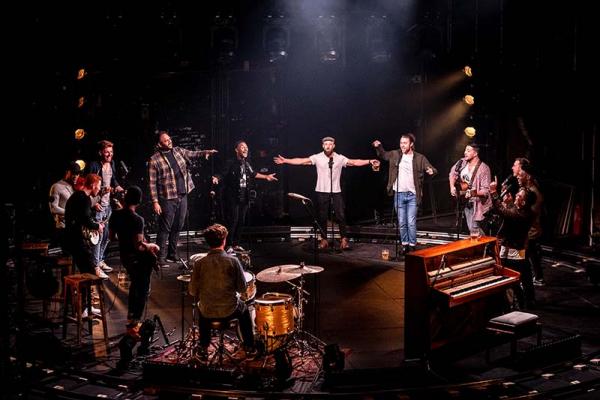 "'The Choir of Man' family and I were absolutely thrilled when NCL asked us to come together to create an exclusive performance of the show that guests could enjoy from home, until they have the chance to cruise again," said Doodson. "The world of theater has had a particularly hard year, so this opportunity to sing, dance and perform together again was an incredible feeling, not only for the guys, but for everyone involved. I hope that the positive and uplifting energy comes across in this episode and inspires those tuning in to continue to look ahead to brighter days. The cast appreciated this opportunity to reconnect on and off stage, and now more than ever are looking forward to entertaining guests again soon in our pub on land, at sea or wherever people enjoy gathering with those closest to them."
Billy's Take on the Show
Opening with thoughtful messages about those struggling this year and the challenges we've all faced is the 2020 version of Leo the Lion at the start of MGM productions, but this quickly became more real as cast member Denis Grindel began speaking. He explained that in this theatre's storied history it had never been vacant for this long, how almost overnight so much changed for touring performers, and how they were delighted to have a reason to turn on the lights. While the lines felt a bit scripted, they did serve as a sincere message that entertainers miss audiences just as audiences miss entertainment.
Any feeling of this being overly sappy or scripted melted away as the music started and we settled into the sofa. The songs included "Save Tonight," "Escape (The Piña Colada Song)," "Hello" and "Some Nights". These pieces by talented instrumentalists and vocalists were well performed and well produced. Also enjoyable were the conversations among the cast members which served as bookends to the music. There was some discussion around how they were managing during these times and of course many optimistic notes about the future.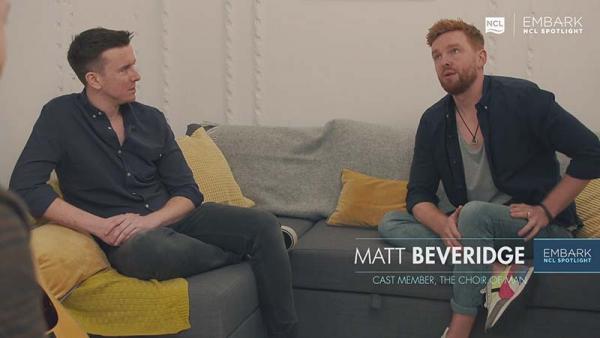 For a bit over a half hour we sat at home watching and feeling like the entertainers were friends and the audience was grabbing drinks with them between sets. The combination of short but friendly and warm dialogue with the multiple vocalists, occasional harmonization, and pub-friendly instruments really came together to create an experience that was as comfortable as watching a band play at a local bar but awe-inspiring as a Broadway musical.
The Show Wasn't Free...For Us
The conversations between sets mentioned whiskey more than cruising. Sure, there was talk of being onboard, traveling, etc – but it really didn't feel like a sales pitch to us. What it was very successful in doing was reminding us that NCL, while known for "Freestyle Cruising", has put a strong focus on entertainment throughout the past decade, with Broadway musicals including "Kinky Boots" and "Burn the Floor" as well as a live music at Howl at the Moon's dueling piano shows, the Cavern Club's Beatles cover band, and more.

In fact, while nine months on land may have made us particularly vulnerable to spontaneous cruise bookings, we so enjoyed the toe-tapping show that I checked out which ships feature "The Choir of Man" and booked a seven night sailing on Norwegian Encore for the spring (you can too)! Is it just to see this show? Of course not, but it was hard not to watch the energetic performance and not long for that feeling of live entertainment at sea, knowing that after a great show we can stroll around the deck watching the waves before taking in a new port in the morning. We can't wait to get back to sea, and now we look forward to seeing what else NCL's 'Embark – The Series' has in store for us.
How to Watch: Go to https://www.nclembark.com on your phone, tablet, or computer. If you have Chromecast, Apple TV, or a similar device, see if you can stream the show to your TV and entertainment system - it really enhanced the experience for us.