Author: Bill October 18, 2023, Updated: November 12, 2023
Until this past week I'd only sailed Alaska once, and I'm thrilled we did it again, this time, on Norwegian Encore.  In the coming days I'll put out some long-form video (subscribe to our YouTube channel) of our adventures, but in the meantime, I wanted to share some photos and share a high-level view of our late-season adventure to the final frontier.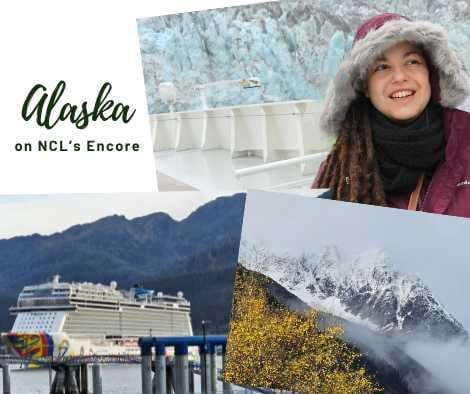 Pre-Cruise in Seattle
Our journey started in Seattle.  Coming from South Florida, and having good friends in Seattle, we arrived mid-day Friday so we could enjoy the evening, and then all day Saturday.  I'd only been to Seattle once for work, and it was actually this past Spring, so I was happy to have some time to enjoy the city.  Much to our surprise, we brought great weather (a trend that continued).  We spent some time at Alki Beach, which, if it weren't for the mountain views and temperature, would look like a beach-side community in any number of places.  Sitting in the warmer-than-normal sun we enjoyed cold beer with our friend Mario.
Hellbent Brewing and Anderson School
Saturday evening (after some much needed sleep, thanks to the time difference) we, along with Mario, met with our friends Eric and Libby.  First stop was Hellbent Brewing, which had great beer, but in an especially pretty building.  I mean that, truly, but it's also worth noting because Mario became friends with the owner and, as an architect, designed it.  It's neat to be able to enjoy the work of your friends.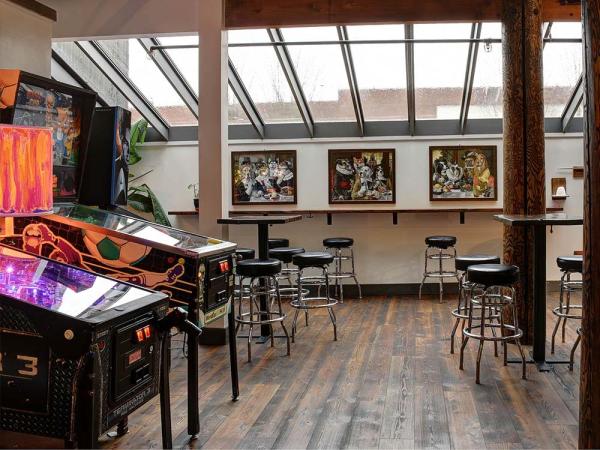 After that we went to a place called Anderson School.  This is an old school campus that is now a hotel with multiple bars and restaurants.  The school theme sticks, with a bar in the Principle's office, and a Polynesian-themed restaurant in a building with an indoor pool.  Once used for the swim team, now used for me to enjoy tiki drinks.  It's a neat concept, and it seems the folks that created it have quite a few properties like this.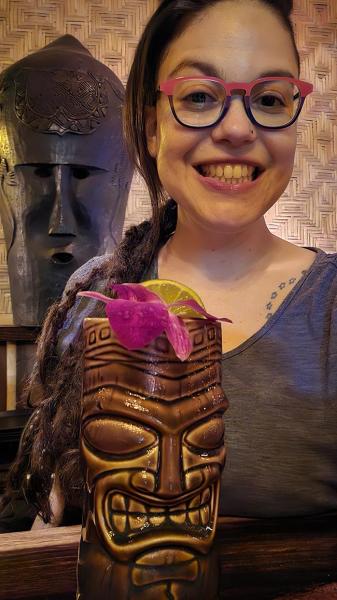 Boarding Norwegian Encore - With a Surprise!
Sunday morning, Audrey, Larissa, and I packed our things at Mario's house, where we'd stayed, and Ubered to Pier 66, where NCL ships leave from.  There was a long line outside, but it moved quickly, going through security and then check-in, right onto the ship.  Total time curb to ship was maybe 30-40 minutes.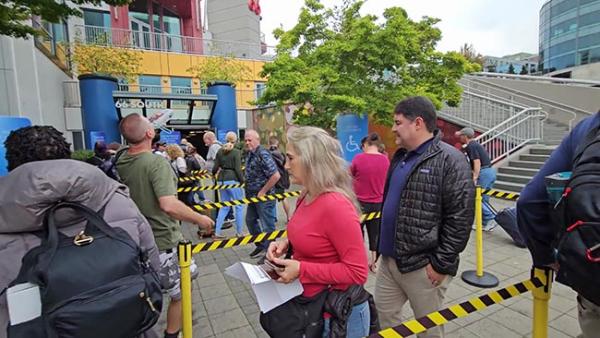 Because rooms wouldn't be ready for a while, we found some loungers and enjoyed the skyline of downtown Seattle until, much to Larissa's surprise, Mario boarded for his first cruise!  If you saw our video from Cancun a few years ago you'll remember Mario surprising Larissa at the resort.  He's setting expectations high at this point.  What I didn't know (though I suspected SOMETHING was up) was that Mario also brought along our friend Krystall.  She's cruised quite a few times, but I've not cruised with her in years, and she's never been to Alaska, so the back-to-back reveals turned our already festive vacation moods even brighter.
In the afternoon we sailed away, leaving through Puget Sound.  Quickly after leaving the protected waters, however, the seas turned angry.  I love a lot of motion on a ship, and this was a lot.  We enjoyed the beautiful scenery from The Observation Lounge, a spot all the way forward on Encore, with lots of seating.  This area also has a small buffet throughout various parts of the day - so it's a nice place to snack, in addition to having great views and comfy couches.  We had dinner in The Manhattan Dining Room, one of the complimentary restaurants, and went to bed early, excited for the next day.
Hot Tubbing in the Cold on a Rough Sea Day
We all slept very well, but the couple times I recall being awake for a brief moment was because the ship was really moving.  It was wonderful.  Waking up earlier than normal, we headed to the Garden Cafe for breakfast, where I found a nice selection of traditional breakfast items, as well as some Indian dishes and masala tea.  I found myself walking around many swaying guests, some holding the walls like they'd completely lost their sense of balance.  One guest even had, umm, 'difficulties' on Larissa's shoe...so there's a memory!  After some minor cleanup we enjoyed breakfast.
The rest of the day we spent roaming Encore and enjoying the views.  We heard some live music at The Observation Lounge, had lunch in one of the complimentary dining rooms, and overall just took it very easy, as we knew we had a big day ahead.  Some time was spent in the hot tubs, and as a Floridian, while the experience IN the tub was great, exiting in the 50F wind was not what I'd generally call relaxing, but our resident Canadian, Audrey, seems unphased (while highly amused by my panicking).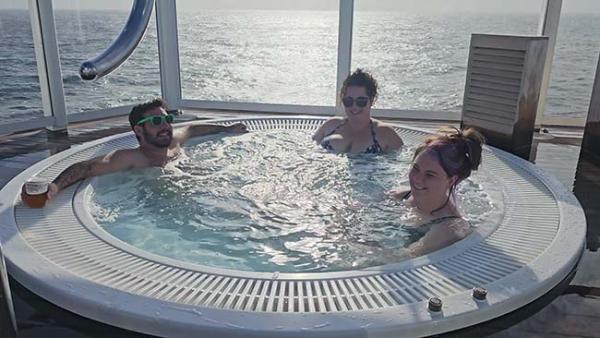 Getting our Steps in Juneau on Mt Roberts
Juneau is the capital of Alaska, and compared to other popular cruise stops in the state, is relative large.  When here several years ago, Larissa and I enjoyed a tram ride up and hike on Mt Roberts, so we knew we needed to do that again.  We were actually able to do this without additional cost, since most NCL fares include a $50 excursion credit, and the tramway tickets (direct or through NCL), are $50.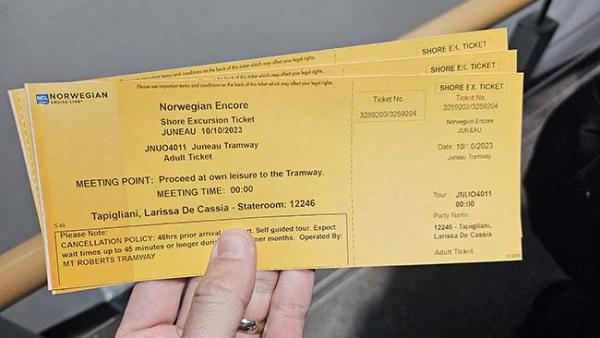 After a 30 minute line to board, we took the tram to the top of the mountain and walked for about five miles - much of that with quite the rocky incline.  I kept telling the group to just keep going, as the view gets better and better as you go higher up.  It didn't disappoint, and the weather couldn't have been better.  By the afternoon it was clear and, relatively speaking, quite warm.  With the exertion of our hike I ended up opening up my jacket and taking off my hat.  I've written about the Mt Roberts Tramway before, and can't recommend this adventure enough.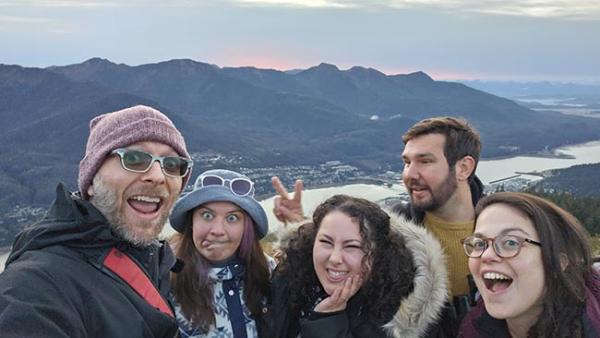 Whitepass Yukon Railway Route in Skagway - Finally!
Of all of the excursions and tours I hear people talk about, the colloquially named Whitepass Railway, is almost certainly the most popular tour for any Alaskan cruise.  This is a historic railway that goes from Skagway, AK to Whitehorse, the capital of the Yukon in Canada.  Today's tours generally go from Skagway to Whitepass, right on the border, though our trip was a couple miles shorter due to maintenance. Booked through cruise lines you'll pay about $200 per person for the two and a half hour tour.  Alternatively, you can book it through other operators, such as Project Expedition for about $50 per person less - the only difference?  A walk of about 15 minutes, instead of five minutes, when booked direct.  On that walk, we got hot coffee and fry bread (often referred to as a beaver tail, in other areas).
It's hard to overstate how impressive the views were.  Riding high into the mountains, listening to helpful guides, and taking in breathtaking mountainscapes, waterfalls, and occasional reminders of the routes history.  This really is a "must do" if you're visiting Skagway.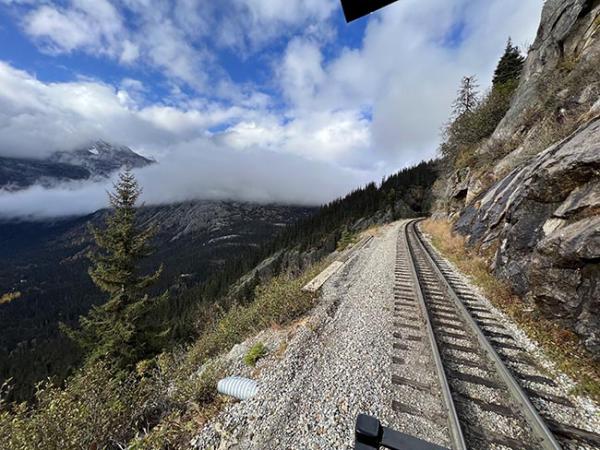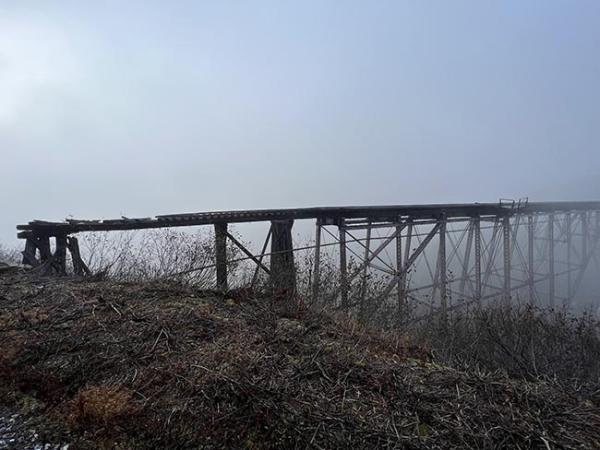 Following the train ride we had a surprisingly good lunch at The Station Bar & Restaurant.  We had some local beer, pub food, and of course, crab.  At $75/lb, the crab, and everything else, was pricey (like many things in Alaska), but well worth it.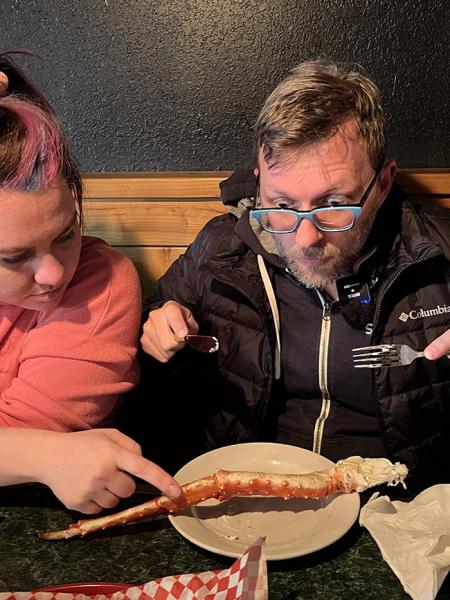 After the day's adventures we found ourselves absolutely falling apart with exhausted laughter while eating entirely too much at Norwegian Encore's tepanyaki restaurant.  This has a flat fee, though most of us used some of the dining credits included with our fare.  Before passing out we stopped by a silent disco happening in the Social Comedy & Night Club.  New to me, at least, in this event, was that instead of changing channels on a headset to hear different DJs or stations, you walked to a different quadrant of the dance floor.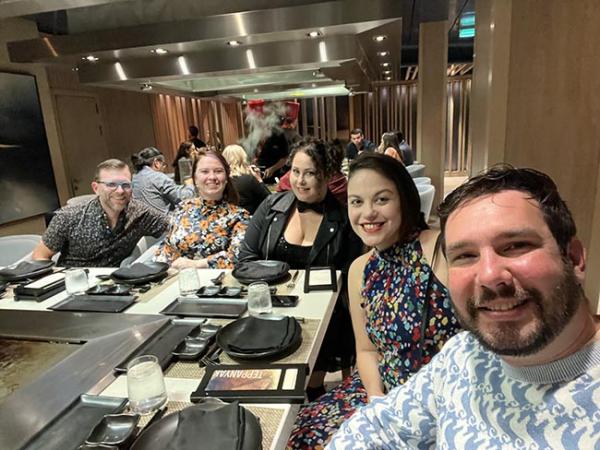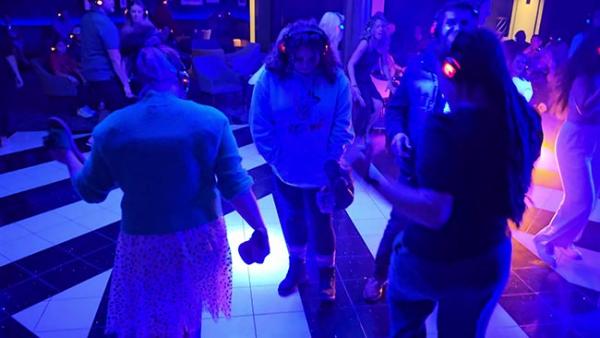 Glacier Bay - The Best Kind of Sea Day
Most cruises to Alaska feature some sort of "glacier day", a sea day where you have beautiful sights and spend time next to at least one glacier.  Whether Glacier Bay, Hubbard Glacier, or Endicott Arm & Dawes Glacier, this isn't a sea day where you'll want to make plans that keep you away from windows.  We spent much of our day on our balcony, watching whales, seals, and otters, as well as the beautiful mountains.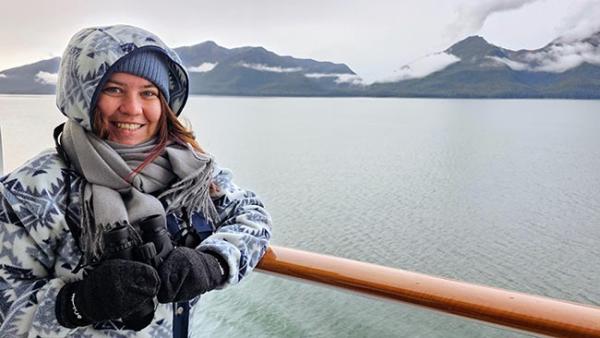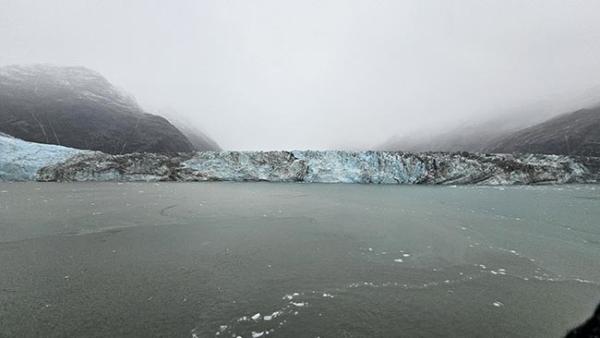 During our time up close to John Hopkin's glacier, we went to a few public areas to maximize viewing time as the park rangers, brought on earlier that day, shared details about the area, and the ship slowly spun 360 degrees to give everyone a look.  They also opened up the ship's bow for panoramic views with complimentary hot beverages.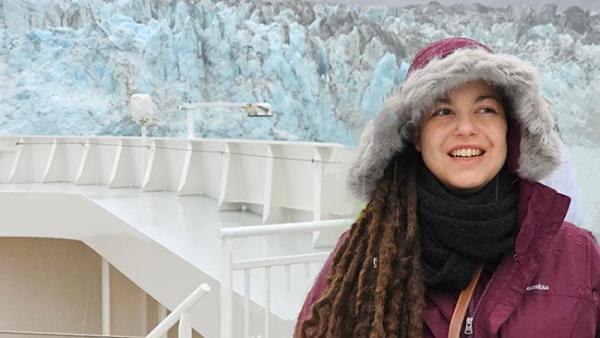 Of course, we're on vacation, and while walking around we also had a few cocktails (included with our Free at Sea fare).  What may be a bit more surprising is that one of the cocktails we all agreed was great, was the Pineapple Surplus - a very tropical cocktail that is one of the sustainable cocktails NCL crafts from leftovers.  There are drinks made with leftover croissants, used coffee grounds, and more.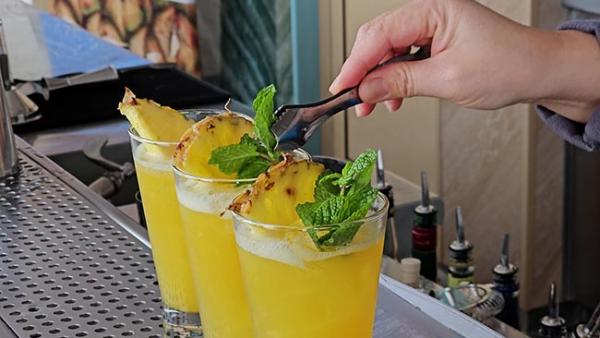 We loved our time in all of the ports we visited, but I'll offer this spoiler alert and tell you this was the absolute highlight.  Dinner this evening was also a highlight, as we used our additional specialty dining credits in Onda by Scarpetta, an Italian restaurant that I'm now disappointed I missed on Norwegian Prima last year.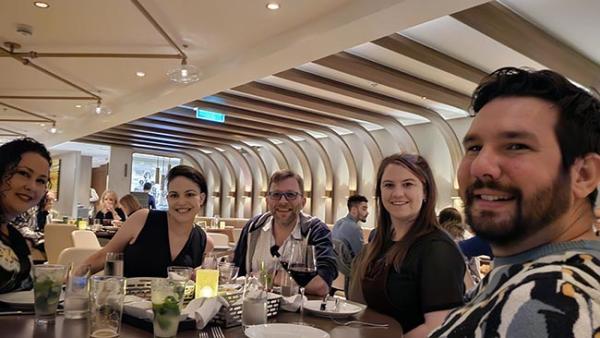 A Bus to Ketchikan
Our penultimate port of call was Ketchikan.  We arrived early in the morning (much earlier than I ever start my day) but only had a total of about five hours in port.  That was a shame, as Ketchikan is a cute town, with lots to see and do.  Reducing our time further was our berthing location.  Instead of docking right in town, NCL now docks in Ward Cove, which is a 15 minute ride into town.  if you're leaving on a tour right from this area, it's probably fine, but getting into town required a long wait for shuttles - and that was just with one ship in port.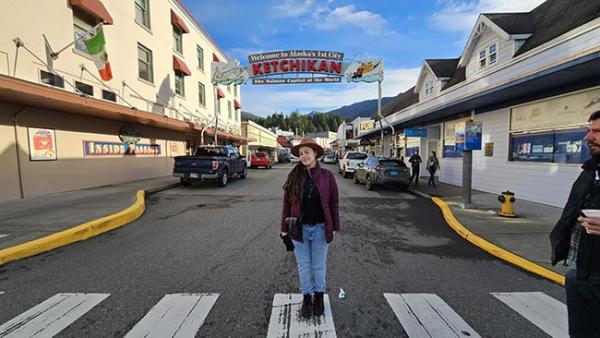 Once we finally got into town, we walked along the water and headed right to Creek Street, the historic red-light district.  This area is so pretty, with buildings on stilts over the water, featuring shops and Dolly's House, the home of the town's most famous prostitute.  As unusual as it may sound, this $10 tour is a great stop, and really gives you an idea of what life was like in a small Alaskan town 90 years ago.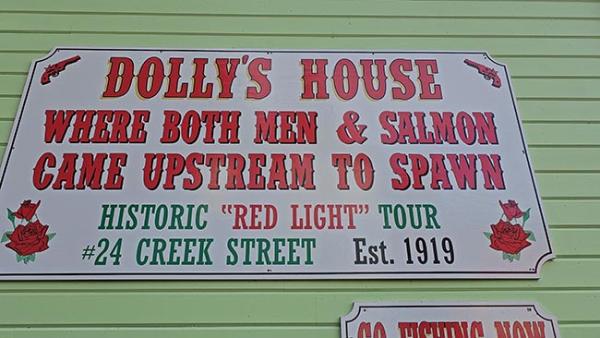 We also caught a glimpse of some leopard seals in the creek feeding on salmon...and smelled a LOT of dead salmon, spoiling after attempting to spawn upstream.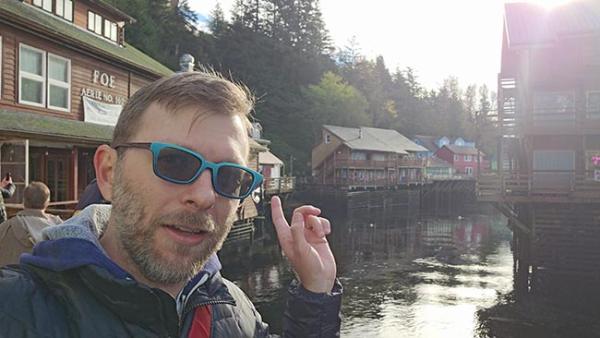 On the way back to the ship we stopped at The Asylum, a bar we visited last time.  We only had time for a round of Duck Farts (a popular local shot), but it's a fun place for a drink if you're in the area.  Back on Encore, we enjoyed Choir of Man in the main theater, and trust me, this show shouldn't be missed.  Great vocalists and showmen with a neat setting.  The set is a small pub, but a functioning one - so arrive early and go up on stage to grab a beer and maybe even chat with the performers.  When watching NCL's Embark streaming series a couple years ago, we actually booked a cruise largely to see this show onboard, and while that sailing ended up being canceled, watching the show on this cruise proved our reasoning to be sound.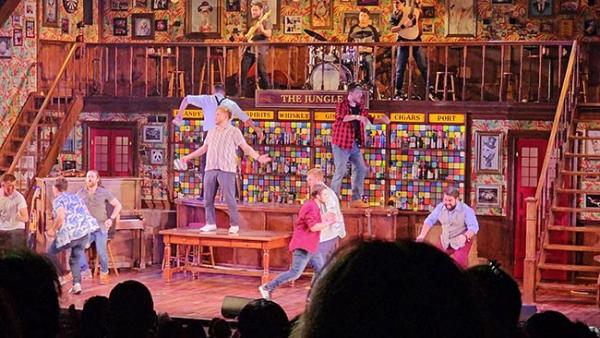 Technically, We Visited Canada
While the PVSA requires a stop in Canada, our scheduled port, Victoria, BC, is also a beautiful city - one of the prettiest I've enjoyed anywhere, in fact.  Lately, however, stays have often been short not only because Alaskan cruises require a lot of sailing, but also because of some new laws that regulate how long ships can call on Victoria. Cruise lines haven't yet worked out ways around this, but I hope they do.  We were scheduled to arrive at 8pm, with an all-aboard time of 11:59pm (surely to keep people from getting confused by 12:00am...or everyone could just use 24 hour time), but bad weather on the way to Victoria kept us from disembarking until 9:40pm or so.  
While our original plans called for dinner in town, we ended up rushing off the ship, finding the first driver we could, and catching a ride to walk around Victoria Harbor for a few minutes, and grab a local beer.  Even with the rush we arrived with only minutes to spare.  Should you find yourself in Victoria, I hope you'll get to see Butchart Gardens, take a water taxi from Fisherman's Wharf into the harbor, and enjoy the downtown area.  
Final Thoughts, for Now
After our brief stop in Victoria we packed up, and in the morning, enjoyed a remarkably calm (and good) breakfast onboard before disembarking for the long journey home to South Florida.  As mentioned, I'm working on a YouTube video about our cruise, and am excited to share the sights and sounds, more information about the ship, and the goofy behavior of my friends.  Hopefully the above information is helpful, but leaves you wanting more :-)
I will share here a few points that I didn't shoe-horn in above but are worthy of mention:
We lucked out on weather, but even if it would have rained the entire time, I think I'd still aim for edge-season cruises in Alaska.  The towns are small, and having more than a ship or two in port must be very busy.
I enjoyed the Norwegian Encore, though this ship was much more about the itinerary for us.  What I didn't enjoy about Encore (or our 2022 Prima sailing), was NCL's app.  They really need to make it more powerful and less confusing - though message notifications work, something I can't say for Royal Caribbean and Celebrity's apps.
If you've not cruised Alaska because you think cruising is for warm weather, take the plunge.  It's a totally different experience, and on both of our Alaska cruises, the onboard atmosphere has varried much more than it would on the same lines in the Caribbean.