Author: bill April 12, 2019, Updated: November 20, 2020
I often find on a seven-night cruise that there ends up being one day where I do almost nothing.  Sometimes this is planned, sometimes it happens by accident.  Today we got a late start, learned of two itinerary changes, took it very easy, but ultimately had a lovely day.
The Captain is My Alarm Clock
After a long evening of socializing, I woke up this morning to the captain making an announcement over the public address system.  His first message explained that we'd taken position off Grand Cayman and we're starting tendering operations.  What felt like just a couple minutes later (though I'd gone back to sleep, so I can't be sure), he came on the overheads once again to explain that we were suspending tendering operations due to high sea swells, and they've be repositioning the ship to attempt to better shield the tendering operation from the swells.  A short time later another announcement, this time explaining that we'd not be calling on Grand Cayman and instead heading to Cozumel early, arriving at 8:00am tomorrow, instead of 11:30 as previously scheduled.
Grand Cayman Tendering Operations Explained
Grand Cayman does not have a dock, largely because the people and government of the Cayman Islands have concerns over the environmental impact of dredging and port operations.  This may change in the near future, but that's a story for another day.  For now, cruise ships visiting Grand Cayman are required to tender – this is when guests load from the ship onto a small boat and are shuttled to land.  Grand Cayman does have some two-deck boats that are used for tendering operations, but a number of ships were visiting today, and it seems they were all reserved, so the plan (which is common) was the leverage the ship's life boats for this purpose.  Unfortunately, despite nice weather, there were sea swells that were simply too large to safely load and unload guests from life-boats for purely recreational purposes, and with no larger tenders available, we had little choice but to have a spontaneous sea day.
Of All the Things I Enjoy Doing, Nothing is One of Them
No longer concerned with heading to shore while considering lunch times and other activities I disabled my phone alarm and went back to bed, not getting up until just before lunch.  Eventually we got moving and headed out for lunch.  Thinking about it being a sea day, we walked to the main dining room but found them closed, since I suppose they'd not had adequate time to set up for a lunch that wasn't supposed to happen while we were in Grand Cayman.  There were plenty of options though at the Lido Market, which we enjoyed.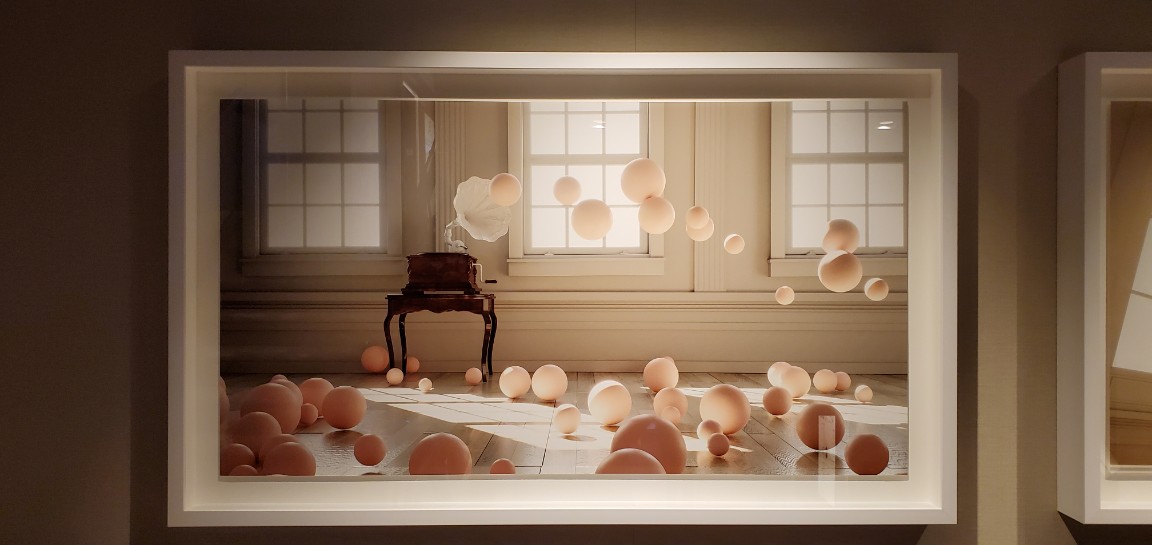 Our stomachs full and our brains a bit more caffeinated, it seemed a really nice day to enjoy the ship and see how it handled a sea day this far into the cruise when people are a bit more comfortable exploring.  The pool areas were certainly popular, but not congested.  One thing a bit unique about this ship compared to many others we've sailed is that there seem to be a number of places to lounge which one might not find too easily.  This includes a space two decks above the aft pool area which has its own bar.  It looks like the kind of place guests wouldn't usually spend time (or find), but the shaded bar and ample deck chairs, combined with ocean views more than make up for it's somewhat out of the way location.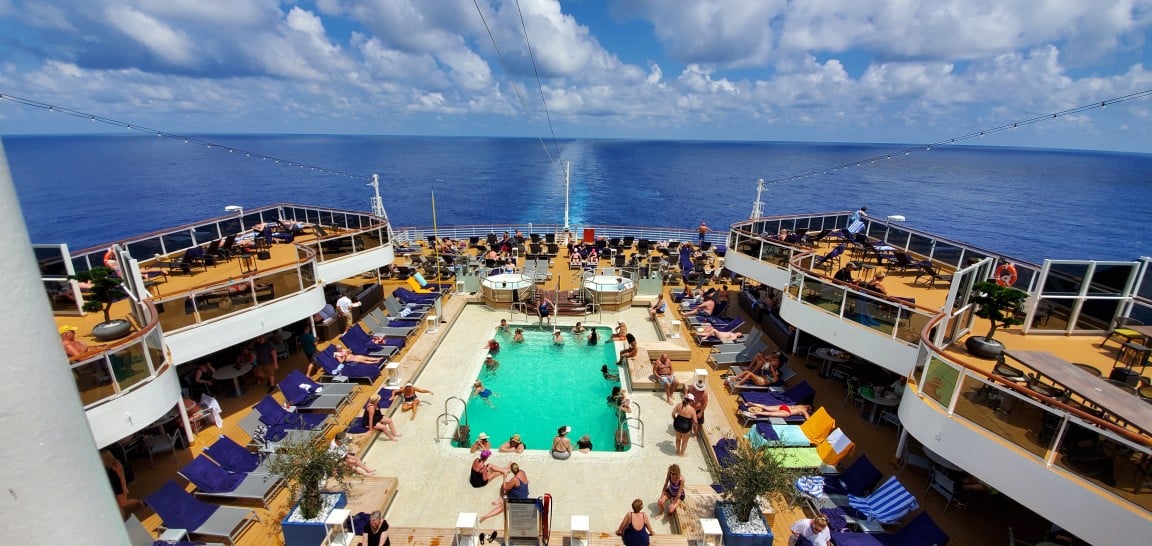 At some point we swung by the stateroom and found that an addendum of sorts to the daily schedule had been placed on our door.  This is because the cruise staff pulled together a number of activities for the first half of the day when most would have been on the island.  Since we stumbled out a bit late in the morning we'd note noticed these additions and most of the events had passed by now.  This was kind of a bummer as there were some things we'd have checked out, but that's our fault, not Holland America Line's.  One of those events was a Blue Planet showing in the World Stage theater.  We saw this on Nieuw Amsterdam and enjoyed it, as they show one of BBC's World Planet shows, but have live musicians playing the score.  It's a unique experience that we hope to catch again.  We also missed an America's Test Kitchen demonstration – which are pretty neat, even as someone who doesn't cook.  I'll withhold the explanation of why I like this in hope we catch it later in the cruise.
Edit: I later learned that Blue Planet showings on Nieuw Statendam don't feature a live orchestra...yet.  They still do on other ships and this will be coming to Nieuw Statendam "soon."
As we continued our walk, we did a lap on the promenade deck, and discovered that it actually does continue all the way around the ship.  I'd said on Periscope (and perhaps other places) that this was not the case – and I have no idea where I got that idea from.  We then got a drink at the bar located by the mid-ship pool, which has a much wider selection of spirits than is usually found at a pool bar.  It's a well shaded spot, though you can easily move to any of the comfortable couches or table and chair setups.  I really do enjoy this area, as there are dining options, a pool, hot tubs, ample seating, loungers, two levels, and a movie screen which shows films and documentaries at reasonable volumes.  One could easily spend most of their cruise in this area, even on a cooler sailing as there is a retractable roof over the entire space.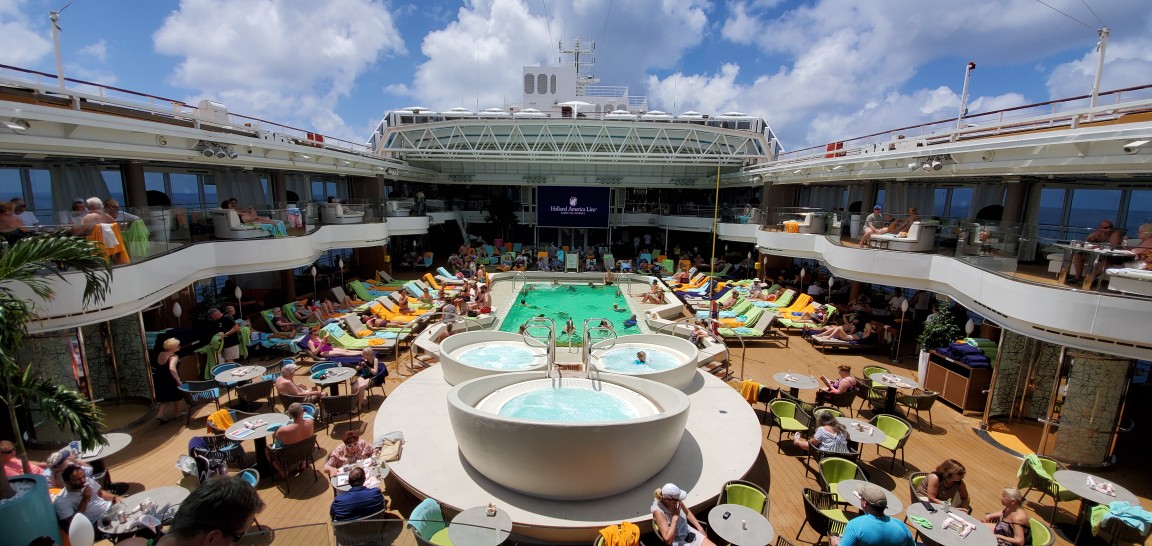 After running into some new friends, we moved to some of the nearby sofas and continued chatting over drinks as the sun got lower in the sky, revealing the bright purple, blue, and pink accent lights all around the edges of the deck and the pool.  During this chat the crew repositioned all the loungers in the center so they were facing the screen, in preparation for evening movies (with snacks provided by the New York Deli & Pizza just above).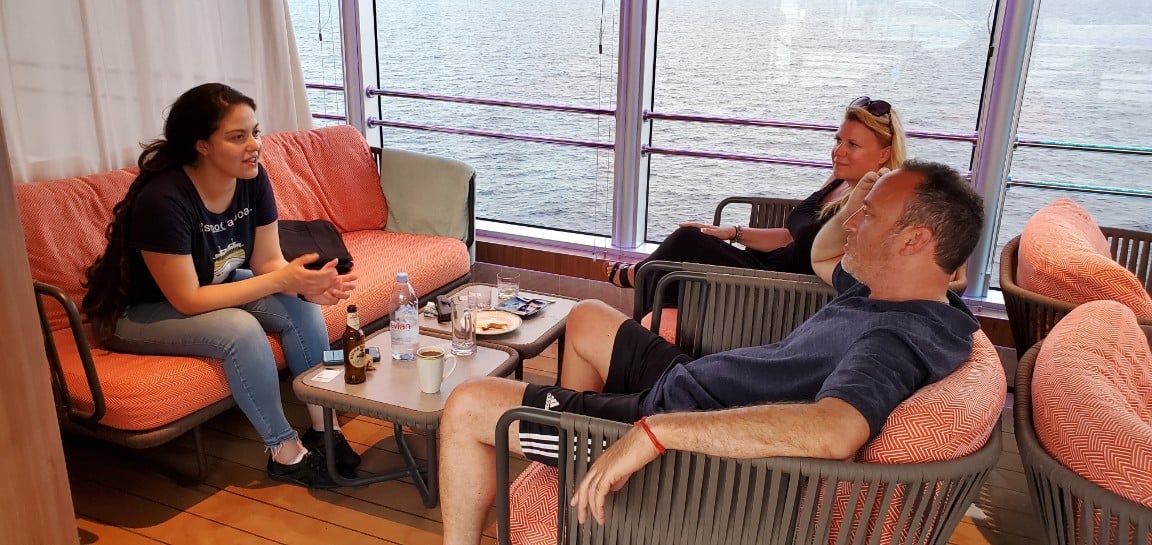 Canaletto Italian on Niew Statendam
For dinner we wanted to try another specialty restaurant and opted for Canaletto, which is an Italian restaurant located in the same area as the Lido Market.  This layout was similar to Nieuw Amsterdam, though on Nieuw Statendam and décor, lighting, and art all makes this corner distinct from the buffet, though during lunch and breakfast you can sit in this space after getting your food at the buffet.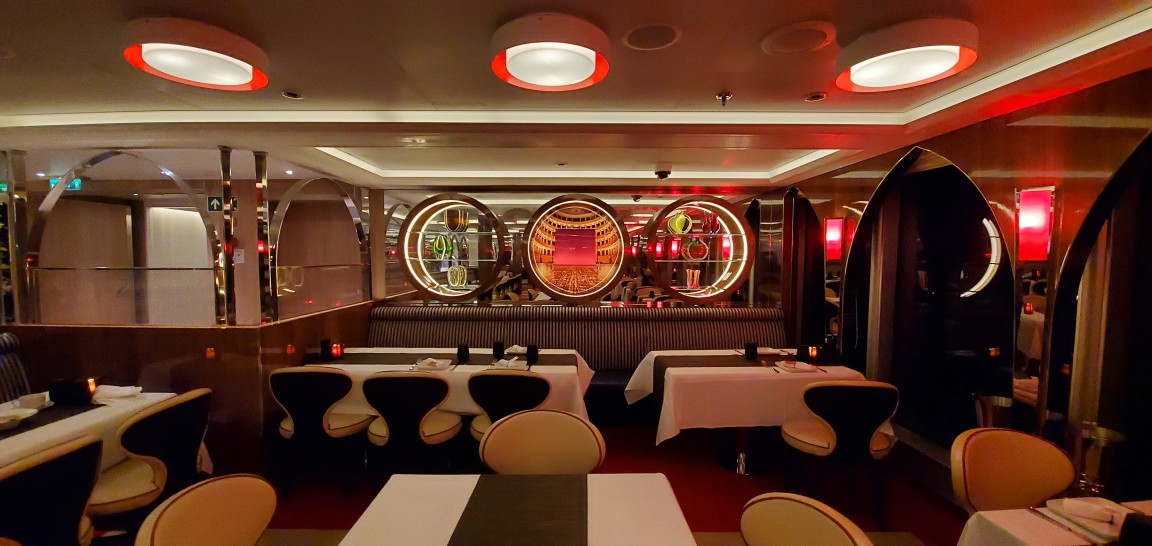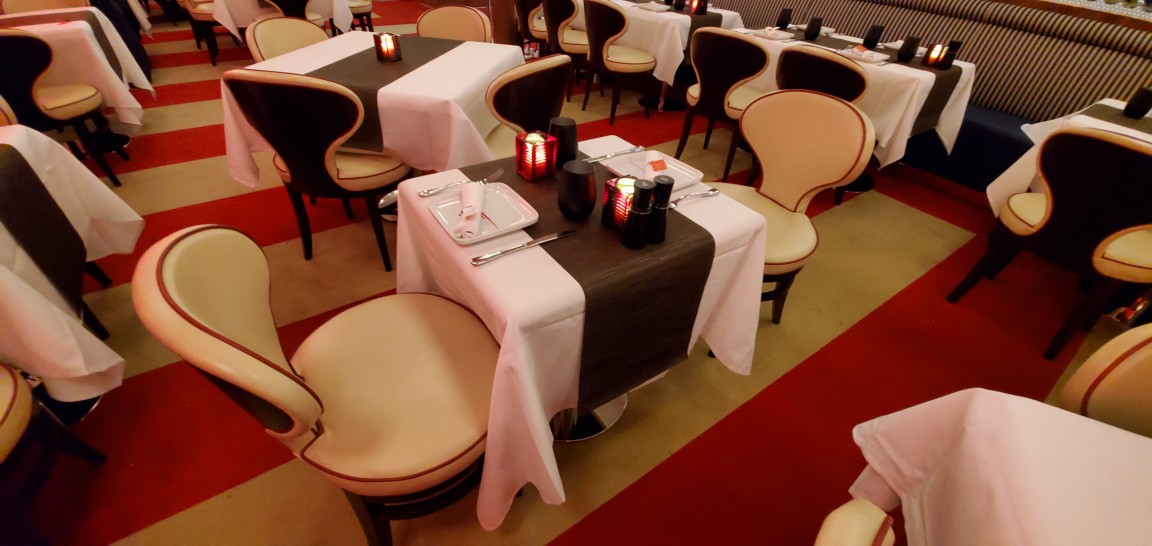 The meal starts with what I'd describe as bite-sized bruschetta and bread with accoutrements.  You make your meal selection from a section of "small plates" and a section of "large plates".  Per our server's recommendation we selected two from each section and planned to share them with each other.  All the food we've had on HAL has been good, but Canaletto definitely offers the largest number of vegetarian options on the standard menu. 
The food came out more quickly than I'd expect, but was clearly prepared fresh and tasted great.  By the end we were quite full, but not as miserable as sometimes happens leaving a specialty restaurant on a cruise ship where they seem to try and stuff you.  Of course, the fact we ordered dessert after wrapping up didn't seem to help things on that front – but it was worth it.  All in all, I'd say the experience was well worth the $30 cover, and like last time the staff was especially friendly without being over the top.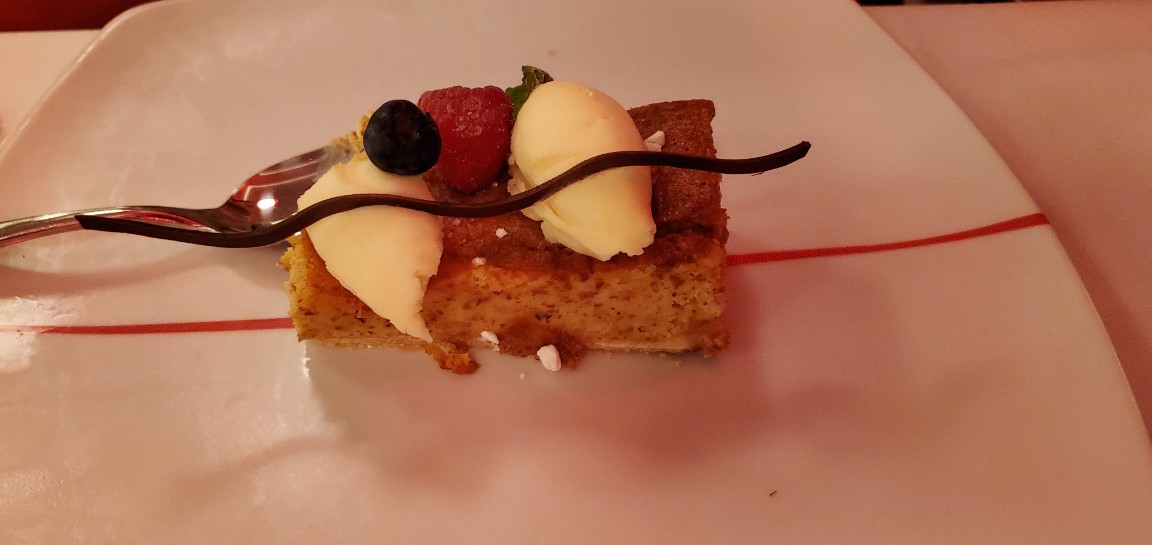 A Bar Crawl, a Show, and a Battle with Sleep
One thing interesting about Holland America Line is that while outside of the musical entertainment it does seem kind of quiet – yet they have some events that are distinctly high-energy.  One example is the bar crawl, which is costs $22, includes drinks, games, and seems to be a hoot when we've seen others participating.  Similar to the whiskey tastings (and hosted by the same gentleman) the host actually drinks along with the guests.  Unfortunately tonight's crawl started a tad after our dinner ended, but I wanted to mention this because it certainly does seem like fun and is very lively.
We'd planned to catch tonight's dance show in the World Stage theater, but the lazy day combined with the serious insulin spike we were suffering made the thought of sitting in a dark theater, even for a high-energy performance, seem like a bad idea.  Instead, Larissa fell asleep in the stateroom while I sat quietly and considered how much I wanted to sleep, but also how much I wanted to head out.  After a half hour or so I managed to scrape both of us out of the room.
BB King All Stars are Still King
Nieuw Statendam's Music Walk features BB King All Stars, Billboard Onboard (with dueling pianos), Rolling Stone Rock Room, and Lincoln Center Stage – all great venues with quality performers – not just "another cruise ship band" situation.  This expansion of their music program is part of what attracted us to this ship – we loved BB King All Stars on Nieuw Amsterdam (our first HAL sailing) and wanted more.
While Nieuw Statendam absolutely delivers more with the Music Walk, BB King All Stars is still king.  Walking into their venue at around 11:00pm we found an absolutely packed house and a dance floor that didn't have room for another couple.  Well, it didn't look like there was room for another couple until the band started playing Brick House, and any concept you had about HAL being a subdued line was thrown out, with guests of all ages singing along and crowding the dance floor all the more.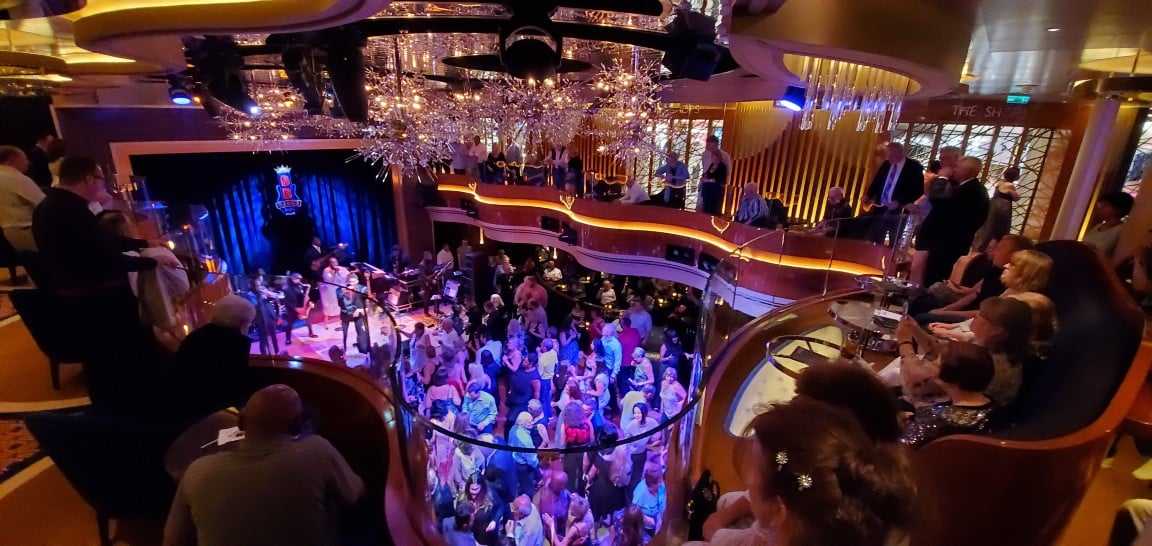 The performers in BB King All Stars play with emotion, they have a good time, they sweat music, and it all shows.  It's pretty hard to walk past one of these shows and not stop.  The great thing is with the layout of the Music Walk, often, as soon as one band takes a break, another starts up on an adjacent stage. 
A Full Day Ahead in Cozumel
Tomorrow we'll be in Cozumel around 8:00am, several hours earlier than originally scheduled thanks to our leaving Grand Cayman eight hours early.  Cozumel is one of our favorite places in the Caribbean because it has so much to offer, including many non-touristy spots within easy reach.  As much as we enjoy it, I'm not sure how much time we'll spend ashore, and there are few constraints since we're not scheduled to leaving until 11:00pm.
Nieuw Statendam Live Blog - Embaraktion Day
Nieuw Statendam Live Blog - Half Moon Cay
Nieuw Statendam Live Blog - Sea Day 1
Nieuw Statendam Live Blog - Ocho Rios, Jamaica
Nieuw Statendam Live Blog - Grand Cayman/Sea Day
Nieuw Statendam Live Blog - Cozumel, Mexico
Be sure to follow along on Instagram, Twitter, and Facebook for more photos, videos, and updates!