Author: bill April 13, 2019, Updated: September 30, 2019
So often when traveling, I go out of my way to avoid the touristy spots – especially when it's a place I've been to many times.  Today however was a nice reminder for us that often, the touristy spots are popular because they have something nice to offer.  We enjoyed some beach time, good conversation, ran errands, and a great performance once back on the ship, on our second from last day on Holland America Line's Niuew Statendam.
Breakfast in the Grand Dutch Cafe
If you've read even one of the Nieuw Statendam live blog posts this week you've seen we've visited Grand Dutch Café, and that's how we started our day at around 10:00am.  One funny thing we found this morning was that out of the two egg dishes in the café (one a gruyere quiche, the other eggs on toast with gruyere), neither are available before 11:30.  Plenty of other delicacies were available, along with, and perhaps most importantly, coffee. 
The Eco-Park?  Maybe a Different Paradise
This morning we decided we wanted to check out some of the beach spots more popular with cruise visitors than some of the sports we often visit.  Initially I thought we'd head to Punta Sur Eco Park as I've seen beautiful photos.  After inquiring with some taxi drivers, I found that it would cost about $90 plus entrance to spend several hours there.  We really just wanted to swing by for a quick visit, but he explained that because it's in a somewhat remote area the cost included a driver waiting for you, and that you could phone for one when done, but since it's not a common route they'd likely charge even more for the return.  In the end, we spent more time on the island than expected and this would have been fine, but since we didn't realize this then we opted to head elsewhere.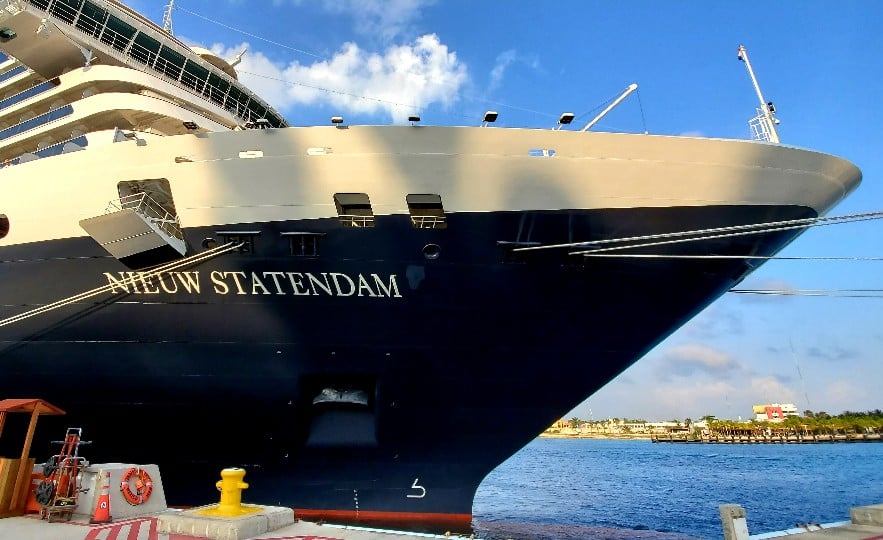 Paradise Beach has been a popular spot for many years.  Located south of the cruise terminals, near popular resorts like Mr Sanchos and Nachi Cocum, it is not an all-inclusive, but offers guests a nice pool area, lounger chairs (around the pool and on the beach), a pretty beach, clean facilities, and WiFi, for just $3 per person.  In addition, they have bars with reasonably priced drinks and food – making this a great option for someone who wants a nice beach and pool, but doesn't think they'll get value out of the all-inclusive resorts.  One of my favorite qualities of this property?  The music was never too loud.  Yes, I am getting old.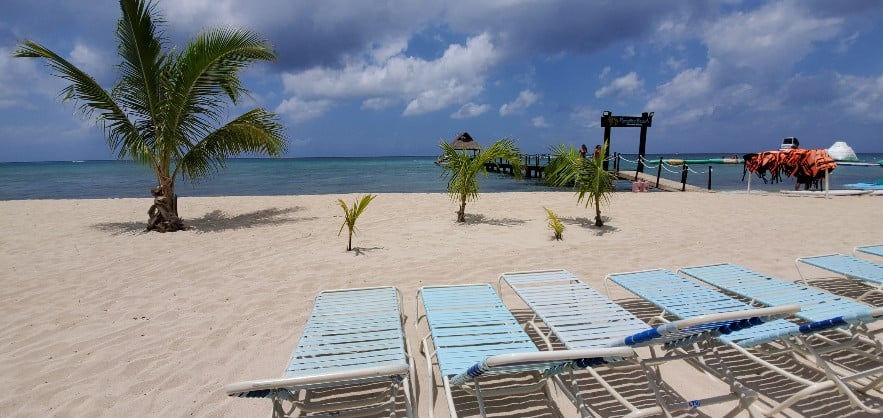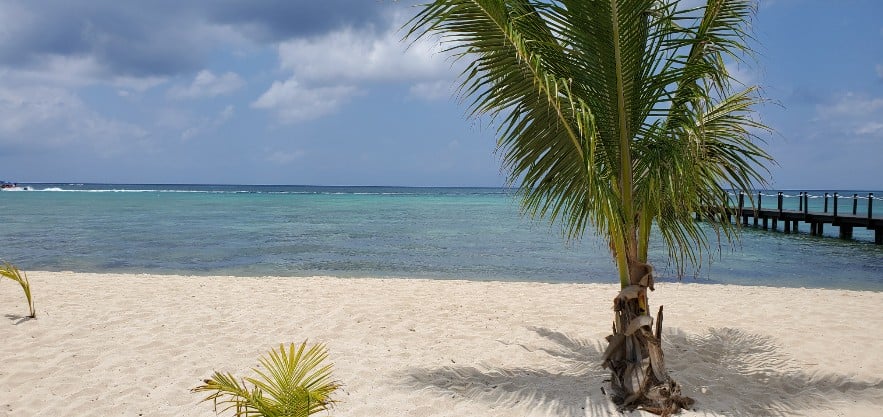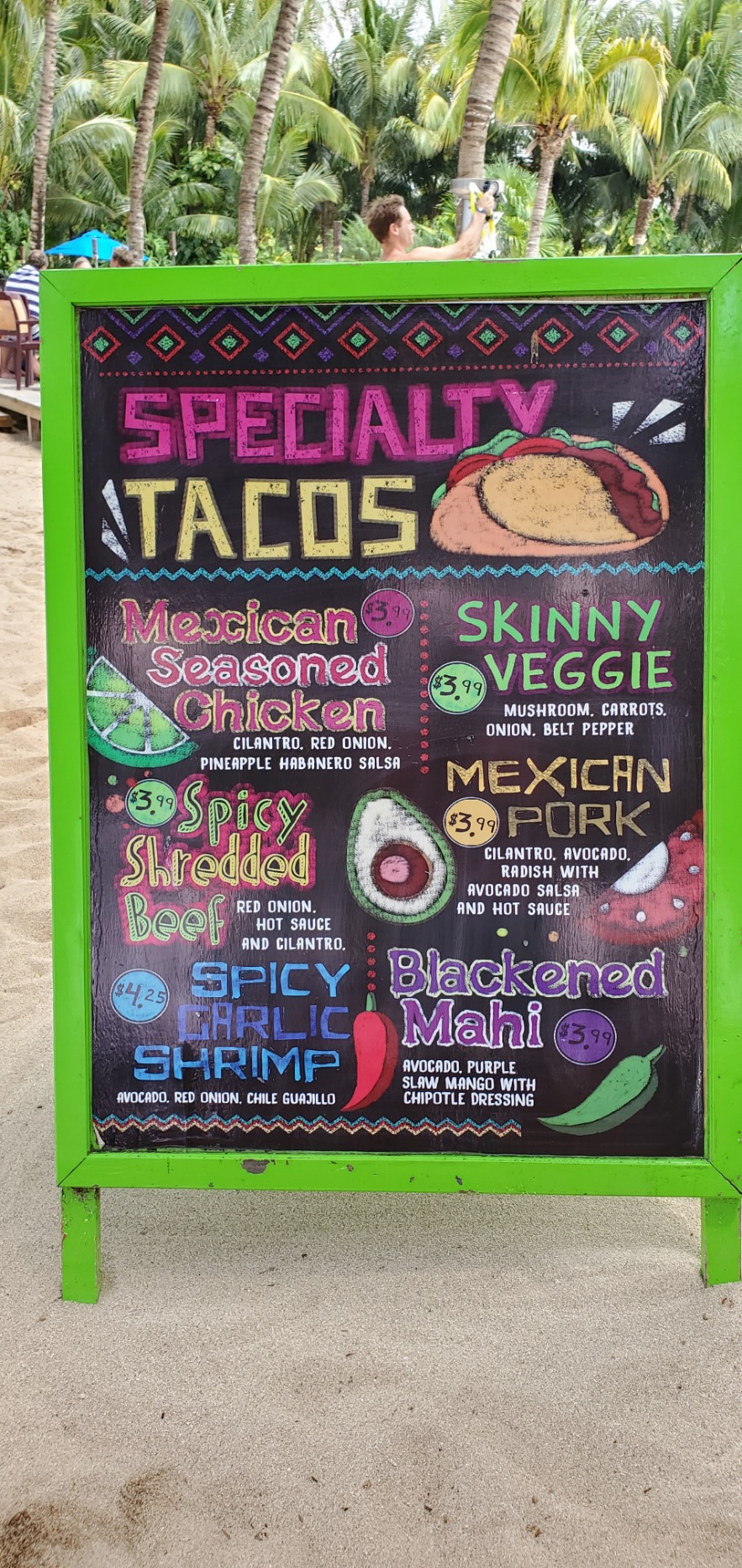 Looking for the best beach resort in Cozumel?  Royal Caribbean Blog has a great comparison.
Craft Cocktails Close to Home (err, Port) – Plus a Tip
After sharing a cab with a new friend and heading back toward the port area, we decided one farewell drink was in order.  Larissa fancies Lonely Planet and found mention of a place called Turquoise Beach Bar, located about two miles north of the International Cruise Terminal (where Royal Caribbean and Celebrity dock).  The reviews spoke highly of the craft cocktails and overall value.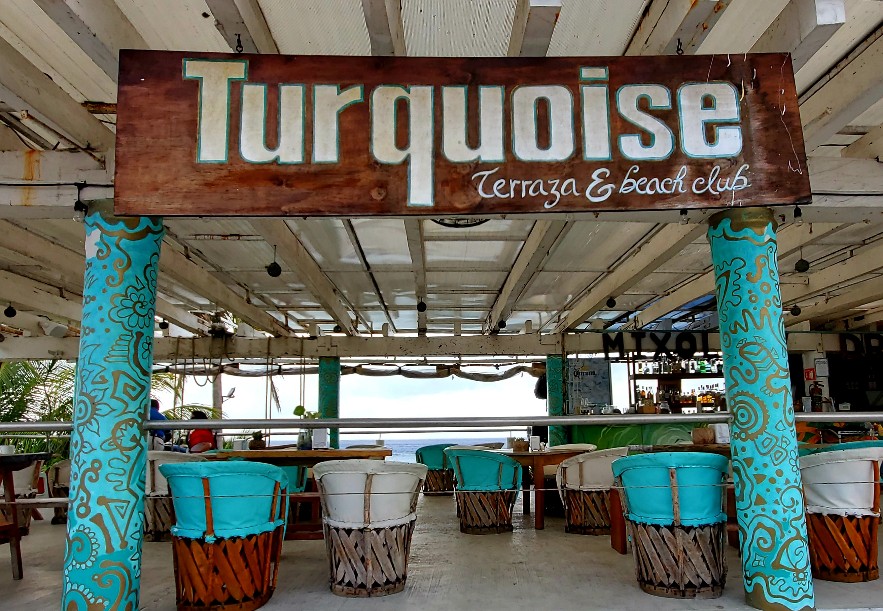 Arriving, we found an open air (but covered) bar on the second floor, and another section down below on the beach.  The beaches right near the port, in full disclosure, aren't nearly as nice as those a few miles away – but you still get to enjoy your drink with a view and put your feet in the sand.  There are comfortable seats on both levels plus loungers below.  Additionally, some of the tables upstairs have wood and rope swings facing the water.  The menu has a ton of craft cocktails, some of which feature unique ingredients.  I was unexciting and had a margarita, but it was clearly fresh-made and quite good.  On Wednesday and Sunday evenings they have live music starting at 6:00pm, which is a great thing we'll try and remember the next time we're here on a sailing that leaves late – or when day when we finally spend a few days on the island.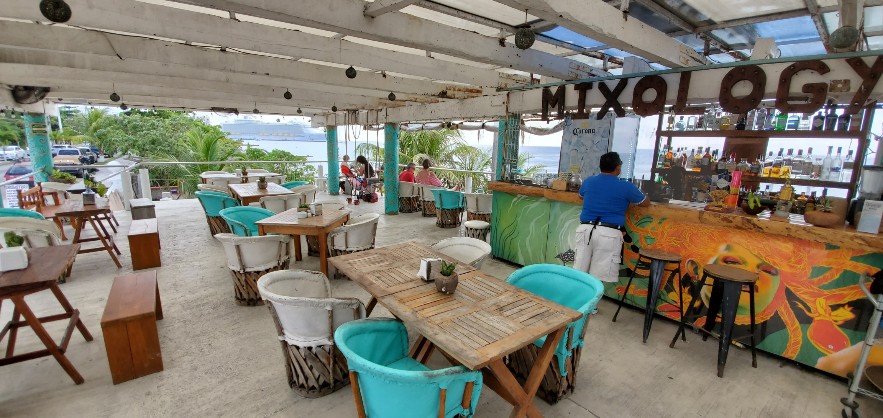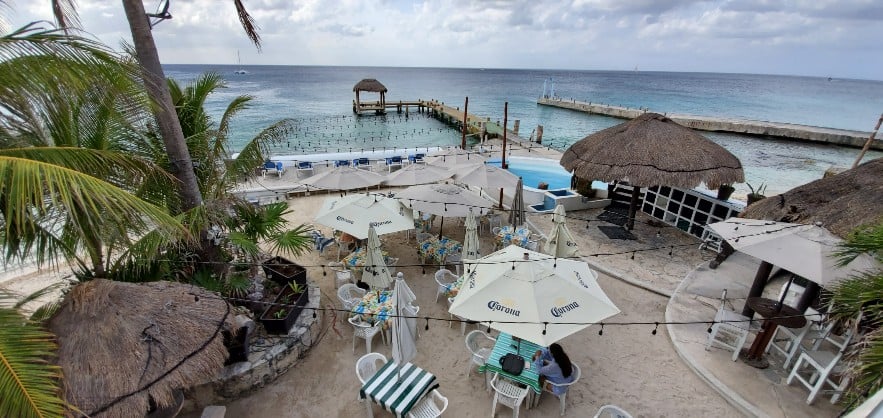 Here's the tip for today: When you're at a bar or restaurant in Cozumel, if the menus show prices only in Pesos, the value is likely quite a bit lower (though there are of course plenty of exceptions to every rule).  Many places will give you the option to be charged in Pesos or US Dollars, and we explain which you should choose (plus other tips for paying things abroad) in this article.
One Item to Add to My Checklist
I always recommend using a checklist when packing (and I have a specific person in mind that will comment on this reminding me of my failure to do so on one occasion).  We travel with our own soaps (because of allergy issues) and failed to bring as much as we should have this time, so instead of skipping showers we headed to Chedraui.  This is one of the two large supermarkets in Cozumel, and here we were able to pick up some fragrance-free soap, Cuban rum, and tortilla chips (the ones in Mexico are much better than what we get at home). 
If you want to buy liquor or need any other items, get in a cab and head to Chedraui or Mega – you'll be blown away by their prices and the selection of grocery and other items (even large appliances.  I enjoy doing this in any country we visit, but in Cozumel it's become somewhat of a ritual.  As much as we like coming here, I'll be sure to add by bar soap to the packing list – I'll search for a fabric marker to update the shirt I am wearing as I type this.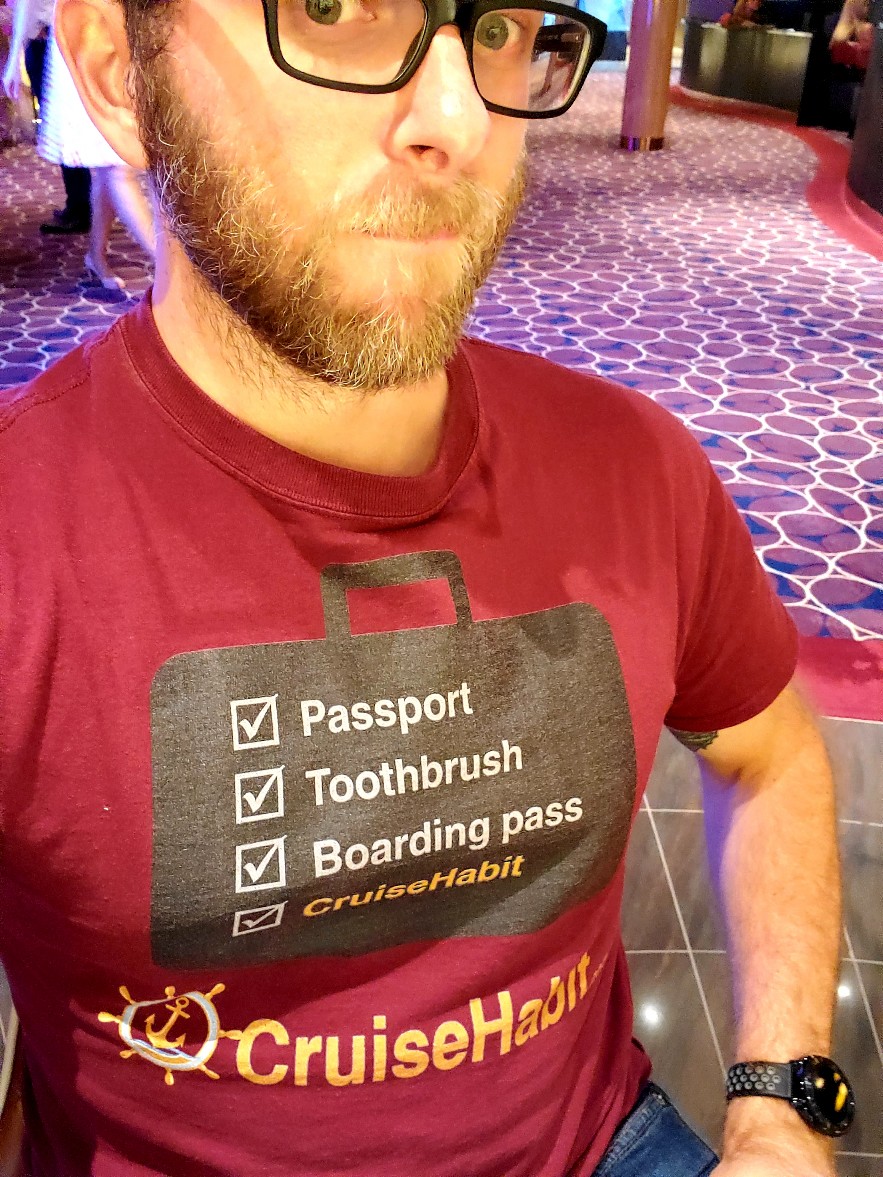 Local Mexican Musicians on Nieuw Statendam
We didn't set sail until about 11:00pm this evening, but having returned back to the ship around 6:30pm (ya know, to use my new soap), we wanted to take in some of the evening's entertainment and have some dinner.  On the schedule I saw, "Mexican Folklorica Celebration" on the schedule for 7:30pm, but void of any description.  We got to the midship pool/lido area and found that Holland America Line brought on a local folk/mariachi band and several dancers, who performed traditional music, including some songs that most Americans have heard and can sort-of sing along to (well, I tried, Larissa sang along).
I thought it was a very neat thing for the line to do, and guests really seemed to enjoy it.  I've seen this on other lines in Europe and elsewhere, but can't recall seeing anything like this in the Caribbean.  Though only 30 minutes or so, I'd say this qualified as a "difference maker" for me, and made us all the more likely to sail Holland America Line again in the future.  I quickly edited some video, which you can see below.  Please pardon the poor editing as I was both eating dinner and editing with new software on a phone.
When is a Buffet Not a Buffet?
Walking from the lido area after the show, we opted to visit the Lido Market where they offered up some Mexican cuisine, and this is actually another area HAL stands out.  Not only do they serve you at the buffet (you ask for whatever you want and they plate it for you), sometimes the items are put together on demand.  One example would be the various types of tacos they made available this evening.  When you ordered them, they put whatever you want in the taco along with sides.  This is nice as some items just don't do well when prepared in advance, plus it allows for any customizations you might want.
One More Night to Try it All in Notes
We're finishing out the evening at Notes, the whiskey bar.  With 120 bottles of whiskey, we've decided it's not safe to try all of them on a seven-night cruise, but we're trying to make a dent since Nieuw Statendam heads to Europe in a week, and we're fortunate, but not enough so to be on that sailing as well.
Tomorrow is a sea day, and the last day of our cruise.  While the clocks go forward one hour this evening, we do want to try and make the best of our final day.  As I write this, I realize that I've not yet looked at the schedule, so in the event it turns out something fantastic is happening before noon, it's probably best to sign off now.  Well, maybe just one more glass of scotch.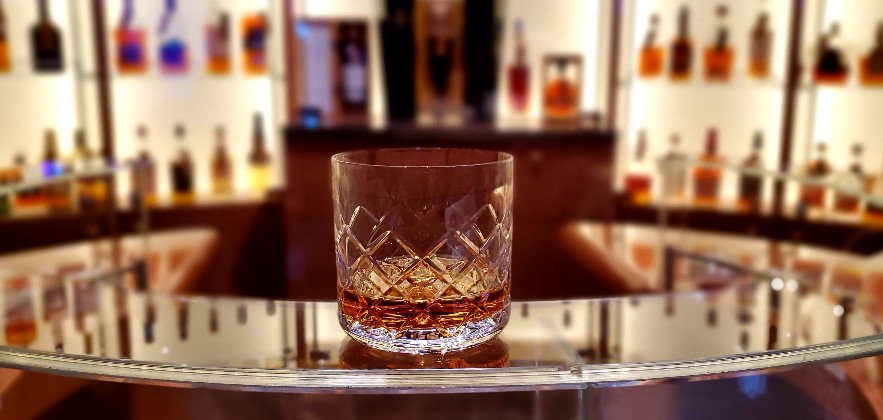 Nieuw Statendam Live Blog - Embaraktion Day
Nieuw Statendam Live Blog - Half Moon Cay
Nieuw Statendam Live Blog - Sea Day 1
Nieuw Statendam Live Blog - Ocho Rios, Jamaica
Nieuw Statendam Live Blog - Grand Cayman/Sea Day
Nieuw Statendam Live Blog - Cozumel, Mexico
Be sure to follow along on Instagram, Twitter, and Facebook for more photos, videos, and updates!