Author: bill April 11, 2019, Updated: June 25, 2019
Ocho Rios is one of the most popular tourist destinations in Jamaica, the third largest island in the Caribbean.  We spent the day enjoying the peaceful scenery from a raft while learning about the island Nation, on this, our fourth day on Holland America Line's Nieuw Statendam.
Rise & Shine
We booked our excursion last night through Holland America Line (HAL) via their Navigator app.  The process of booking was painless, though since we did so later in the evening, I did need to inquire with guest services to find out when and where we needed to meet. 
Waking before 7:00am isn't my ideal way to start a vacation day, but we needed to be at the meeting place on the pier by 8:15am.  After a lot of grumbling, we managed to get dressed, and not wanting to spend the time to have a full breakfast we headed to the Grand Dutch Cafe for a pastry and espresso.  After this short dosing of caffeine we grabbed our bags, which included sunscreen but missed another critical item (more on that in a moment) and headed ashore just minutes after the cruise director announced the ship had been cleared by the local authorities.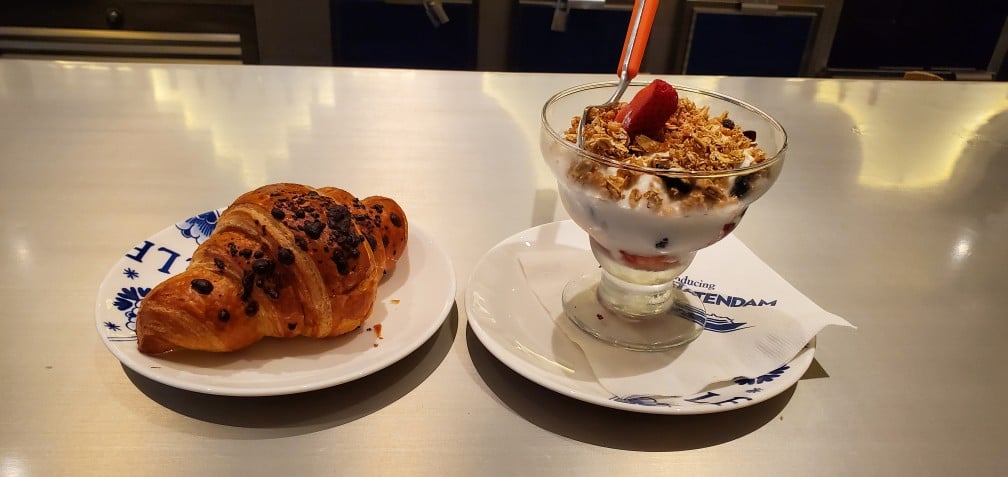 Disembarkation was smooth as could be, as was the case when tendering yesterday.  As we walked onto the pier I saw the familiar retired bauxite facility and "Welcome to Jamaica" sign. It's been a while since I'd visited Ocho Rios, but it looks much the same as I recall, with nothing really at the port, and the touristy shops and other things just a short walk away.  We suffered no such walk or hair-braiding offers, and found a guide with a sign for our Martha Brae rafting excursion prominently positioned at the end of the pier.  Handing over our tickets we loaded onto a new and comfortable bus a bit before the 8:30am excursion start time.
Martha Brae Bamboo Rafting Excursion
Once on the bus we knew we had a bit of a ride ahead.  The excursion, which costs $89 per-person, starts with what they advertise as a one-hour bus ride.  The means heading east toward Falmouth, which is ironic, as my last time in Jamaica we docked in Falmouth and I spent around 90 minutes on a bus going toward Ocho Rios – oops.  During today's drive the guide explained many things about the history, wildlife, terrain, and people of Jamaica.  The driver did a fine job safely navigating the highways in Jamaica, which in my experience, can be among the more terrifying around.
About 75 minutes after leaving we arrived to the area we'd be boarding two-seater bamboo rafts and drifting down the Martha Brae river.  There were restrooms, a small no-pressure souvenir shop, an herb garden featuring local plants (yes, there was marijuana – we know that was the next question), as well as some complimentary punch (plus other beverages available for purchase).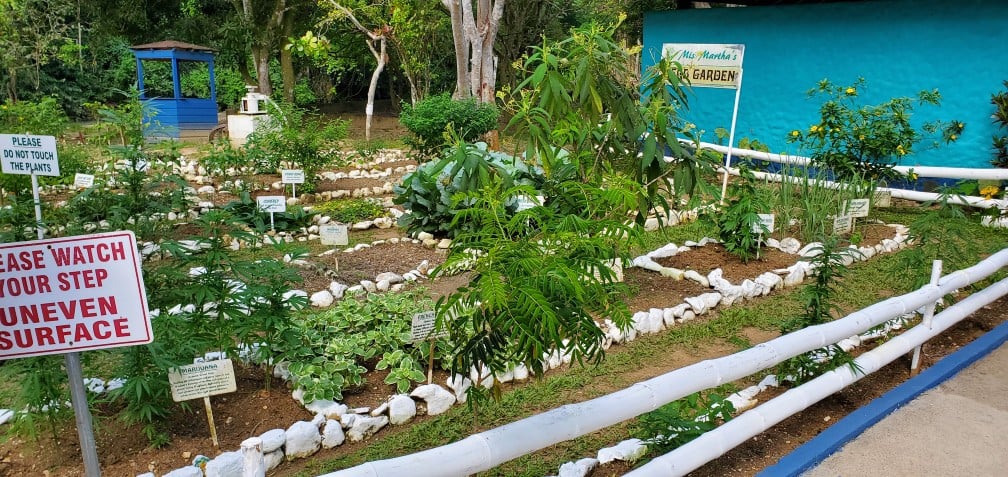 Queuing up for the rafts we realized we were the first group to head out this day (despite the Harmony of the Seas being docked nearby), and had to wait over twenty minutes for things to get started.  In fairness, they'd disclosed this wait in the description, but it was a tad annoying.  It would have been better if we'd brought insect repellent, as we seemed to be the local insects' equivalent of the Lido Market.  I felt foolish, as I usually prepare rather well, knew the area we'd be in, and even offer insect repellent in the CruiseHabit Shop!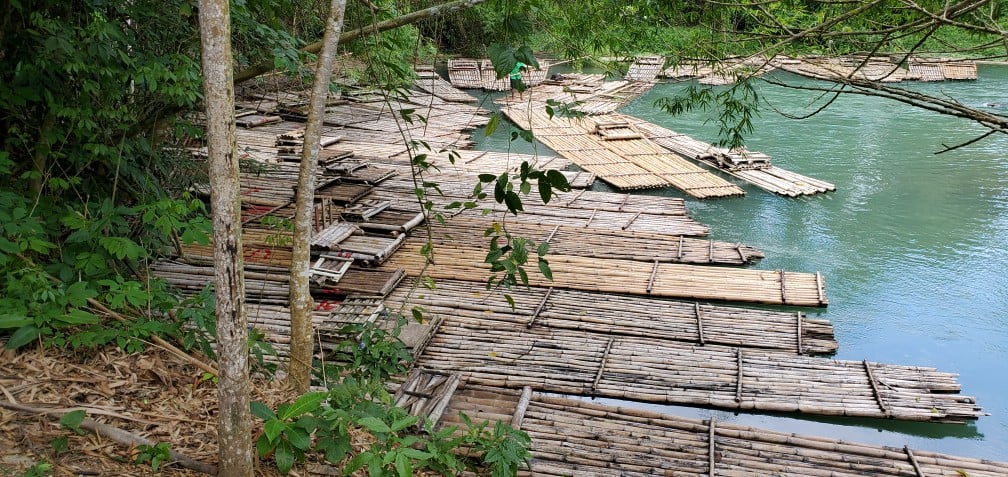 It was interesting watching all the guides (or captains, as they called them) coming around and setting up.  Once it was our turn we met our guide, Richard.  I feel old just saying this, but he was a young man, and very pleasant.  It's always nice when you feel a guide's disposition is nicely matched with yours, and that definitely happened today.  He helped us onto the ~20ft long bamboo raft and onto the padded bench seating.  With a push from the long bamboo pole he used to guide us down the river, we were off on what can reasonably be described as a Jamaican gondola ride – but with the singing is Jamaican Patois rather than Italian.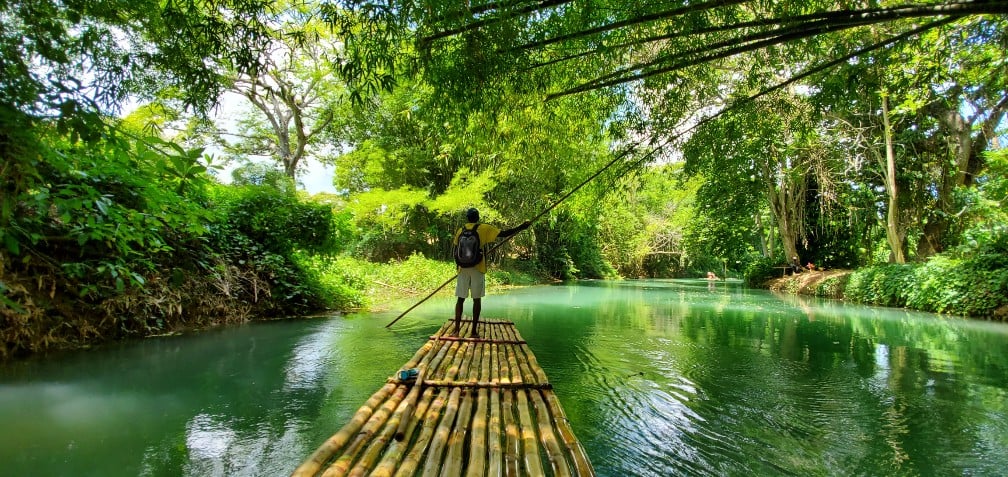 Richard introduced himself and we exchanged the normal pleasantries.  He then explained that the journey was about three miles long and began explaining the local flora, fauna, and history.   I should point out that he, especially initially, took care to speak in a very neutral accent.  I mention this because I know some non-Caribbean natives can have trouble with Jamaican accents (even without their native dialect mixed in).  Living in South Florida (and for some time, adjacent to city with the largest Jamaican population outside of Jamaica), we're quite used to this type of accent, but I'm confident than even non-native English speaker would have been able to comfortable chat with Richard, though as we continued casual conversation and he realized we were somewhat familiar with Jamaicans and the local way of speaking, he did loosen up a bit.
Along the route he took care to point out some of the remnants of colonial-era walls built by slaves at the former sites of sugar and banana plantations along the river.  It's remarkable to think about the history of any place that exists today based on invasion and resulting in the enslavement of others – it's even more remarkable to see the remnants of this existence.
At one point, Richard asked if he could take Larissa and my photo, and used my phone to snap a few nice shots.  This was awesome as I'd expected the save for selfies, the only photos we'd have of ourselves on the trip would come at a cost.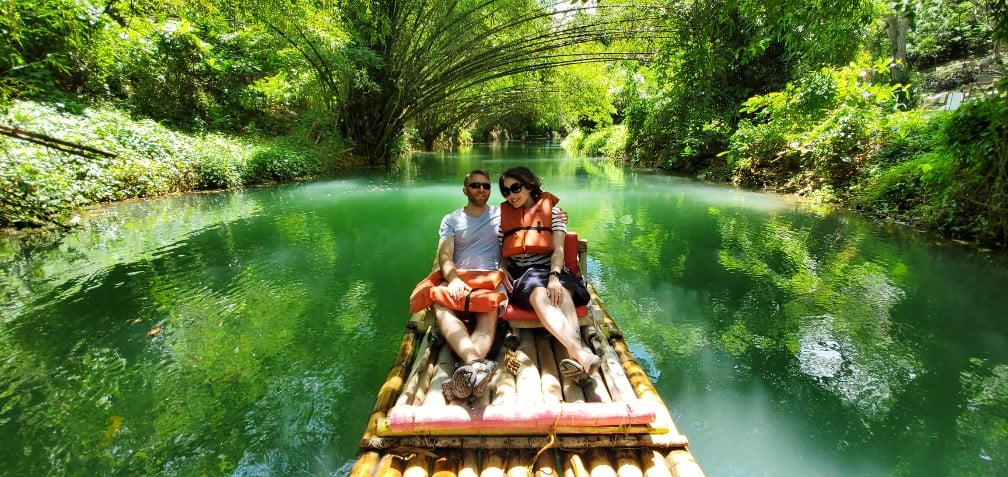 There were some spots along the river with individuals offering cold beer and trinkets, though for the most part they weren't disruptive and there was no pressure.  The one exception was a gentleman who introduced himself and threw a tiny bamboo raft (8" or so long) onto our raft.  The guide explained it was $5 if we wanted to keep it.  This type of technique would have normally annoyed me, but since the raft was a neat reminder of the trip, the throw impressively accurate, similar novelties were sold for at least that much ashore, and the vendor didn't lay down any other "pitch" I was pretty content handing over $5 for this.
The majority of the time the ride was as peaceful as a sunset from your stateroom verandah, but more educational.  We also really enjoyed conversing with Richard, and would have happily continued another three miles.  All good things must end though, and this tour was no exception, though not before someone did run out to snap our photo from land.   We pulled up to an area where everyone was stepping off their rafts, and headed to a pavilion offering reasonably priced beer, and of course the photos snapped from land.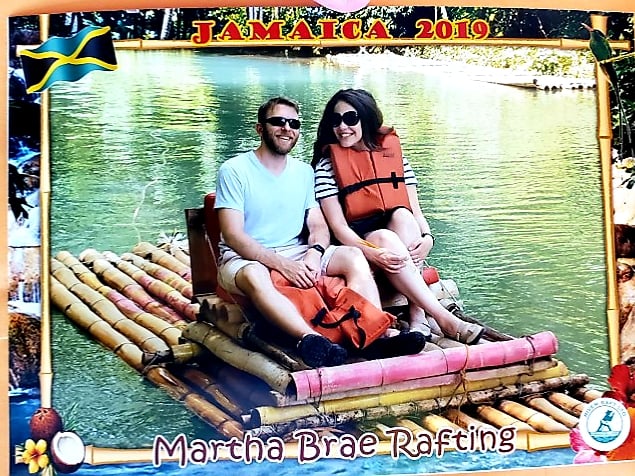 I'd not usually buy these photos, but my father, who visited Jamaica every week for several years of his life while working at sea, has many photos of him and his friends on these rafts, so I was prepared to shell out $20 to have a matching photo, and was pleased to find they were only asking $10.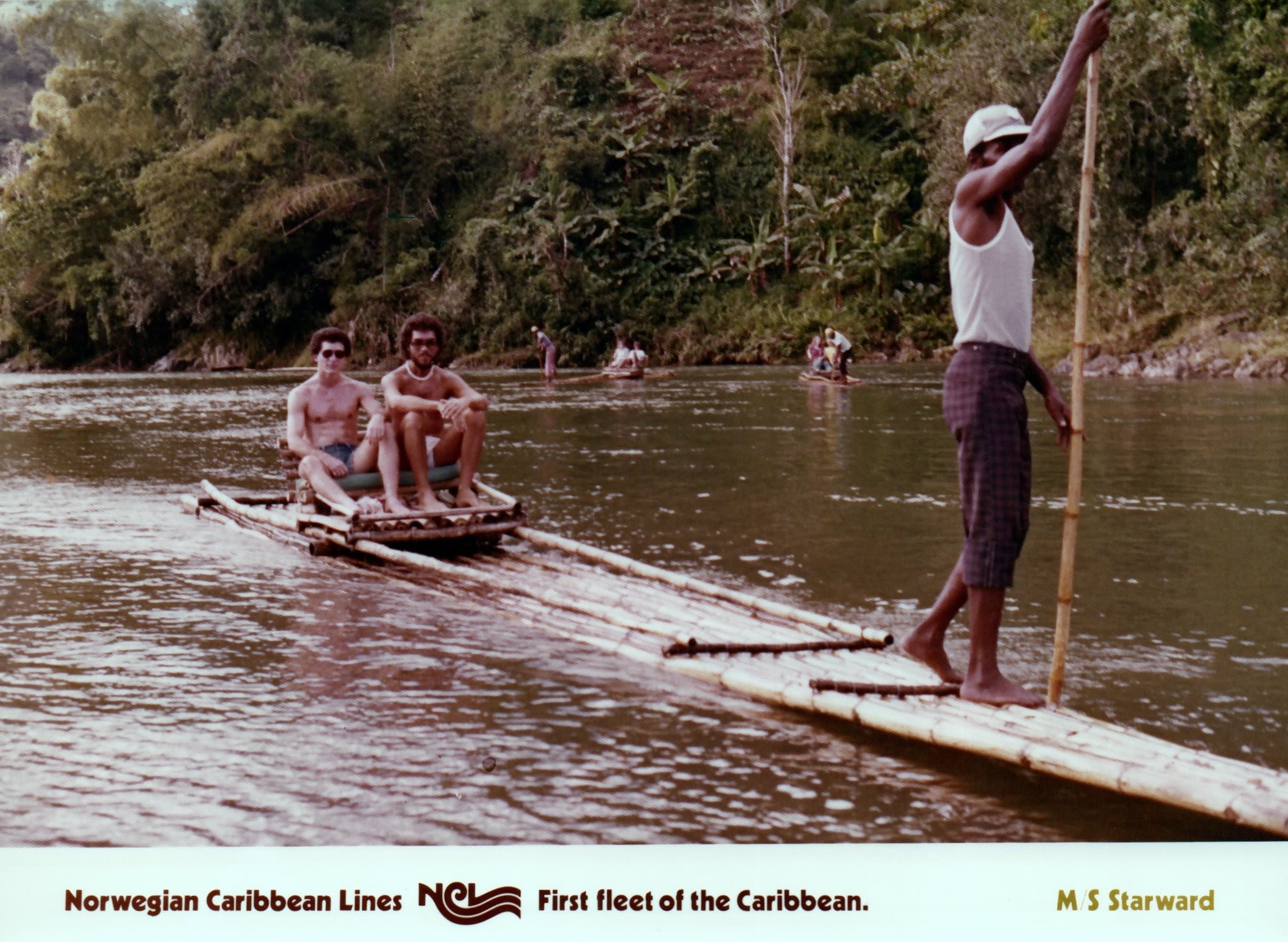 A short five minutes after debarking the raft we boarded the bus, Redstripe in hand, and headed back to Ocho Rios.  After about an hour we stopped at a shopping area called the Taj Mahal – and I *hate* this type of shopping area, but knew it was part of the deal.  The mall of sorts was clean and orderly, but the shops had things I simply haven't any interest in, and charge prices that I'm sure are twice what they'd be if we were just a couple blocks farther from the port.  At this point it was 1:15pm, so we were hungry, and the one thing I'd have gladly paid for was a nice dish of curried vegetables with scotch bonnets, or some callaloo, ackee, and salt-fish – both common dishes.  The only restaurant at this complex didn't seem to be counter service and we didn't have the time to sit down for too long.
Before we got too annoyed with our retail stop it was time to head back to the port, and frankly we could have walked the couple blocks instead of waiting, but it was oppressively hot at this point.  We were dropped off right where we started and were back on the ship less than five minutes after pulling away from the Diamonds International/Blue Mountain Coffee/'No Problem Mon' Towel madness of the Taj Mahal.
Overall, I'd say that I recommend this excursion for the rafting experience, but really wish less time was spent on the bus (and none at the shopping area).  Still, the guide, driver, and "captain" were all great, as was the scenery, so I'm glad we did it.  If you dock in Falmouth you'll find yourself much closer to this spot (and little else), making the proposition far more appealing – and in that circumstance I'd probably book it again.  It was a nice day and good memories were made.
Take Me to Food…NOW
Back on Nieuw Statendam we were famished, so we headed directly up to the Lido Marketplace and found they were serving until three, which was nice.  Ultimately though we decided to try Dive In, the burger joint by the midship pool.  We split a veggie burger, and portabello burger, and fries.  All were quite good, and it was nice to see that my memory of this spot from last time wasn't artificially pleasant – it was a big step up from a "poolside burger" that you might experience on other lines, even premium ones.  I also ordered a strawberry milkshake, which they had me pickup at the adjacent gelateria.  The whole meal was definitely less refined than in the dining room or even the Lido Market, but every bit as satisfying, especially in the hungry and sweaty condition we found ourselves in. 
After lunch, we showered, and we're sure other guests thank us for this.  We also ended up relaxing for a spell and watching the first third of Bohemian Rhapsody on TV, which was unusual as we don't usually watch any TV on cruises.
Whiskey Tastings Require Preparation
Yesterday we'd signed up for a Japanese tasting at Notes, and with this around the corner, combined with our early morning, we knew we needed to combat exhaustion.  As such, we headed to our Nieuw Statendam staple, the Grand Dutch Cafe.  We had a few snacks, including herring and apple strudel, as well as coffee.  A big 'dank je wel' to the staff at the café for always being so friendly and accommodating. 
After this we strolled around the ship for a bit.  Pinnacle class ships (of which Nieuw Statendam is the second) have a promenade on deck three, though it has some obstructions that make it a bit less traditional than other HAL ships.  It's still a nice way relax for a spell and digest.  We also took in some more of the music-themed art around the ship - something I should share more of.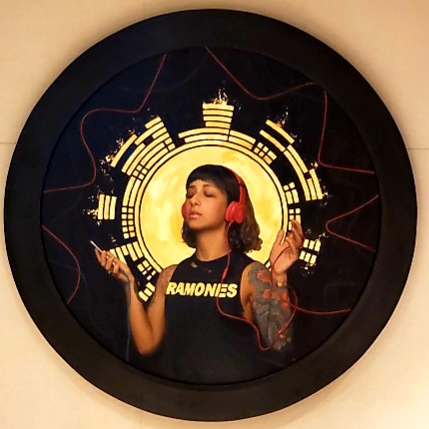 Asian Whiskey Tasting at Notes
As a whiskey aficionado of sorts, I'm shocked I've not talked about Notes yet.  This small bar is located between Billboard Onboard and Rolling Stone Rock Room.  They feature daily tastings (for a cost) and from 6:30pm to midnight you can purchase 2oz pours of any of the many whiskies a la carte, with options from all over the world ranging from $12 to $999 (yes, that's right).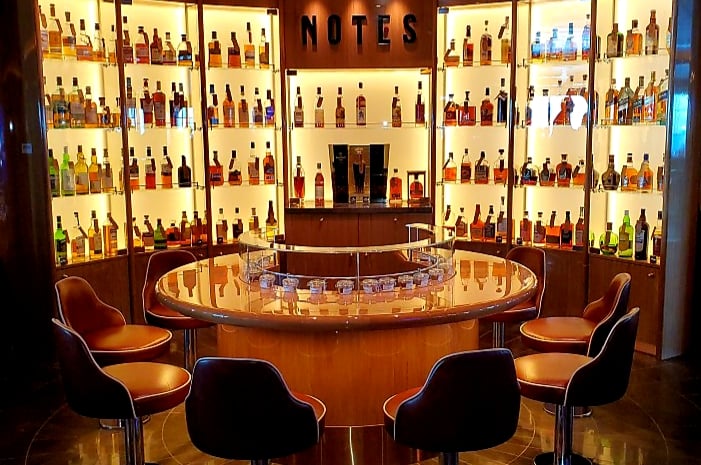 Today's tasting was $50 and features several Japanese whiskies (though it was billed as Asian, all were indeed Japanese).  Jose, the gentleman hosting the tasting was quite knowledgeable, and much to my delight, participated in the tasting with us (drinking as we drank).  He confessed that he has a pretty great job, all things considered.  After the tasting we had several other whiskies from Notes, and those $15 and less were included with our Signature Elite beverage package we'd purchased ahead of the sailing.
The Lido Market and Main Dining Room Aren't So Different
We looked up the dining room and buffet menus in the Navigator app and found once again that most of the selections available in the dining room were available in the Lido.  Feeling casual, we headed the Lido Market buffet for several items of interest on the menu.  One thing on HAL that we don't see on other premium lines is that at the buffet you simply let the staff know what you want and they plate it and hand you the plate at each station.  I love this, as I find it more sanitary and would bet a couple drinks that it reduces food waste.
If you think about it, this means that in the dining room and the buffet on HAL, you can eat the same foods and have it all plated and handled for you.  Once seated you can hit a button on the table to place your drink order (as we mentioned yesterday), and order drinks.  This really makes the Lido Market a very appealing alternative to the dining room.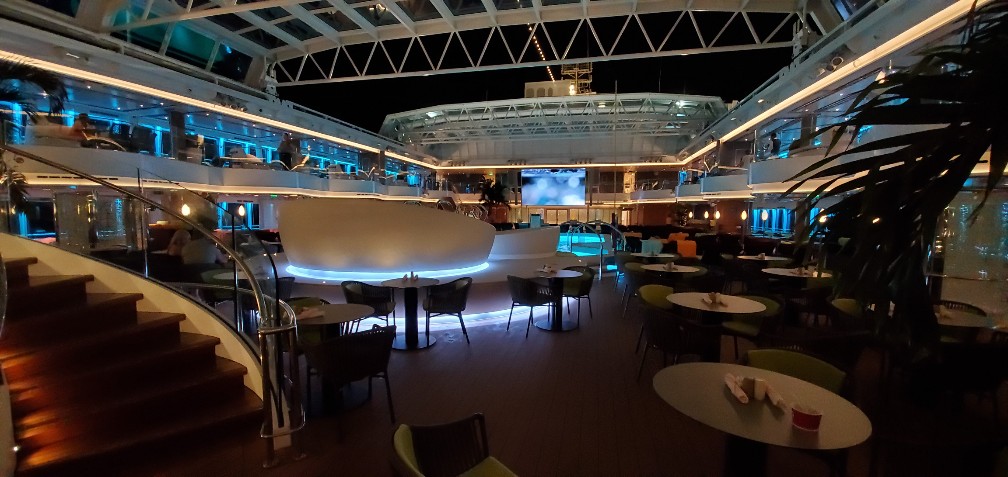 Ending on a High Note – And All of the Puns
Tomorrow we're in Grand Cayman, and while we find it a great destination, we don't have any big plans, so our evening consisted of heading back to Notes to sample more whiskies while listening to the constant hand-offs from the dueling pianos in Billboard Onboard, Rolling Stones Rock Room hits, and the powerful sounds from BB King All Stars.  We may have a late-night snack at the area they have set up near Billboard Onboard as well, something we'd not noticed until now.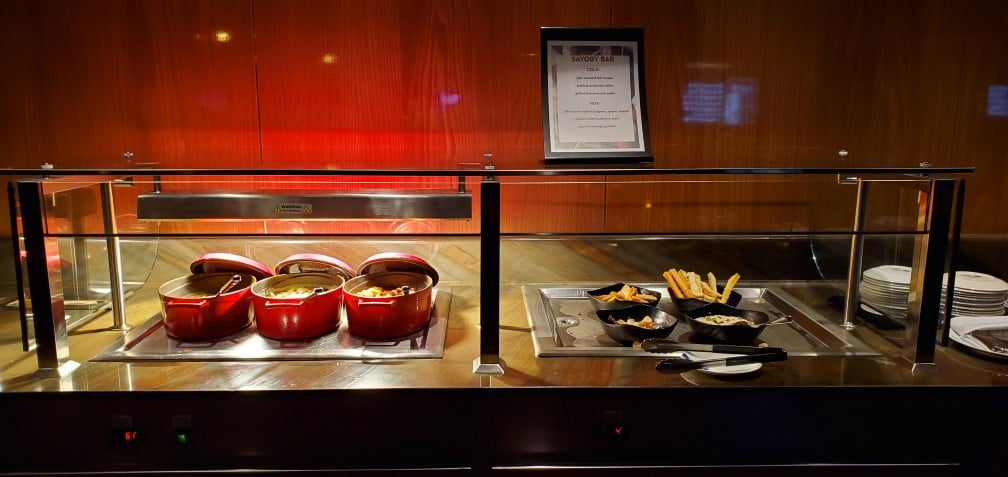 Tomorrow once our blood-scotch levels return to normal we'll head ashore for some sundries, perhaps take a walk, and then likely enjoy the ship some more.  Even on ships that don't tend to crowd, it's always nice when you're one of the few guests onboard.
Nieuw Statendam Live Blog - Embaraktion Day
Nieuw Statendam Live Blog - Half Moon Cay
Nieuw Statendam Live Blog - Sea Day 1
Nieuw Statendam Live Blog - Ocho Rios, Jamaica
Nieuw Statendam Live Blog - Grand Cayman/Sea Day
Nieuw Statendam Live Blog - Cozumel, Mexico
Be sure to follow along on Instagram, Twitter, and Facebook for more photos, videos, and updates!