Author: bill April 8, 2019, Updated: April 13, 2019
Today we boarded Nieuw Statendam, a new Pinnacle Class ship from Holland America Line (HAL).  Our seven-night sailing will take us to Half Moon Cay, Ocho Rios, Grand Cayman, and Cozumel.  Usually I start with separate post explaining out upcoming cruise, why we chose it, etc, but since I'm starting right off on embarkation day, I'll share a tiny bit of that information before jumping into our day.
The Ship
Nieuw Statendam has been sailing since late December of 2018, so she's still quite new.  She's the second Pinnacle class ship, which is the largest class of HAL vessels, coming in at 99.5k GT, with a capacity of 2,650 passengers.  She's actually the sixth "Statenddam" ship in the fleet (as HAL tends to re-use names) and is sister ship to the Konningsdam.  Just yesterday, HAL announced that the next Pinnacle class ship will be known as Ryndam – another name they've used in the past.
The theme of the ship is music, which jives nicely with the direction of the line (more on this as we sail).  This is in contrast to our first HAL sailing on Nieuw Amsterdam, which, as the name may or may not imply, has a New York theme.
Why This Sailing
We'd originally wanted to head back to Alaska, or perhaps Europe for our Spring cruise, but the timing just wasn't working out, and several weeks ago I saw on a deal on this sailing which was too good to turn down, especially since we'd been eyeing Nieuw Statandam since she first debuted. 
While Holland America Line generally attracts a more experienced crowd than us, with a traditional approach to cruising, we rather enjoy the somewhat slower pace of things, so being that we've been looking for something relaxing, this seemed another benefit of this sailing.
Check-In and Embarkation
Our scheduled boarding time at Port Everglades was 1:00pm, but since I have little patience when it comes to heading to the port on embarkation day, we arrived in a Lyft at about 11:00am.  In contrast to our recent sailings on Celebrity Edge and Symphony of the Seas, the check-in process at terminal 26 was rather traditional – using paper forms and entering an unremarkable-looking terminal.  This isn't a complaint at all, but it's funny how quickly we got used to facial recognition, phone-app check-in, etc. 
Once through security (which was quick and painless) we waited less than two minutes in a line to check-in.  Our photos taken, key cards, given, etc and we were sitting down waiting for boarding to begin within just another couple of minutes.  We were assigned boarding group 12, and they started with one just after we sat down.  I think we only waited 30 minutes, boarding around 11:45 or noon, though staring at the ship through the terminal windows made it feel like we were waiting forever.  Again, patience isn't one of my strong points.
As we walked onto the ship my first impression was that the ship was much lighter than I'd expected – light colored woods and carpets.  Walking into the atrium the subdued colors continued, but then we noticed the ceiling, a wall along a staircase, and some other parts that popped with bright colors and presented a nice contrast.  We walked straight to our staterooms which were ready to go.  This is a nice perk of sailing HAL – the staterooms are generally ready as soon as you board.  Ordinarily this is where I'd share some stateroom photos, but I failed to take any, so look forward to those in the coming days.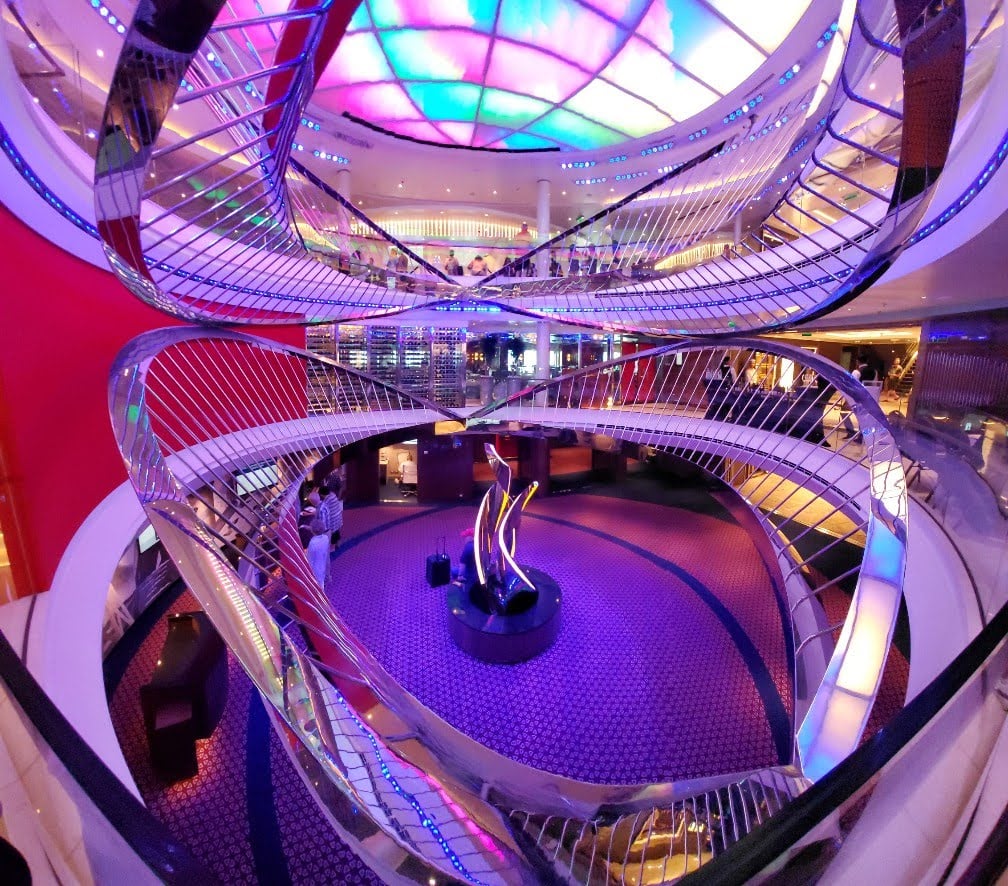 First Meal of the Cruise
We deviated from the normal pattern of heading to the buffet (known as the Lido Marketplace on HAL ships) and went to the main dining room for lunch.  This was partially to avoid crowds, but largely as we found ourselves very close to the dining room and were hungry. 
Entering the dining room, we quickly noticed that the musical theme of this ship is carried in many ways, even in the sculptures and other 3D art.  We walked past the symbols and were quickly seated with a couple of other cruisers and had a lovely lunch.  As we ate there was someone from the beverage team who came up and explained some of the tastings available on this sailing.  I wouldn't call it a hard sell at all – but we did notice this on our last HAL sailing, so it seems it's something they certainly push.  We also found in the past that our beverage package actually covered the cost of some tastings, which we'll explore on this cruise.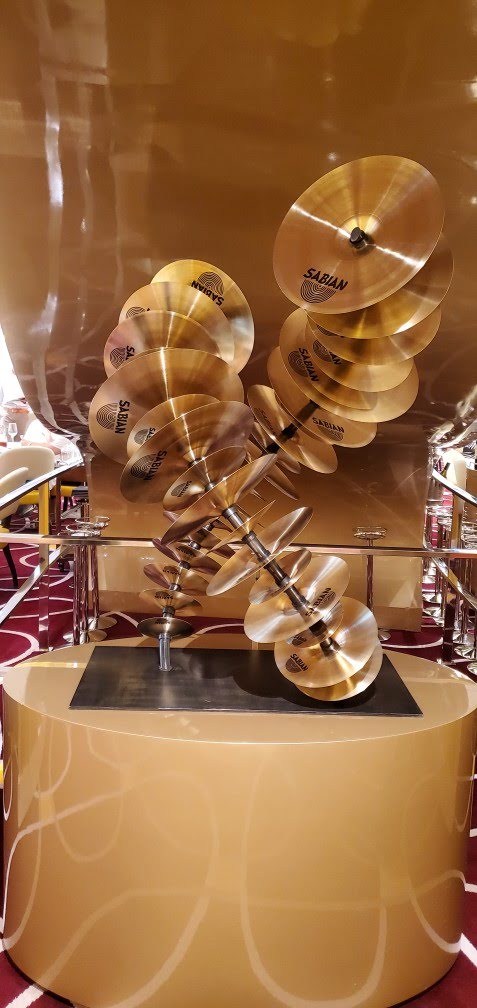 The food was good, but nothing in this meal "wowed" me, except for dessert, which was a flavorful carrot cake that was as moist as it was sweet – and I thought about having seconds.
Sailing Away
Port Everglades was hoppin' today, with seven cruise ships all sailing out around the same time (plus the 5k GT Pearl Mist later in the evening).  We ended up sailing out last, which allowed us to watch all the other ships heading out to see and blasting their horns.  Most of the time we watched this parade we were at the Sea View Pool area, which is all the way aft and provides great views.  Unlike some other aft pools, this ship has a second level to that area, which provides additional seating as well as plenty of shade for those of us not looking to bake.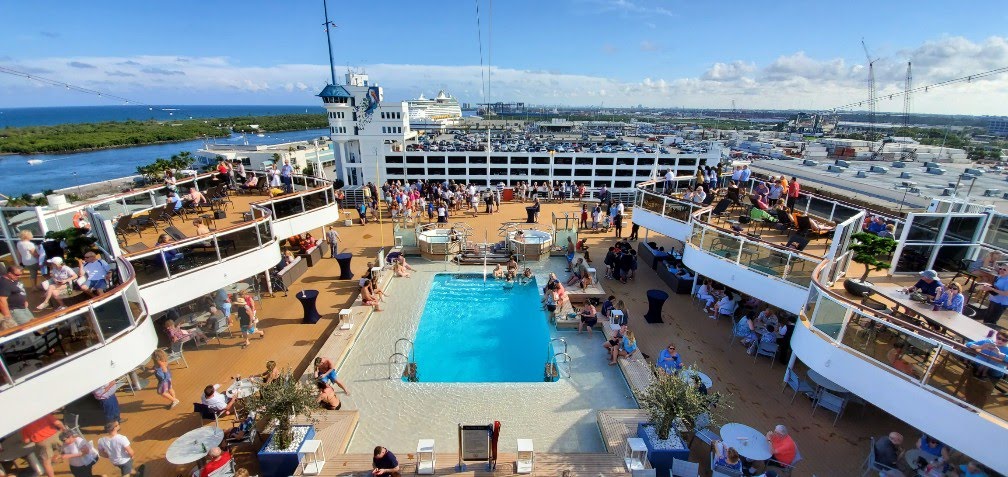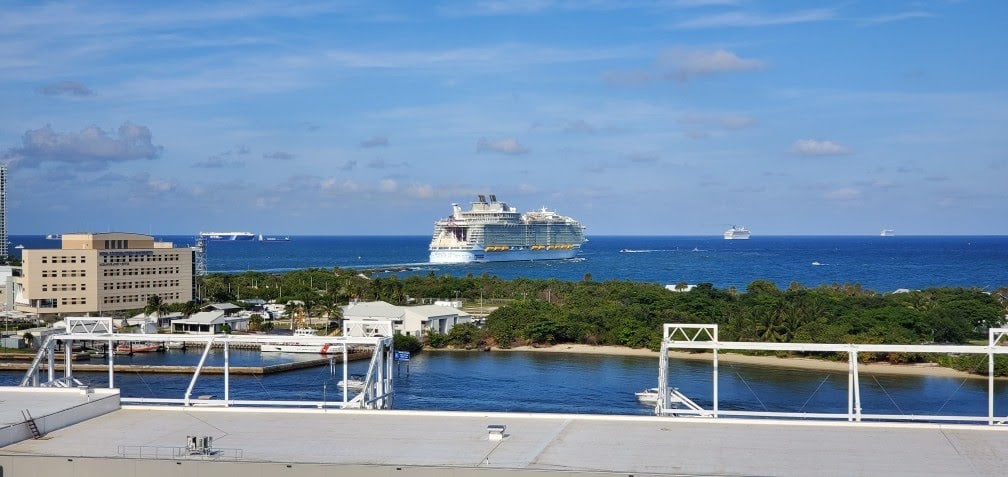 Exploring Nieuw Statendam
We decided after sail-away (and a shower) to start walking around to explore more of the ship, including the Crows Nest (the top-forward lounge on HAL ships) and several of the music venues, including  Billboard Onboard – an area in the middle of several bars and music lounges, which we'd return to after dinner.  We also stopped by the Grand Dutch Café, which is located in the atrium and serves coffees and assortment of complimentary sweet and savory snacks.  I rather like this spot for its seating both in the atrium and off to the site where you can enjoy the ocean.  You order at the counter but they bring your food and drinks out to you, so it's nice and easy.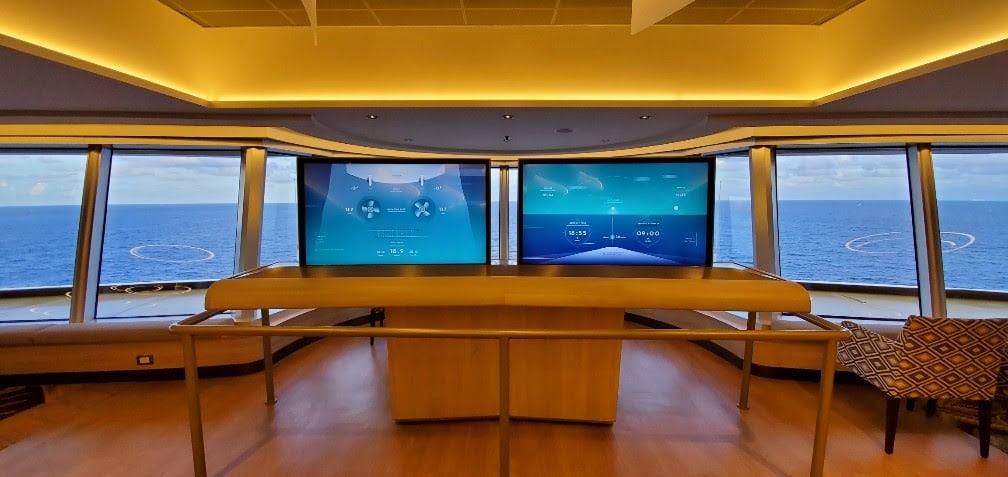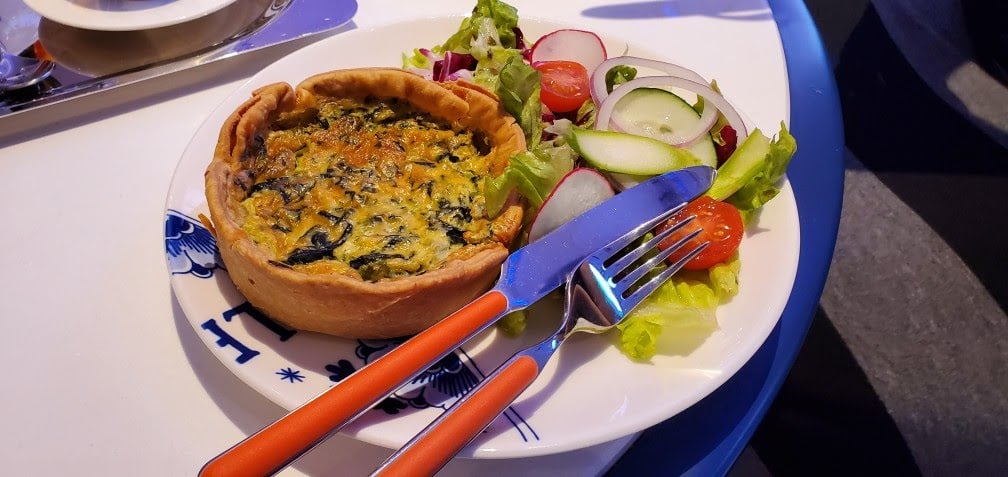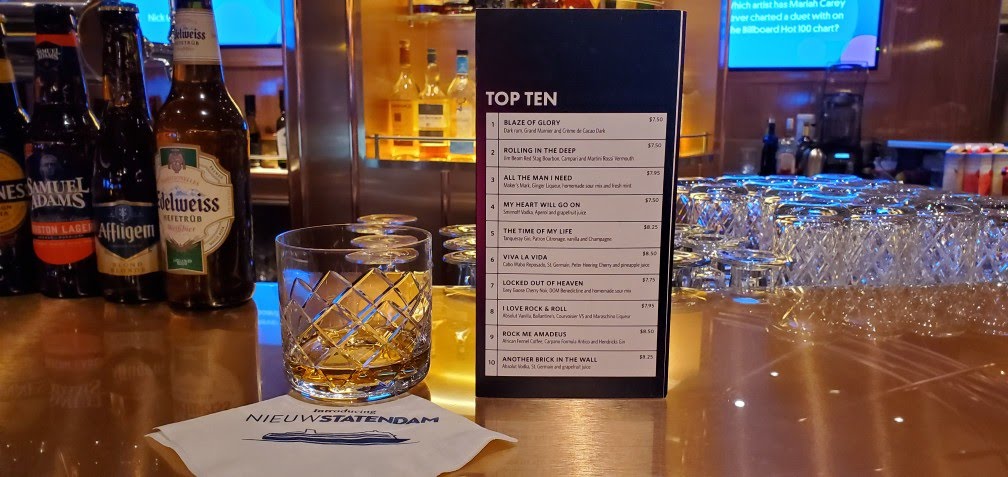 Our First Dinner of the Cruise
Dinner time came and we opted to head to the dining room – which means we had both day one meals here, something I don't think I've done since a DCL sailing about five years ago.  We have open seating, which is our preference when not traveling with a group.  The wait was less than a minute for a private table and we were seating at the top deck of the bright dining room. 
Service was friendly and reasonably prompt and we ordered quickly as we were able to see the menu in the HAL Navigator app earlier in the day.  I did note that the menu, whiling having a number of options, had only a couple items marked as being vegetarian, despite many of the selections actually being vegetarian.  This is an observation I've made on most lines, and isn't a big deal, but is absolutely one reason to make sure you communicate with staff if you have any dietary restrictions – we've written about this and other tips before.
An Evening with BB King All Stars
On our last HAL sailing it was the music entertainment that stood out, and that was largely because of BB King All Stars, a group I believe is found on all HAL ships now.  These musicians perform blues (as you'd expect) as well as other types of music, and they're selected for their talent but also their compatibility with the others they'll be on stage with.  This careful selection process really shows.  On this ship this group actually has a dedicated venue, which has lots of cabaret seating, a dance floor, and seating around a second level 270 degree balcony of sorts.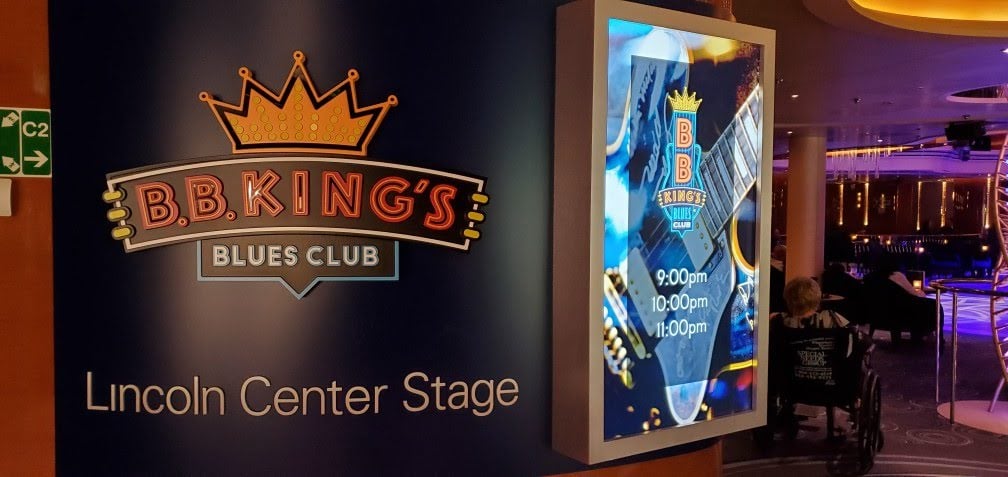 We caught their last two sets of the evening (each 45 minutes) and like last time weren't just impressed with the music, but the number of guests that dance – and dance very well.  I'm not a dancer (by court order, as my flailing could be hazardous) but it's enjoyable watching others dancing the night away to energetic music ranging from Prince and Parliament-Funkadelic to BB King and others.  I suspect we'll be back here a lot.  We also went by the Rolling Stones Rock Room, a similar Rock & Roll themed venue, and it seemed like a god time as well, but we'll need to explore it more later.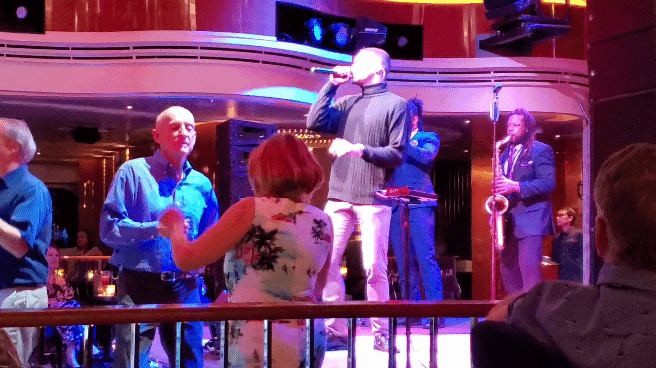 Wrap Up & Tomorrow's Plans
After a nice chat with a couple from Seattle, we'd nearly closed out the music venues and we were long-overdue for sleep.  I genuinely want to make an effort to get to bed a bit earlier on this cruise, but night one was a failure on that front – though we had a great time.
Tomorrow we'll be at Half Moon Cay, HAL's private destination in the Bahamas.  It has one of the prettiest beaches I've ever seen, so I suspect we'll lounge there for a bit and grab a drink at the pirate ship-themed bar on the beach.
Nieuw Statendam Live Blog - Embaraktion Day
Nieuw Statendam Live Blog - Half Moon Cay
Nieuw Statendam Live Blog - Sea Day 1
Nieuw Statendam Live Blog - Ocho Rios, Jamaica
Nieuw Statendam Live Blog - Grand Cayman/Sea Day
Nieuw Statendam Live Blog - Cozumel, Mexico
Be sure to follow along on Instagram, Twitter, and Facebook for more photos, videos, and updates!