Author: Bill March 17, 2022, Updated: March 17, 2022
On April 27, 2022 Celebrity Beyond's maiden voyage will sail from Southampton, England.  Ahead of this, Celebrity has released new details about the onboard entertainment options that guests can look forward to on their newest Edge series ship.  This is particularly exciting, as entertainment has been one of the stand-out features of this series.  Below we'll look at what Celebrity has shared about the venues, some of the shows in those spaces, and discuss what we find particularly interesting.
The Theater
With a perfect view from any seat, The Theatre introduces all-new production shows, programming exclusive to Celebrity Beyond and brought to life through state-of-the-art technology. A 20-foot-tall 4K LED screen comprised of 17 million pixels curves 110 feet around the stage and integrates with new floor projection technology to immerse you like never before. It all adds up to our most technologically advanced theater yet—the perfect home for the groundbreaking new productions you'll experience here.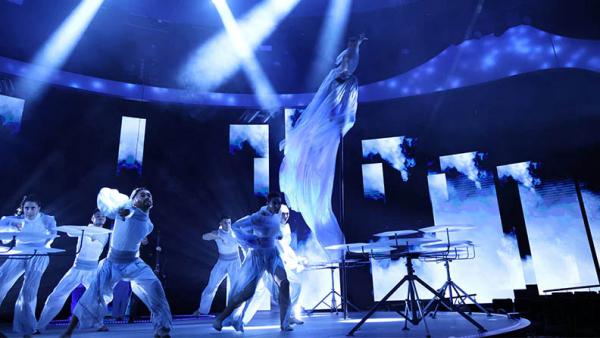 So far we've sailed on fifteen different cruise lines, and there's absolutely no question that the theaters on Edge and Apex have the best layout, sight lines, and technology of any we've seen.  Apex was a step up in projection technology from Edge, so it'll be exciting to see further improvements on Beyond, and enjoy the shows that utilize the tech.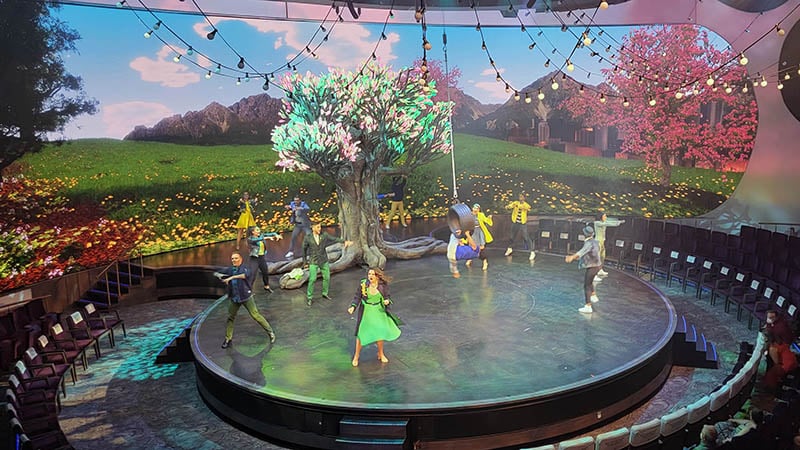 Elements
Get ready for a journey through the five elements: joyous Air, flowing Water, alluring Earth, stirring Fire, and ethereal Ether that's so visually stunning you won't want to blink for fear of missing the ever-changing beauty before you. Featuring some of the first-ever "kinetic fabric sculptures" at sea by Daniel Wurtzel incorporated with state-of-the-art technology, jaw-dropping acrobatic performances, intricate choreography and creative costumes, Elements is an immersive and captivating experience like no other.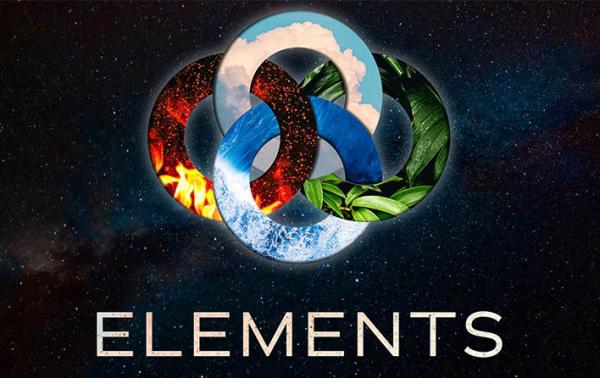 Stage Door
Step into the heart of the biggest Broadway and West End musicals and feel the pulse of some of the most-loved songs in entertainment history. The immersive performances are accompanied by a full symphony orchestra that was recorded in the London Palladium, UK's most iconic theatre, and brought to life on stage with cutting-edge technology. Far from the expected, these curated songs will stir to life the very soul of the shows they were a part of.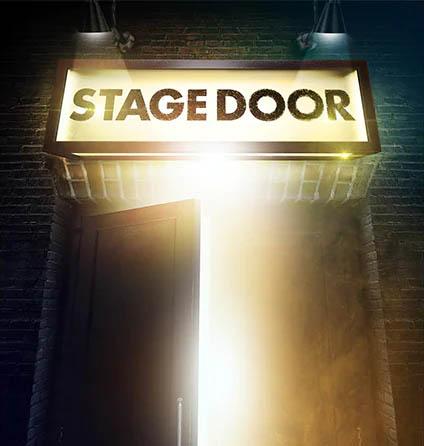 Arte
Be immersed in iconic works of art in a ground-breaking masterpiece that combines electrifying dance, high-flying acrobatics and mind-bending visual effects with a light-hearted twist. Witness the use of art to create art and become part of this fun production experience as it unfolds around you. It's a tapestry of creativity woven with breathtaking color, sound and powerful movement that will completely change the way you think and feel about art.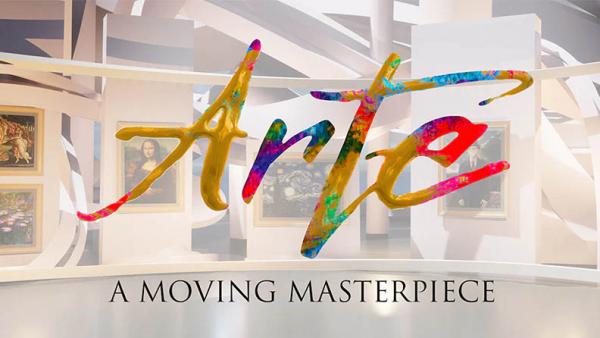 The Club
Gathering space by day and a place of wild discovery by night—Celebrity Beyond's transformative venue will have you coming back for more. Experience everything from gaming and live DJ performances to new evening productions that will entertain you long past your bedtime. Watch from the bar. Jump into the action. From sunrise to sunset, unexpected and engaging moments await at The Club.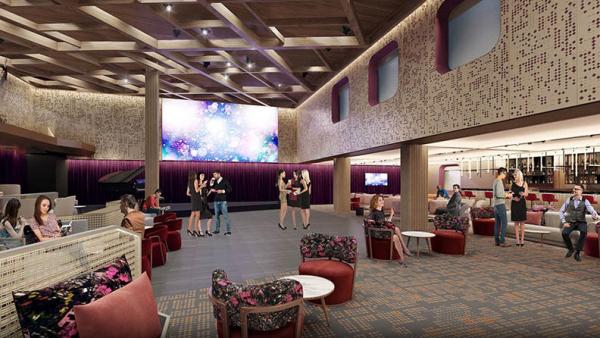 This is a multipurpose space that is better utilized than many interior spaces on other ships.  By day we've enjoyed lectures, trivia, even drone racing and archery.  At night this becomes a nightclub and live-music venue.  What makes it different than others?  For one, a much nicer bar selection.  Additionally there are aerial rigs, various types of seating on two levels, and stunning lighting effects.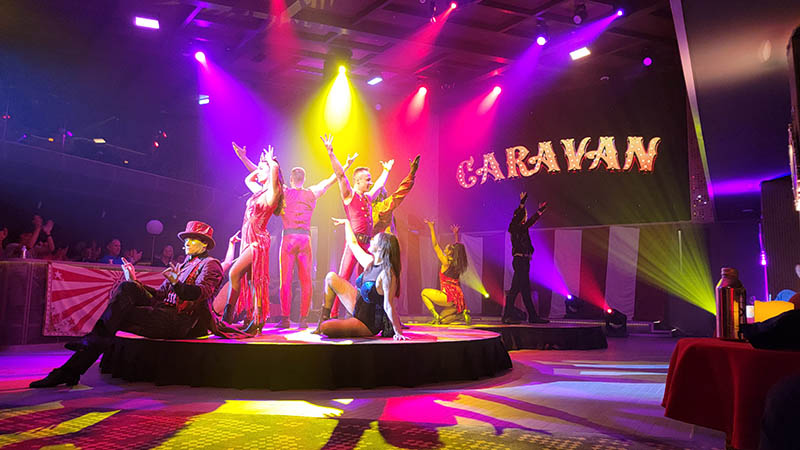 The one thing we didn't love about this on past builds was that it could feel a bit dark, even with the lights on.  The rendering Celebrity has provided looks to be much brighter, and we hope the windows have shades that open, as it would let light in from the area that looks out to the portside forward lifeboats on deck five.
The Jazz Joint
Come paint the town at the most swinging speakeasy on the high seas—where the drinks are cold, but the action is hot. Join your fabulous hosts Josephine and Billy for an evening full of swinging jazz tunes, electrifying dancers, mesmerizing specialty acts, powerhouse vocals, and some laughs along the way. This is one night at The Club you'll never forget.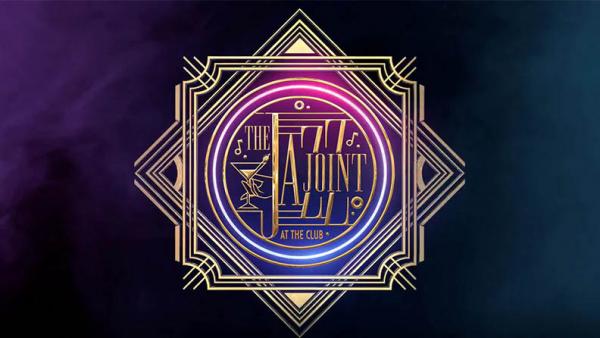 We've been lucky enough to enjoy some good music in The Club, but this designation leads us to hope that classic jazz will be a permanent feature here.  In fact, this was one of our favorite things on our Sky Princess cruise in November 2021.  One thing that stands out in Celebrity's copy is the mention of hosts, "Josephine and Billy" (a fine name, by the way).  I don't recall a time that Celebrity had permanent named hosts for any show - though of course the actual staff will rotate though, because of course some people enjoy time off.
Eden
Chillful. Playful. Wonderful. Awaken all your senses in this breathtaking, three-story venue that epitomizes Celebrity Beyond's outward-facing design, connecting you with the world outside. It also invites you to immerse yourself in the ever-evolving, multi-sensory experiences that transition from chillful to playful to wonderful.
Many readers know that we're obsessed with Eden.  The space, the bar, the restaurant, the cafe, the performances, the view, the performers - it is the official happy place of both of us (Larissa and Billy).  Magical things happen here, and there is no better view in the world.  The specialty cocktails are pretty wonderful too (despite the polarizing 'Earth' cocktail seemingly loved only by Larissa and our friend Brandon).  
I'm not aware of any changes to the space, but am excited for the entertainment.  Maybe Celebrity has some surprises though, as this photo is actually from Edge in her first months, before the removal of the center stage, or "nucleus".  Do we have a small piece of the nucleus on our curio?  Maybe, but we'll never tell how it got there.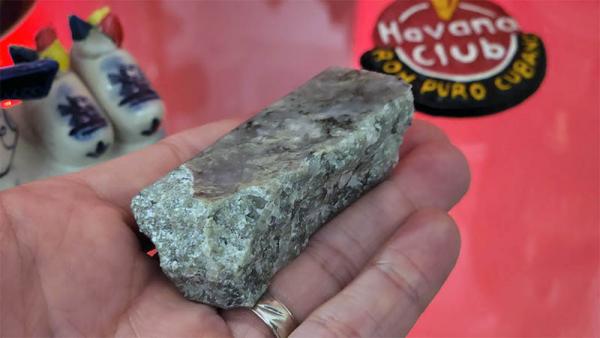 Wonder at Eden
By night, Eden is an ever-evolving experience that transforms throughout your vacation. Join us for a series of tantalizing nightly events all designed to awaken your sense of wonder in unique and exciting ways. Each night you visit Eden, you'll encounter a new fusion of music, libations, and interactive experiences unlike anything else at sea.
Not too much to share here, so we'll eagerly await word on what Celebrity has planned for this special space.  Eden's original shows on Edge were loved by some (including us) but others felt they were a bit too avant-garde, so things were changed during the shutdown.  On Apex, there are some wonderful performances which we discuss in our Apex Group Cruise live blog, and we'd love to see things stay adventurous here.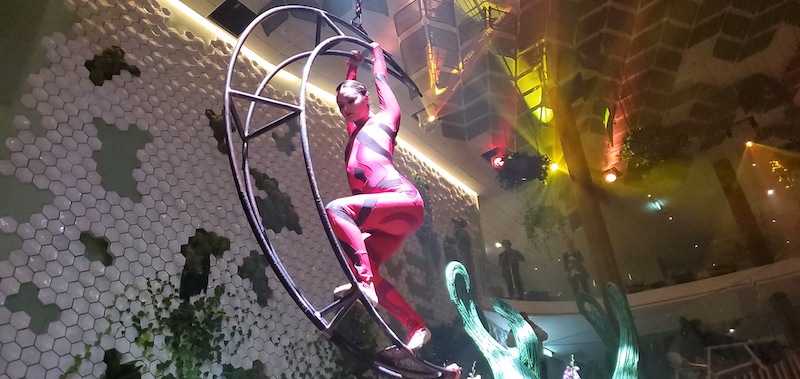 Since the first voyages of the first Edge series ship, Celebrity Edge right through our most recent sailing on Celebrity Apex, her sister ship, we've found the entertainment on this series to be beyond (or perhaps, "Beyond") compare.  As Celebrity Beyond has some significant differences from her sisters, even coming almost 10% larger, we can't wait to see what she has in store.
We expect to be on one of Beyond's first US voyages, so stay tuned.  If you're interested in cruising with us, or want help planning your trip from the same people who plan our travel, fill out this form for more information.