Author: bill May 19, 2017, Updated: June 20, 2019
We all make mistakes, but some come with a bigger serving of irony than others - yesterday I made one of those mistakes.  It cost me time and sleep, and contributed a lot of stress, but it could have been worse.  What was my mistake?  Well, despite writing, ranting, and preaching cruise tips ad nauseam, I failed to take my own advice and forgot something when preparing for our Cuba cruise. 

Leaving for our Cuba cruise when suddenly...
Larissa and I are sailing out of Tampa this weekend, heading to Havana Cuba.  You can catch the blog at EmpressOfTheSeas.live (and of course find us on social media).  As such, we left work right on time yesterday, and started the drive from the Ft Lauderdale area, where we live, to Tampa, a drive of just under four hours.  I figured we'd get to the hotel around 10:30pm, delayed somewhat so we could have some dinner on the road.  Chugging along I-75 we were listening to podcasts, chatting, and excited about the trip.  About 70 minutes in however Larissa was buying something online, and said our address aloud.  Suddenly my brain, perhaps running through it's "vital stats" routine when it heard our address, realized that in our rush to get out of the house, I failed to use my checklist and grab a very important item.  Our passports.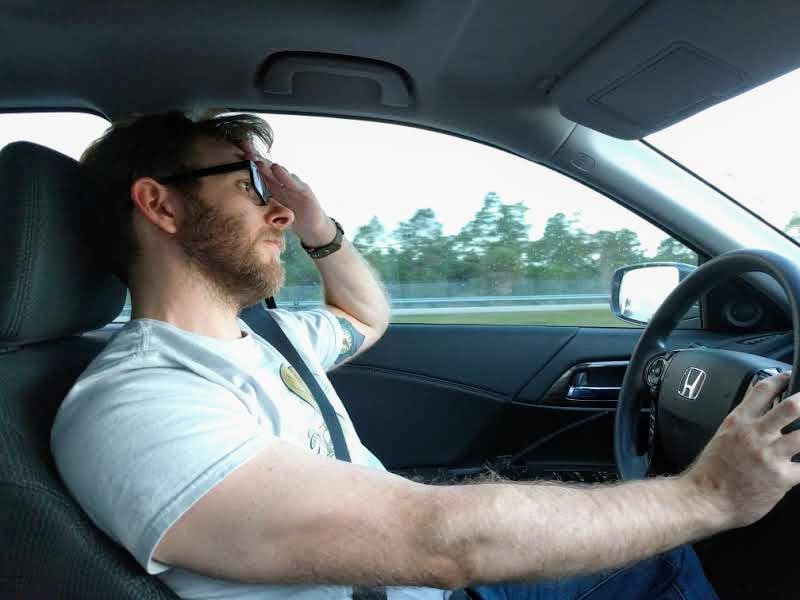 My mood and face immediately changed, as I knew I have to turn around right away.  As if this wasn't bad enough we were on Alligator Alley, and there wasn't a place to turn around for over 12 miles.  This meant that as I began mentally (and verbally) berating myself, I had to keep driving AWAY from our passports.  Finally I was able to get turned around, and started doing the math.  I was going to be very late.  In fact, in the end, we arrived to the hotel in Tampa at 2:30 in the morning.
Did I forget our passports? No. I forgot my checklist.
Don't get me wrong - I didn't have our passports, and we need those (it's not optional - check the documentation requirements), but that's not what I forgot, and this is what we should all keep in mind.  No matter if it's your first or eighty-first cruise, there will be a lot going on in your head as you prepare.  Deadlines get tight at work, family members get sick, things break at the house, friends need help moving and yet there is so much to do.  This is why I usually use a checklist.  Mine is on my phone, but it doesn't matter if it's scribbled on a bar napkin - using the list is the key.  Why didn't I use it this time?  I don't know.  It wasn't conscious but I suspect I got a bit sure of myself.  I travel a lot, for work and pleasure, I guess my brain was sure I'd become quite good at it.  From now on, I'll use my checklist every time.
I think part of my new routine will be to wear this shirt when I leave for every cruise, making it all the more difficult to forget a couple key items.  By the way, this shirt and other are available in multiple styles in the CruiseHabit Store.
The advice I did remember to take, which saved the cruise.
Even though we live only a short drive from Tampa (though it didn't feel so short last night) we opted to come in two days early.  One day would have sufficed, but would have added to the stress for sure.  Because we didn't plan on driving to Tampa the morning of the cruise we're still able to take the cruise.  I could have forgot to bring anything that would have been on my list.  I could have even forgot to wait for Larissa to get in the car before driving off (sorry, I get excited about cruises), but we built in the time to make mistakes and have things go wrong.  
I'll admit that when we cruise out of Port Canaveral we sometimes drive up the same day as the sailing, it depends on our schedules.  Port Canaveral however is about half the distance of Tampa, so we have more room for error.  After this incident though, we may start becoming much more familiar with hotels in that area.
Make sure your checklist is useful.
I'm probably not alone in sometimes making a checklist just before a set of tasks needs to be completed - but that's foolish.  Ready to take you first cruise in six months?  Great, start making your checklist now, and have a friend review it.  Commercial and private pilots fly all the time, but there are two truths in flying. 1) They use a checklist every single flight for takeoff and landing.  2) That checklist is reviewed by peers and audited to make sure it has everything that is needed and nothing that isn't.
Looking for a cruise packing list?  We've got you covered.
Crisis averted, so now let's cruise
While I'm exhausted, and we're enjoying our pre-stay a little less because of the hassle, the reality of the situation is that the crisis was averted.  Tomorrow we'll set sail on Empress of the Seas and head to Cuba.  Even though we're already in the hotel right next to the port, you can bet I'll be reviewing a checklist long before we even approach security for embarkation.  Don't forget to follow along on with our live blog and on social media, and don't hesitate to give Billy grief about this preventable mistake.  Larissa wrote that last part, well, at least she thought it.
What's on your pre-cruise checklist?  Ever had a similar crisis?  Reach out on Twitter or Facebook, or comment below!