Author: Bill September 3, 2019, Updated: September 1, 2021
Some cruisers prefer sea days, while others prefer being in port.  Today felt like we had the best of both worlds as we enjoyed relaxing on the ship for the first half of the day until we arrived in San Juan at about 3:30pm.  Docking in Old San Juan provides easy access to forts, historic sites, and a battery of great shops and restaurants.  Since we've visited a couple times in the past year though, we ended up deviating from that routine a bit.
The Bell Tolls for Breakfast
Having stayed up entirely too late last night we needed to set an alarm for breakfast, and ended up making it to Oceanview Café with about fifteen minutes to spare.  It seems we weren't the only ones with this plan (likely because of our late arrival in San Juan), as it was a popular place.  Still we had no trouble finding a table, as well as plenty of great things to eat.
I had a poached egg and a variety of others breakfast foods, and love that they have a poached egg station, though I do hope to find spinach there on other days so I can have eggs Florentine.
After breakfast was our traditional espresso stop at Café al Baccio, where, despite having eaten moments ago, I thought, "I should totally get an apple turnover."  Why not? 
The Solarium Nap Site & Broadcast Center
Our room being quite close to the solarium (we're deck ten forward) has turned out quite nice.  We washed up after breakfast and headed back to the solarium so Larissa could do some reading.  I've recently learned that in English, "reading" can sometimes mean "snoring in public."  We settled into one of the covered clamshell beds which face the floor-to-ceiling windows, and it was incredibly comfortable.  I really enjoy the various nooks couches, beds, etc all around Celebrity ships, but especially those I'm finding about the Equinox pool deck and solarium.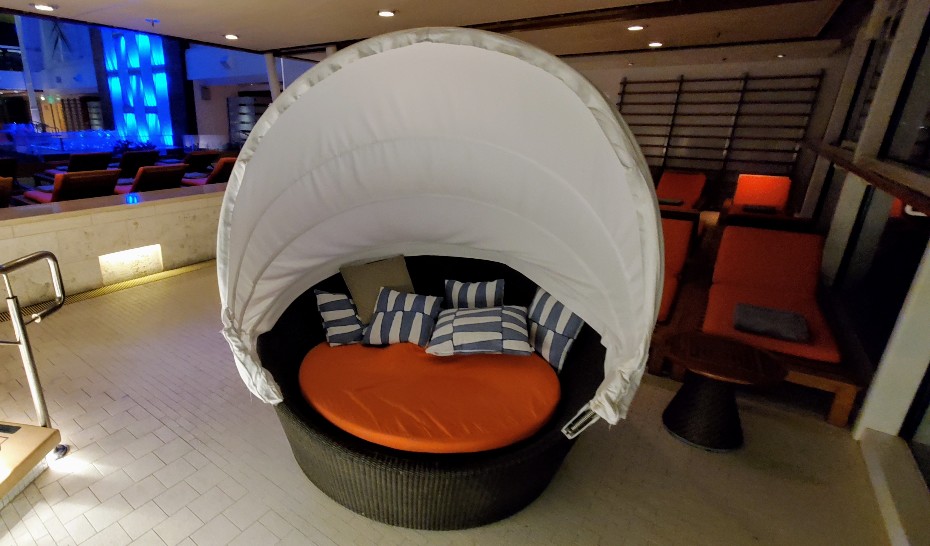 While Larissa "read" more, I decided it was a good time to say hi and show off the beautiful day we were enjoying as we sailed closer and closer to the northern shores of Puerto Rico.  A number of you joined me on a live broadcast on Facebook, and it was great talking ship with everyone.  Make sure you like CruiseHabit on Facebook, and have alerts turned on so you can get notified when we broadcast again.
As I chatted with folks in the broadcast I walked around the pool deck and headed to the Lawn Club, which seems to be something that many folks have questions about.  As we chatted about this unique space with real grass you can walk on (on a ship!) a number of guests were relaxing laying down on comfy adjustable padded beds scattered about a part of the Lawn Club that sometimes shows movies on a large display. The film?  Casablanca. I note the movie not because it's a bad choice, but not what I'd have expected. I also walked through the Sunset Bar, which is all the way aft, and was surprised to find there weren't more people enjoying that setting, which luckily provides lots of shade.
The Lawn Club – I Like it More than I'd Expected
After waking up, err, interrupting Larissa's reading, we decided we'd head to Oceanview Café for a quick bite.  Before we made it there however, we ended up sampling some of the fare at the Spa Café (located in the Solarium), including a smoothie that definitely looks like a salad melted into a glass – but Larissa seemed to enjoy it.  A wise man once said, "Appetizers are what you eat, before you eat, to make you more hungry."  Okay, maybe that was Eric Cartman.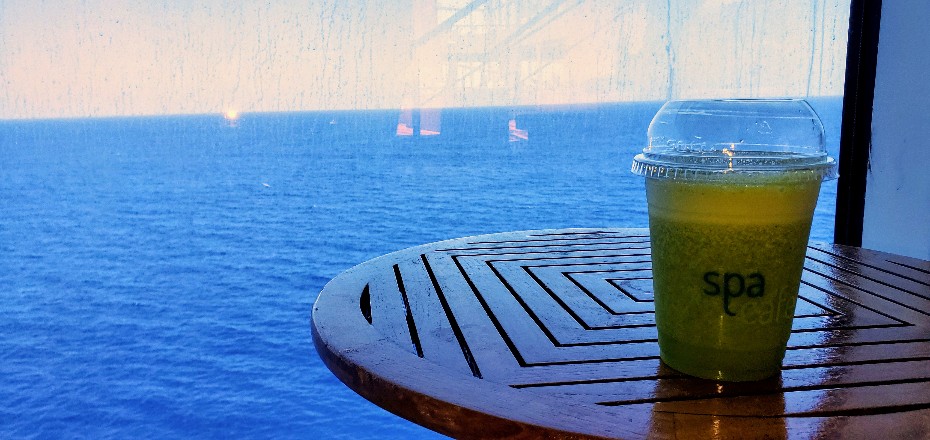 Spa Café behind us, we had a bit at Oceanview Café and then went for a walk.  As we strolled about we ended up stopping back at the Lawn Club.  While I think I still prefer the Rooftop Garden on Edge to the Lawn Club on Equinox (the seating options are better, for one), we just like this big open space (like the Sunset Bar, there is plenty of shade available too) where we can do nothing, watch a film, or watch glass blowing.  I'd expected before this cruise that the space would be largely just a novelty, and while it may be some extent, it's just a comfy place to relax. 
After Larissa did a final survey of the glass blowing and concluded it was too hot to stand in front of a furnace (makes sense to me), we found ourselves in beds in front of the Lawn Club's screen, this time watching a video talking about the building of Celebrity Edge.  They definitely want to remind everyone to try Edge class – but with so many unique features to discuss, it doesn't come off as a sales pitch to me personally, and we like seeing more of her.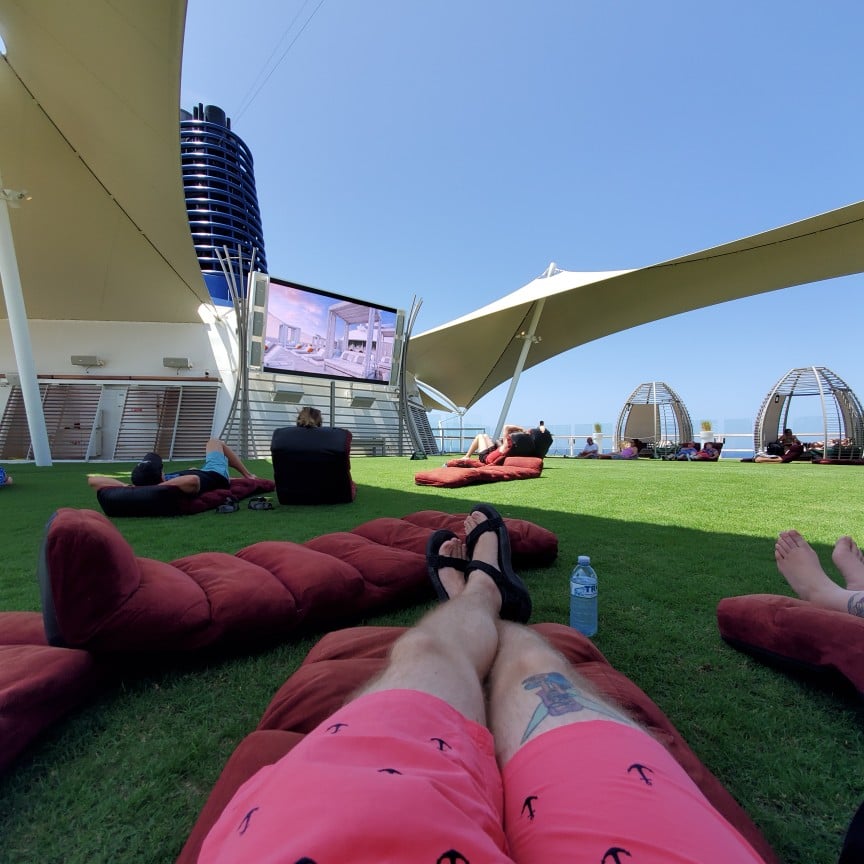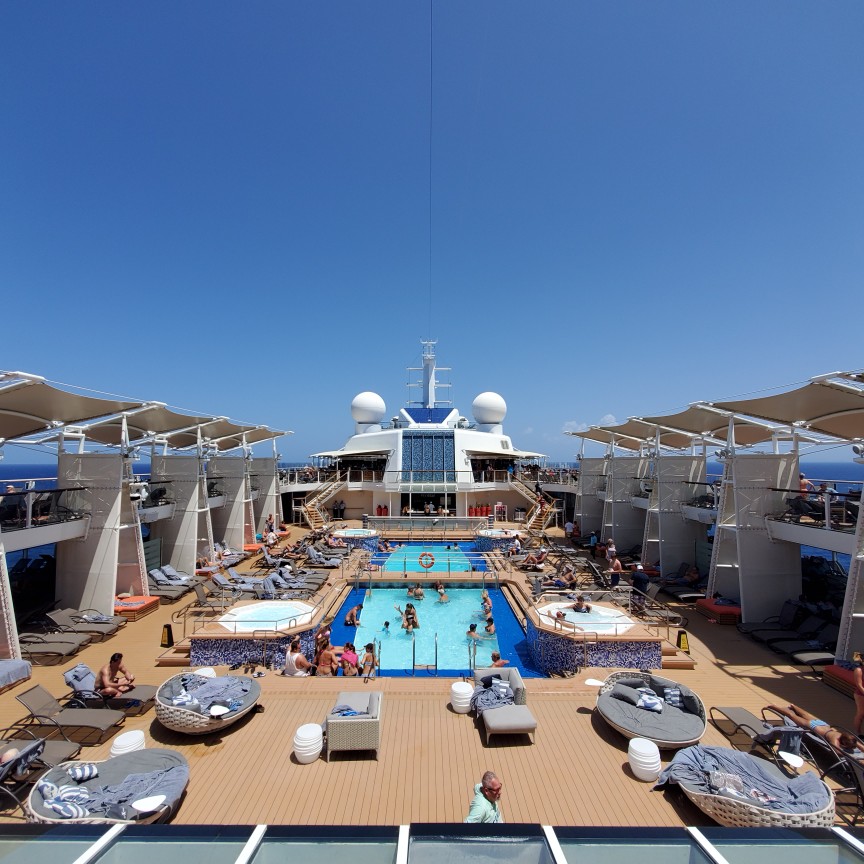 Land Ho! Bienvenido a San Juan
Getting changed and relaxing in the stateroom, I full expected to record a nice video of our arrival.  Entering San Juan harbor is beautiful, and our stateroom verandah would offer a fantastic view as we sailed past El Moro.  That would have been great, but I lost track of time and scrambled when land seemed to appear out of nowhere.  I did manage to jump onto Facebook again to show off the harbor and talk about our day.  For those wondering why the broadcast ended abruptly though, it turns out that having a back phone in a navy case, streaming video, in direct sunlight, when it's 91F out, causes things to overheat.  Lesson learned.  More interesting though was how hot I realized I was at this point – it was a scorcher, and as I cooled my phone and prepared for disembarkation, we decided that whatever we did in San Juan should involve a good bit of air conditioning.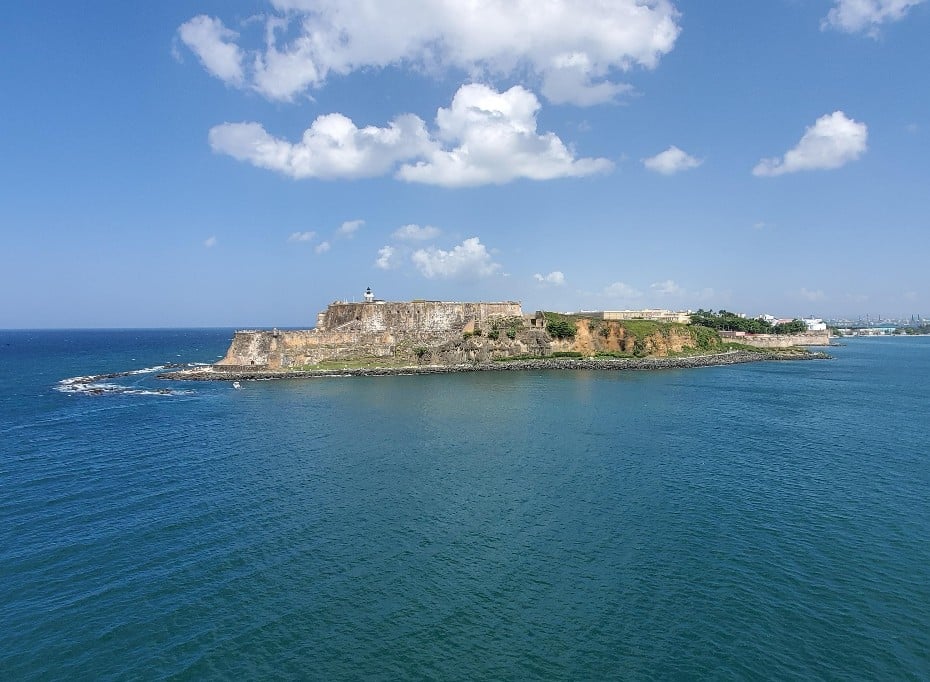 Once docked, we headed straight into Plaza de Colón, a two minute walk from the port.  There is a coffee shop called Café Cultura that has become our "go to" upon arrival.  The folks there are nice, the coffee is good, and the ambiance nice.  What other neat feature did we experience there in the past?  They were open, but today we got there and they'd just closed.  In front of there is a mofongo kiosk we've seen and wanted to try.  Mofongo is Puerto Rico's national dish, and it's made by mashing fried plantains with garlic and other spices, and then topping it with vegetables and/or meats.  We've had this dish at several places, but this kiosk was cute, and it turned out to be quite good.  Sol, the gentleman working there, was friendly, and upon realizing we don't eat meat, suggest a neighborhood about ten or fifteen minutes from the port that had a lot of neat bars and many vegetarian options.  The street is called Calle Loiz, and the idea sounded like a good way to see something different, so an $8 Uber ride later and we were there.
Calle Loiza – A Neat Place on a Schedule
Calle Loiza absolutely turned out to be a good recommendation, but the flaw was that this area (which is somewhat residential – it's not a big tourist area, though there is a large hotel nearby), has many restaurants and bars that are closed Monday through Wednesday.  Walking around was neat in and of itself though, as there were interesting murals, the cross-walks markings are pretty unique, and there is even a "take one leave one" outdoor library of sorts.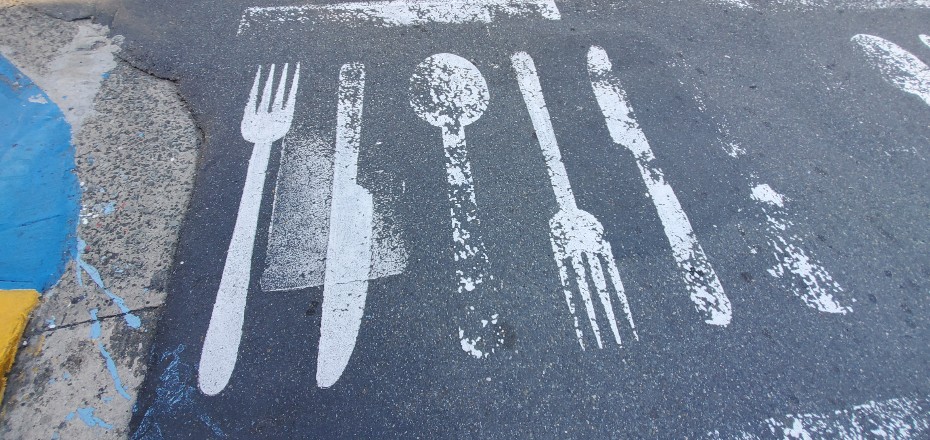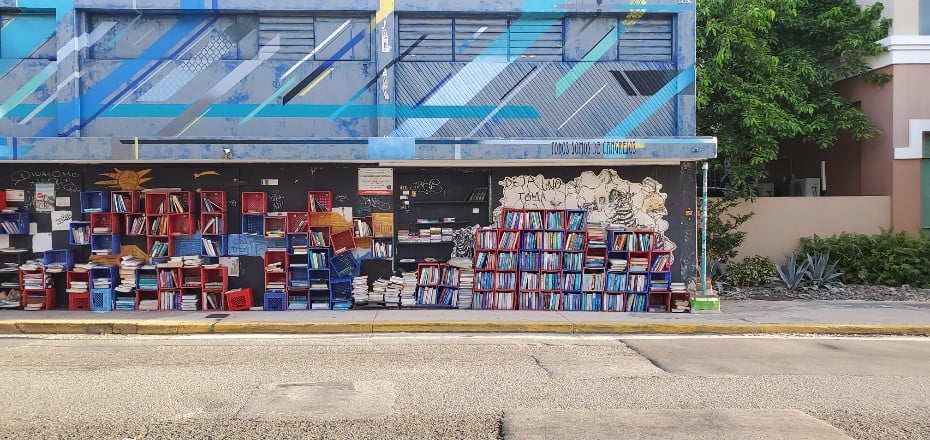 We managed to get out steps in bellied up to the bar at a Mexican Restaurant called La Calavera (The Skeleton).  The bartender, Fernando, made fantastic drink recommendations, and learned our preferences more quickly than any other who has mixed me drinks.   In addition, they had an entire vegetarian section, and we had soy-based picadillo tacos with homemade salsas that were on point – though I should have got a photo, as the presentation was nice.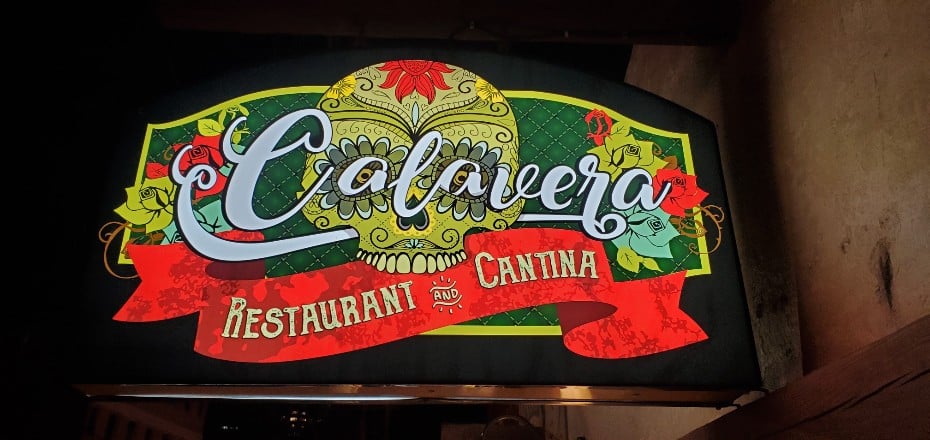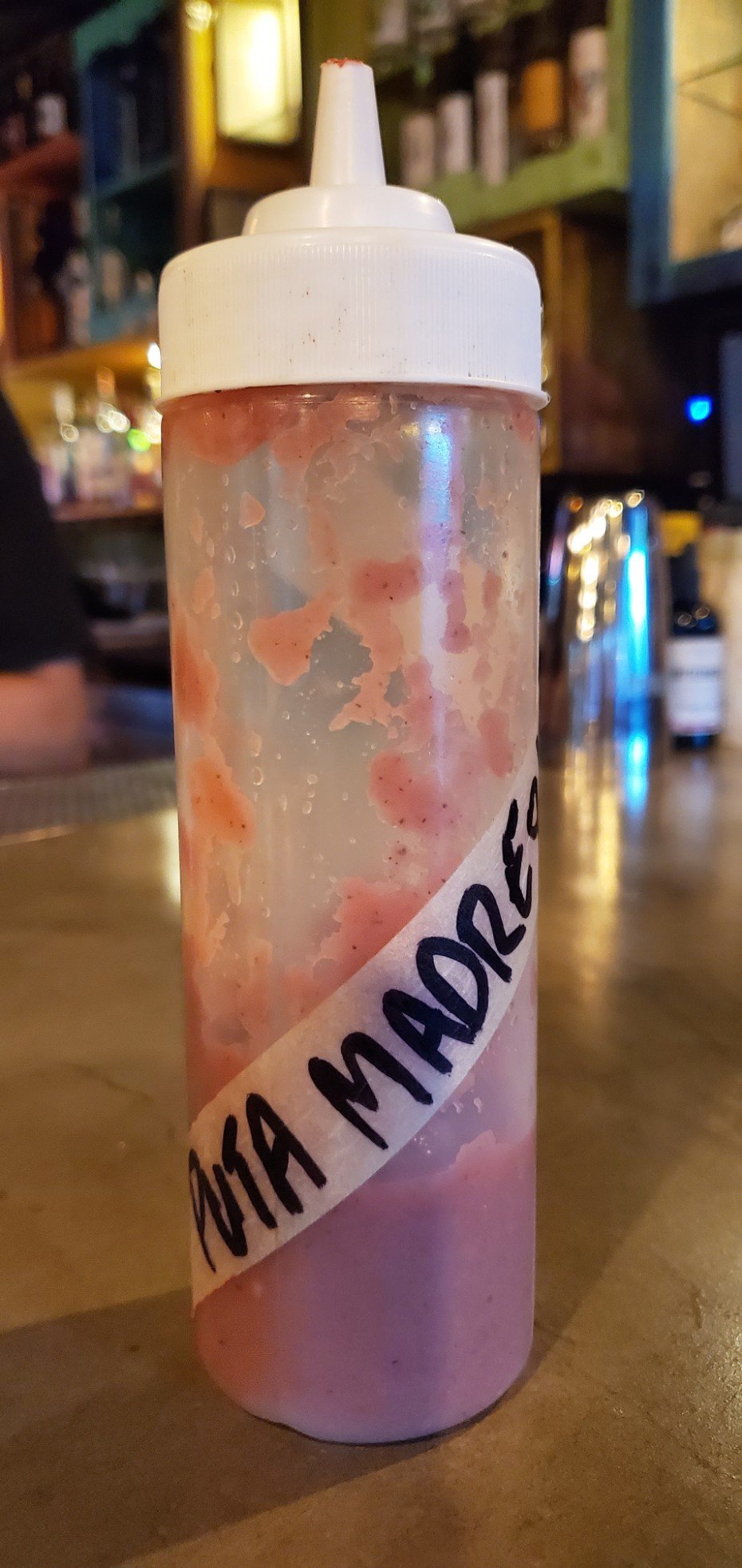 While at the bar we also conversed with several locals who seemed like really nice people.  As they, like us, live in a multi-lingual city that's frequented by hurricanes, our chats revealed a lot of common ground.
How is San Juan After Hurricane Dorian?
I asked the locals about Hurricane Dorian, realizing they'd been hit when it was just a category one (which is still a serious weather event, but nothing like the category five the storm become when impacting the Bahamas).  They all had the same reaction, and noted without hesitation that for them, it was a non-event.  Cities like this are designed to weather minor hurricanes, so while no one welcomes them, they said that it didn't even seem to rain as much as they expected.  In other words, if you have any hesitation about visiting San Juan after this most recent storm, don't worry for a moment.  To further the points made by these Boricuas (a friendly term for Puerto Ricans), I've seen downed trees at home in Florida after thunderstorms, but I saw nothing at all indicated anything was affected here.
The Full Moon Party
Around our 11:00pm sail-away, the pool deck came alive with the Full Moon Party, where crew and guests don all white, the satellite covers are lit like the moon, the music is high-energy, and the drinks are flowing. The crew is having a good time, juggling bottles and dancing, and there are neon paints that...well, I'm not sure where they're going to go.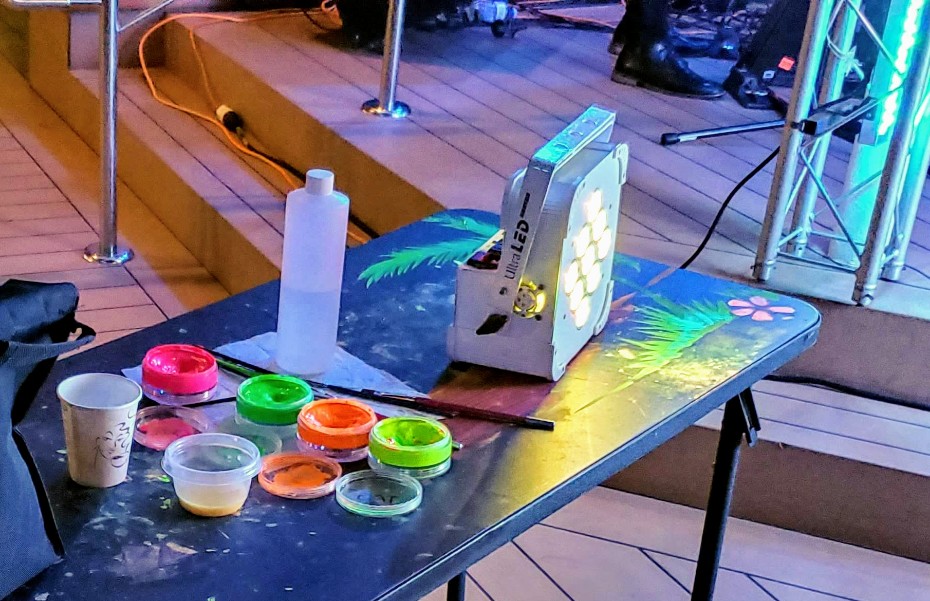 "White Parties" have become common on ships over the past few years, and what I liked about this one was that some of the acrobats and dancers from the theater shows got into the fun and put on quite the show for everyone by the pool.  Oh, I also really like that they don't call it a "White Party" – I find that name awkward on several levels.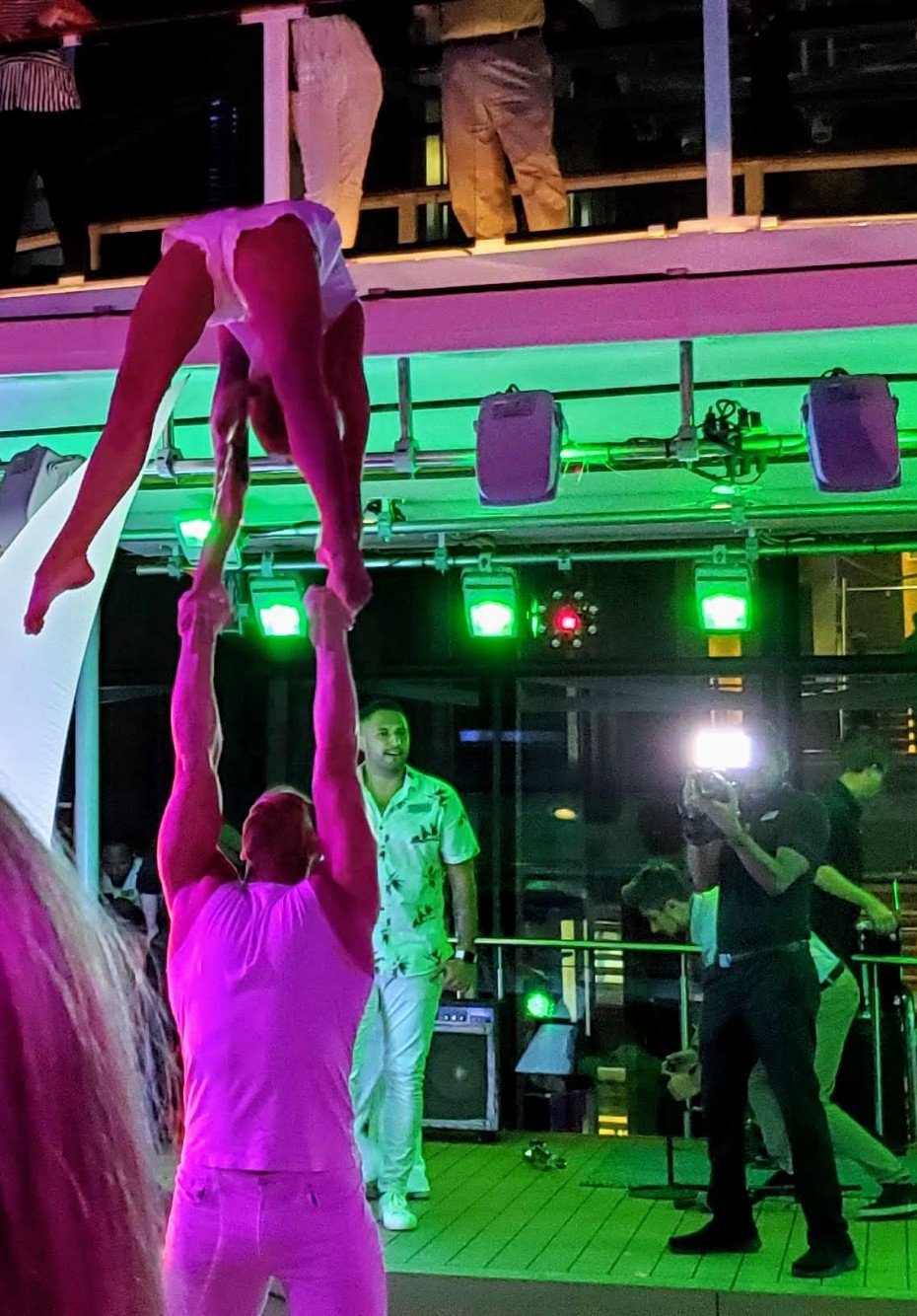 Tomorrow's Mission: Don't Miss Our Tour in St Thomas
Tomorrow morning we arrive in Charlotte Amelie, St Thomas, a port I've not visited since I was a kid.  With many GORGEOUS places to visit there, I wasn't sure what to do, so as I wrote this article out on deck, Larissa booked the Panoramic St Thomas tour – the type of "see the highlights real quick" that I rather enjoy when I want a summary so that I know where to spend more time afterward and/or on future cruises.  We need to meet for this tour at 8:45am, which is quite early for me, so this should be an interesting day.
Celebrity Equinox Live Blog – Day 1 Embarkation
Equinox Live Blog – Day 2 – Sea Day
Celebrity Equinox Live Blog Day 3 - San Juan, Puerto Rico
Celebrity Equinox Live Blog - Day 4 St Thomas
Celebrity Equinox Live Blog - Day 5 Tortola, BVI
Celebrity Equinox Live Blog - Day 6 - Sea Day 
Celebrity Equinox Live Blog - Day 7 - Sea Day/Freeport