Author: Bill September 6, 2019, Updated: September 1, 2021
I love sea days, and the agenda today had a few interesting things in the earlier hours, and while the day ended up being as relaxing as one could hope, there was an unexpected change in our voyage plans that serves as a reminder of just how lucky we are.
You Can't Fire Me Mornings, I Quit!
Save for yesterday, we've been starting our days early, which has been an interesting change for us.  Today I'd have liked to have been up early, but after finishing up yesterday's post I was peer-pressured into staying up entirely too late in the Sky Lounge.  I enjoyed chatting up new friends, but definitely would have preferred doing so in a quieter environment.
Last night's escapades though means we didn't get out of the stateroom until about 9:50am – just in time to catch breakfast at the Oceanview Café.  This means that I missed two things I'd really been looking forward to: the galley tour and the backstage theater tour.  This means that now, I must-must-must make it to these events when we sail again in a few months.  (Feel free to Tweet me a link to this post to remind me then cc @Matt).  It also means that I won't be expecting an early morning tomorrow – but I will welcome it if it happens.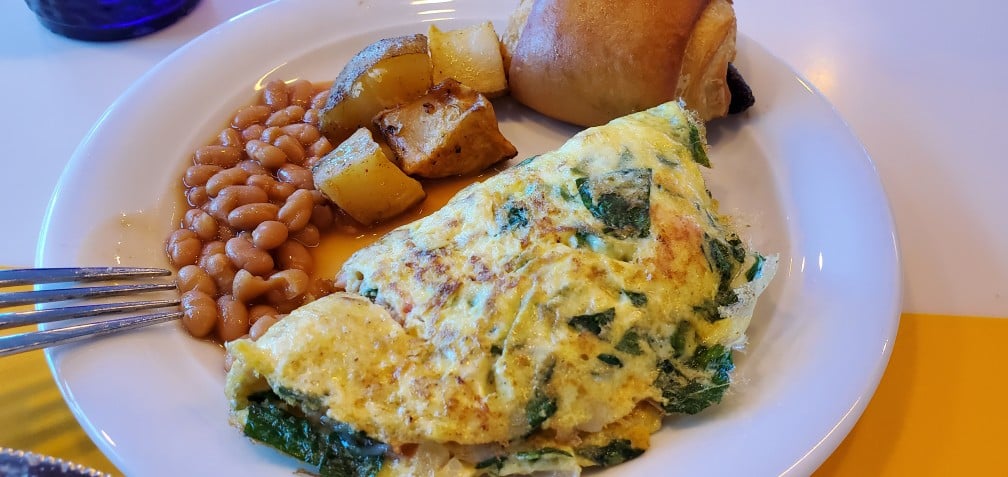 Pink People
The Solarium was, as one might expect, a very popular place today.  It's been oppressively hot, and this far into the cruise there are many sunburned folks who look for the somewhat sheltered atmosphere of a covered pool area.  Despite being kind of crowded, we managed to get two loungers next to each other without much trouble.  It strikes me that in addition to being better ventillated than other solariums (as I've mentioned in past posts), this one is also quieter. 
Themed Buffet Stations in Oceanview Café
Earlier in the cruise there was a day at the buffet where they had several unique stations: arancini, bruschetta, and others.  Today there was a station with different varieties of gravlax – something that smoked-fish lovers might delight in, while others ask, "gravel locks?"  If you're wondering, gravlax is cured salmon in dill and sometimes mustard or other spices.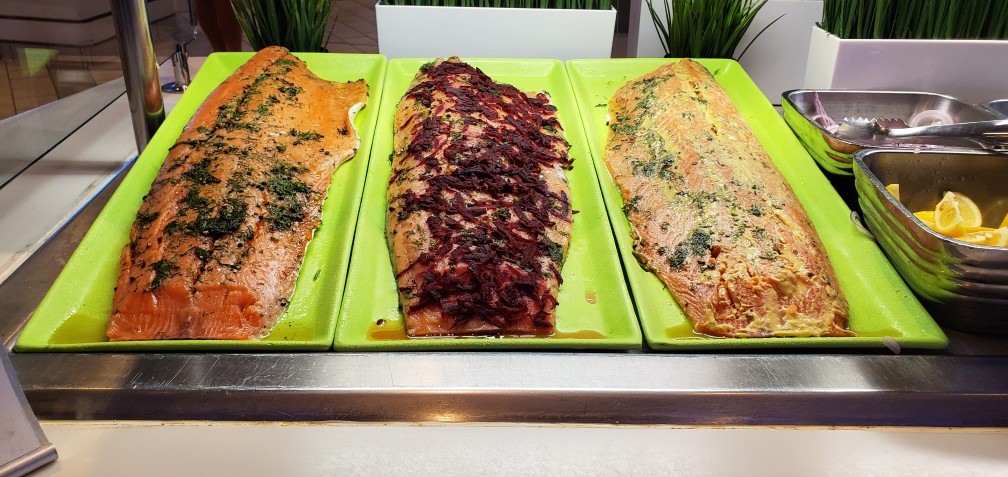 This is something I find really neat on Celebrity – not just unique dishes, but a variety of kinds of a particular dish that you might not usually see at all, especially not with multiple types offered.  In addition, these stations tend to go with themes, like how the arancini station the other day was accompanied by Italian music and desserts.  Today wasn't Nordic themed though, and the desserts were largely based around berries – including a chocolate fondue station with strawberries.  No complains about these theming incongruity, I *love* the desserts.
Changing Course to Help Victims of Hurricane Dorian
Often on ships, the captain makes public announcements about weather, current location, etc right at noon.  Today however he came onto the public address system at 11:44 and began talking about Hurricane Dorian damaging the Bahamas.  I knew right away we'd be skipping Nassau, but I was confused, as Nassau was relatively unharmed, being located much farther from Freeport (where the storm sat for almost two days) than Port Everglades – which was also unharmed. 
The captain went on to inform us that instead of Nassau, we'd be heading to Freeport.  Having suffered extensive damages from the then-category five hurricane, the ship's mission would not be to deliver tourists (guests will not be disembarking in Freeport), but over ten thousand meals, as well as medical supplies and other items the people of Freeport and the surrounding area are in desperate need of.    
A letter was then provided to guests explaining additional details of the change, how it impacted guests' arrangements, and how to help the people of the Bahamas.  In my observation thus far, guests have responded with overwhelming support for the decision, and many have expressed a desire to donate part of the credit they'll be receiving as compensation for the skipped port.  I would like to see Celebrity make it all the easier to donate the credit being provided, perhaps with a simple form that can be left in staterooms.
You can see a larger version of the letter provided to guests, as well as a video of me discussing the announcement, by clicking on the image below.
Mixology Class at the World Class Bar
Several days ago, Larissa signed up for a mixology class.  These are offered each sea day at a cost of $35 (plus 20% service charge).  I opted to not participate (figuring I'd have fun watching Larissa do it) and got to sample some things along the way.
The mixologists explained how a number of the syrups and flavorings are made, why ingredients are added in specific orders, how to tell when a drink has been shaken enough, and so on.  Participants get print-outs with some of the signature drink recipes, and then make a total of six beverages: two gin drinks, one vodka drink, one tequila drink, and two vodka drinks.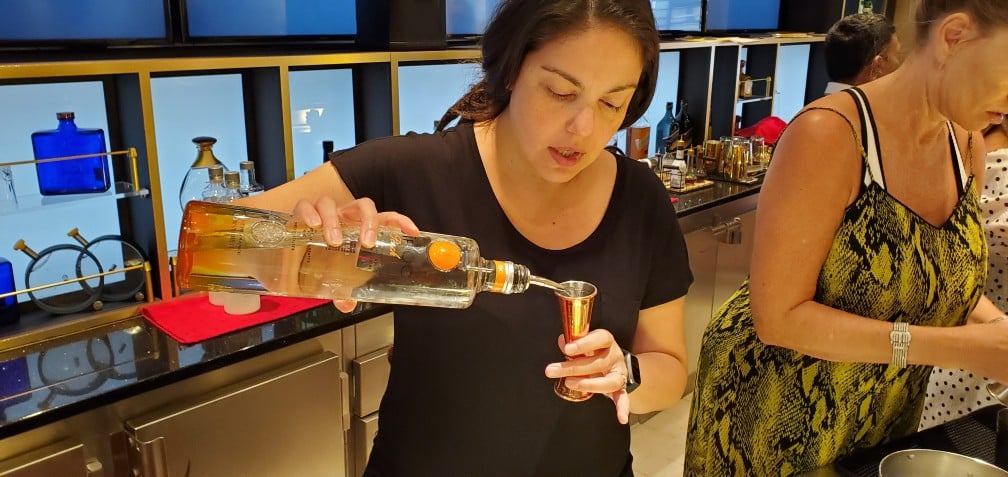 Larissa and everyone else at the class seemed to really enjoy the event, and if you don't have a drink package, this will definitely provide a great value in terms of drinks-per-dollar.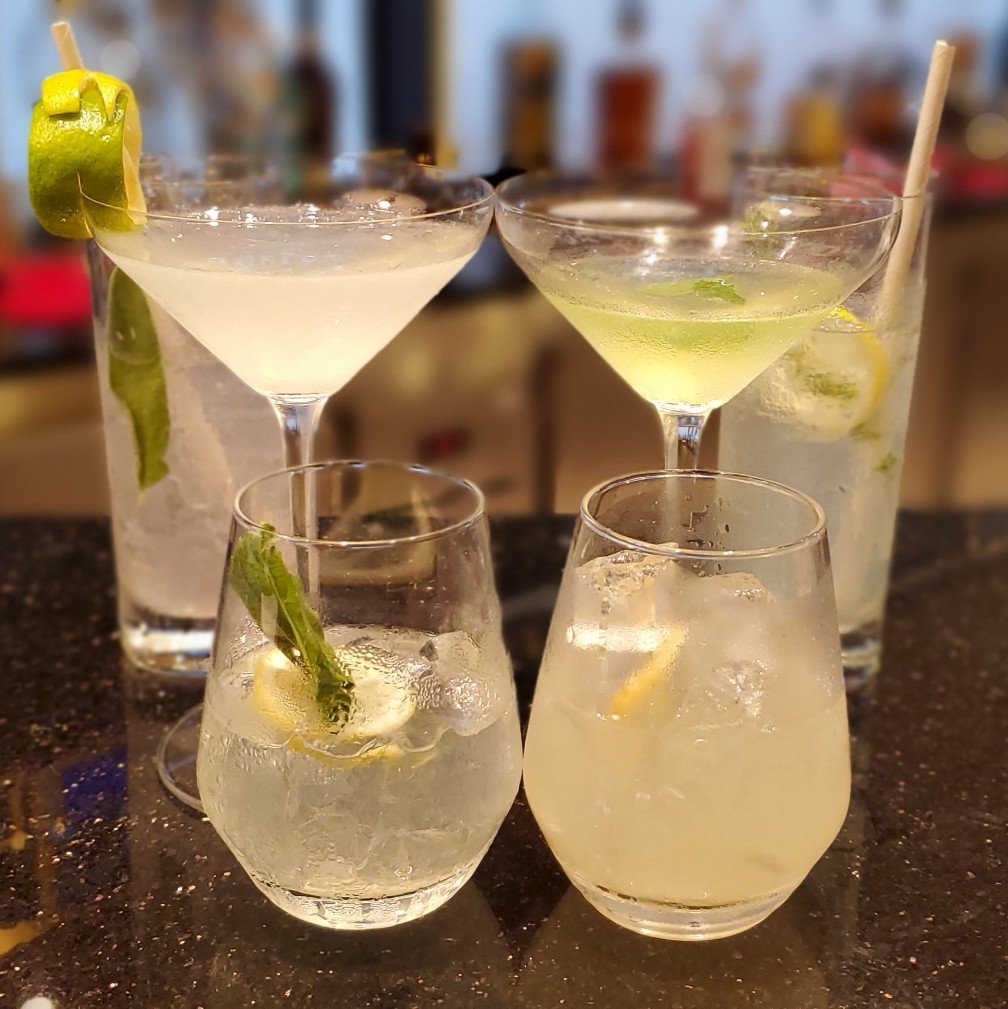 "Life" in the Celebrity Equinox Theater
The stage show this evening was "Life", which is billed by Celebrity as below:
"A Euphoric feel good concert filled with a sense of life, light, and love."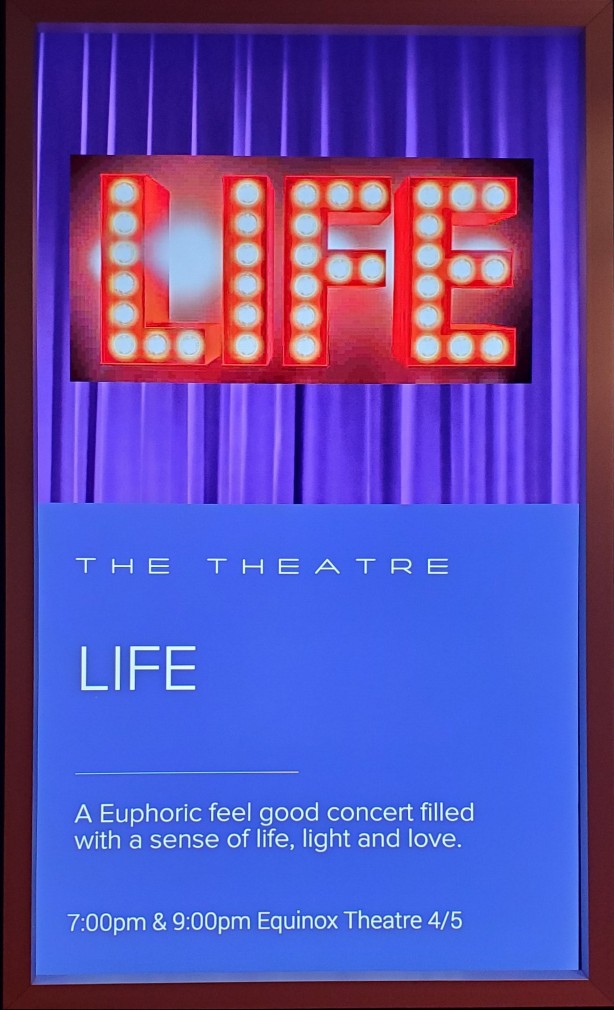 The show features the talented cast from the past shows, including the acrobats, but this time the Equinox Orchestra was also on stage providing live music the whole time.  I was excited about this addition, as I think that live music for these shows really adds something.  The performance was indeed high-energy, and like the second show (Elysium), the singers were well matched to the songs they performed. 
Despite this seemingly excellent combination, the show didn't quite "click" with me.  I suspect this is a simple matter of personal preference, as it really did tick many of the boxes.  Perhaps I wasn't as captivates as the set and costuming was a bit plain compared to the other shows – or maybe I was just sleepy.  I will call out the acrobats/aerialists using ropes suspended from batons and pulleys – these guys have more upper-body strength than I do ability to go on for hours about travel credit card perks.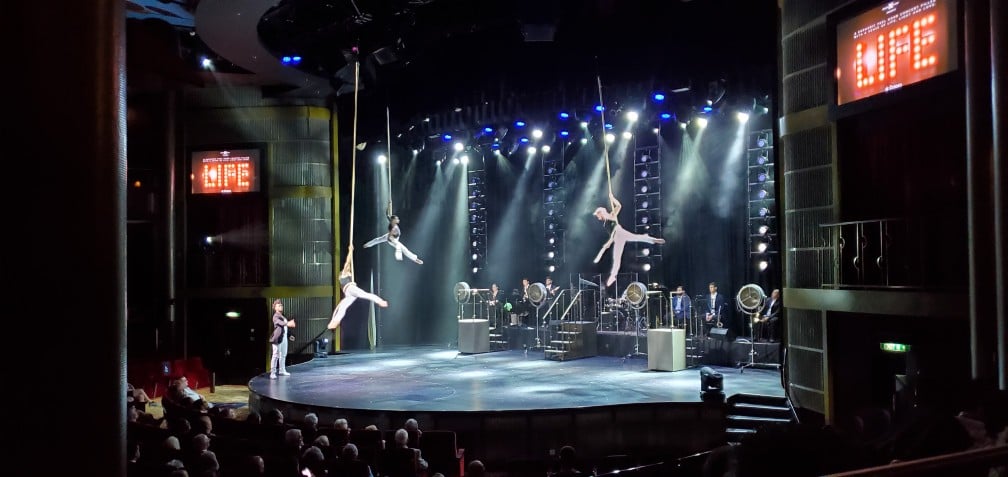 Dinner in the Main Dining Room
While I'd like to try out another one of the specialty restaurants on Equinox, it often just becomes a lot of food and a longer dining experience.  That's great sometimes, but I was in the mood for something a bit lighter and quicker this evening. 
Tonight's meal was also another example of why I love Select Dining (aka anytime).  If not with a group (where fixed seating makes life easier), I love being able to eat whenever I want – and this evening's meal would have been right between dining times otherwise. 
One of our appetizers was a baked cheese soufflé, which was both delicious, and the answer to the Jeopardy question, "This small plate of food has more calories per gram than gasoline."  It was accompanied by some sort of sweet onions (not-candied, but along those lines).  The next course was a spicy corn soup, and this was the third corn soup I've had on board.  Each has been distinct, and each delicious.  I recall having at least one on Edge as well, so either I just really love corn soups and didn't realize it until this year, or these are fantastic.  The main course was a mushroom truffle risotto, which was nice and earthy, but quite heavy.  Looking back on it, my idea of having a "light" meal seemed to involve a block of cheese, a creamed soup, and risotto.  Oops.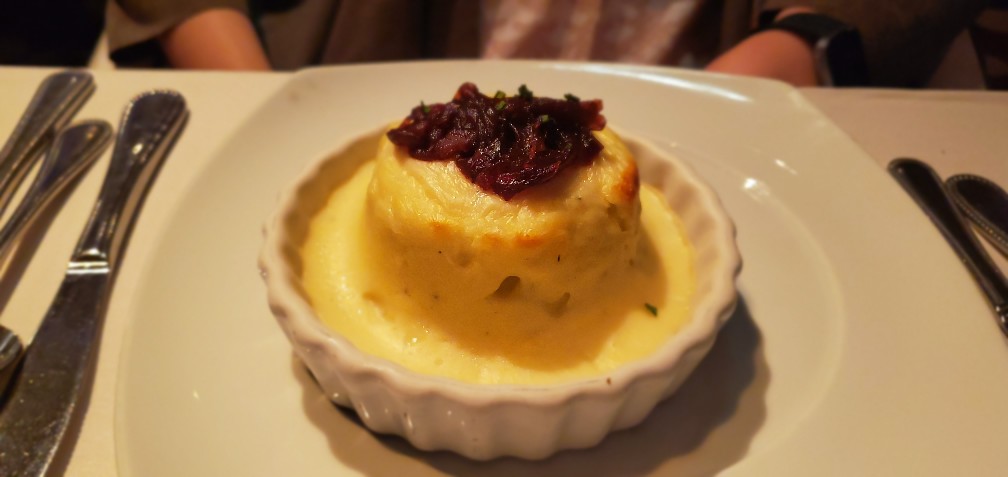 Listening to the Silent Disco from Afar
Tonight, there was another silent disco in the atrium, and it was popular!  We ended up chatting with new friends in the World Class Bar while this was happening, which meant that we got to hear dozens of people singing, "Y…MCA-ay!" despite not hearing any music.  It was pretty funny, and while loud enough to be audible, still left the bar pretty peaceful.
I'm actually really surprised at how little time we've spent at the Martini Bar on Equinox.  It's very similar looking to the Martini Bar on Millennium Class ships, and both feature ice-top bar surfaces as well.  The bartenders at the Martini Bar are great flair bartenders (spinning bottles and such), and if you swing by at the right time, you'll get a show with your drink.  Don't miss it!
An Off-Shore Sea Day
As mentioned, we'll be visiting Freeport tomorrow, but we'll almost certainly be tendering supplies, and guests will stay onboard.  This means the entertainment team has added some activities and such, but I suspect we'll lounge and do little except get the "end of cruise cold sweats."  Happens to everyone, right? 
Celebrity Equinox Live Blog – Day 1 Embarkation
Equinox Live Blog – Day 2 – Sea Day
Celebrity Equinox Live Blog Day 3 - San Juan, Puerto Rico
Celebrity Equinox Live Blog - Day 4 St Thomas
Celebrity Equinox Live Blog - Day 5 Tortola, BVI
Celebrity Equinox Live Blog - Day 6 - Sea Day 
Celebrity Equinox Live Blog - Day 7 - Sea Day/Freeport