Author: Bill November 27, 2019, Updated: September 1, 2021
Given our "relaxing" start to the day, we found ourselves alongside beautiful coastline in Costa Maya while primarily enjoying Celebrity Edge on this crowded port day.
Missing: Wednesday Morning
Last night we were out chatting a bit later than expected, and given our recent full days today we found ourselves hibernating.  We didn't actually leave our stateroom until 11:30am, when we headed to Café al Bacio for our daily espresso.  As my caffeine level brought me up and made me feel a bit more alive I realized we'd missed much of the day, but was determined that we'd make the rest of it relaxing. 
First Glimpse of Costa Maya
Coffee in tow, we took a stroll around the deck and it was quite refreshing.  The air was warm but there was a light layer of clouds that kept the sun from beating down on us.  Our walk started on the starboard side where we really only saw Norwegian Escape right next to us.  Rounding the corner though we made several observations.  First, there were actually four ships in port: Edge, Escape, Harmony, and Glory.  Second, the shoreline along Costa Maya is gorgeous.  I don't know how I'd missed it a bit when here last year, but the water looks amazing, and the waves crash against the largely unspoiled coast in a way that, unfortunately, we don't see in many of the built-up Caribbean ports these days.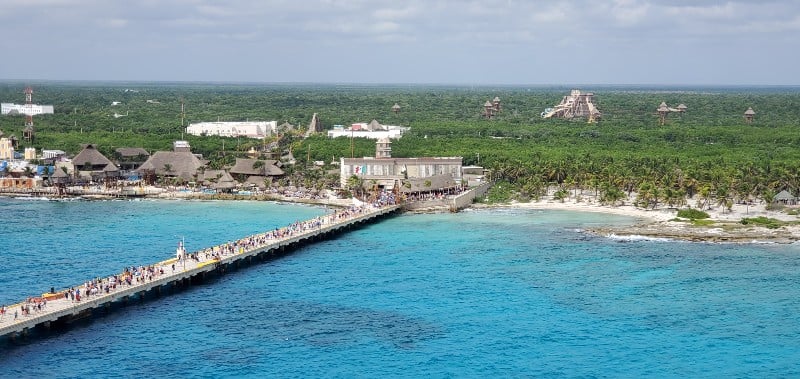 Heading Ashore without a Plan
Even though we didn't have much on the agenda, we wanted to at least get off the ship for a short time.  Walking down the long concrete pier toward the port facility gave us a nice chance to check out the other vessels in port from ground level, and Edge certainly was the looker of the group.  The closer we got to the main port facility the clearer or day became.
Costa Maya's "Theme Park" Port
Costa Maya has become much more popular for ships in the last couple of years, and in that time there has been considerable work put into making it a destination for tourists.  As soon as you walk off the pier there are endless restaurants, bars, hops (insert Billy's tanzenite joke here), and attractions.  There is an area to swim with dolphins, spa-like areas, a beach with cabanas for rent, etc.  You can also take a shuttle into the city (which is small) or leave from there to take excursions to see ruins and other local attractions. 
The challenge many encountered I'm sure, was that of the nearly 15,000 cruise guests in port today, it felt like many of them decided to check out the options right here at this "theme park on the water".  It was incredibly crowded.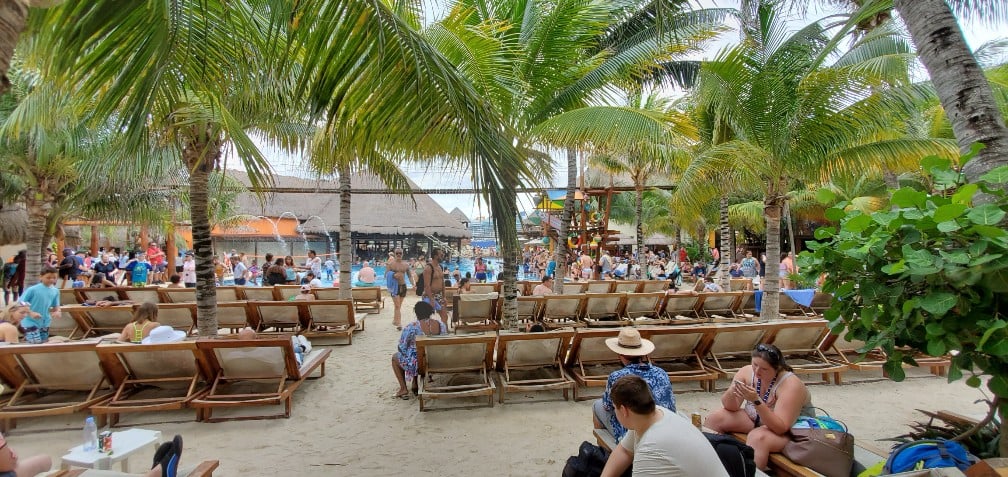 Candidly, I don't love these manufactured experiences in ports, but I'll also admit that of all of them I've seen, Costa Maya has the great variety of options, and is the most visually appealing (rather than looking like a South Florida mall.). If you're looking for one of the things I mentioned above, this may be a great stop for you.  In other words, I think they actually did a really nice job – it's just not my thing.
Our time in port was spent doing a quick lap to see what there was to be seen, and that was about it.  We did grab an elote (corn on the cob with cotija cheese and spices) and a glass of horchata.  Delicious.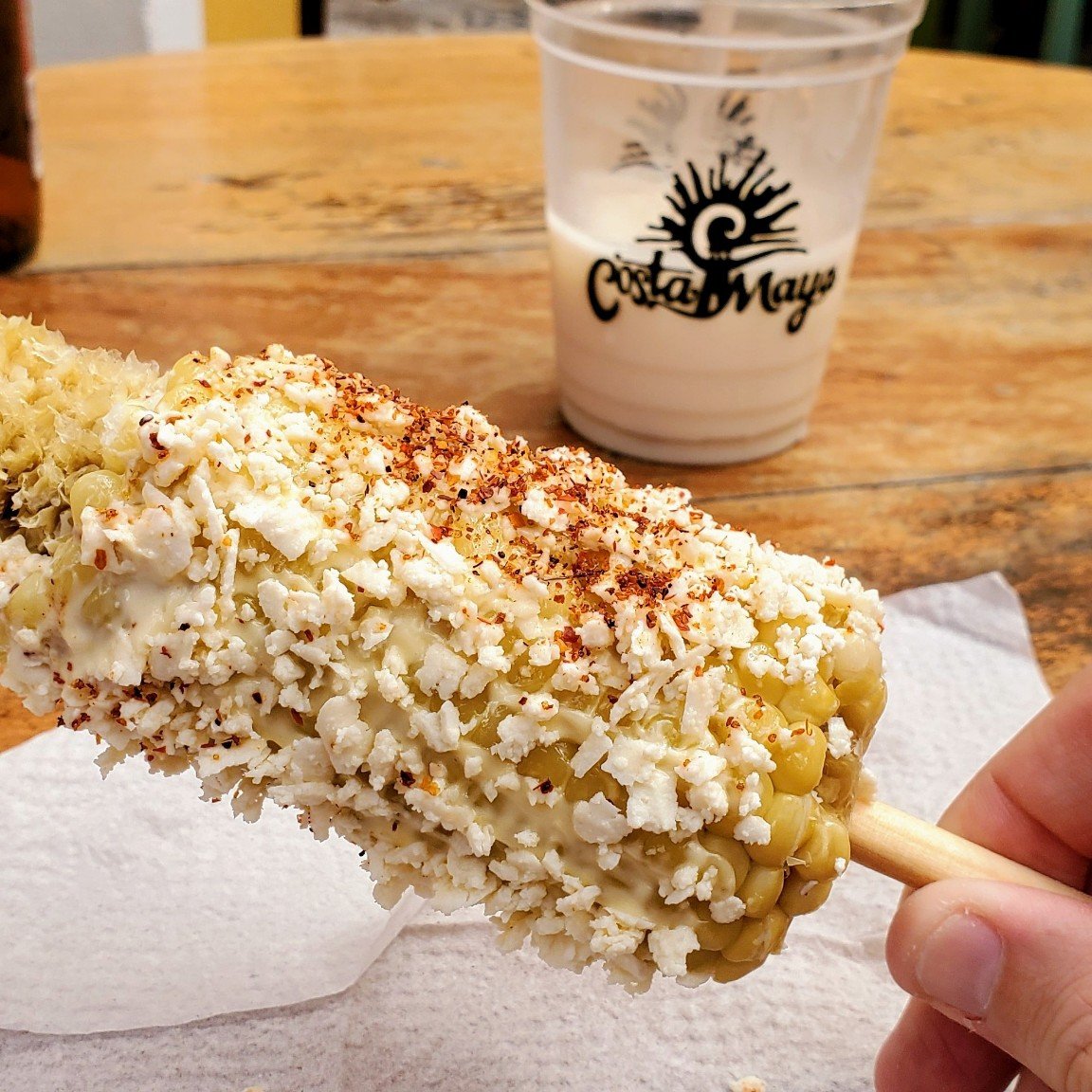 If we'd have timed things differently, we'd have gone over to Maya Chan, a resort we visited last year on Symphony of the Seas.  It's a fantastically relaxing place to enjoy great food and drinks in an environment that makes you feel like a family member has a place on a beautiful beach.  Check out this great review of Maya Chan.
Drying Off on Magic Carpet
Returning to the ship involved maybe a five minute walk, and from what I can tell, in Costa Maya today it rained for only five minutes…but they were the same five minutes.  Stepping back on Edge by way of the Destination Gateway on deck three, we decided to go to the pool area to towel off and get a drink.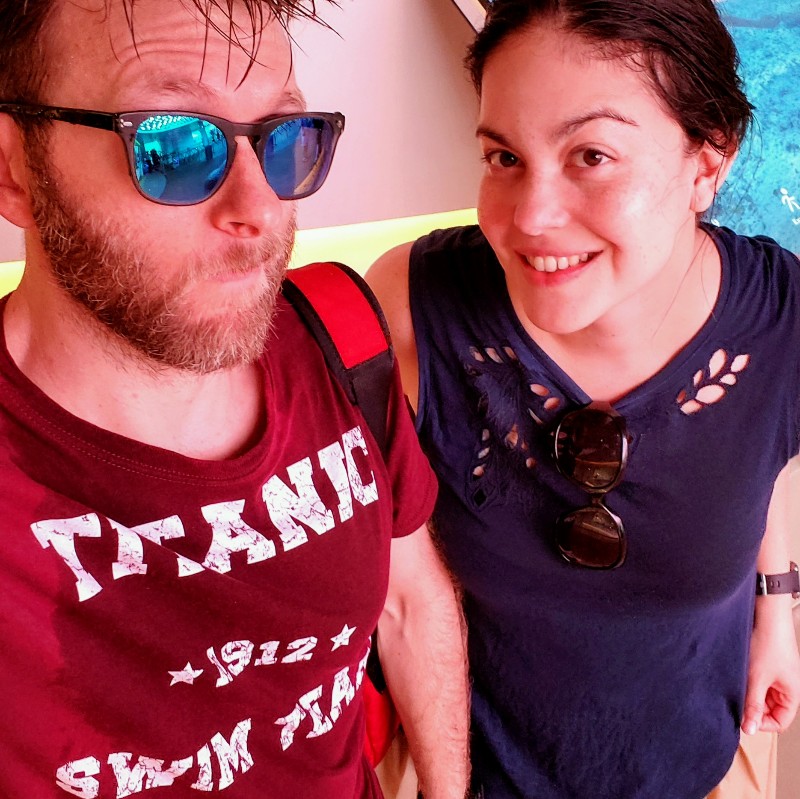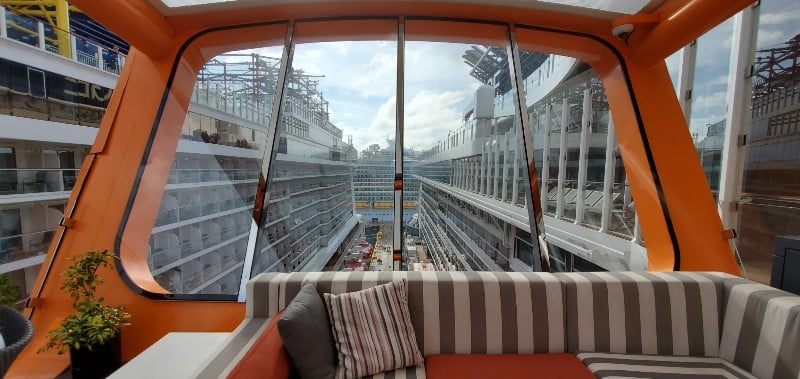 The Magic Carpet was on deck 14, so that seemed a great place to reset ourselves, and since many were in port, we secured great seats.  The funny part is that today, based on how we docked and the port setup, Magic Carpet sat very close to some of the upper decks of Norwegian Escape, and people on Escape absolutely stared at the marvel that is Edge and her Magic Carpet.  I think this is probably for two big reasons (beyond proximity): First, Edge is gorgeous and very unique.  Second, Escape has some of the prettiest interior spaces I recall seeing on a modern ship, but her outside is rather plain.  Don't get me wrong, I care far more about the inside of a ship that the outside, but the contrast in port was clear.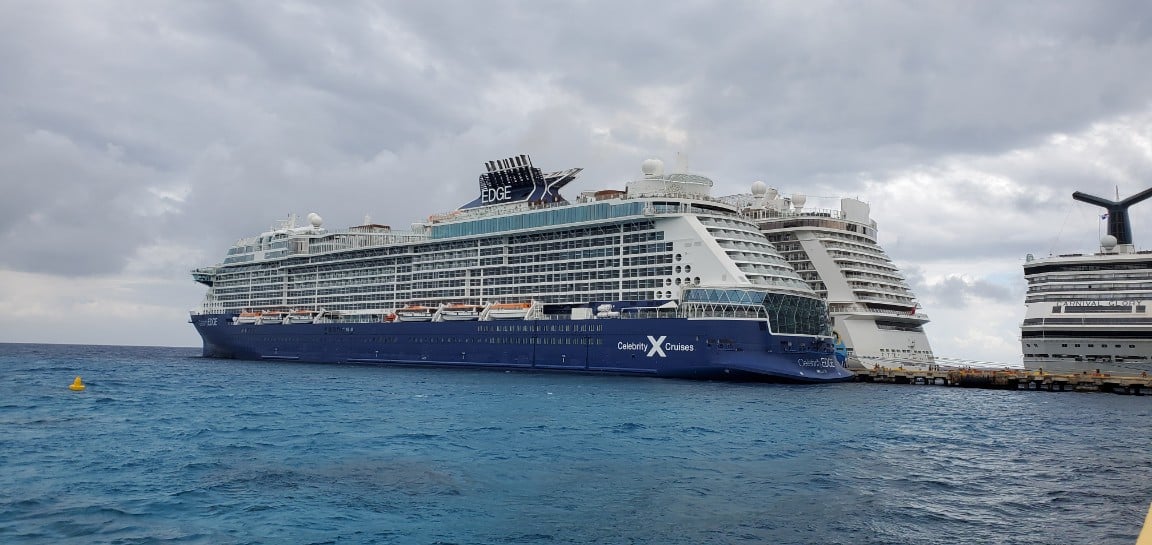 Don't Like Sour Mix?  Ask.
From Magic Carpet we headed to the Prism Bar, which is located under the light sculpture on the resort deck, in front of the pool.  I wanted something refreshing, like a margarita, but didn't want all that sugar.  I asked the bartender to make us margaritas by muddling lime, rather than using a mix.  He happily obliged, and even gave me back the couple dollars I tipped him and said, "wait to make sure you actually like it."  Clearly this handmade request wasn't too common, but he did a great job and the drink tasted great – so remember, if you want something made a certain way, just ask!
Edge's Solarium
Walking with our drinks we found a nice spot in the Solarium, which is a glass-enclosed (but well ventilated) adults-only pool area on Edge.  There are plenty of loungers by the pool and others facing the windows, plus tables and chairs near the Spa Café in the corner. 
The loungers are padded and comfy, and like on Celebrity ships in general, there were plenty fo pool towels, which don't need to be checked out like is common on some lines – just take what you need.  It was really relaxing to lay down and watch the waves crash against the rocks in Costa Maya.  Servers roam the area, and ordering a drink is quick and easy, which we took advantage of.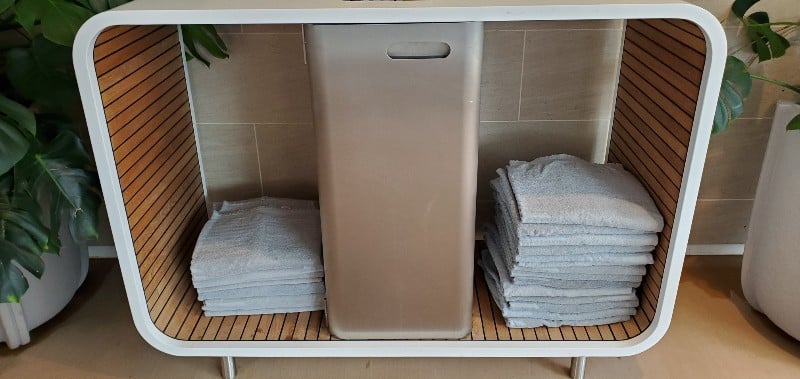 Food, Then Slipping Back into Hibernation Mode
Eventually we got hungry and headed to Oceanview Café just before they closed up (which is done in phases, dessert stays out late, and even in off hours there is often pizza, salad, or other snacks). 
Back in the room we arrived to find more food (of course) in the form of some canapes.  The buffet has a cheese station and they bring hummus to your room in the afternoon?  I love this ship.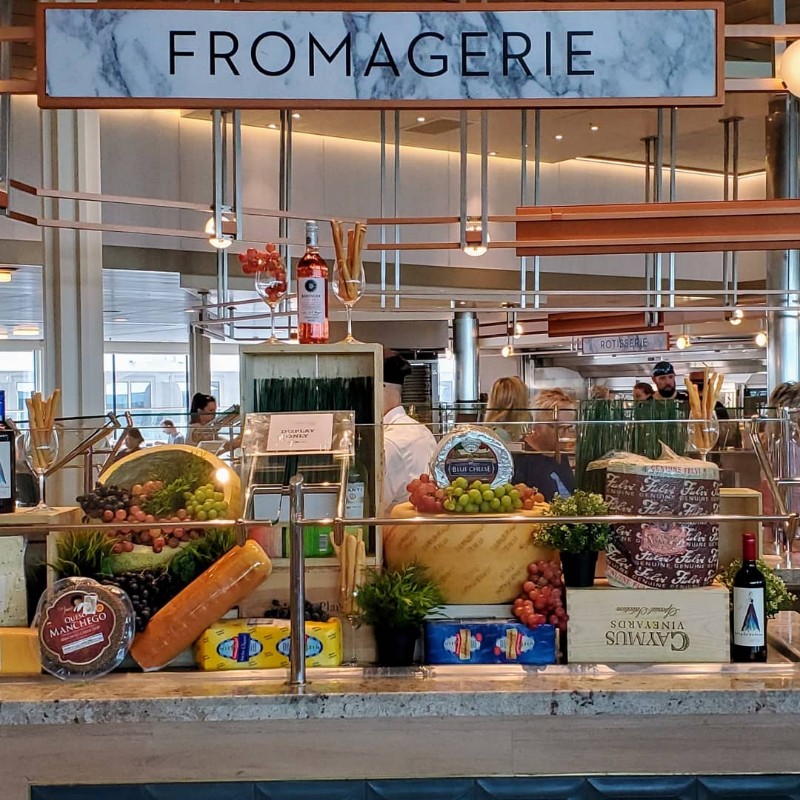 The day quickly caught up with us though, and after a shower I "sat down on the bed for a minute" only to wake up a short time later with laundry on my head and a "what day is it?" expression in my eye.  Larissa got dressed headed out while I slowly recovered and agreed to meet her in a lounge.
Once we did connect she suggested an early dinner, which seemed reasonable to me, and we opted for Normandie.
Dinner in Normandie Restaurant
Normandie is one of the main dining rooms with some French-inspired cuisine.  What I love about Normandie is the actual art from Normandie (the ocean liner) as well as some other tributes to this famous ship.  This restaurant is somewhat of a nod to the Ocean Liners specialty restaurants that have been all but phased out from the fleet.
The meal was good, but I was really drowsy.  The three dips that came with bread (today was blue-cheese, butter, and olive) were again delightful, and this is something that we love in Celebrity MDRs.  I did get one item I'd been looking forward to, which is a brie pillow with port reduction (though ordering something called a "pillow" in my state did seem risky).  I had this several times on past Edge sailings, and it held up to my memories.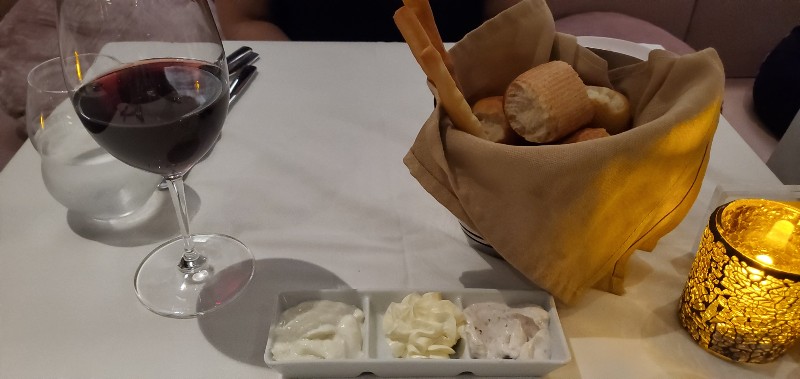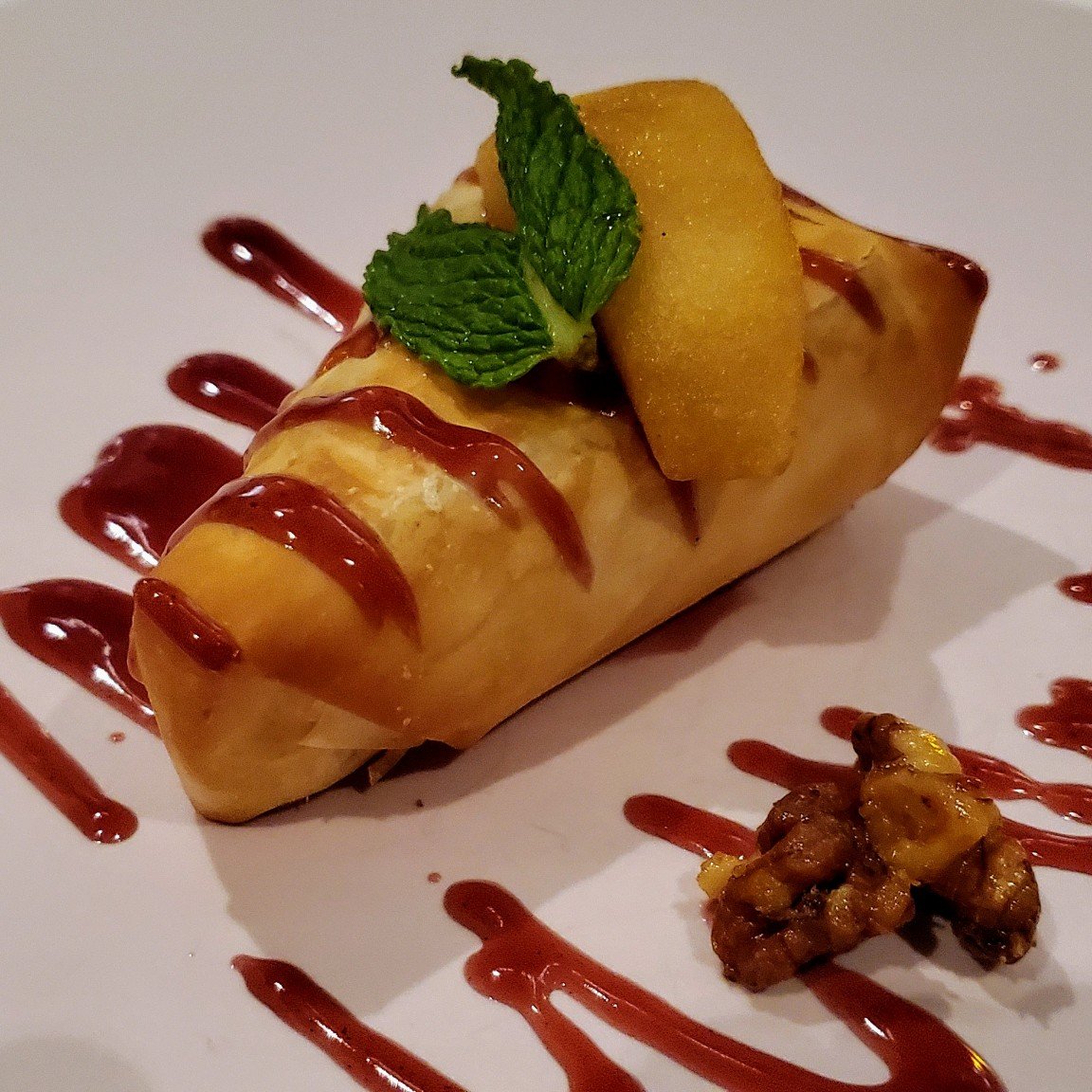 Hopefully I can get back to this venue during the day to share pictures of the art, as the ocean liner nerd in me loves the décor.
A Return to Eden
As I write this we're enjoying some live music in Eden, and an occasional pop-up Edenist.  It seems Eden gets more popular throughout the cruise as people find all the space has to offer.  Just a bit ago a duo was even playing Disney songs, which, while greeted with a mixed reception, I certainly tapped my toe to.  Tomorrow Revelation will be performed again, so you know our evening plans.
Thanksgiving in Cozumel
Tomorrow is the Thanksgiving holiday in the US, and we're spending the day in one of our favorite places, Cozumel, Mexico.  We'll check out a few local spots and just relax with a view.  One certain stop will be Sharky's Bar.  There used to be a place called The Pub Cozumel, which was run by British expats.  They've since closed and re-opened closer to the cruise port at a hotel, so we'll check out their new digs.  Hopefully, whatever our day brings, we can get it to start a little bit earlier than today.
Stray Observations
NCL was collecting guests' towels as they walked up to the ship, which makes sense.  One really nice touch was they also had fresh ones there so that guests who were sweaty or rain-soaked could get more comfortable as they boarded.  Nice touch NCL!
I may have already mentioned that the chairs on the Infinite Verandahs were replaced in the last few months, with models that fit slightly better.  I learned that over 1,800 chairs were switched on Edge - most, but not all of them, from the balconies.  Other changes included some chairs at the Martini Bar.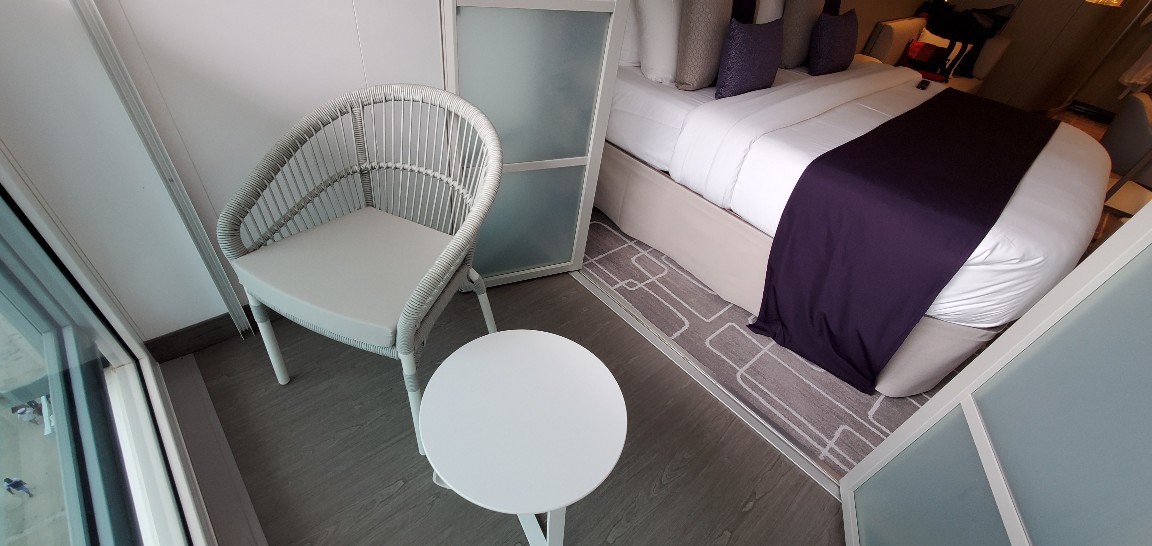 Day 1 - Embarkation Day
Day 2 - Key West
Day 3 - At Sea
Day 4 – Costa Maya, MX
Day 5 – Cozumel, MX
Day 6 - Grand Cayman
Day 7 - Sea Day