Author: Bill November 30, 2019, Updated: September 1, 2021
Grand Cayman doesn't have a cruise terminal, requiring ships tender (take small water shuttles) from the ship.  Some see this as inconvenient, but it's also makes for a scenic way to arrive.  I went to bed last night hoping the weather would hold so that tender operations were able to take place, and in the final hour of our arrival, the sea smoothed out nicely.
Conclusion: Spa Café on Edge is the Best Spa Café​
Breakfast before going ashore in a hot climate (and after a night of enjoying a drink package) is important, but often on a cruise I hit a bit of a food wall – though it doesn't last long.  The remedy for this is Spa Café.  I mentioned it a couple days ago, and we enjoy this spot for light eats – Larissa often enjoys the made-to-order smoothies as well (yes @theRCLBlog, she gets kale).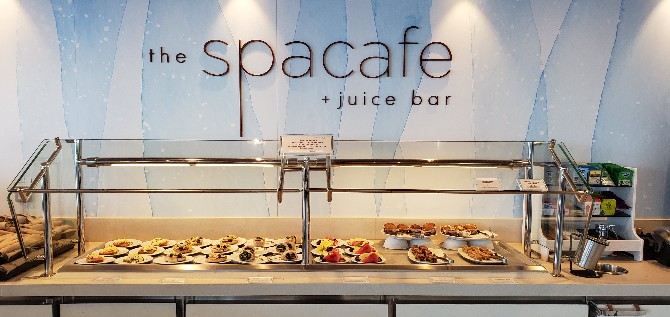 The funny thing is, that while we've enjoyed Spa Café (located in the Solarium by the way) on all Celebrity ships, for some reason we tend to find it better on Edge.  So, after extensive testing I've concluded this is our favorite Spa Café, but the tests will continue.  Apex anyone?
Tender Operations on Edge
As mentioned, cruise ships must tender into Grand Cayman, which means that unless on a small/luxury vessel, there can be a bit of a wait to board a smaller vessel and then head ashore.  Edge has several unique features designed to make tendering more pleasant, though to my surprise, some of those features weren't used today.  What are those features?  I'm so glad you asked.
Destination Gateway, Edge Launches, and the Magic Carpet
When most ships tender, they use small boats from the port or the ship's lifeboats.  The vessels pull up along-side the ship, and you step from a utilitarian lower deck onto a ramp that's up against the boat.  It's worked for years, and continues to do so (unless the seas are too high).
Some of the lifeboats on Edge double as "Edge Launches" which are larger, have bucket seats, and air-conditioning.  They're designed to pull up along the Magic Carpet, which is lowered to the water, and guests step from the Destination Gateway (a beautiful space with large windows, sometimes hosting port lectures), to the Magic Carpet, and onto Edge Launches.
Read what we learned about Edge before she ever sailed, including information around these unique features.
Today however port-side tenders were used, and the Magic Carpet stayed up top.  This morning the Magic Carpet was down near the water, but I'm not sure if that was related or not.  We also didn't use the Edge Launches.  Now, as much as I was really looking forward to trying this whole system (third Edge cruise, first tender port for us), the Destination Gateway in and of itself was a huge improvement.  It's a pretty space, and means you don't feel like you're cramped in a crew area before loading.  Also, as you wait to board, you actually get to see the sparkling ocean through the windows while enjoying the space.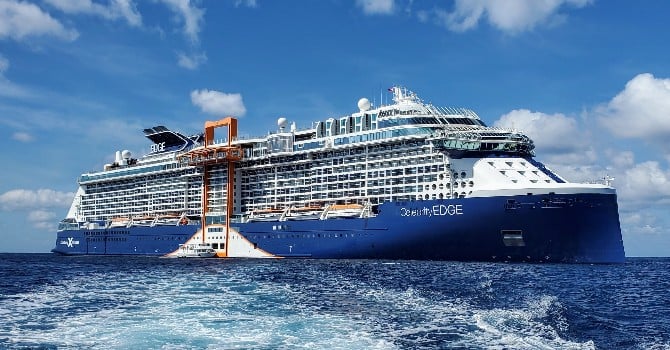 Getting to Seven Mile Beach
There are many ways to get to the famous Seven Mile Beach in Grand Cayman, but if you just need a ride (rather than a tour, a day pass, etc) the easiest and cheapest method is actually the public buses.  I know it sounds nuts, but it's VERY easy, and every route is just $2.50US or $2.00CI per person.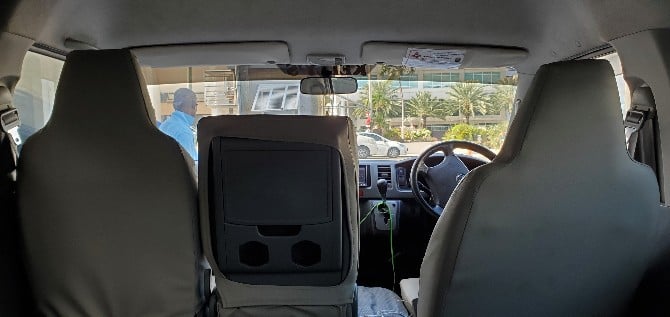 Grand Cayman's buses are white vans (clearly marked with "Public Bus" on the front), which are all clean, air conditioned, and safely operated.  While several routes exist, you'll find they all make it from the bus depot (a two or three minute walk from the dock) to seven mile beach.  Avoid the purple routs, as you can catch it the right way, but if you catch it the wrong way you do suffer a tad of a detour.
I Don't Want to Deal with Bus Stops
You don't have to!  While it may be easiest to start you trip at the bus depot (just ask a security guard of police officer at the dock to point you there, or use Google Maps), you don't really need to factor stops, as you can flag down a bus anytime you see one, and just hop on.  Ready to stop somewhere along Seven Mile Beach (or anywhere else)?  Just tell the driver you'd like to be let off.  It's really simple, cheaper than cabs, and a neat way to see how locals live.  These busses are popular with locals too, as while Grand Cayman is one of the wealthiest nations per capita (you'll see A LOT of banks around town), it's a small place, and traffic can crowd things.
Governors Beach at Seven Mile Beach
Like Hawaii, Honduras, and other places that don't start with H, the beaches in the Cayman Islands are all public.  Want to see an amazing example of this?  Go to Governors Beach, located around the mid-point of Seven Mile Beach.  The governor's residence is right there, but the beach belongs to everyone, so you can go in the governor's back yard, lay down a blanket, and bask in the beauty of the soft white sand and clear turquoise waters.  As the signs ask though, do respect his privacy.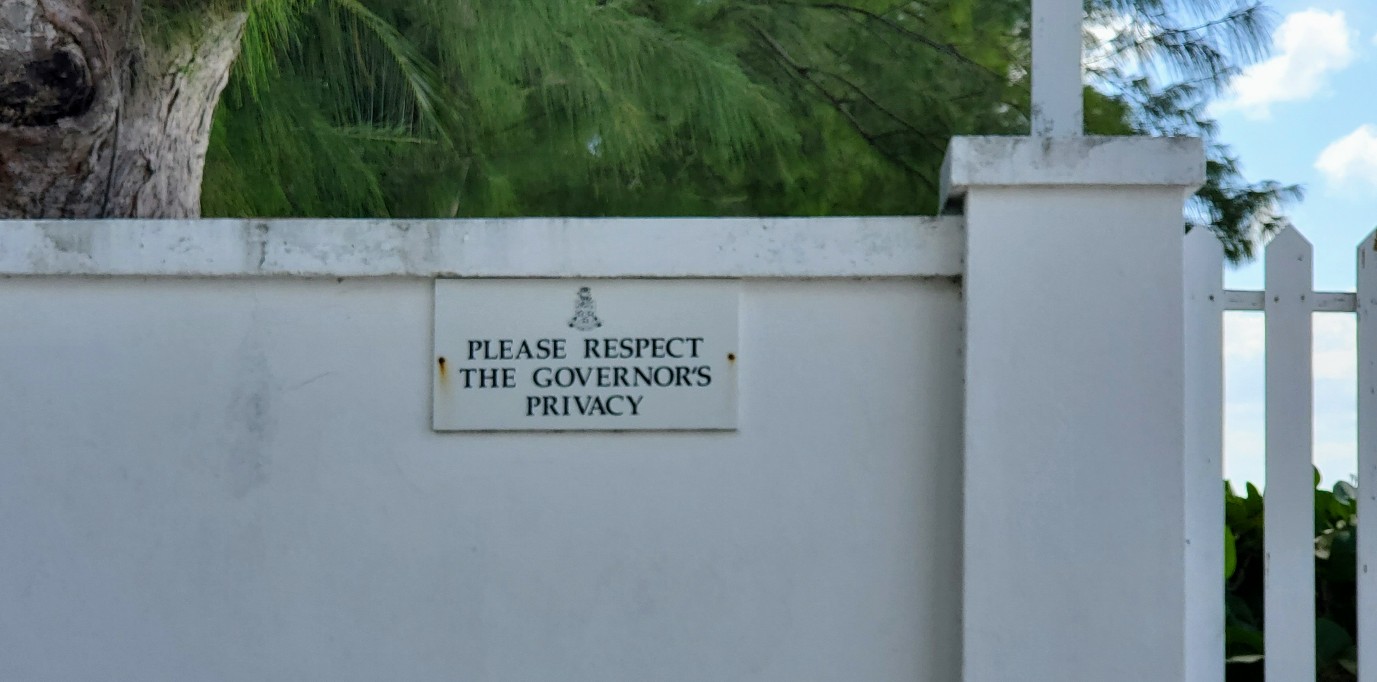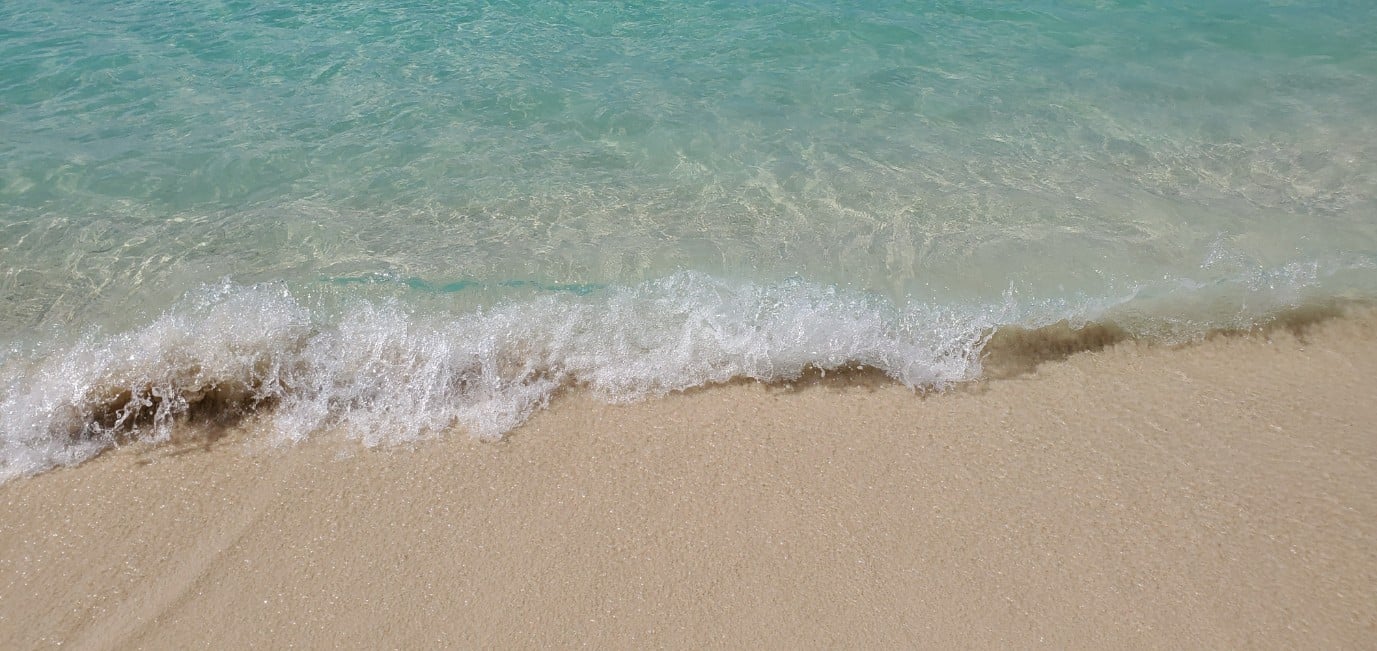 Tacos – One of Mexico's Gifts to the World
After a stroll along the beach we got hungry, and almost ducked into one of the many hotels on the beach to enjoy their restaurant.  This would have been fine, but know Grand Cayman isn't a cheap place, and these hotels offer pricey meals.  Just across the street from the beach though are restaurants of every kind: vegan cafés, high-end Italian, Popeyes Chicken (no fighting over sandwiches please), and more.  We went to Casa 43 as it was rated among the top restaurants on the island on Trip Advisor.  It didn't disappoint – with a creative menu of Mexican favorites, a massive tequila selection, and a friendly staff who seemed mostly American and Caribbean-Hispanic. 
Drinks Taste Better on the Beach
After some local espresso to pep up, we hopped on a bus (really, we just flagged a random one down, and got in), and went to Royal Palms Beach Club.  This is a bar where you can eat, drink, rent loungers, cabanas, and enjoy a pool.  The property is right on the beach, and unlike many places on Seven Mile Beach, you don't have to pay for a day pass.  Day passes at various Grand Cayman hotels can be great – but if you just want a chair and a couple of drinks for an hour or so, it's probably not worth $25-100 per person.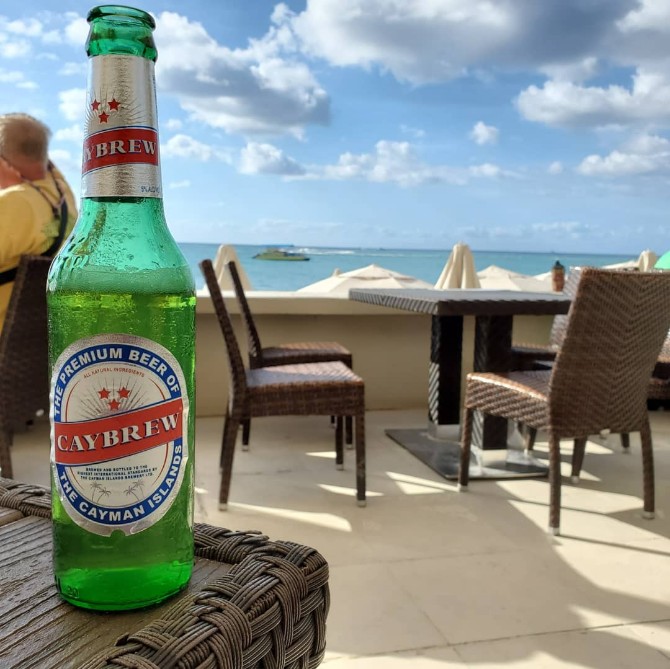 While there, I scrolled through Instagram and saw a story from someone who works for Celebrity Entertainment.  We'd met and chatted on Edge in the past, and upon opening her story, I saw Larissa in the background…marked "2m" (two minutes ago).  We enjoyed a brief chat, and having experienced her enthusiasm for the product, and learning a couple of things, I'm all the more excited for Apex, the next Edge class ship.
Heading Back to the Edge
After another short bus ride we arrived back at the pier to board a tender to the ship.  Today there were two ships in Grand Cayman: Celebrity Edge and Celebrity Silhouette.  This meant many people were checking Seapass cards (room keys) to ensure guests were heading toward the tender that would take them to the right ship.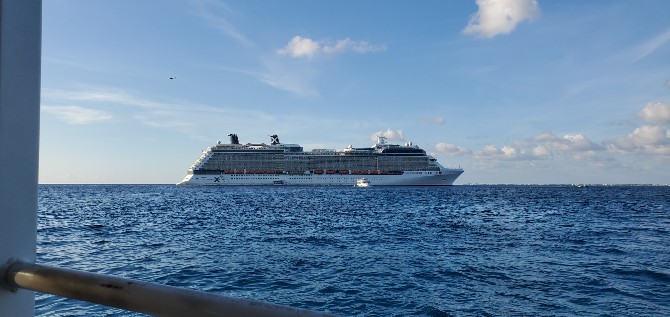 Like our ride away from the ship, the return trip offered some nice views of the ships and the island we were leaving behind.  More great views were enjoyed from our Infinite Verandah as we sailed away – sharing a few minutes of that with viewers on Periscope.
Silent Discos, Pop-Ups, Vocalists, and More
Silent Disco in the Grand Plaza
Silent Discos are increasingly popular on land and sea.  Guests wear headphones where they can switch between three channels to listen to different music.  The devices light up showing a color that correlates to the channel they're enjoying, so you can see others dancing to something different than you, and perhaps decide to change to what they're listening to.  Take the headphones off and you realize people are dancing (and often singing along) in an otherwise silent room.  There have been a couple Silent Discos this cruise, but this one was in the Grand Plaza, which made it visually interesting to see a sea of guests alternating between tunes selected by the Cruise Director, Activities Director, and a DJ.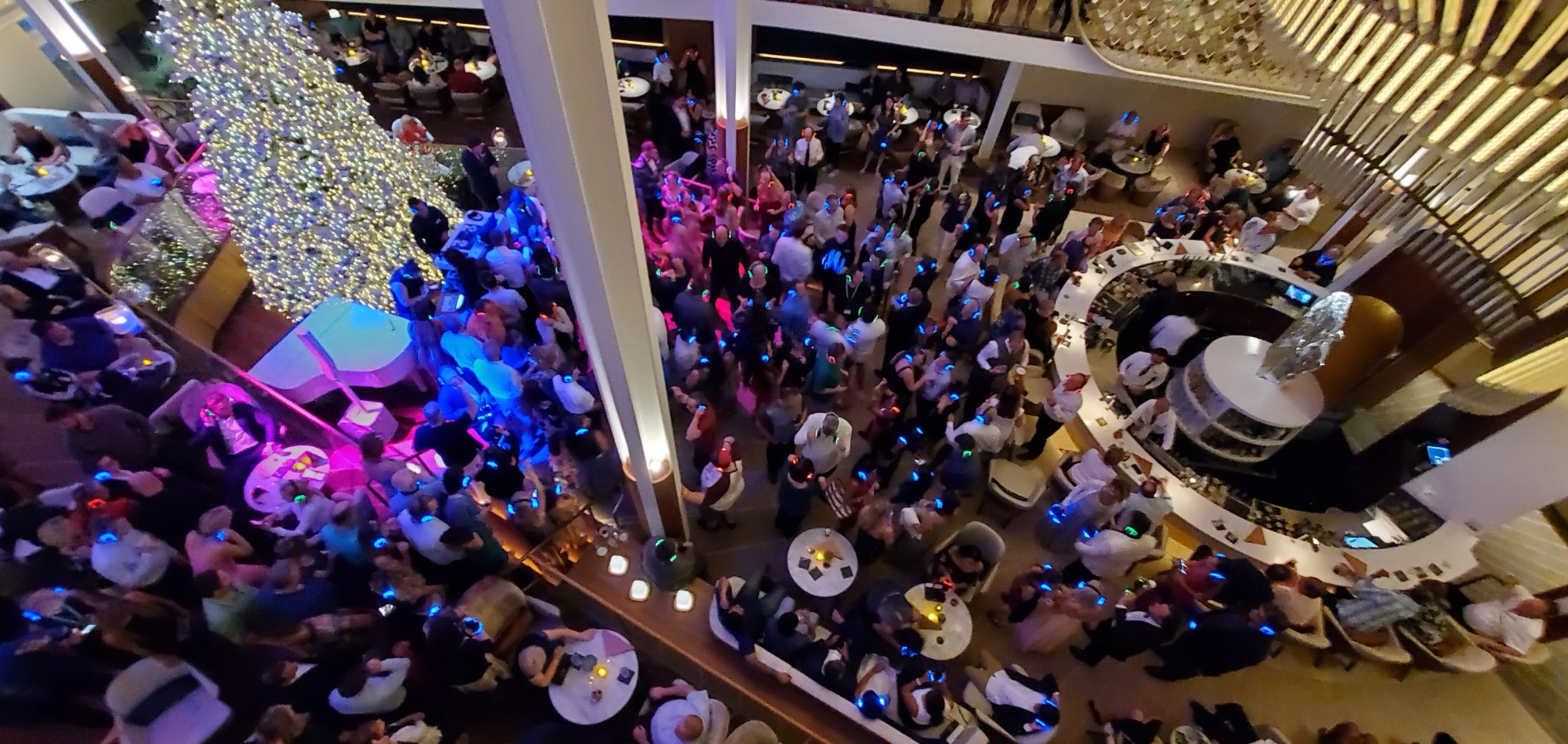 Eden
Last night was the last showing of Revelations in Eden, but the venue still had much to offer so we went and enjoyed some specialty cocktails, live music, and the occasional Edenists performing pop-up shows for just a moment or two at a time.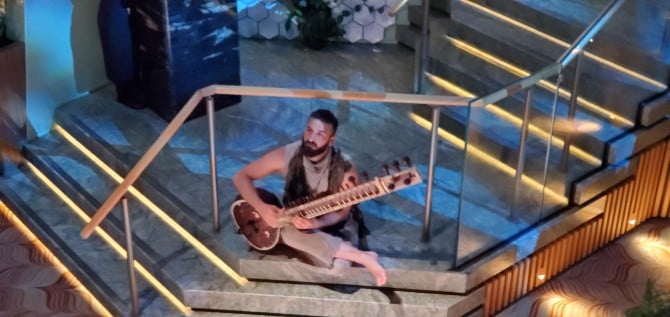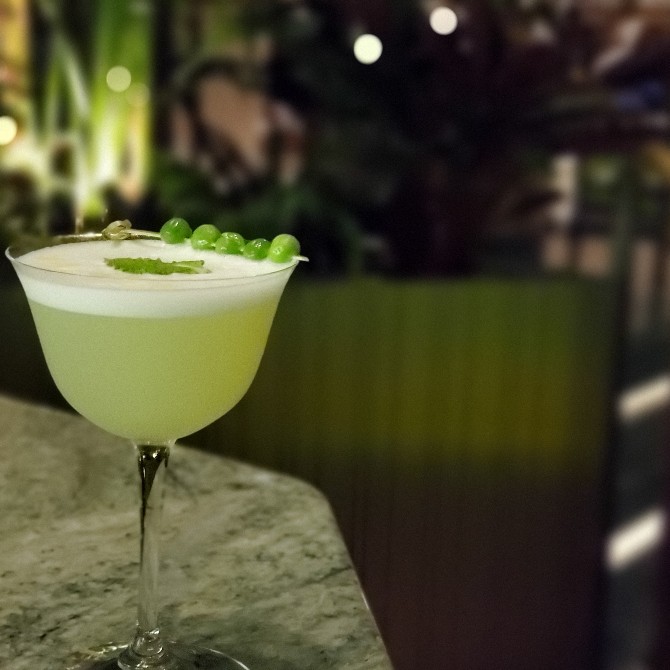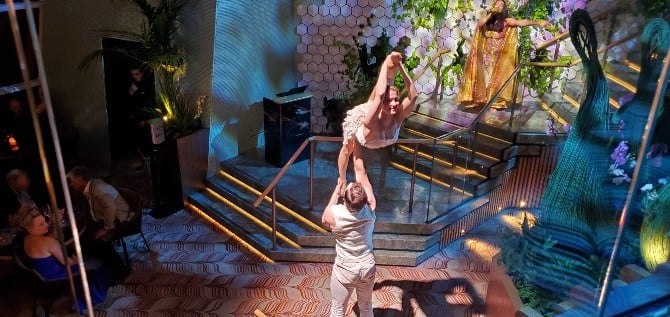 We also had a chance to chat with some more of the entertainment staff (including Edenists) and learn more about how they've come together as a new team recently.  When you see shows like this is remarkable to think that just weeks ago, these folks hadn't ever met each other.
Live Music at the Club
We love the live music on Celebrity, and Edge has tons of it.  The Celebrity Edge Ensemble is the "house orchestra" of sorts, and they sound great - playing off each other quite well too.  In The Club they had two sets this evening - one with a handful of members, and the other with the full set.  There were standards, pop-hits, and more.  It was nice to see they got some time to headline, rather than being in the background (though with a strong and essential presence) in the other shows.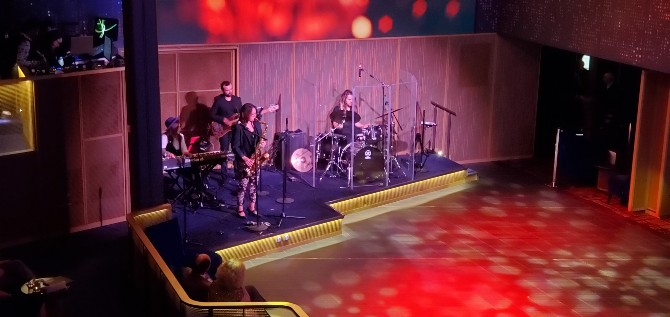 Dinner and a Walk
Toward the end of a cruise I start to panic about every moment I spend doing anything, so for the sake of time (and fantastic variety) we headed to Oceanview Café for dinner.  Every night there are unique selections and specialty stations.  As someone who likes to grab small amounts of many things, it works out wonderfully.
As we ate, Larissa chatted with a Brazilian crew member about how many more there are on this sailing than past Celebrity cruises we've been on.  In fact, one of the awesome bartenders we've enjoyed in Eden is also Brazilian.  The conversations always seem to involve Larissa explaining to me where geographically some place is, and unless that's in one of four cities in Brazil I can point to on a map, I just smile and nod – I should probably buy a map.
Following several rounds of desserts we went for a walk out outside to enjoy the spectacular lighting of the Resort Deck and then the promenade deck.  On this walk we noticed that there is outside seating at Fine Cut, the specialty restaurant/steak house on Edge.  Provided the wind isn't blowing the wrong direction, I can imagine it's a lovely place to dine.  The restaurant is on the port side of the ship, and is opposite Raw on 5, which doesn't have outside seating as the Magic Carpet travels next to it – except when Magic Carpet actually stops on five for dinner.  Pretty neat!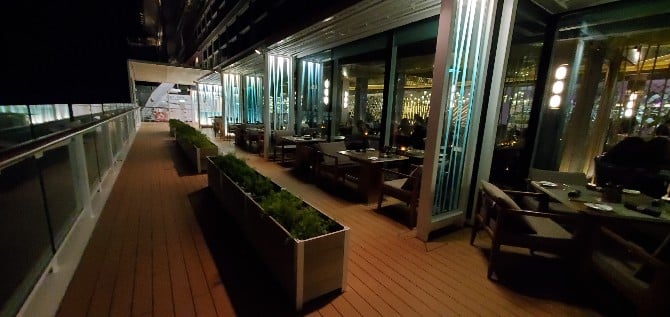 From there we roamed, met up with and chatted with new friends, and had another drink before taking one final tour for the evening.
Late Night Food Options on Celebrity Edge
Oceanview Café always seems to have something available – and more than just pizza.  At just before 1:00am we swung by to see what the spread looked like, and found a number of guests and crew snacking. 
There are several stations open late, and offerings change, but you can reliably find desserts, fresh-fired pizza, made to order pasta, a salad station, breads, cheeses, fresh fruit, and more.  Despite intending to take only photos, I ended up taking some cake as well.
A Tomorrow of Mixed Emotions
Tomorrow is our final day on Celebrity Edge and it has all gone far too quickly.  We're delighted that it's a sea day so we can enjoy more of what Edge has to offer, and will try really hard to keep a "not crying in public" attitude.
All we know for sure is that it will start with breakfast, as on our last Celebrity sailing on Equinox, and continuing with this Edge sailing, we've started using a new type of alarm clock: room service.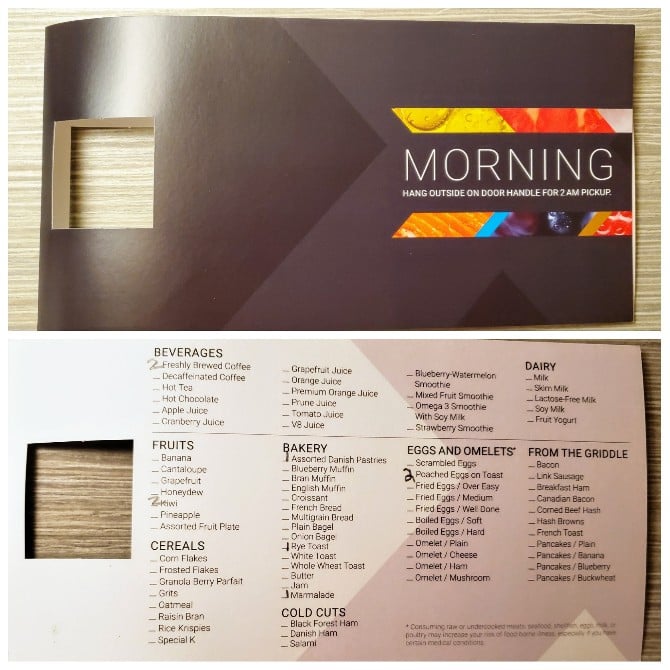 Day 1 - Embarkation Day
Day 2 - Key West
Day 3 - At Sea
Day 4 – Costa Maya, MX
Day 5 – Cozumel, MX
Day 6 - Grand Cayman
Day 7 - Sea Day