Author: bill January 10, 2022, Updated: January 30, 2022
The first full day of the CruiseHabit group cruise on Apex was an opportunity to do it all on this new ship…or do nothing at all.  While we settled on somewhere in between, we certainly took it easy today, and there are few places as nice as this for taking it easy.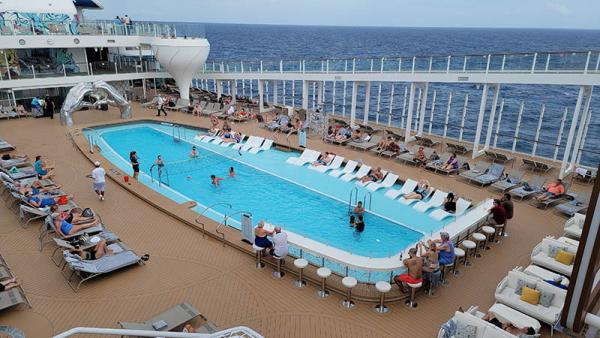 The Best Set Alarms
We all make plans, and sometimes they work out.  I was hoping to get up early enough to head to Luminae, the suite restaurant, for breakfast.  By the time we left our room the Oceanview Cafe, Celebrity's buffet venue, was the only option for a full breakfast - and that worked out just fine.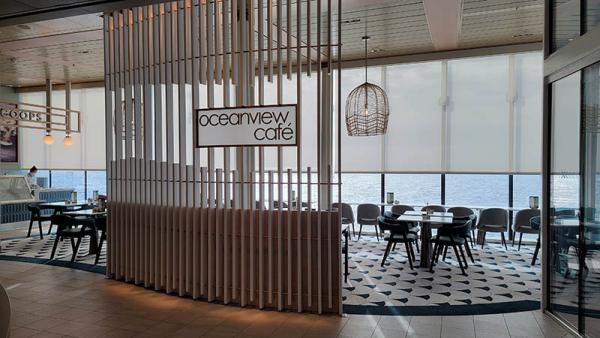 Sitting beside a large window, I enjoyed a custom omelet, espresso, and finally a cinnamon bun.  I don't usually go for cinnamon buns on ships, but this was fantastic.  Warm, soft, and not overly-iced.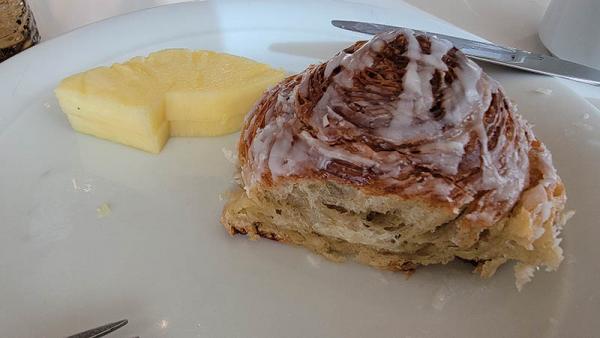 Retreat Sundeck  
On past sailings where I was fortunate enough to enjoy The Retreat, Celebrity's suite program, I didn't spend too much time at the Retreat Sundeck and Poo, so I decided to do so this week.  This is located all the way forward on deck 16 and offers nice views, a small pool, hot-tub, and great staff to help with drinks or food.  I highly recommend the Honeycomb Goldrush for a refreshing drink.  Whiskey, lemon juice, and a piece of honeycomb.  This is my go-to drink when here on a hot day.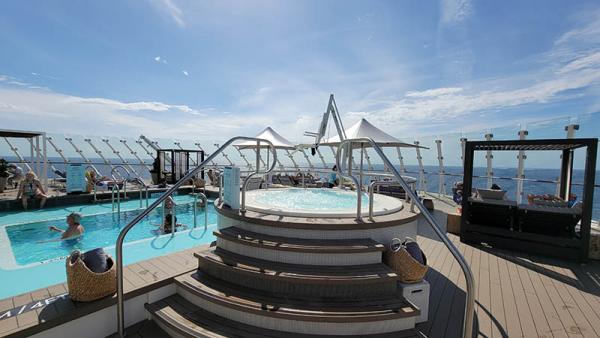 We sat on a comfy couch, taking in the sun and enjoying a conversation with friends, and before I knew it, it was time for lunch.  Time flies.  Conveniently, I didn't have to move a muscle, as I was able to ask a server for a Beyond Burger and fries, and they were happy to accommodate me.  It's worth mentioning this isn't on the menu in that area, but they'll really go above and beyond, not just for suite guests, but in general.  If you're friendly, and your request is reasonable, it never hurts to ask.  They also came around with complimentary sorbet for everyone - another nice touch.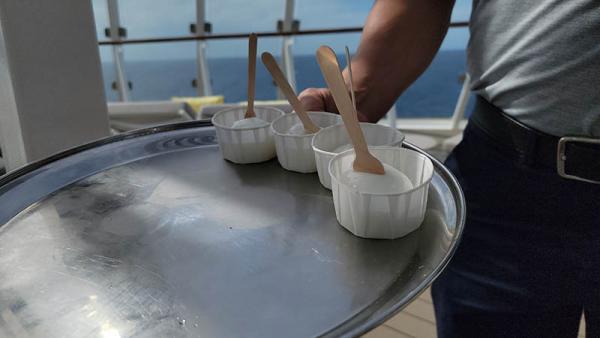 Magic Wet Carpet 
Eventually I realized I'd been sitting in one place for entirely too long and went for a walk.  We ran into some other friends in the group over at the Magic Carpet.  Another wonderful chat where time absolutely flew by.  The theme of the first part of the day is that if you have a nice view, good company, and someone ready to bring you snacks, there's not much more to ask for.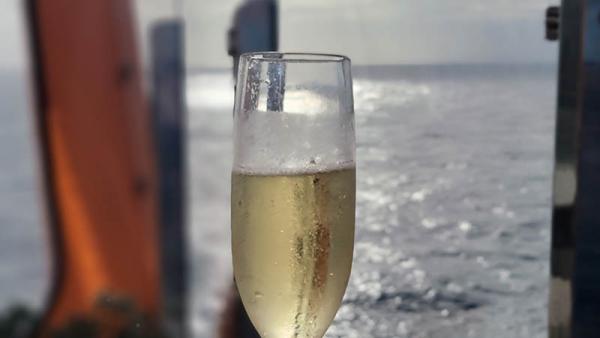 While enjoying the panoramic views, I spotted rain ahead, and about five minutes later, the rain found us.  The Magic Carpet is covered, but it's still very much an open-air venue, and the rain started splashing in a bit.  We rushed off and decided it was snack time.  
Pizza is available in the back of the Oceanview Cafe, where there is both indoor and outdoor seating.  It's decent pizza - nothing to write home about, but not bad, and it really hit the spot.  As I finished my slice I noticed a rainbow outside, which quickly turned into a double-rainbow.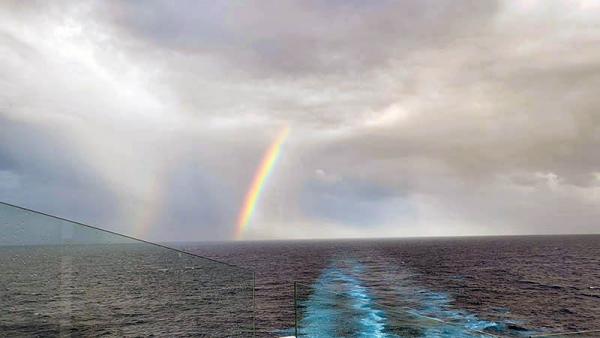 A Casino Bar, But With Personality
Before dinner I really wanted to check out Craft Social.  Several Celebrity Ships have a bar by this name, with a large beer menu and a small selection of food as well.  On Apex it feels much more like a nice living room than it does a bar, and while small, the atmosphere is nice.  There are comfy chairs and sofas along with tables, neat light fixtures, and a dark but warm environment.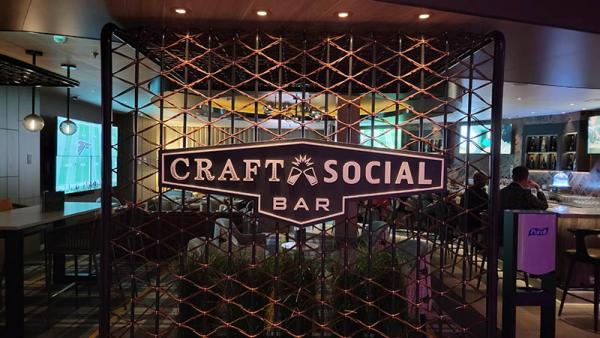 On Celebrity Edge, this is the Casino Bar, and while Craft Social still services the casino on this ship, the passthrough to the casino is closed, in favor of a more intimate environment and a large screen TV (in addition to other TVs).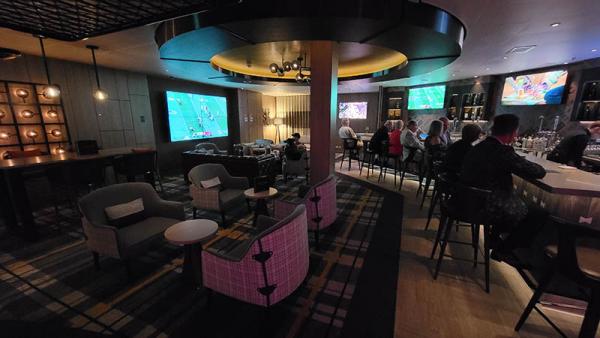 Dinner & A Different Kind of Show
At 8pm, the group went to Fine Cut Steakhouse, another specialty restaurant on Celebrity Apex.  This is located in the Grand Plaza, which is sort of like an atrium, but with multiple restaurants, a coffee shop, bars, and other venues, all set around a multi-level lounge featuring the Martini Bar.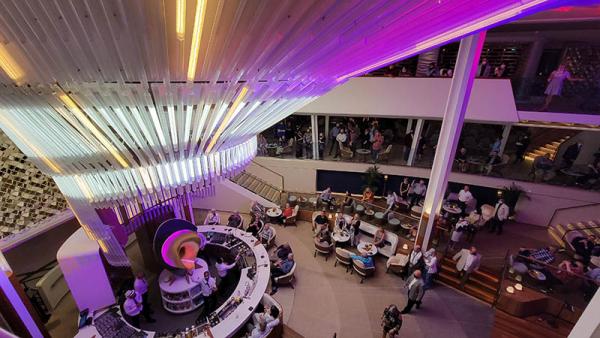 While I don't eat meat, there was no shortage of choices, and in fact, the waiter said he was going to bring us all of the sides on the menu for us to enjoy family-style.  The end result was a cornucopia of options that came along with our main dishes.  I opted for a poached sole, and the waiter actually warned us a bit that it's not what many guests expect (being poached) - but I loved it.  Several in our group enjoyed it as well, and we even asked the chef how it was prepared when he came by at the end of the meal.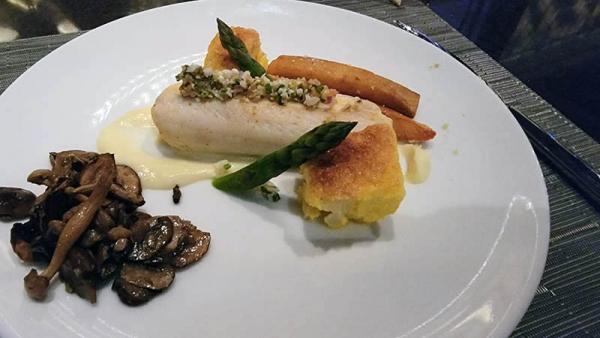 I also ordered a wedge salad, which was lovely, and I asked for it with no bacon.  Others in the group found that the "bacon" is actually massive chunks of pork-belly, something they were delighted with.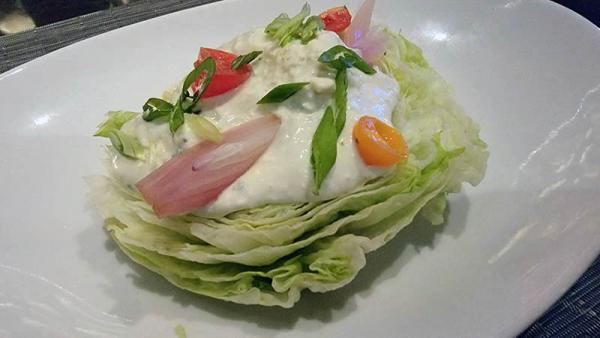 To be honest, my previous visit to this restaurant on another Celebrity ship didn't impress me - but this was a great meal that everyone seemed to enjoy.  What made it all the better?  Half way through our meal the lights of the Grand Plaza's chandelier went wild, the music turned up, and we were treated to a show…
The Grand Plaza Chandelier Show
Once or twice each evening the fancy chandelier in the focal point of the ship goes wild, the music changes, and the bartenders all show up for a show.  This is listed in the daily program and in the app, but the show time can be adjusted based on other entertainment going on nearby.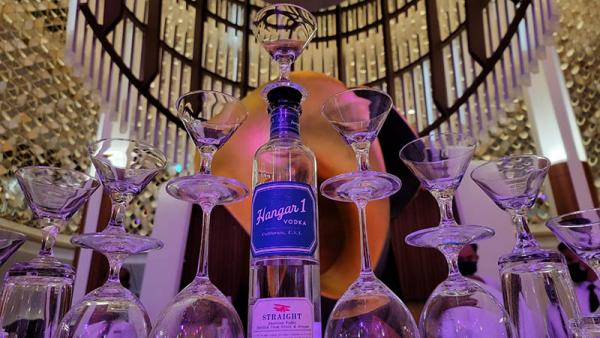 On this night, from above at Fine Cut (and then later from right at the bar), we watched the bartenders juggling, dancing in sync, and then pouring a large stack of martinis all at once.  If you ever see this in progress as you stroll by, do stop and check it out.  On occasion you might even catch a senior officer or chief executive working the bar at this time.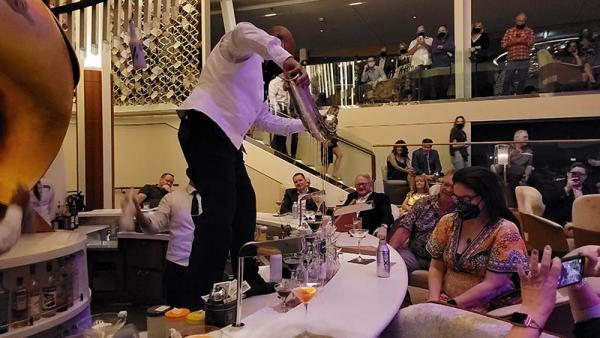 Room with a View
I realized I've not yet shared pics of our room, so I'll share a bit here, but more later, perhaps in a video.  We're in a Sky Suite, which we bid for.  This means we originally booked another room, and were given the opportunity to bid for the chance to be upgraded - a chance we fortunately got.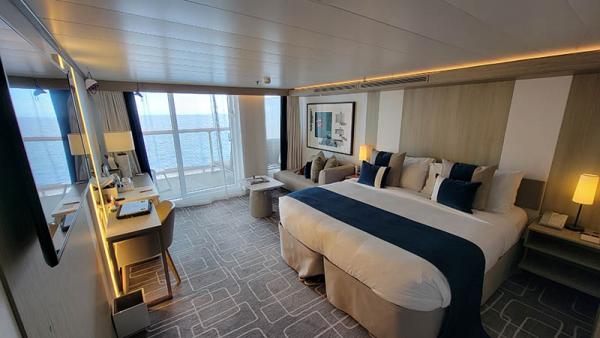 Sky Suites on Edge series are the most economical suites, but they're absolutely lovely.  They feature a double-faucet trough sink, separate vanity in the bathroom, loads of storage, an especially spacious balcony, and in some categories, a window above the sinks which allow you enjoy an ocean view while washing up.  This particular Sky Suite is a bit different, as it's located at the end of the Magic Carpet track.
Just before turning in I noticed a bizarre glow off our balcony.  Some fog had rolled in, and the vibrant lights from the magic carpet were illuminating the air around us.  It looked like something out of a movie.
Maya Chan Tomorrow
Tomorrow we'll be at Costa Maya, Mexico.  Our go-to activity here is a stop at Maya Chan Beach Resort.  We'll be relaxing and doing as little as possible while sipping drinks and eating authentic Mexican cuisine.  Be sure to check out tomorrow's live blog and follow us on social.  We've got a tour of this property on YouTube as well.