Author: bill January 9, 2022, Updated: January 30, 2022
Celebrity Apex is the newest Edge series ship from Celebrity Cruises.  Because Edge is our favorite ship, it was an easy decision to make Apex the ship for the first CruiseHabit group cruise.  Today we boarded, were reunited with friends, and started a seven night Western Caribbean cruise.
The Retreat Embarkation is the Best Embarkation
We're not early risers, but we wanted to arrive early today to check out The Retreat embarkation lounge.  The Retreat is Celebrity's suite experience that is so much more than nice accommodations - check out our video all about The Retreat on Celebrity here.  Terminal 25 at Port Everglades (in Ft Lauderdale) is a bespoke facility for Celebrity, and it really matches the feel of the ship.  Upon our arrival, we went to a special line for suite guests, went through separate security, and then had our check-in completed while comfortably seated in a lounge.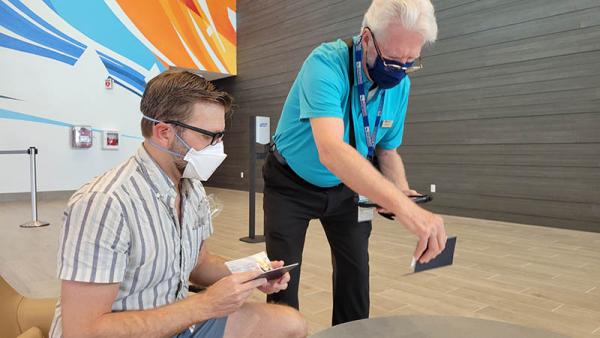 The whole process may have taken five to ten minutes. Having arrived at 10:30am, and with boarding starting at 11:00am, that left us about 20 minutes to enjoy breakfast in the lounge, where the Retreat Hosts (concierge staff, essentially) were available for any questions.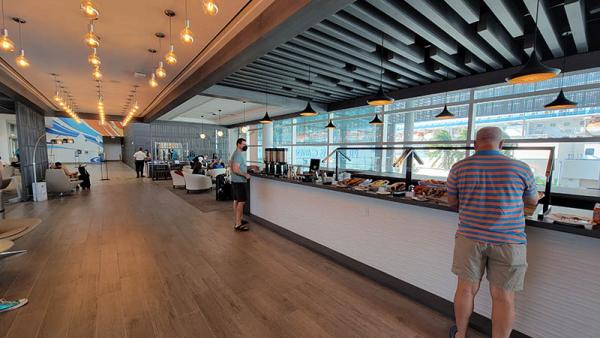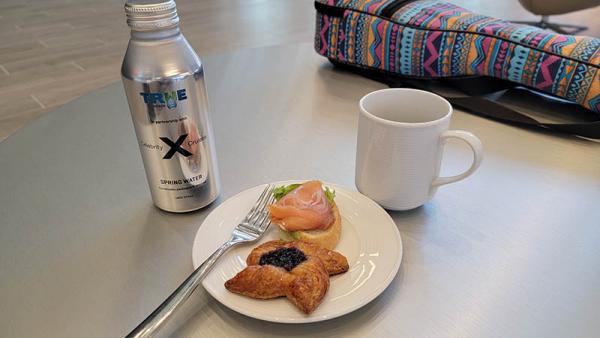 Right at 11:00am, they told us we could board, and we found the lounge exit was located just feet from the gangway.  We were the third party on the ship and walked right to our room.  No matter how often I cruise, there is no feeling better than stepping on board.  Magical.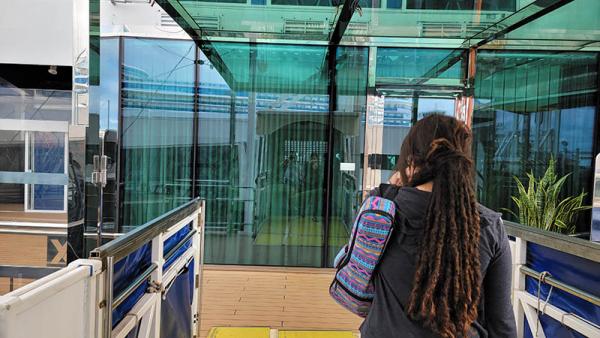 After dropping off our bags we met up with our friends Mike and Chris from our group, along with Annette, our travel agent and friend who somehow still likes me despite my constant changes in travel plans.  We gathered in Cafe al Bacio, the onboard coffee shop, and my favorite place to work at sea.  I didn't take photos here, because well, I hadn't had coffee yet.
Social Distancing Made Easy
With the latest concerns due to the omicron variant, there have been additional measures put in place to help make cruising all the safer.  Even the ships you see in headlines have, in most cases, positivity rates far lower than on shore in the US right now.  Still, it's important to be diligent.  Celebrity Cruises is now requiring masks be worn when indoors (except when eating/drinking), something they'd not previously done given their vaccination requirements.  There is also signage about social distancing.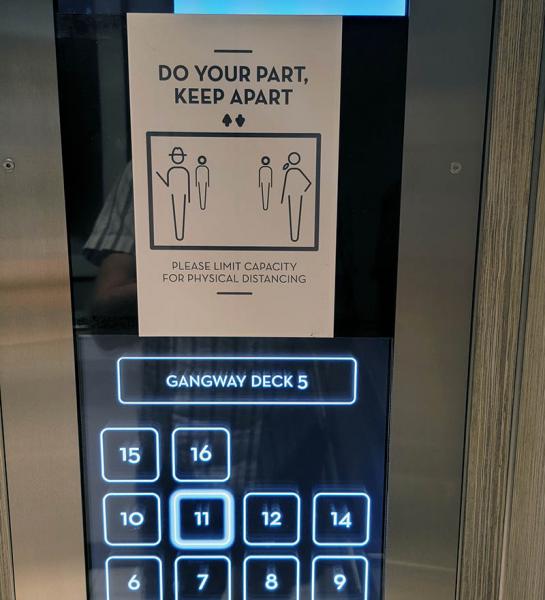 It's not hard to avoid crowds though - not only because Celebrity doesn't tend to pack in as many folks as some lines, but also because there are very few people on this cruise.  Between COVID concerns and canceled flights, the total number of people that made it onboard is 1065, about 40% of the ship's capacity, and far less than the roughly 1600 initially booked on this sailing.  It's making it quite easy to spread out, and hopefully makes it so the hard-working crew can work slightly less hard this week.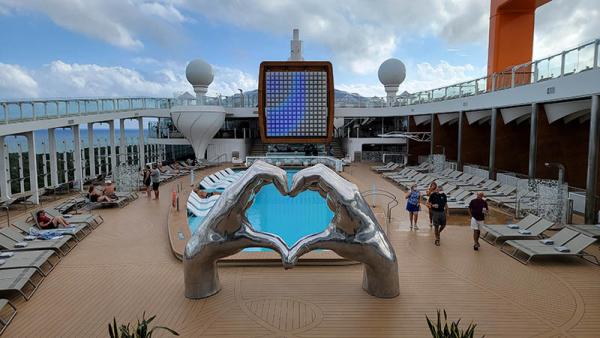 Sail Away With Me on a Magic Carpet Ride
Alright, we may be mixing song lyrics here, but it is how we started our cruise.  Celebrity Apex has a large orange venue cantilevered over the side of the ship.  This place, called the Magic Carpet, is positioned on different decks depending on the purpose.  For sail-away today, it was positioned on deck 14, and this seemed an excellent place to watch us leave Ft Lauderdale behind us.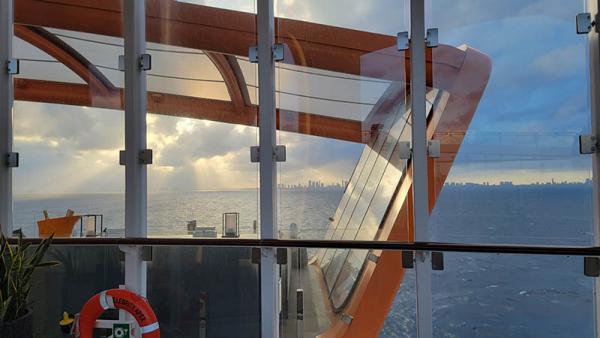 I did a quick live broadcast on our Facebook page as we left and chatted with some friendly folks.  One of the viewers was our friend Kym, who is traveling with our group and then joined us in person.  Everyone onboard having internet access as part of Celebrity's Always Included fares does make meet-ups easier.  As we departed, sipping sparkling wine with friends, I was reminded of being in this very spot on Celebrity Edge back in June, on the first cruise to leave the US since the pause of service - the most emotional sail-away I've ever experienced.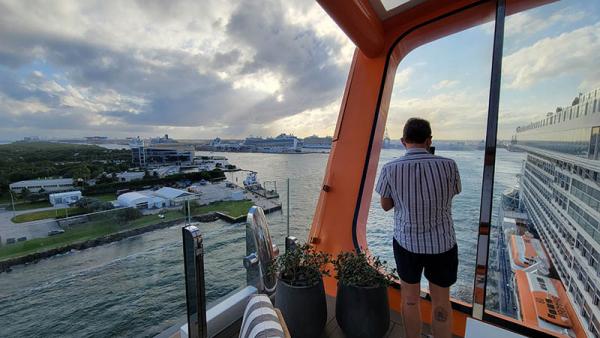 Eden Restaurant
My favorite spot on any ship is Eden on Edge Series ships.  This is a lounge, cafe, bar, restaurant, entertainment space, and all around relaxing unique environment.  WIth live plants everywhere and peaceful music, it's just a wonderful place to relax and look at the 270 degree views of the ocean.  Tonight we went there to enjoy Eden Restaurant.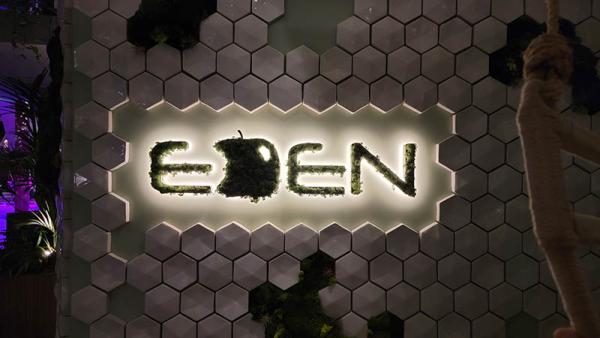 Eden Restaurant is a specialty restaurant, and because we're treating everyone who joined us for the CruiseHabit group cruise to specialty dining, excursions, and more, we thought it would be a good way to spend the first evening.  While the name of the venue is the same as on Edge, the menu is completely different.  Those who found the cuisine in Eden Restaurant on Edge a bit too exotic will be glad to find a wide selection of items that will likely be more appealing.  Despite this change, however, those who enjoyed the thoughtfully prepared flavor combinations in Edge's Eden Restaurant won't won't be disappointed.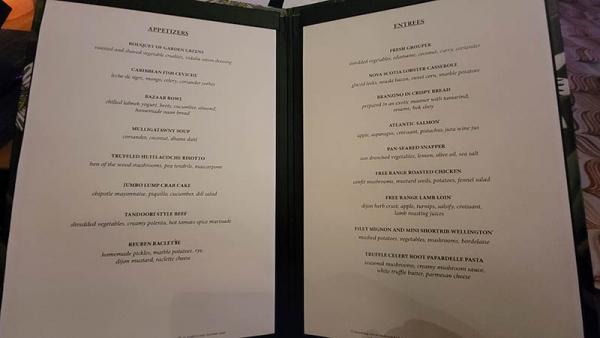 The color in many of the dishes struck me as an interesting and very appealing quality.  I lost count of how many things I tried, but the highlight for me was when I asked my grouper to be prepared as spicy as possible, the waiter, a fellow "pepper-head," had the chef prepare a homemade and very spicy sambal to go with my dish.  It was exquisite, and the spice prepared me well for the sweet desserts.  In addition to the dessert items we ordered, they also brought a tray of small bites, explained each, and asked which ones we'd each like.  I tried several, including a coffee liqueur bon-bon that I could have had 12 of.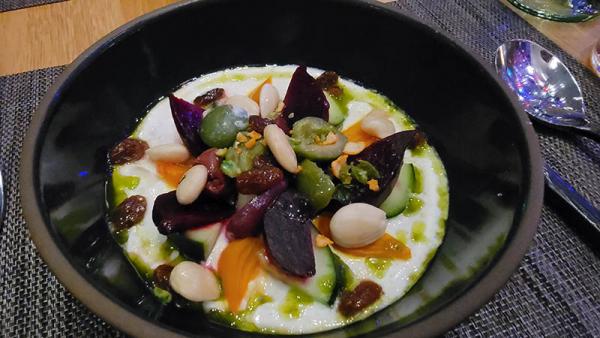 Worthy of silly mention: As we left the restaurant, we noticed that Craig, a friend in our group (whom we also sailed with on Celebrity Millennium in June) was dressed in a way that seemed...familiar to me.  This guy has great taste.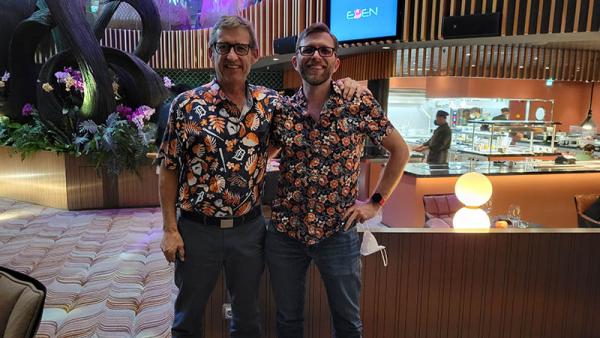 Party Like It's New Years…and I Miss the Ball Drop
Tonight in Eden, after dinner, was "Night of the Year."  I initially thought this might be one of the feature shows, but it turned out to be a high-energy new year celebration.  With the low occupancy, and it being the first night, the dance floor was dead at first, but the band, Nu Image, was amazing at getting the crowd going.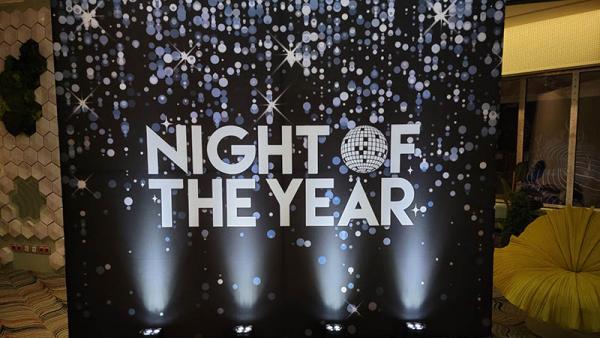 The singer went up to tables and groups, and without applying any pressure or making things awkward, got people excited.  The dancing started, and more guests entered Eden, and it quickly turned into a hoppin' time.  Kym's energetic dancing also helped get the crowd moving. :-)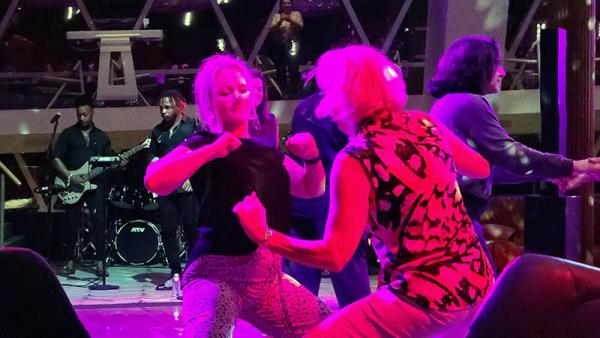 I didn't sleep too well last night (I'm always excited the night before a cruise, which leaves me lying awake), so I really wanted to get to midnight for the champagne toasts, and celebration, but I opted instead for a nightcap and some rest.
Tomorrow's Plans: None
Tomorrow is a sea day, and loving this ship so much, I'm excited to do little but explore and relax on deck a bit.  There is some fantastic entertainment lined up, including Charity Lockhart, whose vocal talents we enjoyed on a recent Edge cruise.  We'll be sure to take some photos from around the ship, and perhaps in the next live blog, share some details of our suite.