Author: Bill January 16, 2022, Updated: January 16, 2022
I'll admit I didn't think it was going to happen, given recent updates to rules controlling whether ships could dock here, but with very few COVID cases onboard, we were alongside our berth in Nassau right on time and ready to make the most of our final day.  The biggest challenge turned out to be figuring out how to do it all on our last full day on Celebrity Apex.
Spa Cafe Breakfast - Massage Not Included
Celebrity ships have a great but often overlooked dining option called Spa Cafe.  This is complimentary, and features light fare in a buffet-style setting.  On Celebrity Apex it's located in the Solarium (which is next to the spa).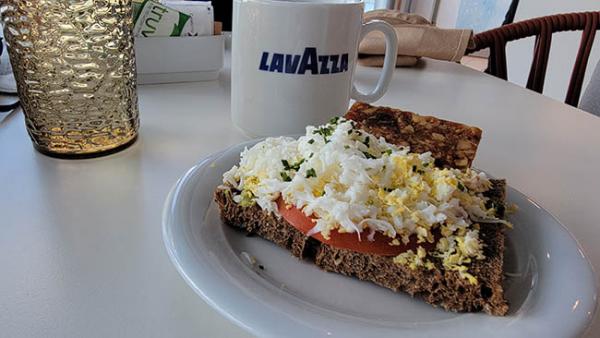 I had an egg and avocado toast, plus one of the sweet granola-bar type treats that they make onboard.  They also have made to order smoothies/fresh juices, which come at a cost, but are covered by the premium beverage package.  One nice value-add for some is the self-serve coffee machine.  It grinds and brews on command, and you can just walk up and use it.  On other ships I only saw Americanos available here, but this one let me make espresso and other specialty coffees, even though there is no charge.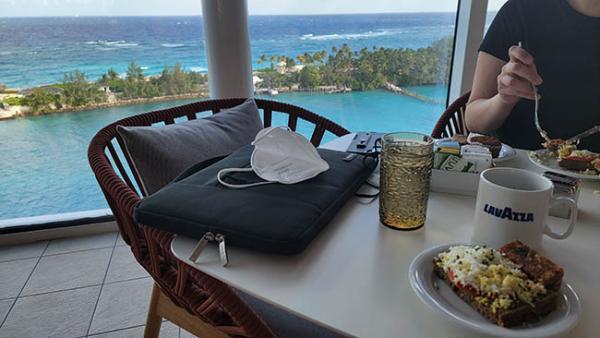 Conch, Sauce, and Beer in Nassau
We headed ashore right after breakfast and noticed there were three other ships in port, including Scarlet Lady (join us for a group cruise on Virgin's first ship in July!), but quickly remembered that most ships had very limited guests on board, so it wouldn't be crowded.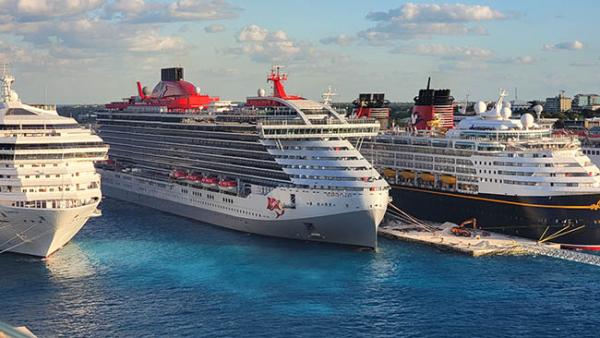 Nassau is in the process of building a massive new port facility, so there was some construction to dodge, but we eventually found our way past a familiar-looking but damaged yacht, and out of the port.  One big thing to remember in Nassau: The sign says it all - make sure you have proof of vaccination with you when you go ashore.  Restaurants are supposed to restrict indoor dining to those with proof of vaccination.  While not all of them seem to be enforcing this, we've visited places that are.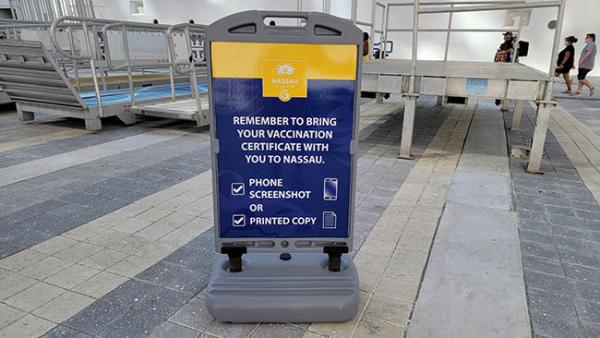 Our first stop was to a food stall called Linda's Place.  We've visited here before and they have some of the best conch we've tried, as well as a wonderful homemade hot sauce.  My goal today was to buy several more bottles of her sauce to keep at home.  The stall itself is located inside Nassau's Port Markeplace, just steps from the port entrance.  When we were here a few months back there was just one stall open (Linda's in fact), but today there was a band, and all the shops were open.  It was great to see the locals getting some business.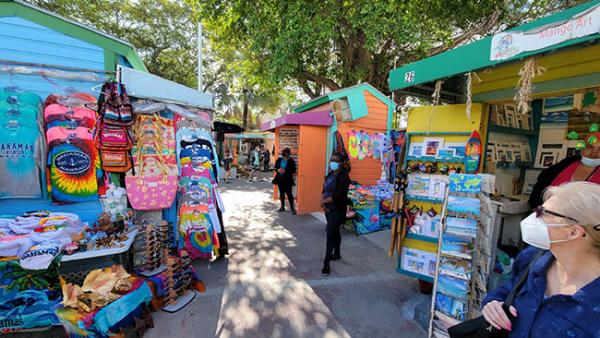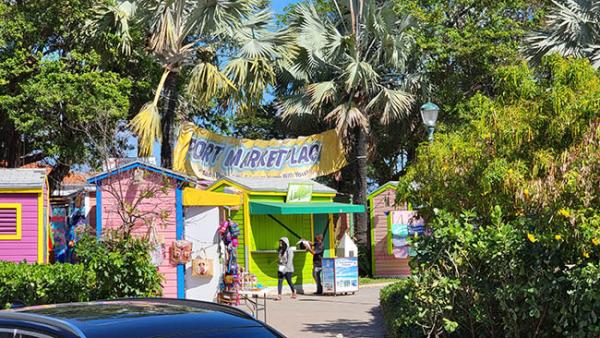 The next step was Pirate Republic Brewing Company.  This is a brewery, bar, and restaurant also right next to the port.  They've actually got some pretty good beers, as well as cute shirts and such.  Last time we were here, Tracey Morgan (alright, not really - but that's what he calls himself because of a striking resemblance) was working, and told us they may soon have their beers available in a major US grocery chain.  This is a cute place worth a stop.  Cold beer and A/C, plus a cute balcony upstairs that lets you watch the action on the busy street below.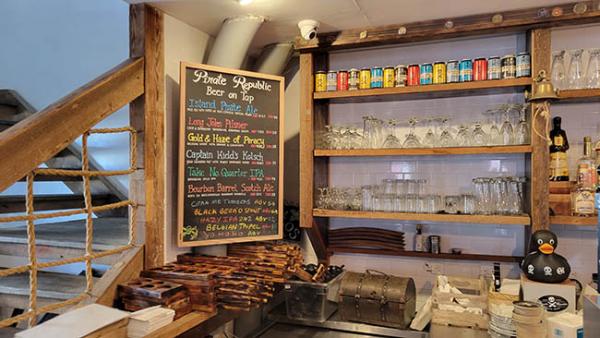 Who Forgets to Eat on a Cruise?
We enjoyed our time in Nassau and were delighted to see things so lively, but being the last day of the cruise I needed to absorb some more ship time.  I headed up to The Retreat Sundeck to absorb some sun (as the air was unusually cold today, for the area) and suddenly realized I forgot to have lunch!  I wasn't too hungry after snacking on land, so I opted to grab some of the small sandwiches and snacks they had in The Retreat Lounge, and enjoy them outside.  Along with this, I ordered what would turn out to be my final Honeycomb Goldrush of this cruise.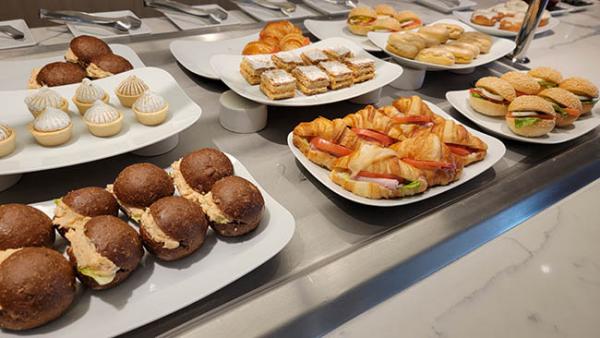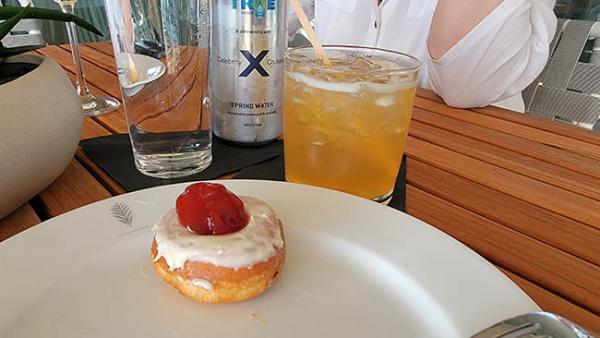 Time for the News
After my snack I recorded a short video on deck - one I've been excited to share the whole cruise.  The next CruiseHabit.com group cruise will be this July 3 on Scarlet Lady.  So, if you've been following along with our coverage of Virgin Voyages, and missed out on the fun, friendship, and value adds on the Apex Group Cruise, then join us next time!  VirginVoyagesGroupCruise.com
Golden Sunsets & Voices in Eden
On a past Edge sailing we were treated to the vocals of Charity Lockart and her daughter Jasmine.  Charity performs an Aretha Franklin tribute set, but tonight she sang songs from several artists, and her daughter came up for a duet.  This took place in Eden, with a fantastic sunset visible from so many parts of the gorgeous venue.
I'll admit that there aren't many people I can sit and listen to sing, without any shick or gimmick, without any story line, without any production or hype - but Charity and Jasmine both have such outstanding vocal talents and stage presence that I made sure not to miss them.  In fact, we may be seeing them on land in a few weeks.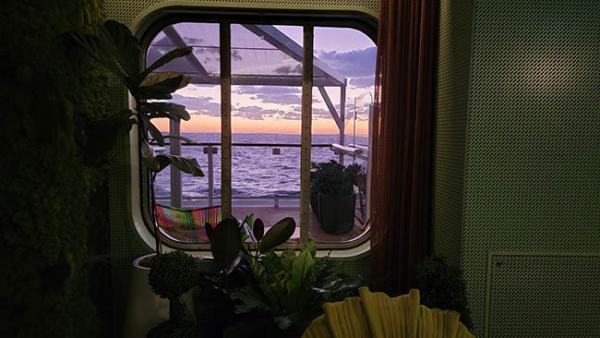 Rooftop Garden Grill
The last dinner of the cruise was at the Rooftop Garden Grill.  This specialty restaurant is at the Rooftop Garden on the top deck near the aft, and offers great views, and a refreshing breeze.  Tonight though, that breeze was a bit too cool for those of us dressed for the Caribbean - but the servers brought around soft blankets to keep us warm!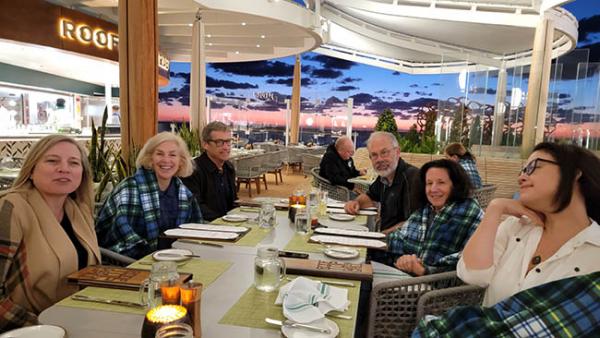 This is a specialty restaurant, but we treated everyone in the group to specialty dining on this cruise, and boy did we take advantage of it.  We ordered a little bit of everything, which is a nice perk of dining with a group of friends.  The menu is a bit meat-intensive, but the staff helped with some additional vegetarian options and modifications, and I had some seafood as well, including the kebabs.  I have to say though, this restaurant, for me, is all about the sides.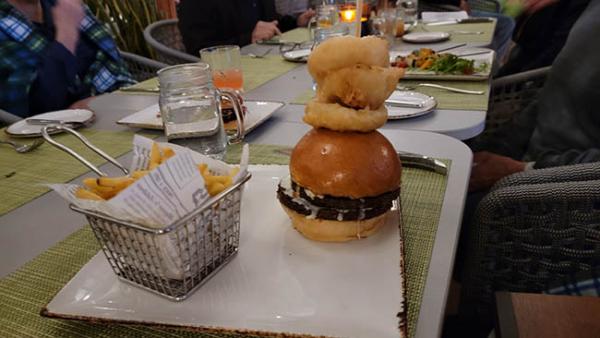 As the meal neared its end, I somewhat regretted that most of us did little or no dining in the four complimentary restaurants downstairs - they really are some of the best restaurants on any premium or contemporary ship.  One dish, the baked brie, is especially amazing, and I didn't want the group to miss it.  We asked the server nicely and a few minutes later, some baked brie was brought from Normandy Restaurant right to us at Rooftop Garden Grill.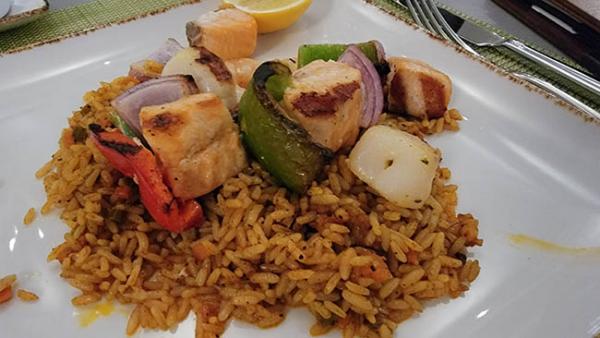 Rockumentary - A Closing Act of the Cruise
Before bed we went to the main theater to see Rockumentary.  I found this show particularly interesting, for a few reasons.  See, Celebrity moved away from the "classic hits mashup" shows many years ago, but that seemed to be the format here.  What made it different was that the energy of the performance was through the roof and the set and costuming was impressive.  In other words, this wasn't the 90's cruise mashups that, while I enjoy, I'm pretty much over.  This was great.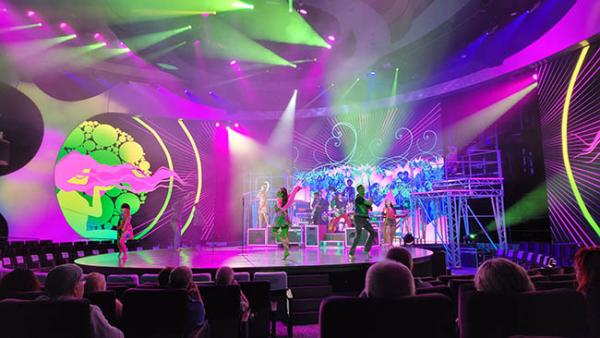 I loved that they presented a famous concert marque or posted, then had the performers come out doing their tribute to that group or singer, in costume.  Even the background changed for the concert venue, including all 17 million pixels of the giant display showing the roaring crowds of Woodstock.  Very cool.  On the other side of the coin, I thought they'd do this in a way that taught us a little something about each artist, and presented more linearly (given the name).  I feel like that could be a near adjustment, but not a necessary one - because these folks played some great tunes to end our cruise.
Beefy Margaritas at the Silent Disco
Just before everyone turned in we stopped at the Martini Bar in the Grand Plaza for a silent disco and a nightcap.  I do like silent discos, as it's never too loud (since everyone controls the volume in their headsets) and it's just so much fun to watch people letting loose and dancing to different songs at the same time.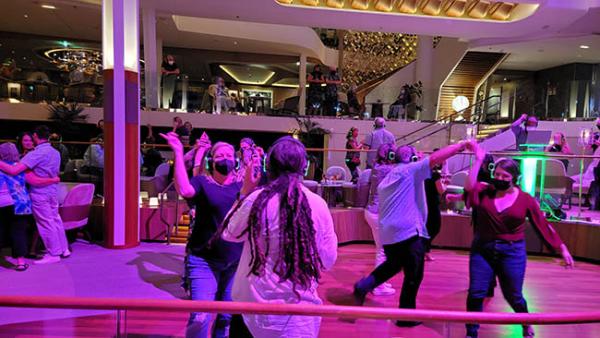 While there we did notice one item on the Martini Bar menu with a very strange description.  We asked, it does NOT have meat in it.  Not sure I agree with this copy decision :-)
Saying "See You Soon" to One Friend at Night
The next two bits will be a bit sappy, so bare with me.  We were fortunate enough on this cruise to reunite with a member of the entertainment team that we met years ago onboard.  We've bonded on past cruises and kept in touch over that time - but we'd just got two years without seeing each other in person, and they went two years without doing what they love at sea.  While we couldn't spend as much time together as we'd have liked on this cruise, we did get to catch up, and have some drinks on the last night, taking all the time we could (staying up very late) and enjoying each others' company.  This exact circumstance may be unique, but this struggle is one that many share.  Thanks to that individual (who I won't name here, but they know who they are) for being awesome.  We hope to see you soon.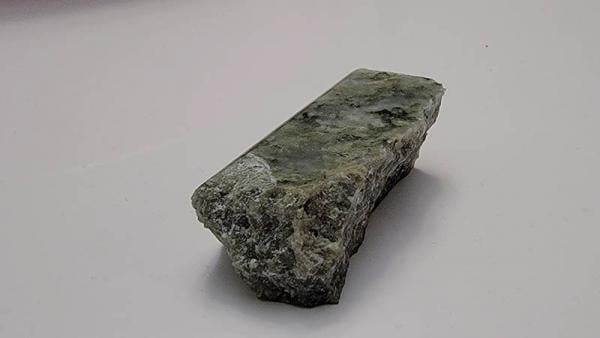 Saying "See You Soon" to Many Friends in the Morning
After a few hours of sleep (a nap came once home, trust me) we packed up and left our suite for the last time on this cruise.  The group all met up at Cafe al Bacio before disembarkation.  Sipping coffee, with our luggage nearby, we talked about the great times we had over the past week, and I'm confident we'll all be cruising again in the not too distant future (CruiseHabit Group Cruise #3 teaser).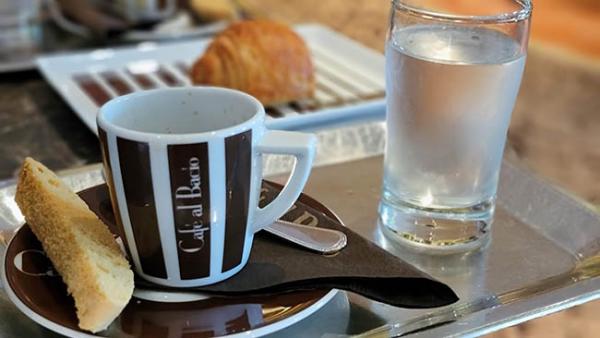 What I'm not confident in is whether or not those who joined us on this trip realize just how much it means to me that they came.  Not only because I had a wonderful time with friends while on a gorgeous cruise ship, but because they all booked, got on planes, took time out of their lives, braved airports and Ubers at the peak of omicron (this one will be fun to look back on) and put their trust in me and in TouringPlans.  Maybe it's because this was the very first group cruise I hosted, maybe it's because of the monumental obstacles there were on the path given the world's circumstances, but I can't help but tear up in appreciation.  A huge thanks to my friends who joined us and everyone who made this happen, and a big thanks as well to everyone reading this.  We all love cruises, but if it wasn't for you, I'd just be some weirdo typing and putting words into the ether.  I hope I get to be that cruise weirdo cruising with you, real soon.