Author: bill January 12, 2022, Updated: January 30, 2022
After catching up on sleep last night, we woke up late but refreshed, to a shoreline we'd not yet seen - Belize.  The day started uncertain, we learned some things about cruising to Belize, and ended up with just what we needed.
Here's the Thing…
As we got ready for lunch (yeah, after some social-media catch up and a shower, breakfast was long gone), I gathered some dirty laundry.  While I often opine that guests shouldn't overvalue loyalty perks, I do like that on Celebrity, we each get a free bag of laundry (among other things).  This allows us to pack less, and come back with less dirty laundry to tackle once home.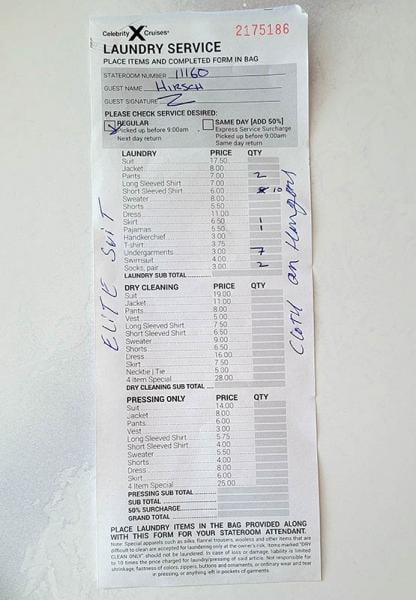 When our Retreat Host came to collect the bag, he asked about our plans.  Remember, those working on ships for a long time (and especially retail staff who are usually able to disembark) are great people to get travel advice from.  I explained that we failed to plan for Belize, but that we might take a tender (watch this short vid if you're not familiar with tendering) into town for a quick stop.  While he didn't discourage us from visiting, he did make sure we understood that it's a 40 minute tender ride each way, and that there's little at the port.  Belize is an under-developed country, which is great for diving and exploring, but also means you shouldn't expect a ton to do without some kind of plan.  We had no plan, and 40 minutes each way seemed like a lot.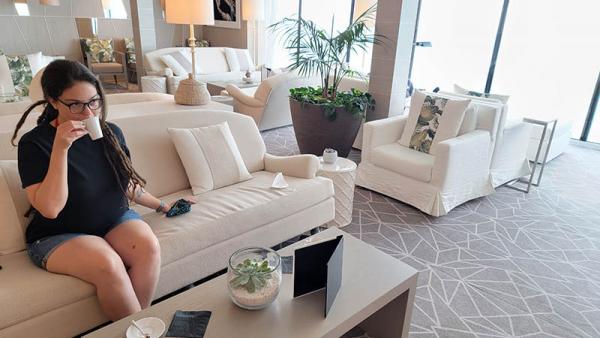 I generally jump at the chance to visit a new place, and Belize City was just that, but after some discussion over coffee in The Retreat Lounge (a lovely living room style space), we opted to stay onboard.  Do as I say and not as I do, and plan ahead.  Ask your travel planner for tips - you are using a good travel agent, right?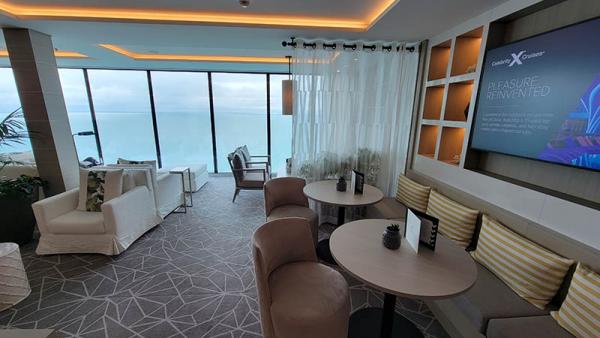 Oceanview Cafe
For lunch, we joined friends from our group and went to Oceanview Cafe, the onboard buffet venue.  I was absolutely blown away by the quality and breadth of options.  It seemed Celebrity brought their A-game to this restaurant today.  By coincidence, until dessert, I ended up having a fully vegan meal.  Garbanzo-stuffed zucchini, vegetables au gratin, and dal were the high-points.  The dal was perhaps the spiciest thing I'd had from a cruise ship buffet - and I was thrilled with it.
The overall theme for today's lunch (though not mine) was Mexican.  I do wish they'd have had some vegetarian Mexican options, but I was still VERY well fed, and wrapped my meal with chocolate and strawberry churros, as well as a coconut macaroon from the nearby gelateria.  
Eden, It Always Comes Back to Eden
I've not been shy about saying that Eden, the multi-purpose venue at the aft of decks 5 and 6, is my favorite room on any ship.  With Apex and Edge now sailing, there are two of them, which couldn't make me happier.  On this cruise, though, I'd not spent as much time there, and I'd not enjoyed the signature drinks.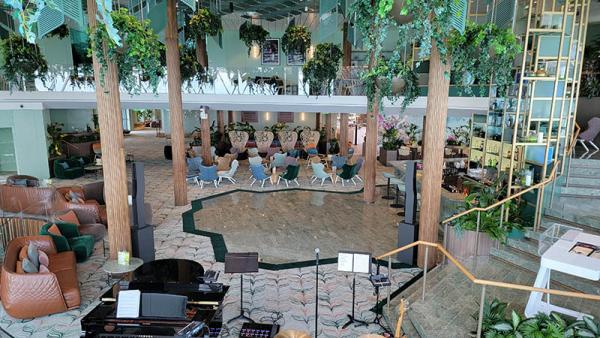 Larissa and I went down there to have a couple of our favorites, Garden and Pea.  Garden is a bourbon drink with herbs in the glass that balances things out as the aroma hits you with every sip.  The interestingly-named Pea is a gin drink that includes aquafaba, a liquid made from fava beans.  Both are good, and while the prices for the signature drinks at Eden are high, each of these are $20), they're creative, delicious, well presented, and worth the cost to at least try once…though I always manage to work through most of the menu.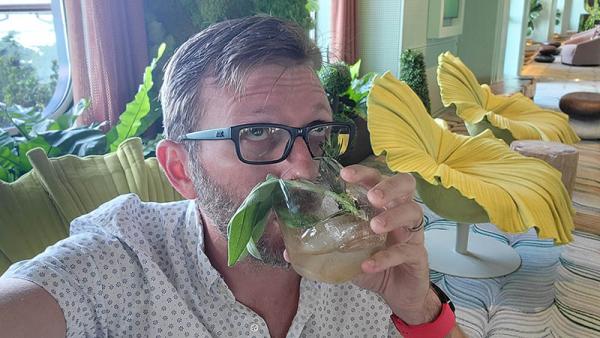 On our way out we strolled through Eden's upper deck, and took a short almost-nap on one of the sofas.  Even when at full capacity, so many people miss the wonderfully relaxing areas in the upstairs part of Eden.  Also, while I knew that the plants in Eden were real, it wasn't until today that I noticed that even the pillar covered in small moss-like plants was also real.  That is some commitment to upkeep.
January 2022 - The Month of Vitamin D
I'm not what most would call a sunbather.  Someone meeting me in person for the first time wouldn't likely have "cruise blogger who lives near a Florida beach" on their short list of guesses.  So far, though, the weather has just been so delightful on this cruise that I've been lounging in the sun a lot.  Laying outside today let us stay warm without getting too hot as we gazed upon Belize off in the distance (again, a 40 minute tender ride).  The turquoise waters surrounding us made for a lovely backdrop.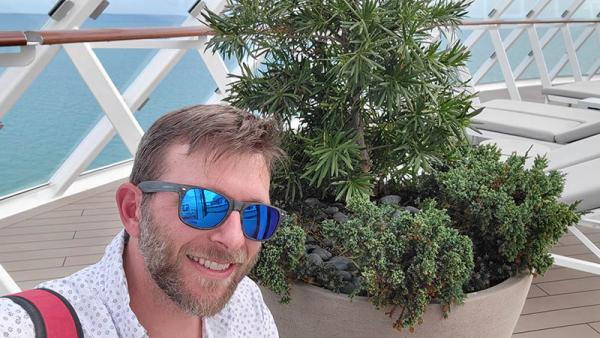 For a short while, we strolled around the Resort Deck, which is Apex's gorgeous pool area - with the longest pool at sea (along with sister ship Celebrity Edge, of course).  We then went back to The Retreat Pool area.  To be honest, I love the Resort Deck, and on this ship the suite area, while lovely, almost seems unnecessary to us.  We keep going back to this area in part for the great views, and because we spend time with friends here.  I say that only because as much as I adore The Retreat experience, it's a nice-to-have, and not essential for us.  The areas accessible to all guests are every bit as lovely as the resort deck.  The few times we've booked suites (on Celebrity and other lines for that matter), we've done so primarily for the extra stateroom space and ammeneties, not for the use of exclusive suite areas.
Snack Time
Relaxing with great drinks and service can be exhausting, so when returning to our suite to shower and prepare for the evening, I stopped at The Retreat Lounge and picked up some cheese, fruit, chips, and other goodies to enjoy out on our verandah.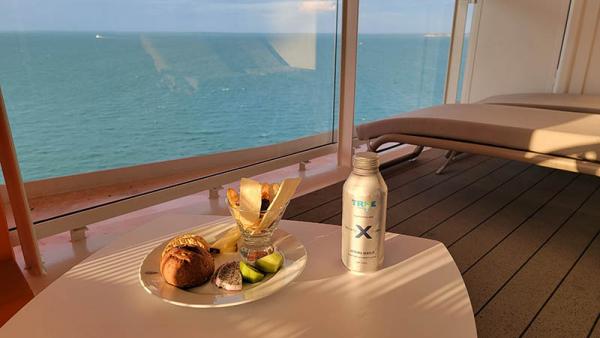 Dinner at Blu
Blu is a restaurant for guests staying in Aqua Class rooms, which are standard rooms with spa benefits as well as access to this small restaurant with an emphasis on light and healthy options - with a promise of still being flavorful.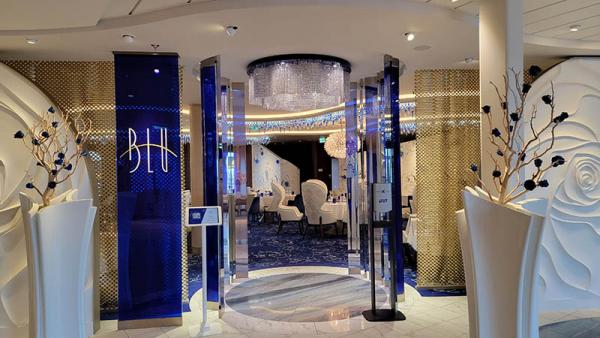 We'd never dined in Blu before, but Larissa asked the hostess if we might be able to get in and she told us that'd be no problem.  When we sat down we found there were three different dips/spreads for the bread - something that Celebrity offers in some other restaurants.  These change daily and are a neat alternative to simple bread and butter.  Today's were salted butter, red beet, and green pea.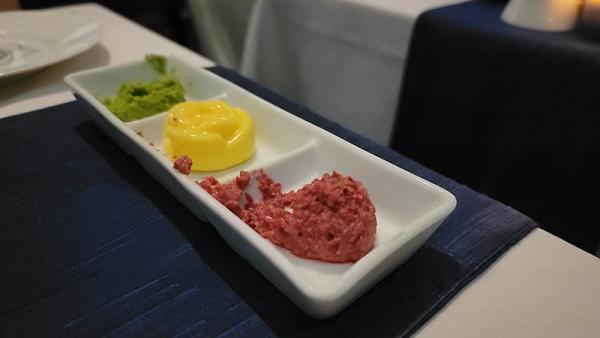 What I didn't do was look at the menu before entering - and while the selection looked nice, the items I was most attracted to all had olives, which I don't love.  No problem, though, as I talked to the waiter and he offered up a number of adjustments.  I ended up with a crab salad appetizer and then a pasta dish that I could explain, but would not accurately represent the freshness of the pesto sauce added to what tasted like fresh-made pasta.  The best part was that at the end of the meal I felt satiated, and not stuffed.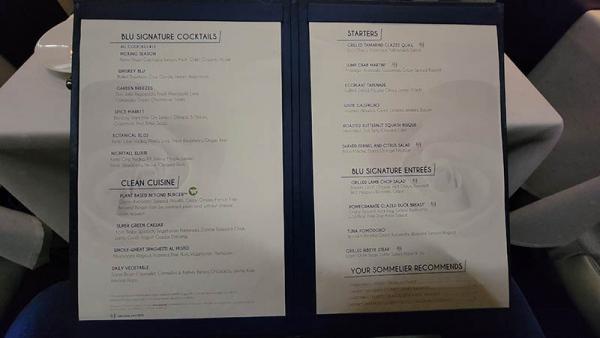 The service was wonderful as well.  In fact, in addition to the staff being pleasant and helpful, our meal was had at a break-neck pace, by our request, so we could get to a show in 30 minutes.  
We've not yet gone to Luminae (the suite restaurant) on this sailing, but this meal in Blu was at least as delicious and great as what I've had in Luminae on previous cruises.  If you're on the fence about Aqua Class, I'd recommend taking the plunge, if only for Blu.  
Caravan
It's not just Eden that has up-close, small-venue shows - this sometimes happens in The Club, the nightclub onboard.  In fact, on Apex, there is a show called Caravan which is performed in The Club, but by the Edenists (Eden performers).  This event absolutely packed the house, and except for a handful of people actively drinking, it seemed that mask compliance was high.  
The show is emceed by a circus ringmaster who introduces acrobats, dancers, singers, and aerialists.  It was an absolute delight to see a show like this back on this ship, especially since we've not caught one of the traditional Eden shows yet on this sailing.  When you combine remarkable performers and a setting that allows them to lock eyes with you, and be just feet away, it's a real treat.  We even saw Carley, one of the original Edenists from Edge!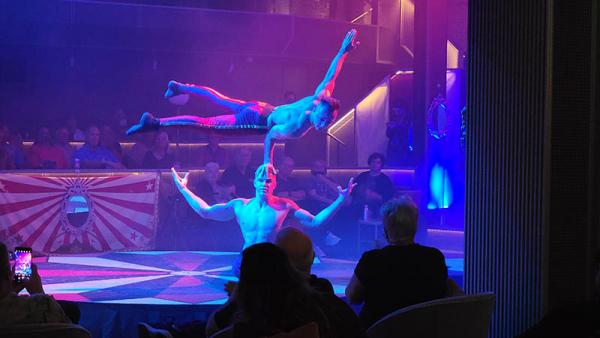 My best advice is to arrive early - this show was very popular and with good reason.  While there are lots of seats in The Club, some of them don't allow you to see at all angles.  Secure a position either in the lower seats on the upper level, or as close as possible to the stage and door on the lower level.
Yaniv Zarif: Music Beyond Language
Back into Eden for the last part of the evening, we enjoyed a different kind of show entirely.  Yaniv Zarif of South Florida and New York, is a vocalist and polyglot, who speaks 32 languages.  I was prepared for a somewhat gimmicky show, showing off his linguistic skills - which would have been impressive.  I only speak 27 one language, and I can't sing at all.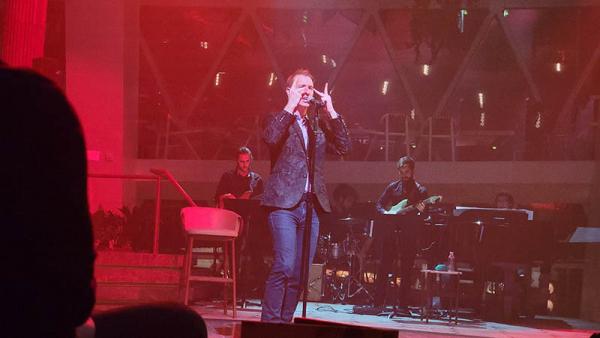 The show he put on, however, demonstrated vocal talents that could stand on their own, in any language.  He sang pop-hits, Broadway show tunes, and he even yodeled.  His performance was made all the nicer by his presentation, which was funny, but not too "schticky."  It also turns out his father owns a falafel restaurant near where we live, so our post-cruise lunch plans are shaping up.
This was also a great venue for this performance.  Intimate but not crowded, and we got to enjoy some cocktails with friends before and after the show.
Tomorrow: Cozumel, Mexico
We're in Cozumel tomorrow, which is among our favorite places to visit.  Frequent cruisers often dismiss it as "been there, done that," yet only focus on the touristy-shops and bars near the port, or the ruins on the mainland, which require a long bus and ferry ride.  There is a lot to offer in Cozumel.  What will we do?  Well, we are trying to minimize interaction outside our group, to the extent possible without compromising a nice time, so we'll probably just take a quick ride into town for a walk, though a day at Paradise Beach can't be ruled out.  It may come down to how early we wake up and what the weather is like.  Will we at least make it for coffee at our favorite spot, Coz Coffee?  Stay tuned to find out.
Stray Observations
Public Restrooms - With our last two cruises being on Virgin Voyages Scarlet Lady, we got a bit used to many of the restrooms (though certainly not all) being gender-neutral.  This isn't something you'll find on most lines, including Celebrity.  What you will find on Celebrity, though, are some of the most nicely decorated public restrooms.

Outdoor Events - Given current concerns, I was eager to see if Celebrity might move more events outdoors, like we saw on some other cruises recently.  I've not noticed this, though there was a dancing-under-the-stars-type party last night at the Rooftop Garden (why haven't we spent time there yet this cruise?).  Unfortunately, we seemed to sail through a short but very wet rain storm just as it was happening, so the event was cut short.  I stopped by just as they were mopping up.



Room Control - Like our Junior Suite on Odyssey of the Seas, our suite on Apex allows you to control the lighting, air conditioning, curtains, and television from the Celebrity app.  This is even in standard rooms/non-suites on Apex and Edge.  It does make our night and morning routines much nicer.