Submitted by

Ric

on Thu, 11/30/2017 - 16:01
It's almost December, so I can take some time off and plan some vacations, and with the hurricanes bearing down on the Caribbean at the end of last summer, I think not many people wanted to book cruises. Whether they were concerned about ports being operational or unsure if there would be more storms late in the season, I'm not sure. But their hesitancy is my gain. With the reduced public interest in cruising and an already quiet time between Thanksgiving and Christmas, I was able to book a balcony cabin on NCL Epic for a crazy low price. Then prices kept coming down, so I invited a friend of mine to join me on NCL Escape to share a balcony cabin. You read this right… I'm taking two cruises in December on NCL, and for your entertainment, and Billy's envy, I'll be live-blogging them here on CruiseHabit.com.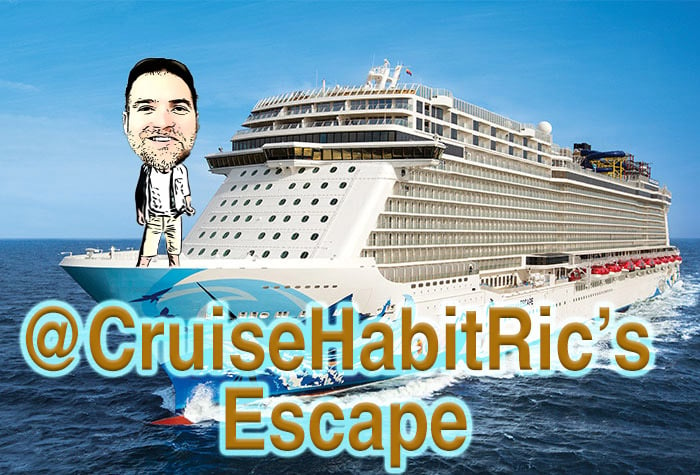 The Deal: NCL's Take 5 Promotion
At the time I booked, Norwegian was running their "Take 5" promotion. The 5 are:
Free 3rd and 4th person.
Free drink package for two.
Free dining package for two (3 nights).
Free $50 shore excursion credit.
Free 250 minutes of internet access.
A 3rd or 4th person in a cabin sounds like a terrible idea to me (unless I'm the 3rd cruising with Billy and Larissa and I don't have to find another friend to cruise with, then it's the best idea ever), so my "Take 5" is really more of a "Take 4," but it's a 4 I'm happy to take. From what I've seen on their site, NCL traditionally offers one of those perks to passengers booking oceanview or above. From a value perspective, taking the drink package makes the most sense for most passengers. NCL's drink package now retails for $89 per night plus 18% service charge ($105).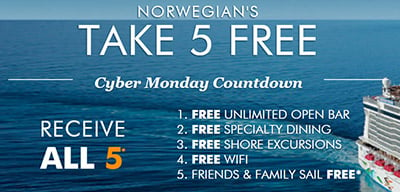 Planning My Escape
NCL's site makes it really easy to book entertainment and dining online as part of their "Freestyle" model of cruising. If you're used to getting an assigned dining time that is fixed for the duration of the cruise, this may be different for you. On NCL, you can reserve dining even in the complimentary dining rooms at a different time each night. To say "you can" is to say "you ought to." If you don't book ahead, you'll be subject to waits. Depending on your desire for a pre-dinner cocktail, this may not be a problem, but if you need to get dinner at a specific time to make it to a show that night, getting a reservation will relieve some stress.
I decided to check out CruiseCritic's message board and located the Roll Call for this sailing. As part of a group informally organized there, I'll be going to a Meet & Greet and a Slot Pull (a group playing a single slot machine using pooled funds). There may or may not be a Bar Crawl and a Cabin Crawl depending on interest and organization. One of my favorite parts of cruising is meeting new people and then seeing those friendly faces again around the ship. I'm hoping that starting off with a Meet & Greet will introduce me to people who would like to read CruiseHabit.com in the future, or at the very least, grab a drink at a lounge.
Cruising Isn't Just About Food - But Escape Has Many Dining Options
One of the things I'm most looking forward to on the Escape is the variety of dining options. Most cruise ships have the main dining room, the buffet, a steakhouse, a French restaurant, and an Italian restaurant, but the Escape goes far beyond that. In addition to three main dining rooms (Savor, Taste, and
The Manhattan Room
), the Garden Cafe buffet, and a pub named O'Sheehan's (after the former CEO) — all complimentary — the specialty restaurants include a Latin American seafood restaurant, Bayamo; a tapas bar, Pinchos; a Brazilian steakhouse, Moderno Churrascaria; a global fusion small-plates bar, Food Republic; Jimmy Buffet's Margaritaville; and a Teppanyaki. So far, my friend and I have reservations for Bayamo and Moderno Churrascaria. The churrascaria has gotten mixed reviews online, so I'm not sure we'll be keeping that one. We also plan to try Food Republic and Pinchos. Those two don't take reservations, so we'll probably show up for lunch on a sea day. We won't be going to the American steakhouse, Cagney's; the French restaurant, Le Bistro, or the Italian restaurant, La Cucina. I want to try things I can't get anywhere else.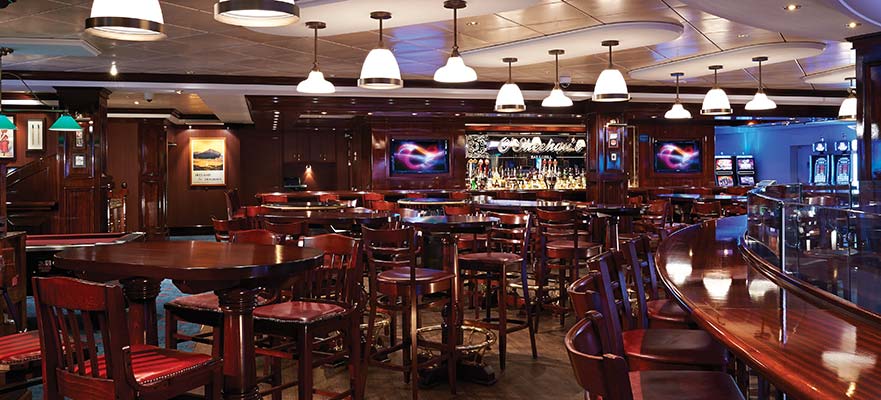 Where We're Headed
The itinerary for this cruise is: sea day; Falmouth, Jamaica; Grand Cayman; Cayman Islands; sea day; Great Stirrup Cay, Bahamas (NCL's private resort); and Nassau, Bahamas. I've been to all these places before, but I'm not sure my friend has, so I might re-tread some old ground on this cruise, or I'll just stay on the ship. With a $50 shore excursion credit, I might be encouraged to meet some stingrays in Grand Cayman or do some snorkeling in Great Stirrup Cay. That credit is per cabin and not per person, so it won't fully cover the cost of two people on an excursion. At the moment, I don't have any excursions booked, but I do plan on talking to the people at the Shore Excursions desk to see how I can make the best use of that credit.

Parties, Activities, Shows, and More!
Another thing I'm really looking forward to on the Escape is the ropes course. I haven't ever done one of these on land, but I've wanted to. The idea of doing one at sea is enticing especially the two planks they have where you are out over the edge of the ship, but still tethered to a safety line. The water slides look like a lot of fun including a pair where you can race against a friend. This is a likely activity for us on our day in Falmouth. Norwegian usually does either a White Party or a Glow Party on their sailings, so my friend and I have all-white outfits and some LED armbands to make the most of a deck party. This ship also has the dueling-piano concept "Howl at the Moon" on some nights. When I lived in Orlando, I went to the Howl at the Moon in Church Street Station a few times. The pianists singing a bawdy parody of "The Facts of Life" theme for my friend's sister's 21st birthday is something I still laugh about. I'm really looking forward to taking in a show or two there.
Escape Live Blog Day 1 - Embarkation Day
Escape Live Blog Day 2 - Sea Day
​Escape Live Blog Day 3 - Our Sea Day in Falmouth, Jamaica
Escape Live Blog Day 4 - George Town, Grand Cayman
Escape Live Blog Day 5 - A Sea Day at The Movies, and a Surprise
Escape Live Blog Day 6 - Sea Day, The Haven, And Amplitude
Escape Live Blog Day 7 - Nassau, Bahamas (as seen from the ship)
Escape Live Blog Day 8 - Disembarkation Day
My cruise on the NCL Escape begins December 2nd. If you have questions about the ship or my plans, please leave them in the comments and I'll be happy to answer or find out what I can while I'm onboard. Be sure to follow @CruiseHabitRic and @CruiseHabit on Twitter. For other articles about the NCL Escape, checkout past Norwegian Escape coverage, including an onboard tour.