Submitted by

Ric

on Thu, 12/07/2017 - 18:58
Our day started off with an announcement from the captain that due to a passenger's worsening illness, we would need to divert to Cozumel, Mexico for emergency medical treatment. This would mean we would not be able to call on Great Stirrup Cay on Day 6 and instead would proceed directly to Nassau for Day 7. While I'm kind of bummed about not being able to explore the resort and do some snorkeling, of course, the life of a passenger takes priority. Fortunately for me, I'll be back in two weeks and I can go snorkeling then.
Unexpected Sea Day = Movie Marathon
Despite heading to Cozumel, we weren't able to disembark there, so we essentially got another sea day. SP and I spent the day in the cabin watching movies. We saw The Space Between Us, Sing!, La La Land, and Lion.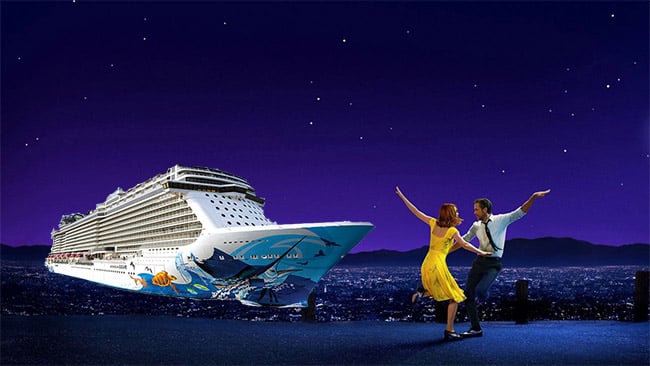 Dinner at Food Republic
For dinner, we had reservations at The Manhattan Room, but we were moving so slow, we missed our reservation time. we checked out Food Republic. I was under the impression that we could use the dining package at this restaurant for an additional charge, but the hostess informed me that Food Republic was a la carte for all passengers. I can see why this would be. Rather than offering standard courses on a printed menu, each table has an iPad for ordering small plates divided into categories. Navigating around the ordering app was pretty simple.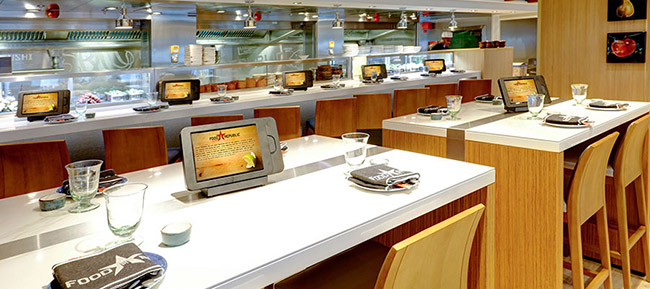 The eel roll and crispy salmon roll were standard sushi — both good versions. The broiled bay scallops were odd. They were presented in the same kind of dish escargot is served in. The scallops were at the bottom with some kind of green grainy topping. It was a little oily and there was way too much of the topping. The Maine lobster roll was a new dish for me. I've seen pictures of them with larger pieces of lobster rather than a lobster salad, but that wasn't disappointing for me. The beef anticuchos were three skewers of beef cubes with a strong spice. I liked them but SP thought the spice was too much. The bulgogi tacos were among the better dishes to come out. I'm not sure the kim chi would be for everyone, but I'm a fan of Korean food. My second favorite dish was the duck and pumpkin ravioli. The ravioli were just the right size served with toasted almonds and a pumpkin puree sauce. I loved it. SP hated it. We agreed our favorite dish of the night was the tuna carpaccio pizza. Thin slices of raw tuna were served on a very thin pizza crust with the lightest layer of a cream sauce to hold the tuna onto the crust. Not a complicated dish, but so very good.
Food Republic offers a few desserts. Something with strawberries, something coconut, a green tea pudding, and a variety of mochi, but SP and I have been so pleased with the selection at the Garden Cafe that we decided to go upstairs and have dessert in the buffet.
Entertainment & Dancing
We had reservations for The Brat Pack in the Escape Theater, but missed the show because of our rearranged dinner. We might go see it tonight. Instead, after a little bit of sleep, a "disco nap," I decided to go check out the 80's Party at Spice H2O. I walked into the middle of a Michael Jackson megamix. For Thriller, the activities crew took the stage and danced the famous Thriller dance. Then a guy dressed in Prince's signature Purple Rain suit with ruffles came out to lead a mix of Prince songs. Then the DJ transitioned into Whitney Houston's "I Wanna Dance with Somebody." I realized at this point that all three of the artists were dead and if the DJ played George Michael next, I'd probably start crying and head back to my room. Instead, he pulled up one-hit wonder Rick Astley. A Rob Bass track came after Run DMC and then I decided to check out the other venues. The Skyline bar was the only other venue open. The DJ there was playing latino hits. I didn't know any of the songs, but I liked the music and seeing people dance.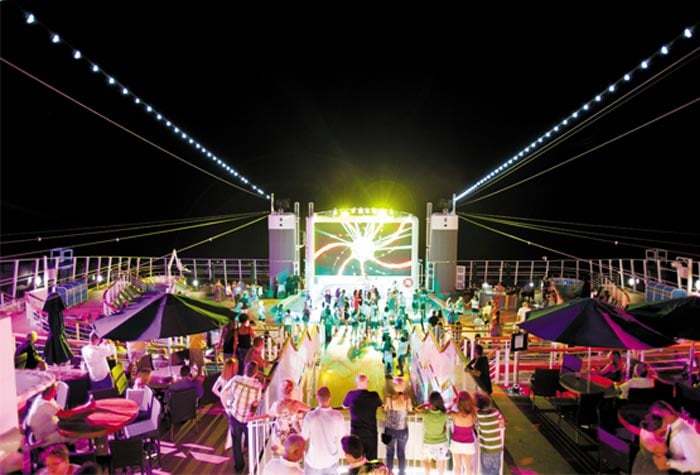 Tomorrow's Plans While at Sea
Tomorrow is a sea day due to our course change to Cozumel. SP and I have reservations at the Teppanyaki for dinner. I've been to a hibachi restaurant before, so the idea didn't appeal to me much, but he said it's what he wanted to do. We may see The Brat Pack depending on how full we are after Teppanyaki. I thought the Glow Party was going to be on Day 5, but now it's on Day 6. We'll definitely be checking that out. Check back with the blog to see how it goes.
Escape Live Blog Day 1 - Embarkation Day
Escape Live Blog Day 2 - Sea Day
​Escape Live Blog Day 3 - Our Sea Day in Falmouth, Jamaica
Escape Live Blog Day 4 - George Town, Grand Cayman
Escape Live Blog Day 5 - A Sea Day at The Movies, and a Surprise
Escape Live Blog Day 6 - Sea Day, The Haven, And Amplitude
Escape Live Blog Day 7 - Nassau, Bahamas (as seen from the ship)
Escape Live Blog Day 8 - Disembarkation Day