Author: Ric December 6, 2017, Updated: November 30, 2019
Breakfast in the Main Dining Room
SP and I had not yet had breakfast in the main dining room, so we decided to start our day in Taste (one of the three main dining rooms on Escape) with a sit-down breakfast rather than the buffet. I had a mixture of melons served with cottage cheese, followed by salmon eggs Benedict with hash browns. I also ordered hot chocolate which came served to me in a teapot. SP had oatmeal with cinnamon and brown sugar, huevos rancheros, and a Belgian waffle. The service was great and we were pleased with every dish that came out.
Tendering to Grand Cayman With a Mission
We made our way back up to the room to get ready for the tender to George Town, Grand Cayman. Somehow while I was packing my medications, I didn't realize my Flonase was practically empty, so I had a new mission in Grand Cayman — buy some Flonase or its local equivalent. Our timing for the tender was near perfect. Three people got on after us, and then we departed. I noticed that the port has a construction project going on, but there were no details about what they intend to construct here. I also notice that the port we docked at was not the same part of the port I've been to with Royal Caribbean. It was essentially the same, I just realized I had to make a note of what was across the street so I would go back to the right boat and not inadvertently find myself aboard Freedom of the Seas.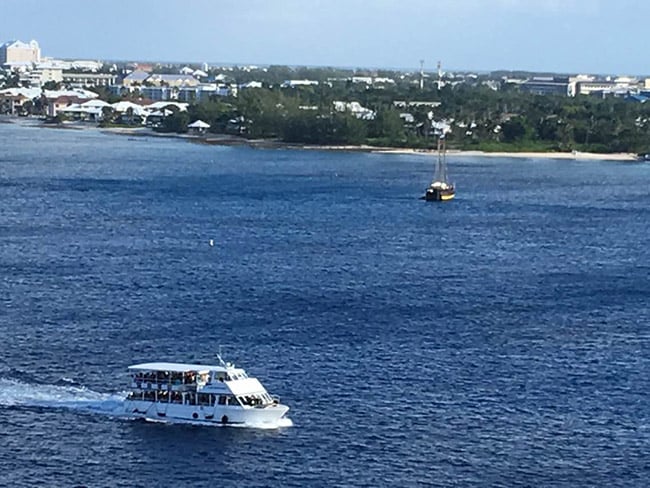 Joining us in port today were Royal Caribbean's Freedom of the Seas, Disney Cruise Line's Fantasy, and MSC's Divina. While three of us were using the port's tenders, MSC's Divina was using its own compliment of lifeboats as tenders.
Tenders?  Brush up on your nautical terms and speak like a seasoned sailor by clicking here.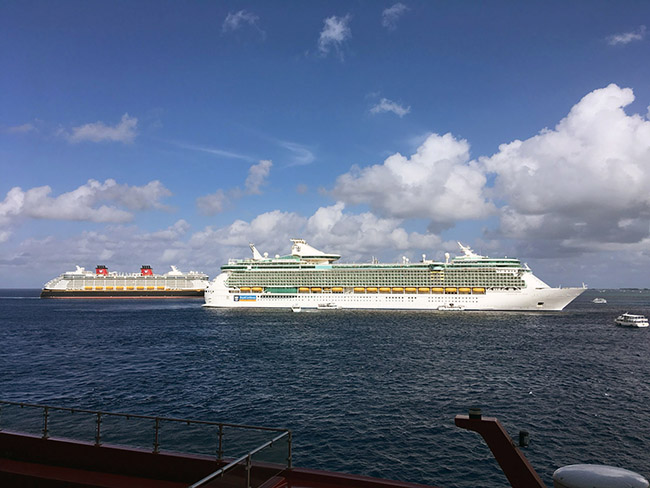 George Town, Grand Cayman – Shopping, Art, and Drugs, err, Medication
Although we came ashore at a different part of the port, the duty-free liquor store I wanted to go into had a second location. They were still offering liters of Absolut for $15 with a "buy 2 get 1 free" promotion, so I was able to get 3 liters for $30 tax free. Now that I've made that purchase, I don't know if I'll repeat it when I'm back in George Town in two weeks.
The second thing I wanted to see was the mural that recounts the first 500 years of Cayman Islands history (you can see this in the gallery at the bottom of this post). Although I didn't know exactly where it was, it didn't take long to find it. I've written about my fondness for this mural in a previous blog post from my trip on the Celebrity Reflection.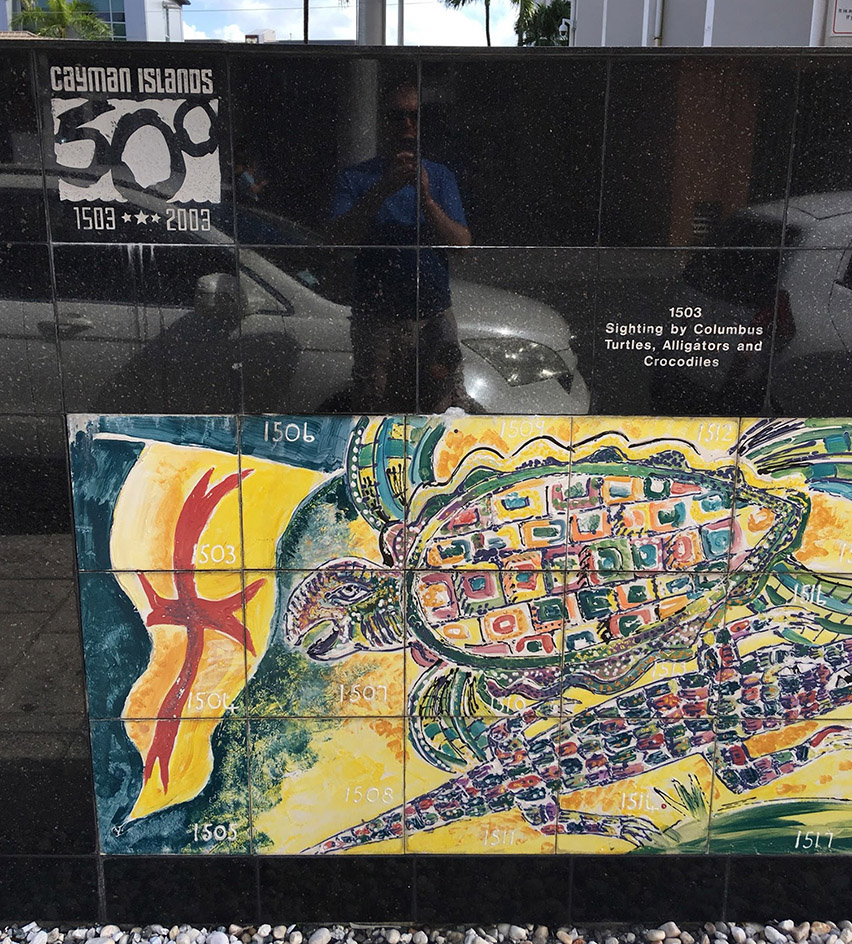 Once we got to the far side of the mural, I spotted the other thing I wanted on this trip — a pharmacy. When we went in, it turned out this was really more of a drug store with lots of over-the-counter products a tourist might need, but no prescription department. They had a couple of nasal sprays, a saline and a decongestant, but not Flonase. When I asked about it, the cashier told me that Flonase was prescription only in Grand Cayman. However, she went on to tell me that Grand Cayman wasn't like Mexico and I needed a prescription if I wanted to buy medication. I asked where I could find a pharmacy with a prescription department and she told me, adding that I would need a prescription from a local physician.
While SP shopped for fragrances for himself and family, I asked one of the women working there how to get to the pharmacy the woman at the drug store had told me about. Based not he directions I got, it would not be hard to get there — just follow the main waterfront street — but it wouldn't be quick — for about ten minutes walking. I stopped a couple of times along the way to ask some models advertising Tag Heuer watches and a security guard at building if I was going the right way and they all told me not only was I on the right track, but that this was a fantastic supermarket. When I got there, I understood what they were talking about.
Kirk Market – The [Pricey] Promised Land of Grand Cayman
After that ten-minute walk, we arrived at Kirk Market. I think this is best described as a Cayman Whole Foods crossed with Publix. Along with the regular supermarket items, Kirk Market had an extensive salad bar, a well-stocked and clearly upscale produce department, a butcher, a seafood section, a bakery, and a pharmacy. They had mostly the same brands as the United States, but the store brand there was Tesco. A gallon of milk was CI$ 7 (US$ 8.75) and tuna steaks were CI$ 23 (US$ 28.75) per pound.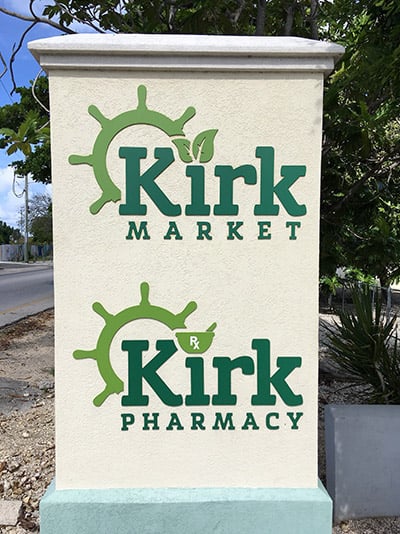 As I was walking around the medication aisle, a woman in a white lab coat walked down with a prescription bag in hand. I asked her if she was the pharmacist and she confirmed. When I asked if Flonase was prescription only, she told me that I could get a small bottle from behind the pharmacy counter without a prescription. My sinuses breathed a sigh of relief. For CI$ 13 (US$ 16.25) I was able to get a 60 spray bottle of Pirinase (the local brand of the same medication as Flonase).
SP and I wandered the aisles a little more and found that all the trendy products in the US were also trends in Grand Cayman. Most notably, we saw Halo Top ice cream, all sorts of Greek yogurts, and La Croix sparkling water. What caught my attention was a flavor of La Croix I hadn't seen in the US — NiCola. We decided to pick up a couple of cans for our walk back to the ship. The flavor was marginally like Coca-Cola Classic, but maybe a cinnamon flavor turned up and a citrus flavor turned down or completely absent. The cashier said it was one of her favorites and I can see why. I'd be satisfied drinking La Croix NiCola and appreciate not getting the calories of a regular soda.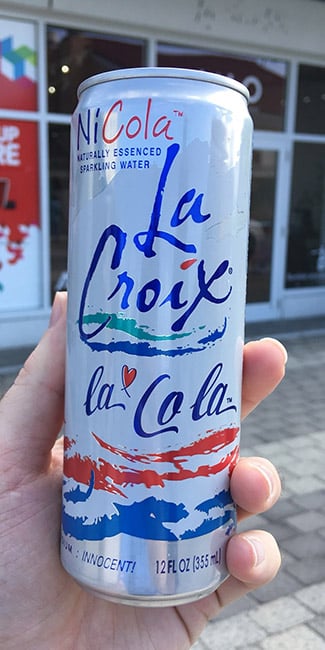 Back On Escape
Water Slide Time
Once we were back on the ship, SP and I took advantage of the low crowds to try out the water slides. We first tried the innertube water coaster. SP was a little nervous, so of course, I made him go first. I was happy to see the same activities crew member who corrected me on putting my harness on for the ropes course was today working at the innertube slide. I assured him I would get this one right on the first try. We went on a few trips on the water coaster and then gave the side-by-side racing drop slides a shot. The activities crew member gave us directions to keep our feet together and our arms folded across our chest until we got to the bottom, then he put us in a capsule and started the slide. After a recording of "Hallelujah," the bottom dropped out and I was racing down and then back up in a tube of water with most of it going up my nose. Glad I did it. No need to do it again. We did a final trip on the water coaster and called it a day as far as the slides were concerned.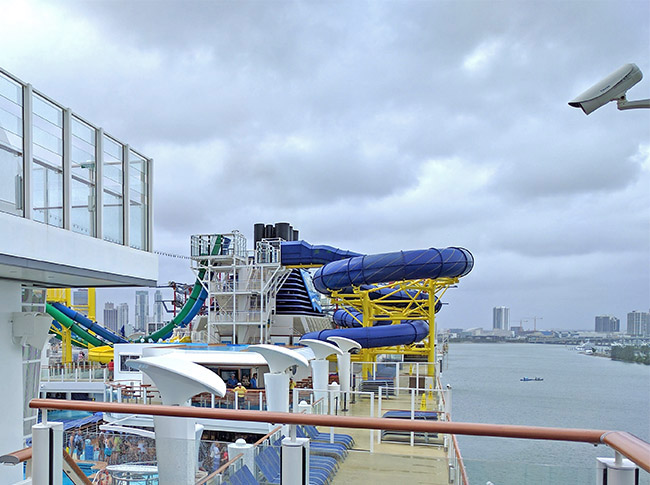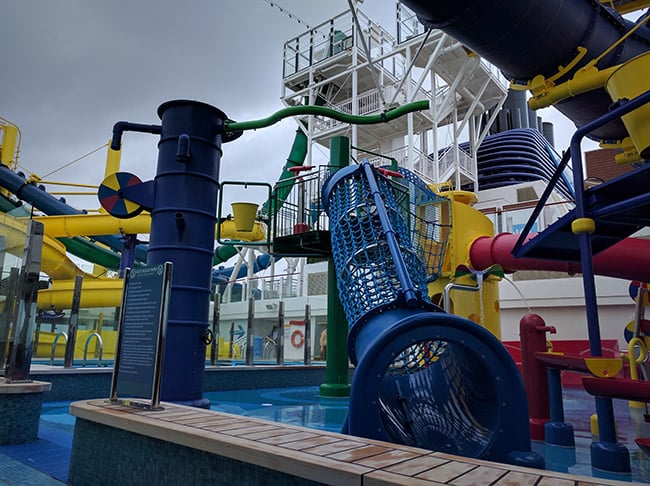 Dinner at Bayamo
Dinner tonight was one I was truly looking forward to. We selected Bayamo and after confirming that SP could find something on the menu he liked, we asked that our reservation be moved up. No problem. The hostess notified me that I had a total of four specialty dining reservations, but a three-dinner plan. She presented the option of dining a la carte or using our plan. Not having done the math ahead of time, but having plenty of onboard credit left in the account, I opted for a la carte.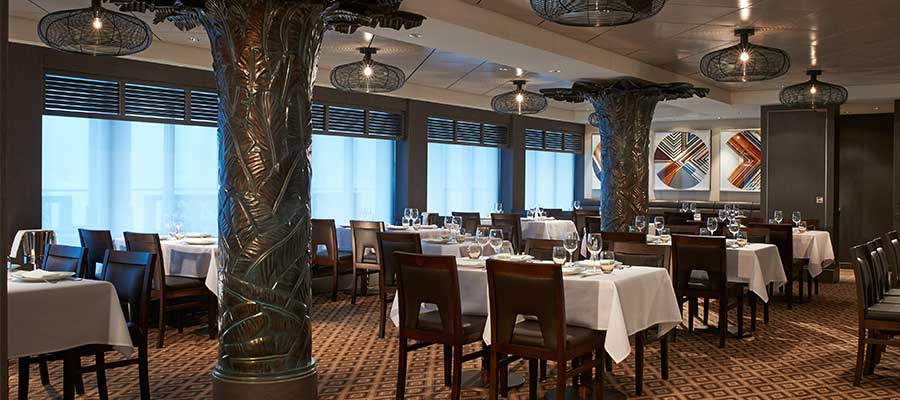 I started with a Matador cocktail of Bulleit bourbon, ginger, and elderflower while the waiter brought over an amuse bouche of a breaded cheese ball with a touch of cream and caviar. The bread was served with a pimento cheese butter. When SP ordered the cheese empanada, our waiter let us know that dish can take 15 to 20 minutes to prepare, so he brought us a second round of bread and butter. For appetizers, SP had the cheese empanada while I had the crab and lobster salad (salpicon de mariscos). For our main course, SP had the lobster with stuffed pepper, white rice, and black beans (enchilado de langosta) and I had the scallops and oxtail in corn porridge with plantains (vieiras con rabo encendido). Both were fantastic. Everything in the scallop and oxtail dish was balanced. I thought if the oxtail was in the same dish as the scallops, it would overpower the scallops. It didn't at all. Even with the spices of the oxtail, I could go back to the scallops and still get the flavor and texture.
For dessert, SP had a hazelnut and coffee creme spread between thin layers of chocolate (milhojas de café y chocolate). He said milhojas means puff pastry and that's not what came out. He was surprised, but still enjoyed it. He declared my dessert the winner of the day, and I have to say he was right. The citrus custard tart with ginger ice cream and tres leches cake (tarta de cítricos) was outstanding. Every part would have been great on its own, but together it was amazing. The ginger ice cream was a standout for being subtly flavorful. I could have easily gone for a whole bowl of the ginger ice cream, and if that's what you want, they offer it.
Tomorrow We Party Like It's 7:59
So far, SP and I have been having such a good time during the day and eating so much at night, that we're tired and full by the time evening rolls around. However, tomorrow, I'm setting an alarm and we will be going to the Glow Party. Also, last night, the ship's Hotel Director invited me and SP to dine at The Haven Restaurant for suite guests compliments of the ship. I'm not sure which evening I'll be able to work that in, but I will be including that in an upcoming blog. Stay tuned.Escape Live Blog
Escape Live Blog Day 1 - Embarkation Day
Escape Live Blog Day 2 - Sea Day
​Escape Live Blog Day 3 - Our Sea Day in Falmouth, Jamaica
Escape Live Blog Day 4 - George Town, Grand Cayman
Escape Live Blog Day 5 - A Sea Day at The Movies, and a Surprise 
Escape Live Blog Day 6 - Sea Day, The Haven, And Amplitude 
Escape Live Blog Day 7 - Nassau, Bahamas (as seen from the ship)
Escape Live Blog Day 8 - Disembarkation Day