Submitted by

Ric

on Mon, 12/04/2017 - 12:36
Day two started out like most, with breakfast but after that we packed a lot in. Read about our meals, the entertainment, and more on the Norwegian Escape, and reach out in the comments if you have any questions. Now, off to breakfast...
Herbie Hancock Breakfast
My first full day started by checking out the Garden Cafe buffet for breakfast. All the usuals were there: scrambled eggs, sausage made from pork or turkey, boiled eggs, French toast, pancakes, and waffles along with an English traditional breakfast section with beans, bangers, and broiled tomatoes. The two best things I had were the eggs Benedict with spinach and the salmon mousse, which I spread on some hash brown rounds. Watermelon is a usual part of my morning breakfast that I have to forgo or at least step down from when I'm on vacation. Not here. The watermelon was sliced in large pieces and was somehow in season. I hope this continues through the cruise.
Yay Sports!
After breakfast, SP and I walked around the ship. When he asked what the ropes course was, I explained it and told him that we would go tomorrow, and he would go first. We'll see if that pans out. We did get in a round of mini-golf and SP was a natural. He got a hole-in-one on his first putt. This set some unreasonably high expectations of his mini-golfing abilities, and it all went downhill from there.
Meet & Drink Greet
I wanted to get a morning nap in. I still feel like I'm recovering sleep I lost last week. After the nap, SP and I went to the CruiseCritic Meet & Greet in the District Brew House (read about Billy's visit to this venue). Admittedly, we arrived about 15 minutes before it began. However, I didn't think that they should be out of name tags by 15 minutes in. We didn't get name tags and I think because of that, people didn't think we were part of the group. I'll still go to the CruiseCritic Meet & Greet on my upcoming NCL Epic cruise, but I have to say, this oversight was a low-light in what has been an otherwise outstanding cruise.
Some of the group, including SP and I, put $15 each into a pool that we gambled on the Super Monopoly Money slot machine. For that $15, we got 3 spins each. There were 48 of us participating for a starting pool of $720. I can't say I contributed much to the win. None of my spins were winners and SP only won $1. At the end, our pool was just under $620. We all got $12 back from our $15 and the 3 highest spins got bottles of sparkling white wine compliments of NCL.
Booking Shows & Dining On-board
I was ready to nap again knowing we still had dinner, which I had not yet planned, and a show at 7:30pm. When I was checking out the Freestyle Daily, I saw a vocal jazz group, The Flyboys, advertised as performing in the Supper Club. This dinner and a show was complimentary, so I decided to give it a shot. I can't say enough about how easy it was to reserve through the interactive tv in our room. I just selected Entertainment, selected the show, checked both of our names, and clicked Reserve. Done.
NCL's Been Working On Upping It's Tech Game With Technology Partners & Progressive Internet Packages
I've been pretty impressed with the interactive tv and the iConcierge app. It's really easy to find out what's going on that day and if it needs reservations, reserve it through the app. I also really like that I can view at least some of the activities that are coming up in the next few days. For example, I knew there would be a Glow Party at some point on this cruise, and because of the iConcierge app, I now know that the party will be Wednesday at 11pm.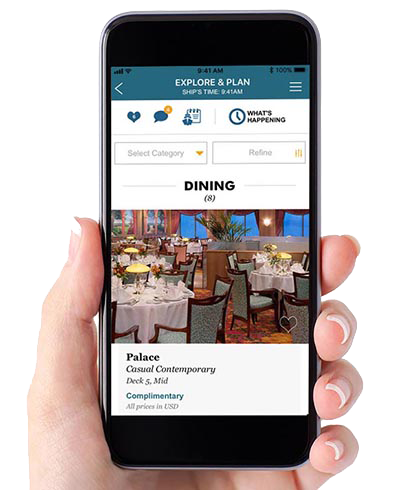 I could imagine some improvements however. There's no way to see what you've already booked. I'd love to see a feature of my personal calendar that shows my reservations along with any other activities I've indicated I'd like to see. Because the system doesn't know what I've already reserved, there's no way to change a reservation. Tonight, we're going to Moderno Churrascaria, which I booked before embarkation, but I wanted an earlier time. I was able to reserve an earlier time, but I have no idea if I'm down for two reservations now. I would also like to see menus of the restaurants, both the fixed menus of the specialty restaurants and the rotating menus of the main dining rooms. This could help me plan which nights I want to make sure I eat in one of the main dining rooms and which nights I could take a pass and would rather book specialty dining. The app does have a phone call and chat function, but it's $10 for the duration of the cruise. I would expect that once Royal Caribbean rolls out their next-generation app, we'll see some market pressure for NCL to improve their app and make at least the text messaging function complimentary.
Dinner and a Show – Or Two
The Flyboys at the Supper Club
Once 6pm rolled around, and after a second nap, it was time to head to the Supper Club for a show by The Flyboys. These guys were fantastic. Three are from the UK and one is from Australia. They all have backgrounds in musical theatre with some level of professional musical education and experience on-stage in London's West End. Their songs tended to be mashups of a contemporary song and a jazz standard in a vintage mood. An exception to this pattern was a mashup of "Crazy" by Gnarls Barkley and "Crazy in Love" by Beyonce. Well sung and watching these guys do some of Beyonce's signature moves was pretty funny. They have a CD for sale, which I might swing by and pick up on a later night of the cruise.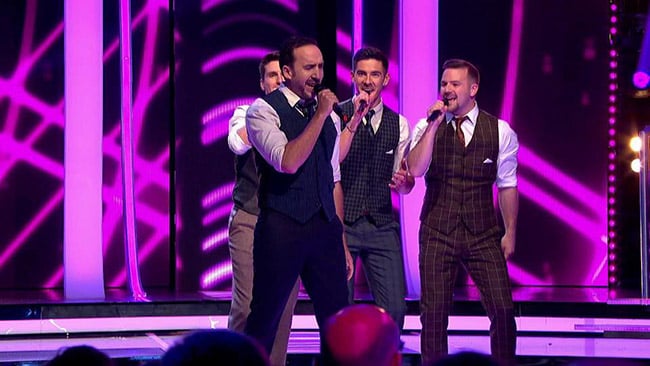 The food at the Supper Club was ok. It's a fixed menu of a 3-part appetizer (grape tomatoes and a mozzarella ball, some crab salad, and a strip of beef with chimmichurri and peppers. The entree was some shrimp plus an airline chicken breast with a cherry sauce on it served with a pair of polenta cakes. Dessert was a mini-pavlova with mixed fruit and a dense chocolate cake topped with toasted marshmallows. In the appetizer, the beef strip was the best. I really liked all parts of that. I kind of wish a larger serving of that could be the enrtree. The shrimp were ok, however I question leaving the tails on when it's so dark in the room we can't really see what's in front of us. I strongly preferred the pavlova to the chocolate cake. I probably would have been ok with the chocolate cake, but I already had a flourless chocolate cake at the buffet that was better. This one was just ok.
The dinner was good, but as I cut into my chicken and the knife hit the plate, I was reminded of an early scene in the movie "Soapdish" where Kevin Kline's washed-up soap-opera-actor character and working dinner theatre. He's trying to do "Death of a Salesman" while a room full of seniors are clanging silverware against china and one man starts to choke and hack and cough. I felt a little bad for The Flyboys, but then one of them incorporated a joke about the food being served mid-song and I felt better about things.
After Midnight in the Escape Theatre
At 7:30pm, SP and I made our way to the Escape Theatre for "After Midnight" a revue of 1920's Harlem style from The Cotton Club, I cannot overstate how awesome this show was. Great singers, people who were both great singers and great dancers, a variety of music from love songs to comedy. Some of the highlights include "Don't Advertise Your Man" sung by a brassy alto specializing in the kinds of songs where the singer refers to herself as Mama. A soprano sang a wordless song that conveyed so much emotion from just two or three different syllables. Then she and the trombone had a romantic call-and-response that was vocally gorgeous. Five guys in matching tuxedos came out and did a synchronized dance with arms stiff at their sides and intense eye contact with the audience. All the motion was bending at the waist or kicking their legs. When they did break out into full-body motion, it was an event. The lead tenor did "I've Got the World on a String" dancing with a red balloon on a ribbon. Then he was joined by 3 couples all with matching balloons. It would be easy for the balloon choreography to fall into the gimmicky, but it didn't. It was a genuine expression of the song. I could go on and on about this show. I don't know if NCL does "After Midnight" on any other ships, but they totally should. It's an opportunity to showcase voices and moves from a lot of talented performers. This show is a winner and a unique collection of songs and costumes from a transformative period in American music.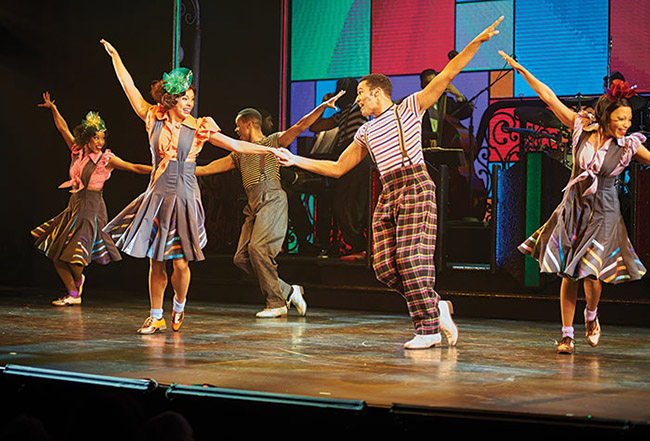 Norwegian's Cheesecake 'Escapes' Gelatin – and it's Awesome
After the show, SP and I went up to the buffet for a dessert nightcap. We both got a small piece of cheesecake. On most, if not all, cruises I've been on, desserts like this one would have been set with gelatin. It lets the bakery finish the dish in the refrigerator rather than the oven and gives the bakers more room for error even if the finished product isn't as good. Not this time. This was a genuinely baked New York-style cheesecake, and a good one. The crust was crunchy with just the right amount of spice and the texture of the cheesecake itself was perfect. This small plate was one of the things that makes me rank this cruise as the best as far as buffet food goes. I don't at all feel like the buffet is an afterthought or a place to go if nothing else is open. There is good food here.
Do dietary restrictions make your ears perk up? We've got tips for sailing as a vegetarian or passenger with other dietary needs.
Tomorrow, the ship docks in Falmouth, Jamaica, but SP and I are staying onboard to explore the ship while it's less crowded. Maybe I'll be able to get him on the ropes course or onto the water slides. I'll let you know how it goes.
Escape Live Blog Day 1 - Embarkation Day
Escape Live Blog Day 2 - Sea Day
​Escape Live Blog Day 3 - Our Sea Day in Falmouth, Jamaica
Escape Live Blog Day 4 - George Town, Grand Cayman
Escape Live Blog Day 5 - A Sea Day at The Movies, and a Surprise
Escape Live Blog Day 6 - Sea Day, The Haven, And Amplitude
Escape Live Blog Day 7 - Nassau, Bahamas (as seen from the ship)
Escape Live Blog Day 8 - Disembarkation Day