Author: Bill October 29, 2016, Updated: October 29, 2016
Today I was lucky enough to be Norwegian's guest on the Norwegian Escape.  This visit had many great points I want to touch on, but we'll start with the venue that stuck out more than any other: The District Brew House, the Escape's own onboard brewery and tap-house featuring around 75 beers and offering a great atmosphere.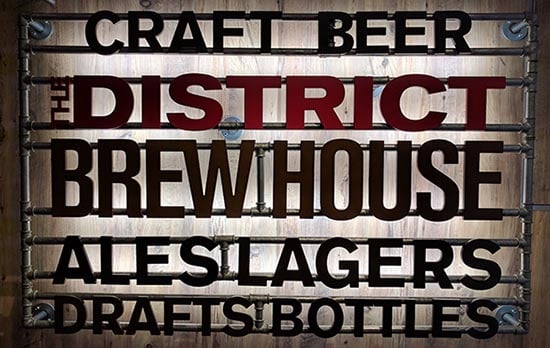 The District is billed as the first "craft beer hall" at sea, and goes far beyond just providing the largest selection of beer I've seen at sea, but delivers it all in a venue that has a fantastic feel.  Situated on deck 8, port side, just forward of mid ship, you'll find various color woods as well as soft but modern leather furniture.  You'll also find great natural light in this space that I'd describe as a cross between a classic tap-house and a swanky lounge, as much of the seating area has a glass roof above as well as great views of the sea, with large windows wrapping around the structure of the ship.  The walls are covered in road signs and other Americana, but not overdone - you certainly won't feel like you're at a neighborhood Chili's in this bar.  You'll also find a photo booth, which seemed to me, a bit out of place, but did make for a great display of tipsy memories on the wall as you walk in.  
While I loved the feel of this space, it is important of course to touch on the beer.  With a visible keg room, they've got over 50 different bottled beers and 24 on tap.  You will find some of the mass-market staples, but you'll also find beers from South Florida's Funky Buddha Brewery (one of my personal favorites), Wynwood Brewing Company, and many more - many, though certainly not all, local to South Florida.  The District is also a full service bar, with craft cocktails dreamt up by Bar Lab, a company dedicated to concocting unique cocktails specially tailored to certain bars.  Oh, and it's a bar - on a ship - so of course there's a menu of gastropub-style small plates to keep you fueled.
Below checkout pictures of my visit, including their beer menu, and click here to see my walk through I did live on Periscope including a brief chat with one of The District's great bartenders, Brenton! 
Have you been longing for a craft beer spot on a cruise ship?  Is this a difference maker for you when choosing your next cruise?  Let us know in the comments below!