Submitted by

Ric

on Sun, 12/03/2017 - 14:18
The Preparation
With such a busy week, I hadn't packed a thing yet. I had set aside some items in a Rubbermaid tote that I knew I wanted to take with me, then last night, I went to see Lady Gaga in concert at the Amelie Arena. Pretty fantastic show. Once I was back home, I started packing. Once I was done packing at around 12:45am, I went to print out my documents for the cruise. Surprisingly, because it was now December 2nd, the day of the cruise, my documents were no longer available to print. I knew this wouldn't cause much of a problem at the port, but I would have liked to have something in hand just in case. I got about four hours of sleep before waking up to drive down to Miami.
Arrival
Arriving at the port was pretty easy. I got a parking spot really close to the elevator, so that will be delightful once I'm back. Parking at the Port of Miami has now gone up to $22 per day effective December 1st — still worth it to me to park so close to the ship. Somehow, I had to foresight to save the luggage tag PDF, so I did have tags on my bags, but I suspect this would not be a problem either as long as I knew my stateroom. The first strange thing about checking in was that on a ship so large, they use two terminals to check in passengers. I first went to Terminal C, but was told I had to walk down to Terminal B to check in. Not a hassle, just an oddity.
Because I did not have any paperwork on me, I was directed to check in with a security desk who looked me up on a passenger manifest, confirmed I was booked, and gave me a Public Health Questionnaire. I checked in using my passport card rather than the full book, and I was given a form to sign affirming that I understood that if I needed to get back into the US, depending on how I arrived, a passport card might not be sufficient. No problem for me, when I travel, I carry both, but it's easier to present the card. When SP (the friend I'm traveling with) and I were checking in, he recognized the desk agent right next to ours as the person who checked him in on the one and only other cruise he's been on. She remembered him too.
Do you need a passport to cruise? We explain.
Aboard the Norwegian Escape
We got onboard the ship and went to O'Sheehans. I'm not sure this was the best choice, but it was a pretty quick way to get a drink. We also ordered the spinach and artichoke dip.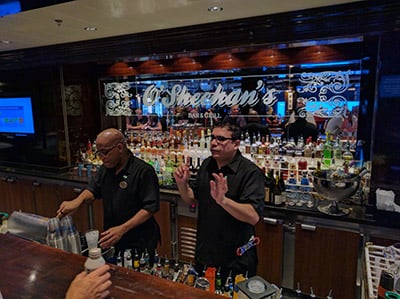 SP and I headed up to the pool bar to check out the ship a little more. We had some frozen drinks and chatted with a mother-daughter pair from West Palm Beach. Then we went to the Garden Cafe for a larger lunch. I'm glad I grabbed a piece of cake when I did. Like clockwork, and in record time, the buffet went from fully stocked to broken down and cleaned for the next service. But this meant no seconds. The rooms were now ready, so SP and I went upstairs to check out our cabin.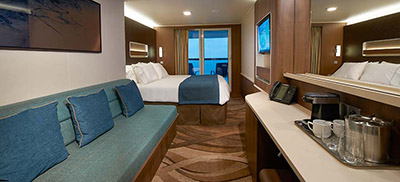 The balcony cabin's layout is pretty standard. That said, all the furnishings feel expensive. The bedside lamps feature USB ports for charging a device on the nightstand. The vanity area has 3 US plugs and 1 European. SP was concerned about pillows based on his previous cruise, but he thinks he'll like these. The NCL Escape is just about 2 years old and still feels very new. Because I'm a Latitudes member (NCL's loyalty club) a bottle of sparkling white wine was placed in the stateroom. Because SP checked in online with an Italian passport, we had an Italian language Freestyle Daily (NCL's daily list of activities and operating hours) placed in the room. However this meant there was no English language one provided. I'm sure we can get this straightened out with our cabin attendant.
The Muster Drill Means the Cruise Has Started
Want to learn more about what muster drill? It's the least exciting but most important part of your cruise. Check it out!
Muster drill was 3:30pm and our station was the standing room at the back of the theater. While we didn't have a seat, we were closest to the exit, so when muster was over, we were able to get right out. We wandered around a bit and wound up at Tobacco Road. This is a whiskey bar, so there's no Island Oasis machine for frozen drinks. SP and I kept looking and found what we wanted at the 5 O'Clock Somewhere bar. We met a solo traveler from Denmark who, like SP, was using an electronic cigarette. We were told that they could only smoke in the Humidor cigar room next to the bar, so we went in there. Although there is some kind of filtration unit in the corner, it's not enough. For a non-smoker, this was not a comfortable space and I got out of there as soon as I could. We invited the solo Dane to the CruiseCritic Meet & Greet we're going to tomorrow. I hope to see her again.
At this point, I was exhausted, so we went back up to the cabin and enjoyed the view of the open water from our balcony. Then I got in bed and that's where my Day 1 ended. However, SP went out for dinner and drinks, met some people and had a good time on his own. I promise not to be so lame on the rest of the cruise.
Tomorrow
Day 2 is a sea day, and I'm looking forward to getting a little more settled in, getting my clothing organized, and doing a walking tour of the ship. Depending on the wait, I might do the ropes course, or I'll save that for our first port day. Also Day 2 is the CruiseCritic Meet & Greet followed by the Slot Pull. We also have a show booked for 7:30pm, but no dinner reservation yet. The ship should be pretty full, but at the same time, there should be a lot of activities. Thanks for reading along as my vacation begins.
Questions, comments, or just a rant about Ric falling asleep so early on his first day? Comment below or reach out on Twitter or Facebook!
Escape Live Blog Day 1 - Embarkation Day
Escape Live Blog Day 2 - Sea Day
​Escape Live Blog Day 3 - Our Sea Day in Falmouth, Jamaica
Escape Live Blog Day 4 - George Town, Grand Cayman
Escape Live Blog Day 5 - A Sea Day at The Movies, and a Surprise
Escape Live Blog Day 6 - Sea Day, The Haven, And Amplitude
Escape Live Blog Day 7 - Nassau, Bahamas (as seen from the ship)
Escape Live Blog Day 8 - Disembarkation Day