Author: Ric December 7, 2016, Updated: November 30, 2019
When I sat down to write this entry, I had a hard time getting started but I couldn't figure out why. It's because we had pastries at Cafe al Bacio. I had an Earl Grey tea with a blueberry streusel danish, carrot muffin, and Nutella croissant. This isn't anything like what I would normally eat for breakfast, but it was an enjoyable change.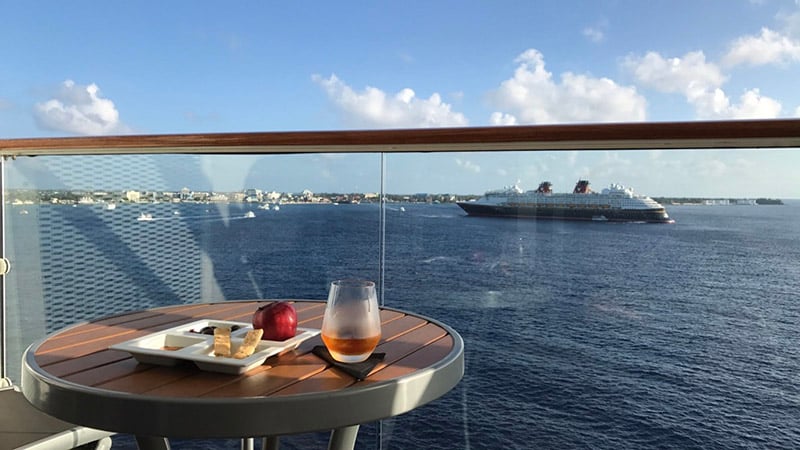 The friend I'm sharing a cabin with and I took a tender boat over to the island and walked through the Grand Cayman port. The only other time I've been in Grand Cayman was this past July. There were two things that I liked about Grand Cayman that I wanted to see again. The first was the cheap prices in the port's duty free store. I've never seen prices this low and they also have a "Buy 2 Get 1 Free" promotion for Absolut and a few other brands. Liters of Absolut are $15, but if you buy 3, then a liter of vodka is $10. The one product that did not seem to be cheaper was Remy XO, but I've heard that Remy Martin sets a price floor for that product. 
The other thing I wanted to see was a mural that depicts 500 years of Cayman Islands history from 1503 when Columbus spotted turtles and alligators in the water to 2003. The mural is made of 500 tiles numbered from 1503 to 2003. The country presents both the joys and challenges of its development and ends with a Year 2003 tile with a group of figures holding hands in the light of an optimistic sun. This artwork captured my attention last time I was on the island and I was glad to see it again. So glad that I forgot to take any pictures of it at all. Any pictures of the wall that you seen on this blog are not mine.
Something else I noticed about Grand Cayman the last time I was here is that walking around the waterfront street, food and drink prices looked to be about the same as in the United States. That surprised me because I guess I thought of the Caribbean as a place where things were cheaper, even in the tourist districts. But then, I caught the note at the bottom of the menu "All prices in CI$ [Cayman Islands dollars] CI$ 1 = US$ 1.25." That's right, the prices were more expensive than in the United States. A $9 drink at the bar is actually an $11.25 drink. 
When I gave this advisory to the friend I'm sharing a cabin with, he asked if there was a place we could exchange US$ for CI$. I didn't know, but I remembered seeing a lot of bank buildings not far off the waterfront. We saw a ScotiaBank and were able to buy four CI$ 1 notes for US$ 5. 
As we wandered around the island, we found a semi-familiar sight. A MacDonald's. Not the famous burger we all know, but this was a chicken restaurant. I suppose trademark laws are different here. We also saw a Dairy Queen location, but skipped a Blizzard in the Caymans for lunch on the ship.
Today's lunch at the buffet was the best yet. The Oceanview Cafe featured a taco station, smoked potato salmon cake, leeks in dijon sauce, chicken pot pie. These were all excellently prepared. The chili con carne from the taco station was a real standout. If someone had promoted that as some kind of upgraded taco that could demand a premium price, I might believe them and be willing to pay it. It was that good. The small bites side of the dessert station closed before I could get back to the buffet for dessert and that left just the side with a selection of pies. I tried the salted honey pie and it was just ok. Nothing wrong with it, but nothing spectacular.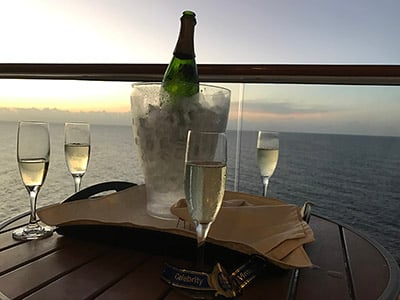 One of the perks of Concierge Class is that we are allowed to request a bottle of champagne delivered to our room once during the cruise. We took advantage of that today and asked our stateroom attendant to deliver the champagne for sail away. The four of us enjoyed the champagne on the balcony as we left the Cayman Islands and sailed through the most beautiful water I've ever seen in my life.
At dinner, we requested the same waiter and assistant waiter we had last night. They were a great team. Appetizers included a butternut squash soup, which had a taste of cinnamon in it. The walnuts were a good addition — something like a crouton. We also tried the grilled asparagus salad, the traditional escargot, and a duck terrine that was possibly the most elegant plating I've seen on a cruise ship. The tried the turkey parmigiana, and steak and chips, which were both good versions of the dish. We agreed the standouts were the wahoo fish and the lamb in phyllo. 
After skipping dessert last night, our waiter insisted we have dessert tonight and double it. We resisted at first, but there were good things on the dessert menu, so we eventually caved. The layered strawberry cake was the best of the offerings, but we also totally enjoyed the tiramisu, kiwi sorbet, and pistachio ice cream.
Tomorrow is Falmouth, Jamaica and it will likely be a very quiet day. A couple of us plan to go on a horseback riding excursion, but the other two, and this pair includes me, will spend the day napping and checking out the ship.
 
Preamble - A Look Over the Fence
Day 1 - Embarkation Day
Day 2 - Sea Day
Day 3 - Cozumel, Mexico
Day 4 - Grand Cayman
Day 5 - Falmouth, Jamaica
Day 6 - Labadee, Haiti
Day 7 - Sea Day
Day 8 - Disembarkation Day
Other Reflection Articles