Author: Ric December 8, 2016, Updated: May 7, 2018
With no excursions booked, I decided to spend the day mostly napping. I took a tour of the ship that will become the basis for a couple of future posts on the ship and the art collection.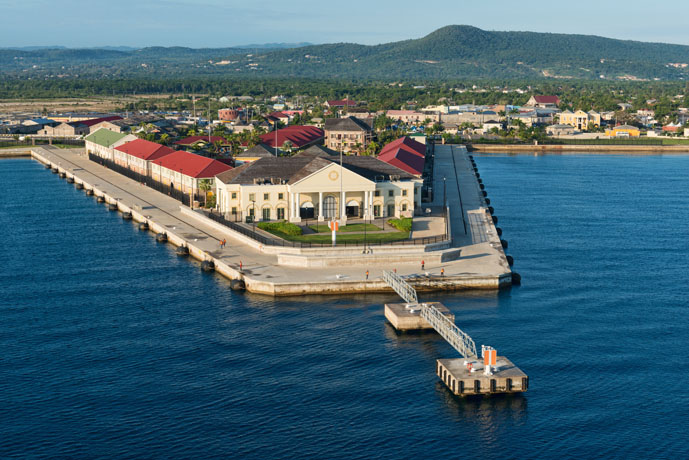 The port facilities at Falmouth are all recently constructed and highly themed. If Disney or Universal were going to build a port in the Caribbean, what would it look like? Falmouth. The buildings look aged, but are probably less than 5 years old. The presence of the same shops as every other port including a Jimmy Buffet's Margaritaville makes me think I'm not looking at genuine colonial architecture. However, views from the ship let us see a lot of old architecture throughout the town. We also had good views of Royal Caribbean's Oasis of the Seas.
When the other half of our group returned to the ship, we thought we'd give the room service menu a try. We had a miscommunication about the number of shrimp cocktails we wanted to order and inadvertently ordered double. No one regretted this. We also got the chicken skewers with yogurt sauce, french fries, and the antipasto platter. The antipasto would be more accurately described as a deli platter — a slice of provolone, two slices of what I assume was American cheese (I did not try it), two slices of turkey, 5 olives, 1 quarter artichoke heart, 1 mushroom, a teaspoon of pesto. The french fries were just the right amount of crispy.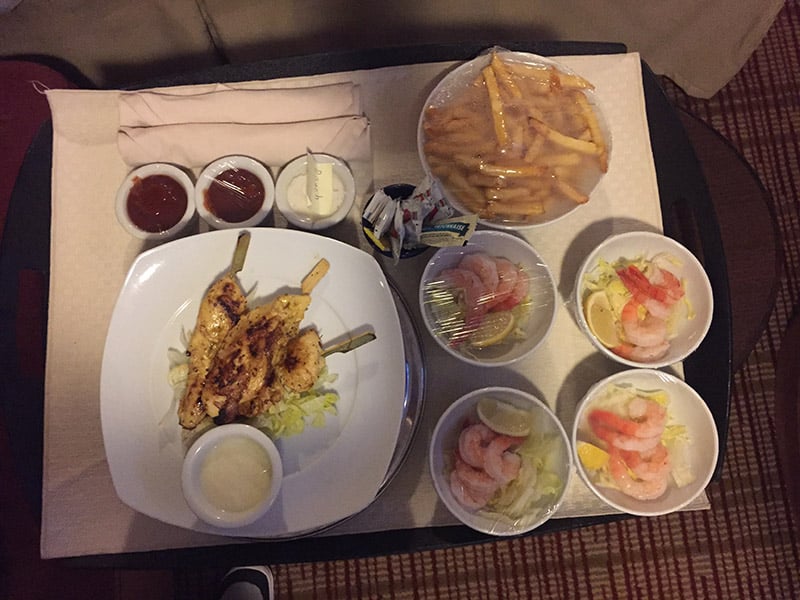 Later, we returned to the main dining room and requested the same waiter and assistant waiter team we had the previous two nights. Tonight's appetizers were a cream of broccoli soup, a crab cake, and duck rillettes quenelles. Celebrity bills the crab cake as a "signature" item and I can see why. One of the most perfectly cooked crab cakes I've ever had. The outside was crunchy without the inside being undercooked. I like duck a lot, but I didn't care for this preparation. The meat is very finely chopped to the point of being like a pate.
Our entrees were a pork loin on butternut squash puree with pickled red cabbage and beef short ribs on polenta with peas and carrots. Sometimes I just want simple things and the short ribs hit the spot for that. Simply prepared vegetables and very tender meat — I really enjoyed this dish.
For dessert, I had the mango-lime frozen yogurt. This was far more tart than frozen yogurt is in the United States, but that was a pleasant difference. The other standout option was the cafe pot de creme. I am not at all a fan of coffee, but I did enjoy a bite of this dessert. The texture was fantastic and the coffee was not bitter in the slightest. My friend tells me this is because the coffee came from a French Press. He enjoyed it so much, we asked for a second to take back to the room.
I've made a few attempts to Periscope, but they haven't been successful. I try to find places with good views, so that you guys have something cool to look at besides my mug. I'm balancing that with not disturbing other people with my broadcast. This has put me in parts of the ship with either no wifi or wifi that isn't strong enough to carry a Periscope. I'll keep looking.
Tomorrow, we'll be in Labadee. The terrain there looks beautiful and I'm very excited.
 
Preamble - A Look Over the Fence
Day 1 - Embarkation Day
Day 2 - Sea Day
Day 3 - Cozumel, Mexico
Day 4 - Grand Cayman
Day 5 - Falmouth, Jamaica
Day 6 - Labadee, Haiti
Day 7 - Sea Day
Day 8 - Disembarkation Day
Other Reflection Articles