Author: Ric December 6, 2016, Updated: May 7, 2018
I started Day 3 with a trip to the Oceanview Cafe for some melon and sausage. The friends I'm on the trip with tried the Opus Dining Room for breakfast. They reported that the menu was about the same as what's available in the buffet, but brought to you. They said they will probably stick to the buffet for breakfast from here out.
On our first attempt to disembark in Cozumel didn't go quite right. We've been enjoying a lot about this cruise, but one thing that has been an annoyance is the number of times we've had to go to Guest Services to correct some issue with our keycards. On several occasions, our keycards have just stopped working. Stopped working for the cabin door, stopped working to buy drinks, stopped working to get off the ship. We've been told by Guest Relations that the cards can be demagnetized by having them close to cell phones, but that would only explain half of the instances. Even if the cards are in fact being demagnetized by cell phones, I've never had this problem on a cruise before this one and I'm not doing anything differently this time.
My issue with Celebrity's explanation is that everyone has a cell phone and Celebrity knows that. The decision not to switch to RFID means that Celebrity would rather I spend time in line at Guest Services than they upgrade their door locks to RFID. That decision values their money over my time, but that's one of things I'm paying for on a cruise — to spend my time enjoying myself, not spend my time in line at Guest Relations.
When the friend I'm sharing the cabin with tried to get off the ship in Cozumel, the crew member who scanned his card told him the card he was using was reported as a "lost card." This required another trip to Guest Relations to fix his card.
We walked through the newly constructed port facilities and caught a cab. I like the facilities, but it seems purposefully designed to make you walk through a labyrinth by all the shops to get to a cab. We took a cab to Parque Benito Juarez and set out for Coz Coffee which will get a future review on this site.
We returned to the ship and went up to the buffet for lunch. I tried a few of the curries, which were way on the spicy hot side today. The French Napoleon and some kind of dacquoise were excellent dessert offerings. My friend tried to buy a drink, but his keycard didn't work. The bartender saw the note on his keycard indicating his premium drink package and gave him the drink anyway, but this required yet another trip to Guest Services. Turns out that somehow both his and his girlfriend's credit card information was deleted from their accounts. This suspended his charging privileges and his drink package. This also caused items that he and his girlfriend had charged separately to all appear on his account. After adding credit cards to their account for a second time, they then had to go line by line and indicate which one of them should be charged for the item. 
We watched sail away from our balcony and were hoping to see some stragglers running from Señor Frog's to the ship, but we didn't see anybody. This pier was also serving the Independence of the Seas which had a later departure time, so it was hard to tell who was going back to which ship.
Between sail away and dinner, we wanted to try a new bar and some new drinks, so we went to the Mast Bar and checked out the different bases for frozen drinks that Island Oasis makes. We spotted the passion fruit and asked Clint, the bartender, what he could make with that. He offered a French Caribbean made with Malibu coconut rum and Chambord raspberry liquor. Delicious.
Tonight's cast production was Elysium, the story of a princesses journey through the seasons to become queen. Within my group, reviews are mixed. Prior to the show, they show an interview with the female lead who explains the story. I'm not sure if this should be included. If that's critical information, it should be included in the show. If it's not, why provide it at all? The show was pretty and the gymnastic aerial act was impressive, but the story was not compelling and the song choice didn't make sense for the story I was told I was seeing. Why should a princess becoming queen sing Evanescence's "Bring Me To Life"? However, one of my friends thoroughly enjoyed the show and felt like he understood the progression of the character as told through the songs.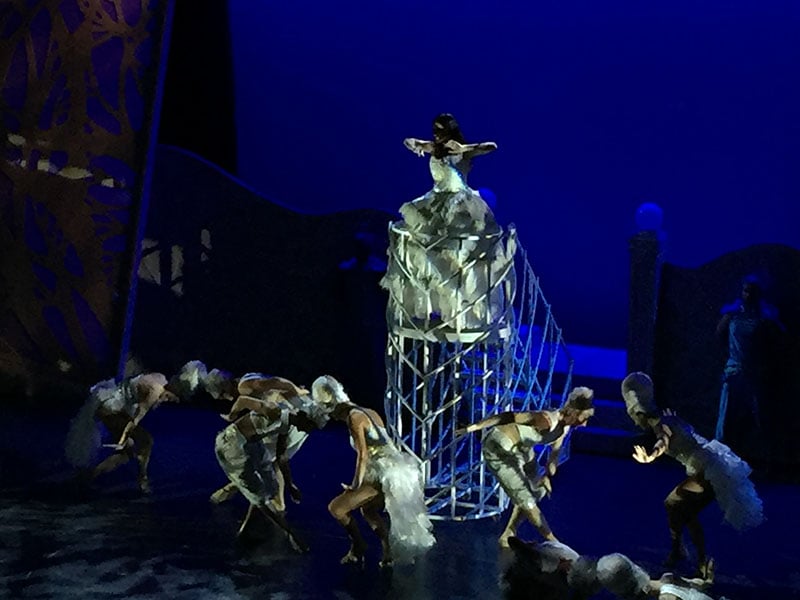 After the show, we checked in for dinner at the Opus Dining Room. While we waited for a table, we had some drinks at the Martini Bar. A couple of bartenders there, Boon and Putu, have been great to us.
Dinner was fantastic (and you can find the menu in the gallery below). The tuna carpaccio with seaweed salad was like a Japanese interpretation of an Italian beef carpaccio. I thoroughly enjoyed that. We all enjoyed the Asian Consummé which featured mushrooms and chicken. A couple of us had the veal, one of us had a seafood dish that was like paella with orzo substituted for rice, and we also got an order of the flank steak with a tomatillo salsa verde which was excellent. I also must say how attentive and entertaining our waiter Roberto was. He's the kind waiter people would request and wait to be seated with. We may do that tomorrow. With a 7-day cruise being a marathon and not a sprint, we opted to skip dessert and have a drink on the aft deck of the buffet.
Tomorrow is Grand Cayman where I have been once before. Two of us have a snorkeling excursion planned while the other two will tour the island and buy some duty-free liquor.
Preamble - A Look Over the Fence
Day 1 - Embarkation Day
Day 2 - Sea Day
Day 3 - Cozumel, Mexico
Day 4 - Grand Cayman
Day 5 - Falmouth, Jamaica
Day 6 - Labadee, Haiti
Day 7 - Sea Day
Day 8 - Disembarkation Day
Other Reflection Articles
LIVE on #Periscope: Docking at Cozumel #CelebrityReflection https://t.co/EtScz5lQ8d https://t.co/yMufHXjcNw

— CruiseHabit Ric (@CruiseHabitRic) December 5, 2016