Author: Ric December 9, 2016, Updated: May 7, 2018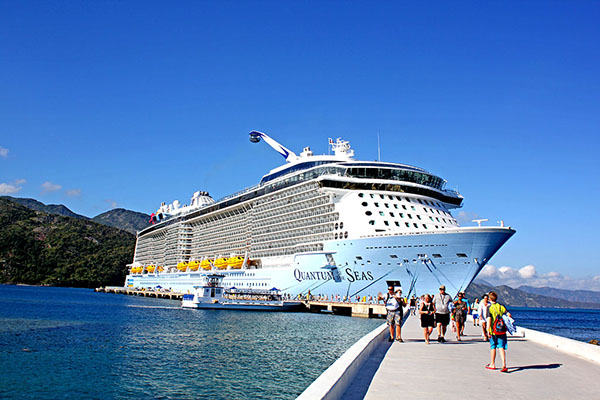 Today was our day on Royal Caribbean's private resort of Labadee, Haiti. As Celebrity is one of the brands in the greater Royal Caribbean corporation, Celebrity schedules ships to visit Labadee. The pier supports two ships, so sometimes, one ship is from Royal Caribbean and the other is from Celebrity (or both could be Royal Caribbean). For our visit, we were the only ship docked at the resort.
My friend and I decided to seek the shade of a path that led up the hill just outside of the entrance gate. We walked up the hill to the lookouts that gave us different views of the water, the resort, the ship, and Labadee Village. By chance, we ran into the other half of our group who  were exploring the resort after a kayaking excursion. We made our way to a drink station and cooled down with some water and a rum drink before making our way to the far end of the resort. From there, we took a tram ride back to the pier entrance and watched people come down the Dragon zip line.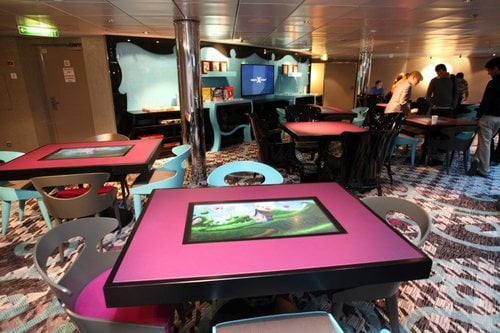 While my friend and I were having lunch in the Oceanview Cafe, we had another chance meeting with the other half of our group. They joined us for lunch and then we went to play some games in Celebrity's Game On area. There are six tables with touchscreen tops that can play a set of eight games. One of them is a version of Pictionary that you can play with someone at another table, possibly more than one other table.
The Hotel Director invited us to a Helipad Sail Away party as we left Labadee. Several of the prominent officers were there and they thanked us for taking this cruise with them. The views were spectacular and it was interesting to see which other passengers joined us on the helipad. There were two international groups, one from Norway and one from Ireland, and there were also suite guests.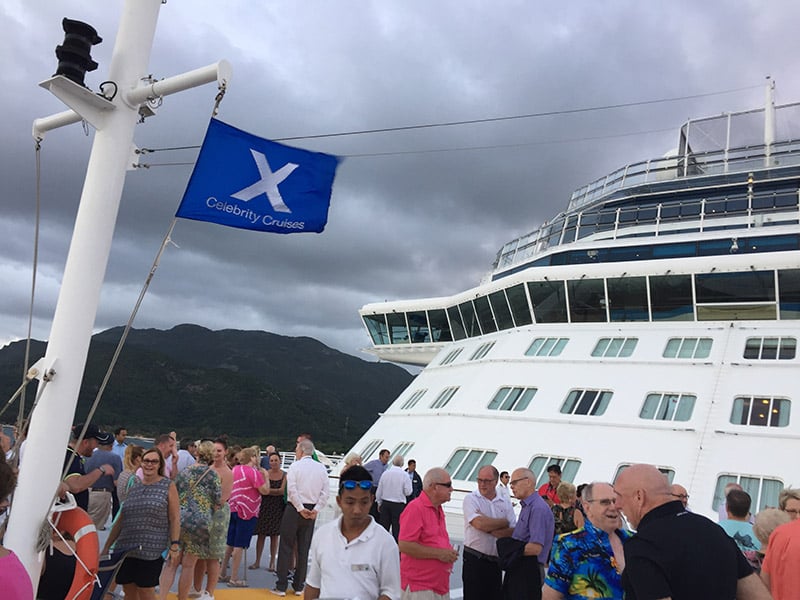 The ship's production cast performed "Broken Strings" tonight. A vaguely Irish-themed revue that begins with a surprise birthday party for Ethan. The singers and dancers are on stage through out most of the show except for 2 quick costume changes, one of which happens during a song showing that not everything might be celebratory for Ethan and his girlfriend. In the end, all the singers and dancers are back on stage for a bawdy number and then a grand finale.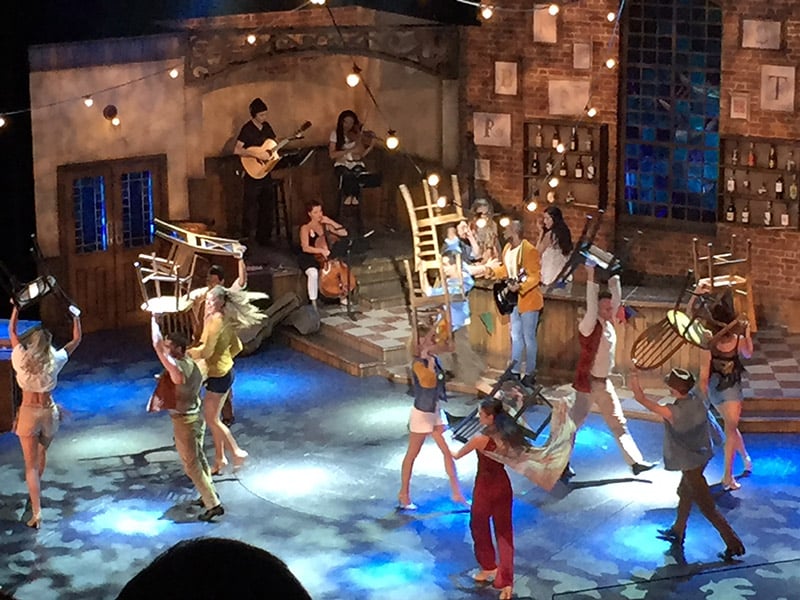 One of the notable differences between the shows I saw last year on the Constellation and the shows I've seen this year on the Reflection is the lack of dialogue in the more recent productions. I could tell that both of the shows were supposed to tell a story, but the progression of songs wasn't enough to tell me why any characters were having conflict or developing in some way. The dialogue in the shows on the Constellation told me more about the characters and that 
At dinner, our motto was close to "one of everything." I like the chilled pea soup, but when I saw crab listed as an ingredient I thought it might have a lump of crab meat in it. My friend suggested it was maybe made with a crab broth. The creamy smoked tomato bisque was enjoyable for a few bites. The smokiness went a long way. We also enjoyed a double-baked bleu cheese soufflé and creamy salmon rillette.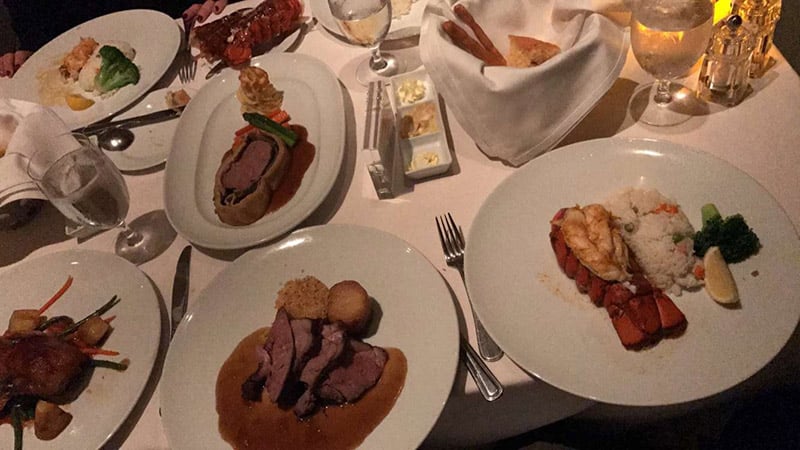 Everyone else in my group got a lobster tail, but I'm not a fan of lobster, so I had everything else: duck a l'orange, slow herb roasted leg of lamb, beef Wellington, and creamy wild mushroom risotto. Needless to say, I woke up at 2am with indigestion and got a Pellegrino from the Sky Lounge.
Preamble - A Look Over the Fence
Day 1 - Embarkation Day
Day 2 - Sea Day
Day 3 - Cozumel, Mexico
Day 4 - Grand Cayman
Day 5 - Falmouth, Jamaica
Day 6 - Labadee, Haiti
Day 7 - Sea Day
Day 8 - Disembarkation Day
Other Reflection Articles