Author: bill January 24, 2018, Updated: September 16, 2021
For some, it's easy to decide on what stateroom to book, but for others it's a tough decision every time.  This leads to one of the most common questions we get "is getting a balcony worth it?"  It's always nice having your own private space from which to enjoy the views on your cruise, but that comes at a price - which means there are decisions to make.  There is no simple answer to the question, but we'll explain what considerations you should make when deciding whether to get a room with a view.
Remember, we're talking about stateroom types, of which there are really only a few.  You may want to read this article first to best understand the difference between stateroom types and stateroom categories.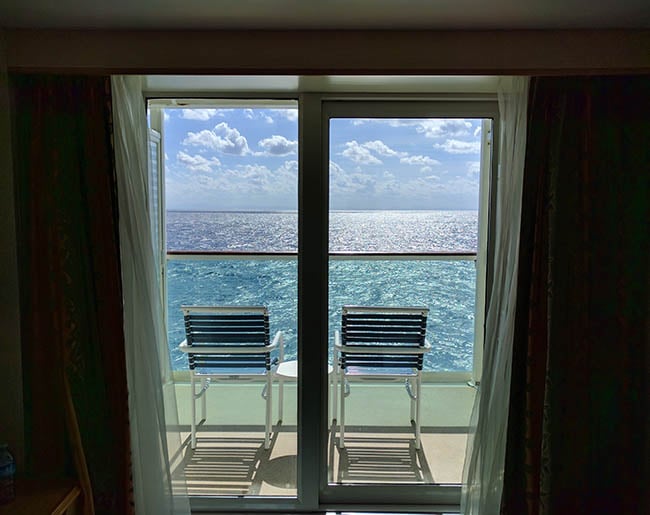 Where You're Sailing
One of the few things most cruisers agree on is this, having a balcony on an Alaska or Norwegian Fjords cruise is much more valuable than having one in the Caribbean.  Of course, that also means it's more expensive.  The Caribbean isn't short of beautiful views, that's for sure, but what makes Alaska and Norwegian sailings a bit more unique is that you spend hours, even days where you're technically not in port, but you're right next to beautiful waterfalls, glaciers, small islands, and even wildlife.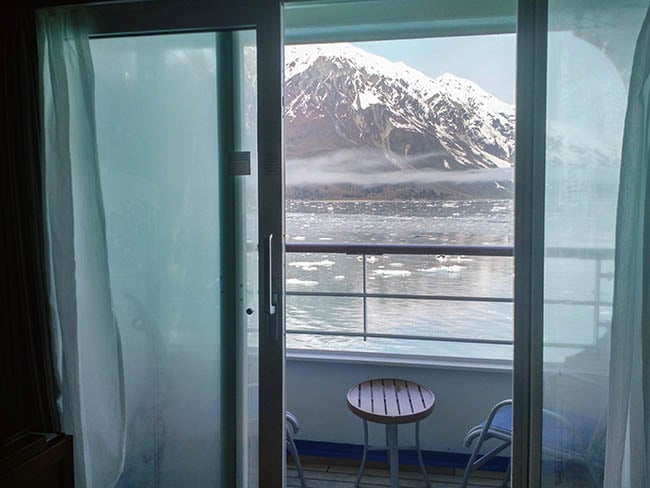 You can bet that every passenger wants to take in these great views (you can also bet that you'll get home wondering how you took 2,000 photos of waterfalls...trust us), so for many, that means heading out on deck.  Unless you're on a small luxury vessel, those decks are likely to get quite crowded when sailing past the most interesting sights.  Further, because you'll be sailing past these landscapes for so long, you may want to be able to relax on the privacy of your own verandah and not be concerned with others around you, or whether or not you're, ahem, "dressed for the occasion."
The Age of The Ship
Cost is of course a factor in this type of decision - if not, then there'd be very few people booking inside and ocean-view staterooms.  If you're cruise-shopping (and we hope you're using a travel agent for so many reasons) you'll quickly find that, in general, the price difference between verandah staterooms and others is much greater on somewhat older ships.  There is nothing wrong with vessels that aren't fresh out of the shipyard, in fact, we often prefer them.  The reason for this difference is a simply matter of supply - older ships, for a number of reasons, had a much smaller percentage of balcony staterooms compared to newer ships.
Over 65% of staterooms on Royal Caribbean's Harmony of the Seas have verandahs. Some ships have even more, but other new builds have fewer than 40%, so while newer ships generally have more balconies than older ones, there are a number of factors.  We're thrilled that newer builds continue to focus more and more on looking at the ocean.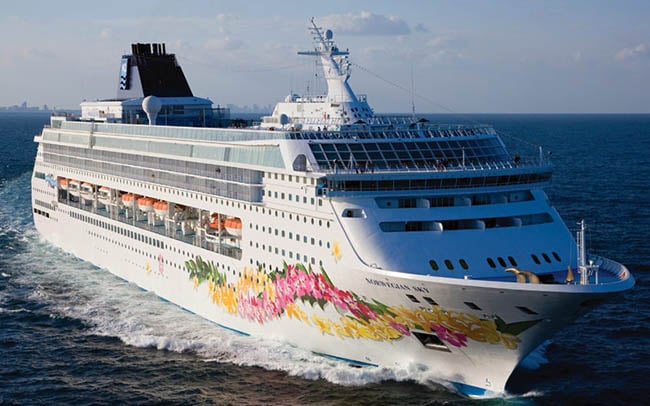 With many newer ships the majority of rooms have balconies, so the few that don't are often filled by those with small children or persons who want the most economical stateroom regardless of other factors.  The result of this simple matter of supply and demand on newer ships means that rooms with balconies are often not drastically more expensive than those without them.  Occasionally you'll even see staterooms with balconies for less money than others.  
Your Schedule
As mentioned, you should consider where you're sailing but also think about how much port time you'll have.  If you're in port all day every day, you're likely to get back to your stateroom at the end of the day to shower and sleep - that's it.  Maybe you've got a number of sea days, but you've got a full schedule of events planned.  In these cases you might not be in your room enough to justify the extra cost.  As people who often pack a lot in, especially on group cruises, we've definitely had balconies that we never ever got to enjoy.
Common Misconceptions - Why You Shouldn't Get a Balcony
There are some misconceptions about verandah staterooms that you should keep in mind before spending the extra money.  A balcony may absolutely be worth it to you, but probably not if these are your primary reasons:
1) You're looking for a place to smoke.  You can't smoke on cruise ship balconies.  Guest demand has made most areas on most ships non-smoking, but in this case the reason is largely safety.  Because balconies can't be monitored for safety in the same way that the public open decks can, the risk of fire is a very real one.  Even if your balcony is safe, the possibility that embers could go onto another balcony and start a fire is too much of a risk (in fact, it's happened before).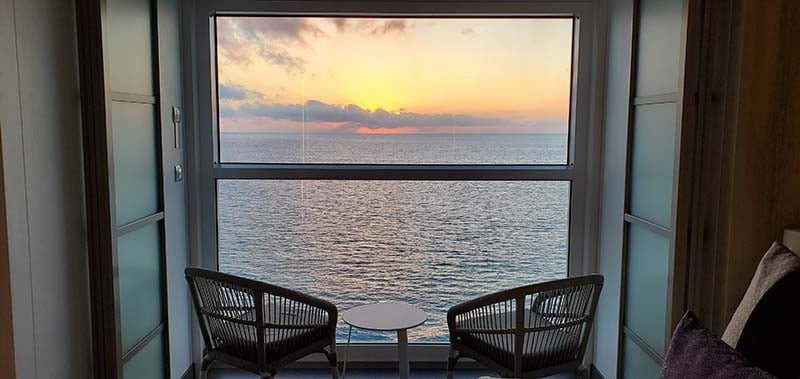 2) You want storage.  Modern staterooms come with far more efficient storage than used to be common, and you can often slide bags under beds and in other places.  If you're traveling heavy though, you're generally not permitted to store any flammable items on your balcony.  You can bring many bags on your cruise, but you can't keep them here.
3) You want a bigger stateroom.  On most modern ships, there is little or no difference in total air-conditioned space between verandah, ocean-view, and inside staterooms.  There are plenty of exceptions, as there are of course large suites, but there are also ocean-view and inside staterooms larger or smaller than the average room.  Pay attention to the actual space for a given room category, don't assume that verandah = more space.
4) You want complete privacy.  Some stateroom balconies are more private than others, and while you can search the internet, have your travel agent investigate, etc, even the most private of rooms will still have staterooms on at least one side of them - but usually to both sides, and often above and below.  Further, the dividers on these balconies sometimes don't go all the way to the floor and are quite thin to save weight, but also so they can be folded in to create larger outdoor spaces if the neighboring stateroom is occupied by a friend or family member.  It should also be noted that many ships have a deck of staterooms with balconies that project out further from the side than those above, which means people from the upper decks can look down onto part of these balconies.  

How We Decide What Stateroom to Book
Some cruisers say, "once you get a balcony you'll never go back," but we don't find this to be the case for us.  When booking a cruise, we take into account all of the things we mentioned above, but ultimately, for us, it comes down to how much of a premium we have to pay to get a balcony.  Sometime we get an inside stateroom, sometimes an ocean-view, and other times we get a balcony.  It just depends.  
Often, while weighing the costs and benefits, we think about if the extra cost would come close to paying for another cruise, even a small one.  Because we're privileged enough to cruise frequently, if the savings can get us sailing again even sooner, we're inclined to take the savings and enjoy the sea-views from public spaces.
A note on cost: Sometimes there may be incentives travel agents have that make the price difference to move into a verandah a bit more manageable.  My travel agent has come to me several times explaining that I can get a balcony for barely more than an ocean-view.  This is another great reason to use a good agent.
A New Consideration Since 2020
As many of us saw in the first part of 2020, unforeseen circumstances, while uncommon, could mean that you're on your cruise longer than expected.  In that situation you might be glad you have a more open-feeling space, as well as access to fresh air from your own room.  While none of us hope to run into another quarantine siltation in the future, that too might play into your decision.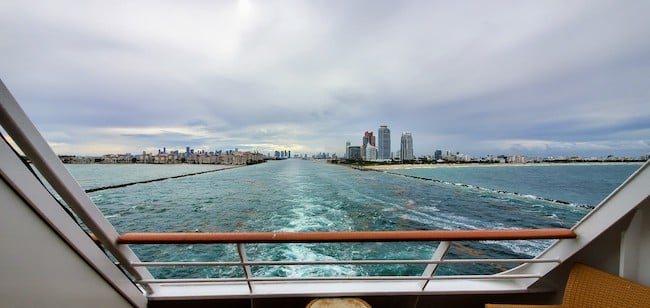 Wrapping it Up
As you can see, there is no right or wrong answer when deciding on a stateroom type, but there are a number of things to think about before making a decision.  We will note, that so far, we've never heard someone say that their cruise was ruined by not having a balcony, but we've heard many passengers discuss how little time they spent in their room.  
~ Thanks to reader and viewer Jasmin for giving us the idea for this article! ~
What type of stateroom do you tend to book?  Is there a factor we failed to mention?  Comment below or reach out on Twitter or Facebook!