Author: Bill October 26, 2017, Updated: July 27, 2021
When booking a cruise you'll inevitably have to decide what type of cabin (aka stateroom) you want.  What's the difference between an inside and an ocean view?  What are all these numbers? G1, B13? Are we playing bingo or going on vacation?  It can be confusing, but it's important to really understand the differences, at least conceptually, so that you not only book the right room for you, but recognize value and see through some promotional gimmicks.  We'll look at the differences between stateroom types and categories and explain other things you'll run into, like guarantee rooms.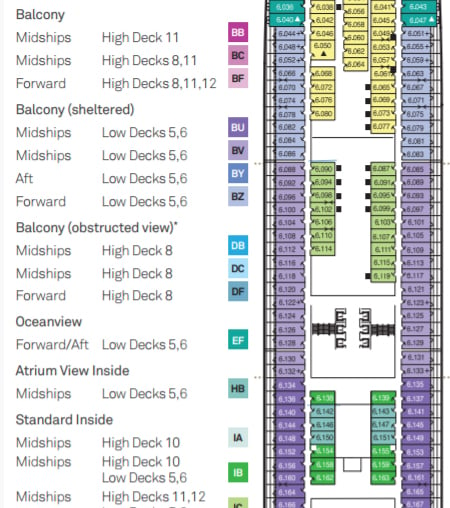 Stateroom Types
We'll start here because well, this one is easy.  Stateroom types are the top of the chart if you're thinking about different staterooms hierarchically (a word which, pronouncing correctly may be a deciding factor in future CruiseHabit giveaways).  There are four basic stateroom types (and of course, some outliers).  
Inside Staterooms
Yes, all staterooms are indoors, but this term refers to rooms which don't have a window or balcony (at least, they don't have a window or balcony facing the ocean - more on that later).  More often than not these types of rooms are the cheapest - but don't assume, as we've seen some cases where other categories are cheaper when supply and demand dictate such.  Often inside rooms have mirrors  and extra lights to keep you from feeling too closed in.  In recent years, Royal Caribbean and Disney Cruise Lines have introduced inside rooms with "virtual" portholes or balconies, which use large screens to display real-time views of the outside.  Several lines also have a selection of inside rooms which have port holes or windows facing interior sections of the ship.  Some inside rooms have the bed facing the door, while others have the bed sideways.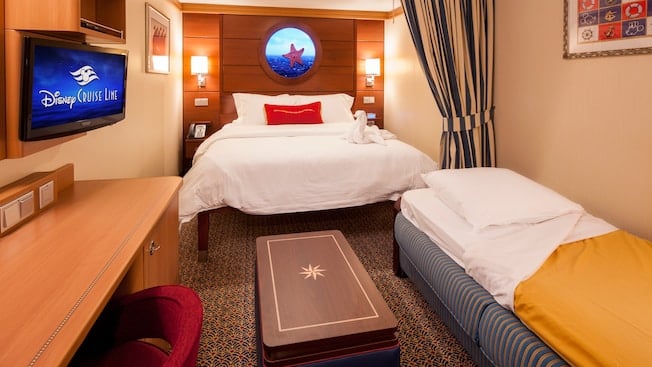 Ocean View Staterooms
These rooms (sometimes called "outside rooms") have some sort of window which looks out to the ocean.  Depending on the ship, deck, and other factors this could be a small porthole or two, a large window, or even a floor-to-ceiling window.  Similar to the different layouts of inside rooms, they may have the window(s) behind the beds or next to them - layouts vary. 

Verandah Staterooms 
Call them what you will - verandahs, verandas, or balconies - these are the most common and popular rooms on modern ships.  It wasn't long ago that, for a number of reasons (some of which you can read about here), a cruise ship might have only a handful of balconies, all located high on the ship.  Now, on some ships, over 95% of the rooms have balconies, and you'd have to work pretty hard to find anyone complaining about this.  Having a balcony gives you the option of enjoying some private deck space at any time, along with great views even when the doors are closed.  You could even use a GoPro to capture great sail-away videos using the proper mount.  Royal Caribbean's Oasis class ships have some verandah rooms that have outdoor balconies, but which don't face the ocean.  These "Neighborhood Verandahs" are unique, and if you're okay with not facing the ocean, can be a neat option.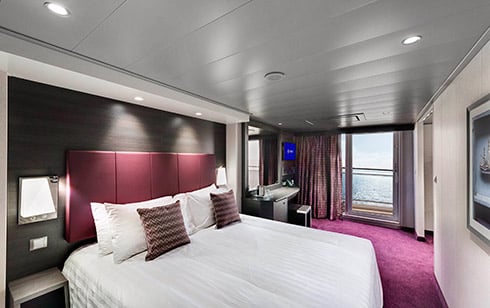 Suites 
Do you like painting with a broad brush?  Great - because the last room type we're covering is suites.  This can mean a lot of different things.  On modern ships suites pretty much always feature an ocean-facing balcony (we're sure we'll end up updating this with some exception - and RCI's Freedom Class "Sweets" don't count).  Suites can be similar to but slightly larger than verandah rooms, or they could be palatial multi-story areas with separate entranceways, multiple bedrooms, their own pianos, etc.  In addition to some extra space, suites often come with perks like exclusive lounges and restaurants, butler service, and many things which may cost other guests extra.  How do you differentiate the different types of suites?  I'm so glad you asked - keep reading to find out. 

Stateroom Categories
Discussing categories is important because many people confuse categories with types.  We mentioned above that there are four main stateroom types, but there can be dozens of categories even though so many rooms are so similar.  If you look on deck plans, or at the options when booking a cruise, categories are usually expressed as a letter-number combination, like A12, or V4 - it varies by cruise line.  There are some good reasons for this wide variety of options though, so let's review. 
Location
Imagine you're looking to book a verandah stateroom you may find the best price on a beautiful room and then find that it's really far forward (that's the front of the ship), and as such, may be a bit of a walk to some areas.  It's quite possible that the exact same shape, size, and style of room is available down the hall but more mid-ship, though at a higher cost.  These two rooms are the same stateroom type, but different categories.  You might also find that the rooms directly above or below these rooms are different categories, as often, the higher deck on which you find a room, the higher the category.  This can be important to think about if you're worried about seasickness, as we explain here, rooms midship and on a lower deck can be helpful.  Also consider if you want to consistently walk through a long corridoor each time you come or go.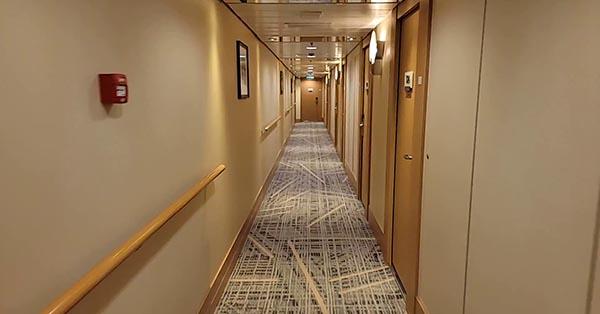 Views
The view you have can impact the stateroom category as well.  One of the most common reasons you'll find "lower category" rooms classified as such is because of what lines refer to as "obstructed views".  An ocean view room that has an unobstructed view of the water is usually in a higher category than a similar rooms which has it's view obstructed by a lifeboat or other equipment.  Obstructions could be directly in front of a window (or balcony) or off to the side, above, or below it.
Size & Shape
Not surprisingly, the size and shape of rooms can help determine their category.  Until you get into suites, the sizes will remain somewhat similar, but even an extra 20 square feet can be nice, as can certain layouts which allow for a bit more useful area vs dead space.
Window or Verandah Type
We previously mentioned that the exact type and number of windows which an ocean view stateroom has can vary, and this is true of verandah rooms as well.  You'll find rooms with larger windows to be different categories than those with smaller portholes.  The area below railings on some verandahs are glass, providing superior views, while others may have metal horizontal sections or be completely flat metal.  On some ships, there may be rather unconventional windows or doors, like those found in Infinite Verandah staterooms on Celebrity Edge series ships.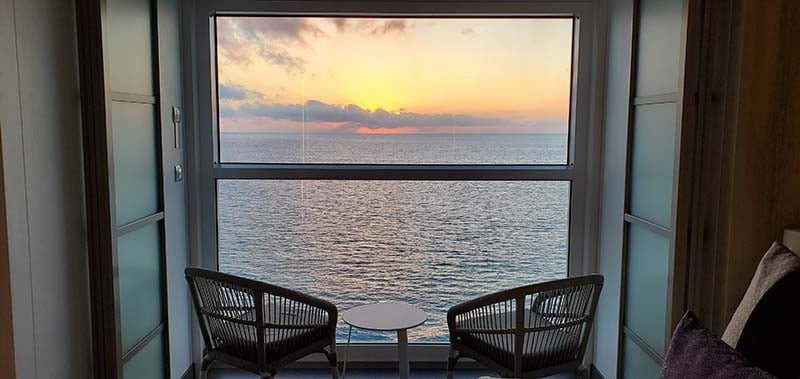 Perks
Over the past few years some lines have created staterooms which may or may not be considered suites, may in fact be similar or identical to other verandah rooms, but which have some sort of perks.  A common example are rooms which allow free access to otherwise costly areas of the ship's spa.
"Weird Rooms"
You may have already guessed, but this is not a technical term - we'll call it a CruiseHabit term.  While many rooms on ships are nearly identical (in fact, they're modular), there are some rooms which are outliers based on engineering constraints and other factors.  Rooms all the way forward often feature angled walls with different layouts.  Verandah rooms at the aft are frequently sought after for fantastic views from their sometimes much longer balconies.  Other rooms are just plane different in the shape, such as rooms on the corner of ships.  In fact, these rooms often different because of multiple factors, such as size, shape, window type, and location, and more.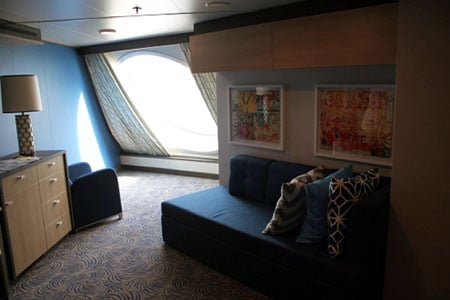 Okay, but what are guarantee rooms? 
You may or may not have the option of booking a guarantee - and generally this is a guarantee within a type.  For example, an "Ocean View Guarantee" is a booking which means you won't pick your exact stateroom, but you're guaranteed to be assigned an ocean view room or better.  Some guests hear this and book a guarantee with a hope of an upgrade - and while that can happen, it's rare and you shouldn't bet on this.  Guarantees are usually priced quite a bit lower than a stateroom which you chose yourself, and they're a way for cruise lines to ensure they fill space while still charging other guests a premium for picking the room of their choice. 
It's critical to remember that you're surrendering your choice to the cruise line - so if you book a guarantee and you're assigned a room far from where you'd like, or with an obstructed view, etc, you generally can't do anything about it (though if space is available, you may be able to get a random different room of the same type.  If you're okay with this risk, booking a guarantee can be a great way to save some money.  
Watch Out For This 'Upgrade' Sales Technique
Now that you understand how cruise lines establish stateroom types and categories, you should also better understand a sales technique that is used quite often by many lines: the free upgrade.  Sounds great, right?  It can be - but don't get too excited.  These upgrades are usually for a category or two within the same type.  Usually, a line will offer a deal on a sailing where, for example, they'll offer the second lowest category for the same price as the lowest category.  Other times, for certain loyalty programs, guests will receive pricing for a room that is actually the price of the category below the room being priced.
This isn't a scam - it can be a nice perk, but don't get excited when you hear you're getting an upgrade thinking you're going from an inside to an ocean view.  You're likely going from an inside to a slightly nicer inside stateroom or an inside stateroom on deck two to an inside stateroom on deck five.
Final Statement on Staterooms
Ships today have many different stateroom categories, but if your new the to cruise game, it's the stateroom types you should focus on - but no matter what you do, don't put too much importance into picking a cabin.  While it's very subjective, we find nice staterooms nice to have, but not necessary - we just don't spend that much time in out stateroom, even when we have a particularly nice one.  If we can score a better stateroom (category or type) for a small price, then great - but often we're willing to take a more humble room and keep the savings for another cruise.  At the same time, we're frequent cruisers - so if you're looking at a once in a lifetime (or maybe just every few years) trip, then treat yourself with an ocean-facing balcony or even a suite.  The choice is yours.
Have questions about cabin classification or stateroom selection?  Comment below or reach out on Twitter or Facebook.