Submitted by

Ric

on Tue, 11/20/2018 - 01:59
My first full day onboard Celebrity Infinity was spent in port in Key West. I've visited Key West twice by cruise ship and had a great time both times. I'd like to say I had a great adventure and explored new parts of Key West, but the reality is that on the Sunday before embarkation, I had gone to an urgent care clinic for some antibiotics for a sinus infection. I wasn't really up for adventure or exploration. I wanted a low-key cruise with a lot of napping, so that's what I did.
One of my favorite features of Celebrity's Millennium-class ships is the Solarium. It's a bright space without being directly in the sun. Plus, the adults-only rule keeps the vibe more laid-back than the open pool deck. I found a way to take advantage of my early-riser habits and spent my mornings in the Solarium. Right when the pool and hot tub opened at 7am, I was in the hot tub. After the hot tub, I crossed over into the thallasotherapy pool. (Celebrity doesn't seem to be using this name for the Solarium Pool on Infinity, but this was its name on Constellation.) I considered another ten minutes in the hot tub, but chose breakfast at the Spa Cafe instead.
The Spa Cafe offers prepared breakfast dishes with a focus on freshness. There's a smoothie bar with both prepared and make-your-own smoothies. The other half offers energy bars, oatmeal, plated fruit, and other plated light breakfasts. For my breakfast, I tried the pumpkin seed bar, banana bagel, and the hot apple cider oatmeal. The breakfast side of Spa Cafe is complementary to any guests. For the smoothies, when I was on the Constellation, they fell under the "fresh juices" category included in the Premium beverage package.
I like what Celebrity offers at the Spa Cafe, but I wanted more protein than is served there. I made a trip up to the Oceanview Cafe for to check out the poached egg station. The closest thing to what I wanted was a poached egg with spinach. There's smoked salmon on the buffet, but not at the poached egg station. I've been trying out some poached egg permutations and found out I really like the dish on hash browns instead of an English muffin. Then, no hollandaise. That combination turned out to be a really great poached egg.
Because I decided to spend the day on the ship, my main questions were "Where can I get a drink?" and "Where can I get something to eat?" Rather than carry the Celebrity Today around with me. I took a picture of the part of the Celebrity Today that has the bar and restaurant times. I always have my phone on me, so now I'd always have this information on me too. Soon the Celebrity app (read more here) will have a feature that can direct passengers to food and drinks available at that time, but for now, it's a quick way to know which parts of the ship are open.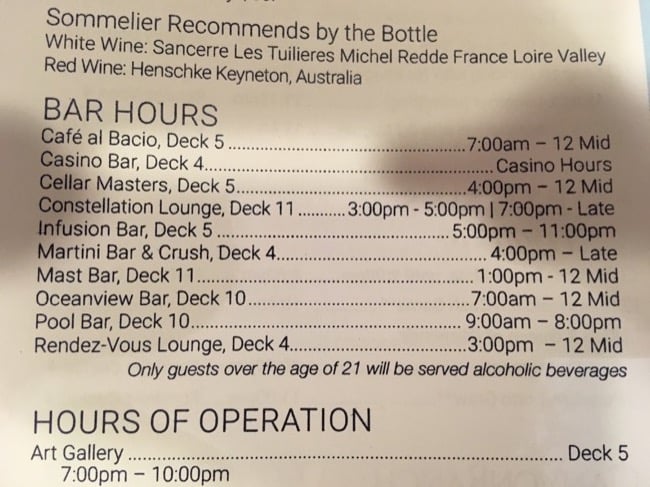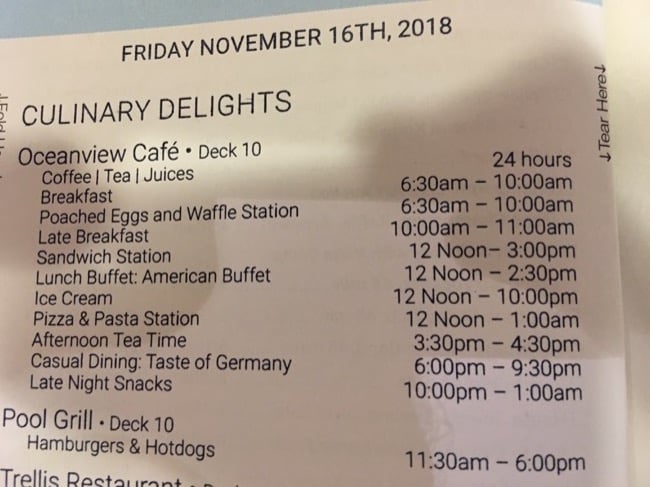 Our ship docked at the pier closest to Mallory Square, which I was not expecting. Last time I sailed on Celebrity Constellation to Key West, we docked at the Navy Pier. My assumption was this is where Celebrity would dock again. However, with no other ship in port today besides ours, we were able to dock just blocks away from the center of Key West tourist activity.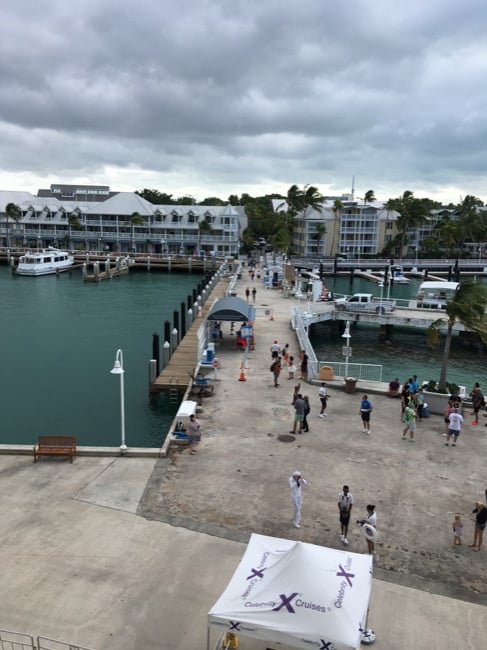 A Coast Guard ship I have toured on a previous visit to Key West was still in the harbor. You can hear about this and other Key West attractions in the Key West episode of the CruiseHabit podcast.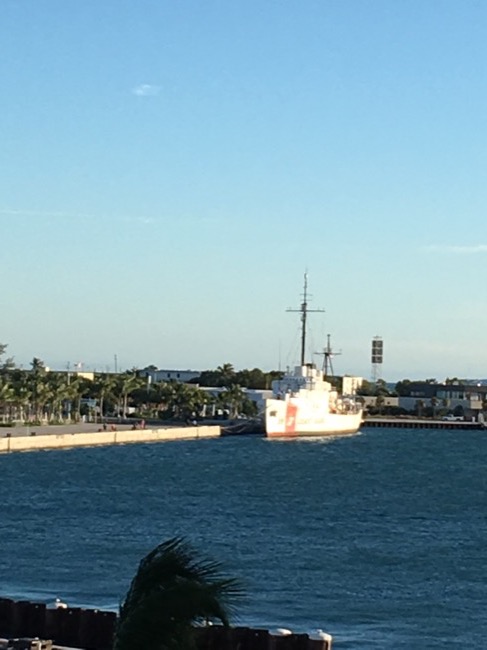 The production show on the ship that night was Broken Strings. I had seen this show before on Celebrity Reflection (live blog here), so I went to check out the first 30 minutes, but didn't stick around through the whole thing.The cast was fine, but this show was not one of my favorites. I opted to wander around the ship checking out the night life.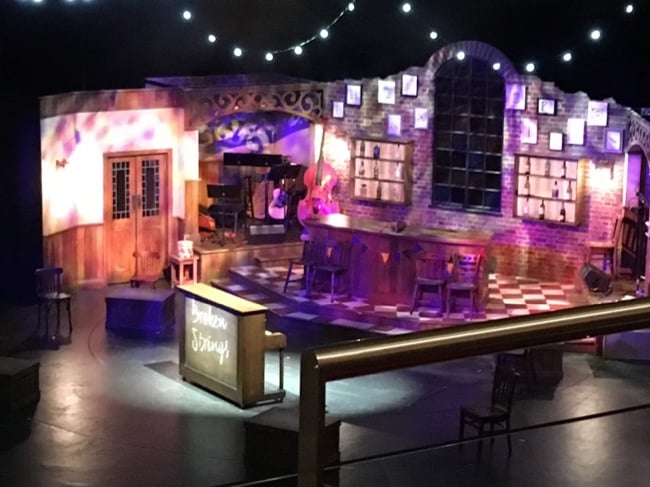 Searching for nightlife didn't last long, and I was soon back at my cabin getting in bed.
Follow along with me as I sail on Celebrity Infinity from November 15th to 19th
Celebrity Infinity Live Blog Preamble
Celebrity Infinity Live Blog Embarkation Day
Celebrity Infinity Live Blog Day 2 Key West
Celebrity Infinity Live Blog Day 3 Sea Day
Celebrity Infinity Live Blog Day 4 Nassau