Author: Bill November 11, 2017, Updated: November 11, 2017
Royal Caribbean Cruise Ltd (parent company to Royal Caribbean International, Celebrity Cruises, and Azamara Club Cruises) made some big announcements this week around the technology in and on their ships. The "Sea Beyond" event was hosted this Wednesday in NYC, and RoyalCaribbeanBlog.com was there to get the scoop.  Nobody covers Royal Caribbean like they do, so you should first get the whole story by checking out their coverage of Sea Beyond.  These announcements however really had us thinking (we love cruising and technology) so we couldn't let it go without jumping in and providing our take.
Technology creeps a bit further every day into each part of our lives, and cruising is no different.  Some things are obvious, like internet connectivity at sea, while others, like facial recognition for check-in, aren't things most of us think about.  In the past, when we've heard of more technology being added to a part of our lives, it's meant more gadgets: Special glasses for 3-D experiences, e-readers like Kindle replacing paper books, Ocean Medallions on Princess Cruises, and of course Wow Bands on Royal Caribbean ships.  What makes Royal Caribbean's announcements really interesting, is that much of what was revealed means guests will interact with existing technology in new ways – rather than toting around more gadgets or accessories. A few of the other things discussed are quite passive – and cruisers might not notice them at all, but we still think they're important to discuss.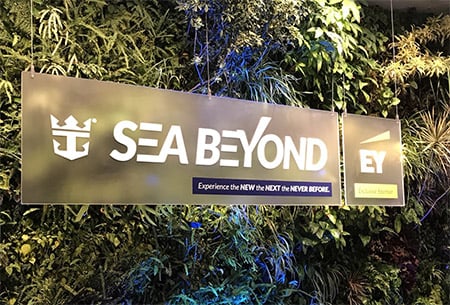 Onboard Convenience
At center-stage of all of this is a new smartphone app.  Most cruise lines have a smartphone app or at least a mobile website, but in general, the functions, while helpful, have been limited to viewing schedules, chatting with other cruisers, and making reservations.  Royal Caribbean, for all they tout being innovators, has been a bit slow to adapt in this department – with those basic functions only available to a sixth of the ships in the Royal Caribbean International fleet.  In addition to making these functions available to the rest of the fleet in the coming two years, the new app will allow guests to unlock their stateroom doors, control their stateroom lighting and temperature and even order drinks right to where they're sitting.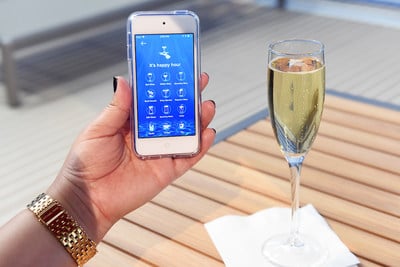 What Tempers Our Excitement
Some of the basic functions, as we mentioned, have already become standard in the contemporary cruise market.  In fact, we'd say this type of functionality is pretty much table stakes for any companies entering the market at this point.  Imagine if Virgin Voyages launched and required guests to carry a paper schedule to know what was going on each day.  To Royal Caribbean's credit, CEO Richard Fain pretty much admitted that some of this was catching up – which we appreciate much more than Apple thinking they invented copy/paste in 2009.
What We Like
While it seems like Wow Bands will still be around with some new changes, we're all for the idea of carrying around less-tech while vacationing.  The fact is that more and more guests will be carrying their phones on cruises so they can keep in touch, Tweet selfies, and check schedules – being able to use that same device to access and control their stateroom and pay for onboard purchases just makes sense.
What We're a Bit Cautious Of
Ordering drinks from your phone sounds great, right?  Well yeah, as I sit in my office I wish I could do that right now.  On many cruises in the past however, that was not something I needed, because like magic, there was always someone available to ask of questions, bring me a drink, etc.  The mega-ships of today combined with the rock-bottom pricing that consumers demand does mean our expectations of service should be different, and sailing on premium lines with better passenger to crew ratios still offers this type of anticipatory service, but we have to wonder if making service "on demand" rather than somewhat passive is a step in the right direction for cruise lines and guests.  Ever not been thirsty, but then seen a server walk by with a frosty drink in a pretty cup and suddenly found yourself paying $9?  Most of us have.  That in mind, there are other elements of this type of service which could be great – allowing crew to more easily keep track of guest preferences, schedules, and more could lead to some great things. 
Frictionless Check-In
We're lucky to live close to major cruise ports, and we've gotten pretty good at efficient check-in, but it's still a bit of a bummer when I finally sit down on the stateroom verandah for the first time, only to realize that I spent the first few hours of my vacation on logistics.  Any chance of looking past this vanishes as I notice how sweaty I got waiting in the terminal, schlepping my bags around, etc.  Oh, and my embarkation paperwork is now spread through every pocket I own.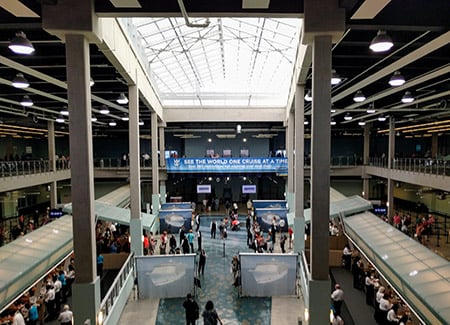 Jay Schneider, RCCL's Senior Vice President of Digital explained that facial recognition, Bluetooth Low-Energy beacons, RFID bag tags and more will come together to streamline much of the check-in process.  This means less time spent at a check-in counter (something largely eliminated on RCCL's Quantum Class ships), less confusion as to where to go when you first arrive, and no wondering where your bags have gone. 
"We are finding ways to eliminate friction and frustration, giving guests more time to make the memories that make vacations special," said Schneider.
What Tempers Our Excitement
No mention of disembarkation.  I'm obviously a pretty big advocate for cruising, but the disembarkation process is often a huge pain and may be the "dirty little secret" of cruising.  Cruise lines do have limits to what they can do here, as the process is often slowed and complicated by the port authority, customs, etc.  That in mind, we'd love to hear how, whether using technology or not, lines could at least make this process more comfortable and convenient for guests – even if it doesn't necessarily speed things up.
What We Like
Everything.  Simply put, anything that can be done to reduce the time and friction of this process is welcome.  Less time checking in means more vacation time and less stress.
What We're a Bit Cautious Of
I've spent a lot of my career working on automating certain processes, and like to point out that automation is like dividing by two – you'll never get to zero.  That's okay, but we hope that these type of efficiencies, as they reduce human interaction in the check-in process, don't make any unforeseen issues more difficult to resolve.  Right now, if one in ten guests have an issue at check-in, 90% of the guests are still moving people through the process.  If these innovations however mean that only a small percentage of the staff will be needed, that could mean longer lines for anyone who does encounter an issue or needs assistance.  Self-checkout at the grocery store is really convenient until an error message pops up, right?
Environmental Impact
The cruise industry is no stranger to controversy surrounding the environment, and lines have been stepping up in a big way to make positive changes to reduce fuel consumption, treat emissions, and work with port cities to be more gentle to local ecosystems.  While each class of ships from Royal Caribbean (and all lines) tends to be much more efficient than the next, one of the really neat things Royal Caribbean has already started implementing (and continues to work on) is an air-lubrication system, which uses microscopic bubbles to reduce friction along the hull and bring down fuel consumption by up to 8%.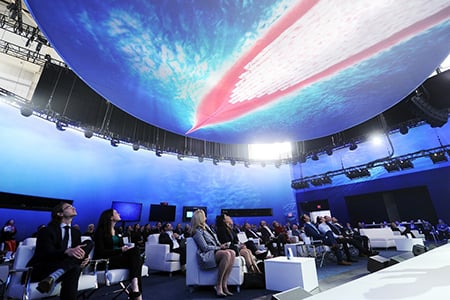 They also discussed the use of solar panels to power certain onboard systems, as well as the use of liquefied natural gas (LNG) with project Icon (listen to a podcast about it here), which seems to be the direction in which the entire industry is moving – in fact Carnival Corporation recently announced more as to how they'll handle the logistics of getting LNG to their ships.
What Tempers Our Excitement
None of what was discussed around environmental matters was really that innovative by late 2017 standards.  These things take time, we know, but we'd love to hear about some of the industry "moon-shots" as well as see more transparency around the impact today and how they think that will actually change in the coming years.  There was brief mention of fuel-cells, and fact, the event was powered by a fuel-cell system they'll be trying out on ships - but this too is something that people are soon going to expect. 
Ports continue to dictate this change more than consumers – as consumers haven't been armed with good information on the cruise industry, relying instead on the "spin" from cruise lines combined with the doomsday statements from those who calculate nothing but oil burned, ignoring the ways emissions are controlled, how reefs are impacted (or not), and the fact that these are cities – not just transport, so some offset comes from the fact that people aren't driving, cooking, running lights, etc at home.  In short, there are some huge impacts, and we think everyone would be better served by more information here.
The 25-50% of People On-Board Who Aren't on Vacation
The ships officers, staff, and crew represent a huge number of people on any cruise ship, and they're working hard to ensure you have a great vacation.  What you might now think about though are the logistic involved in getting them to and from ships, taking care of immigration matters, and providing them the tools needed to make your experience a great one.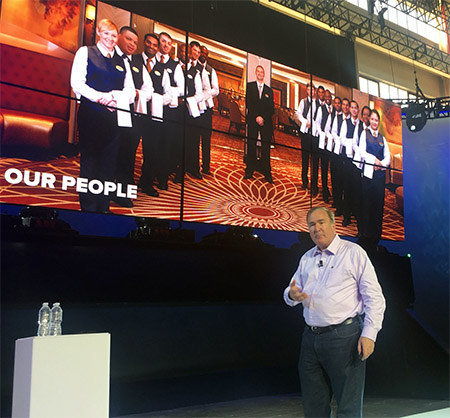 Royal Caribbean Chariman and CEO Richard Fain took time at the event to point out that the reason the company is a success is because of their people, and he's looking to ensure that not only do those people have a suite of tools such as applications which help identify guests and their preferences, but things that will help them anticipate guests needs throughout their voyage. 
Importantly, the company is digitizing much of the complicated process for managing crew contracts, logistics (such as flights and other information), and perhaps best – making it easier for them to stay in touch with friends and family back at home.
Wrap Up
It's exciting to see any cruise line using technology in ways that mean better experiences for everyone – not just novel gadgetry (we're looking at you Bionic Bar).  What's incredible is that much of what was talked about (and referenced) we don't have to wait long for!  The new app for example will be available 50% of the fleet by the end of 2018!
With the Celebrity Edge coming out in just about a year, we're betting that we'll see much of this new tech and more highlighted when we sail her in January of 2019 – and that experience should start at the port, as Port Everglades will have a new high-tech terminal just for Edge to complement the new terminal for Symphony of the Seas at PortMiami.
The next innovation we want to see?  Selfishly, it would be the type of rock-solid internet connections that we've started to see on some ships become standard across the industry – that would allow us to take more cruises, and ultimately, isn't that everyone's goal?
What do you think about this new tech?  Do you worry about it materially changing the cruise experience, or are you hoping the next announcement reveals even more?  Tell us what you want to see in the comments below, or reach out on Twitter or Facebook!