Author: Bill January 4, 2017, Updated: May 18, 2021
Imagine you walk into a port ready to cruise and you're greeted by name.  The check-in process you're used to has transformed into a seamless stroll onto the ship.  Once onboard every crew member knows your preferences, you never have to unlock your door or turn on a light, and the idea of handing over a card for a purchase seems pedestrian and laborious.  At the Consumer Electronics Show in Las Vegas today, Carnival Corporation announced their new Ocean Medallions, which promise just this on your next cruise experience.After booking a cruise guests will have the option of registering online to receive the 1.8 ounce laser-etched electronic disc shipped to them before their sailing for no charge.  You'll answer questions about your cruising preferences, activities you enjoy, etc, as well as general check-in information.  Carnival says all of this data will be securely stored, but leveraged for future cruises across the entire Carnival Corporation fleet (Carnival, Princess, Holland America Line, etc).  As you cruise, the technology will remember your favorite meals, drinks, and more.
Further, the technology, which uses both NFC (think "tap to pay") as well as Bluetooth, will enable crew to identify you as you approach them - so that information is right at hand, allowing them to start preparing your favorite drink, ask you about your recent shore excursion, or just check you in at your muster station during drills or actual emergencies.  Passengers will have the option of wearing the medallion around their necks, on wristbands, or just keeping it in their pockets - no matter what you choose (and remember, this is optional), the hope is to provide passengers a better experience, not a technology that has to be learned or actively leveraged.  John Padgett, Carnival Corporation's Chief Experience and Innovation Officer, who helped create Disney's Magic Bands, a technology with a similar goal, though plagued with challenges, cited Arthur C. Clarke, who said, "Any sufficiently advanced technology is indistinguishable from magic."
"What we want to create a new level of service that is enabled by technology but not technology-centric." -John Padgett, Carnival Corporation's Chief Experience and Innovation Officer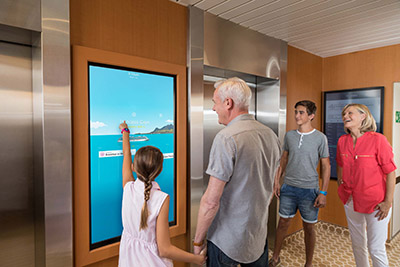 Currently, many cruise lines offer touch panels in public areas which allow passengers to look up event schedules, deck plans, and more.  With the new Ocean Medallions, these panels will be 'plussed' in that they'll know who you are as you approach, and can even display photos from your cruise as you walk by (Carnival also mentioned that you'll be able to share those pictures to Facebook at no charge).
The first ship to see this technology in use will be the Regal Princess in November of 2017.  Interestingly, the vessel has already been outfitted with the hardware during her dry-dock last year in Palermo.  She was loaded up with 650 readers, 7,000 sensors, 4,000 interactive portals, and 75 miles of cable.
My Take
As a technology enthusiast, I find this very exciting, and likely just the start of what we'll see in other parts of our lives.  To be honest, this is what I hoped to see out of Royal Caribbean's WOWBands that are currently available on Quantum class ships, as well as the Harmony of the Seas - and it seems undeniable that this tech is a shot across the bow of Royal Caribbean, who has been the leader in technical innovation on the high-seas.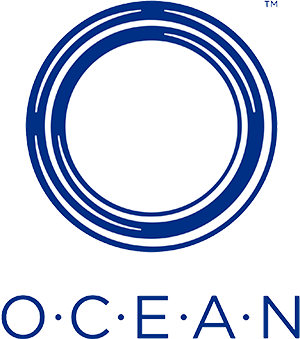 All this in mind, I'm sure some guests will be resistant.  It is true that these devices will allow Carnival to provide better service, personal touches, potentially reduce the spread of infection (ever think about how many times that key-card gets handed over?), and increase safety.  It's also almost certain that they'll use this information to get a better idea of trends in activity, see where people congregate, and use this information to increase onboard revenue as well.  Technology frequently asks us if we want to trade privacy for convenience, and this seems no exception.  I personally look forward to this innovation, but understand not only that some may be less than enthused, but that over time, this could mean materially different cruise experiences for those who opt-out.
What do you think of this technology?  Do you look forward to what it will bring?  What other uses can you think of?  Will you decline to use it?  Let us know in the comments below, and let's talk about it on Twitter!