Author: Bill November 8, 2017, Updated: June 8, 2018
Continuing to build momentum in a quickly changing world of alternative-fueled ships, Carnival Cruise Line has signed another in a series of agreements today with Shell to be their supplier of liquefied natural gas (LNG) for North America's first fully LNG powered cruise ships. The ships will be largest for the cruise line, at 180,000 gross tons, and due to sail in 2020 and 2022.  They'll be fueled through Shell's LNG Bunker Barge (LBB).  The LBB was recently announced as part of a plan to develop a global LNG bunkering network (bunkering is a nautical term referring to fueling-up ships) to support the growing number of LNG-powered ships being constructed, allowing them to refuel along the south-eastern US coast.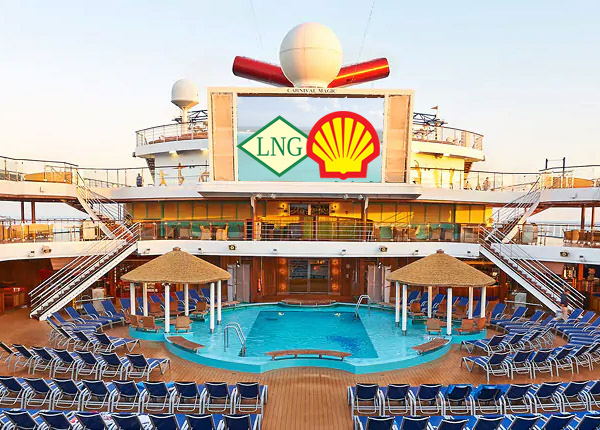 "This agreement is a significant stepping stone in our relationship with Carnival Corporation building upon our previous LNG marine fuel supply agreements in Europe," said Tahir Faruqui, president, Shell NA LNG, LLC. "It also marks a milestone as we continue to establish the marine LNG fuel market in the U.S. as a credible part of the global marine fuel mix."
The 5,200 passenger ships will be using LNG both while at sea and in port - representing a greater demand than some ships being built for LNG use only while in port.
"Carnival Cruise Line is strongly committed to leading the way in the implementation of technology innovations to help protect the environment and support our aggressive sustainability goals," said Christine Duffy, president of Carnival Cruise Line. "Our two new cruise ships entering service in 2020 and 2022 will not only be the largest and most technologically advanced in our fleet but will break extraordinary new ground as the first LNG-powered cruise ships in North America."
Added Tom Strang, senior vice president of maritime affairs for Carnival Corporation, "We are proud to be on the forefront of advancing LNG as a fuel source for the cruise industry. One of the keys to establishing LNG as a standard for powering cruise ships is building out an extensive, safe and reliable infrastructure across the globe for this clean burning fossil fuel. We are looking forward to working closely with Shell as they help to bring LNG to North America in what we hope will be the first step in building a strong foundation for the future of LNG fuel supply for cruise ships in the region."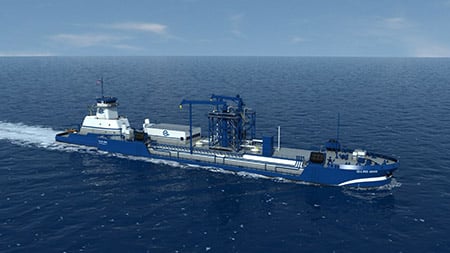 This new agreement is actually just the latest in a series of efforts to ready the world for a number of LNG-powered cruise-ships.  In April of 2016, Carnival Corporation's AIDA brand began working with Shell to supply its AIDAPrima ship with LNG.  AIDAPrima is the first cruise ship in the world to be powered by LNG while in port.  The 2016 agreement was extended to supply fuel to the next-generation LNG powered ships under the European AIDA and Costa brands, which will be the first cruise ships in the world to be fully-powered by teh cleaner fuel source when they enter service in 2018 and 2019.
Carnival Corporation's venture into LNG-powered ships doesn't stop there - the company has agreements in place with German and Finnish shipbuilders Meyer Werft and Meyer Turku to build seven LNG-powered cruise ships for four of its brands, with delivery dates between 2018 and 2022.  AIDA Cruises and Costa cruises will take delivery of two ships each between 2018 and 2021, P&O Cruises UK will take delivery of one ship in 2020, and Carnival Cruise Line will also receive two ships in 2020 and 2022.
Billy's Take
The cruise industry has been rightfully criticized as having a significant environmental impact.  While it's true that much of the impact studies focus only on distance traveled, and not the fact that energy being consumed supports the full operations of a city, with restaurants, living quarters, water treatment systems, etc, there is plenty of room for improvement.  NCL and Royal Caribbean have been adding scrubbers to their ships to reduce emissions, and in recent months most major lines have announced plans for ships using alternative and cleaner fuel sources.  Buried in what may seem boring corporate agreements however is indeed something big.
Many have wondered how such rapid adoption of LNG cruise-ships would be possible, since much like driving an LNG car, you can't just fuel up anywhere you please.  This will continue to be a bigger challenge for ships venturing into more remote areas, but the build-up of infrastructure to fuel these ships in areas most frequented by cruise ships will seem to quickly support the majority of the tonnage on the market.  Plans for Shell to build fleets of barges capable of supplying LNG means that other companies will need to step up and compete, and the increase of easy-to-access fuel further incentivizes Carnival Corporation and other lines to continue building their future vessels in ways that lessen their environmental impact.  
What remains to be seen is how cruise lines (as well as companies operating cargo ships and other vessels) will handle the increasing pressure to reduce their environmental impact with large fleets of diesel-powered ships already at sea.  These ships generally see life-spans of 15-20 years with their original cruise line, and then another 20+ years operating with different lines in secondary markets (you can learn more about the life-span and life-cycle of ships here).  Many years ago we saw steam-ships retrofitted to use diesel instead of coal, and diesel ships retrofitted to be safer and more efficient.  While changing how a ship is powered is a major and costly undertaking, if companies like Wärtsilä can figure out how to make this practical, allowing lines to make their existing fleets nearly as friendly as new builds, it would seem there would certainly be a market for this that PR teams, passengers, and environmentalists would all like to see.
What do you think the future of cruise-ships power-plants looks like?  Are you excited to see LNG ships or do you think this doesn't go far enough?  Comment below or reach out on Facebook or Twitter.