Submitted by

Ric

on Tue, 11/20/2018 - 02:09
I woke up looking forward to the events and activities of the sailings first and only day at sea. The ship did not feel like it was sailing full, so I figured even with everyone on the ship, things wouldn't be too crowded. This turned out to be right. I never felt like there wasn't a place to sit down or too many people at one station in the buffet.
In the Celebrity Today, I saw the Heartbeat of the Operation Galley Tour offered. I had taken that tour on Celebrity Reflection (read about it here), so I went right for the Taste of Infinity instead. Taste of Infinity is an event designed to promote specialty dining. The ship's venues had set up examples of the dishes they serve. Sushi on 5, Tuscan Grille, and Qsine all had tables with the actual food from the restaurants. The restaurant where a little animated French chef gathers the freshest ingredients to prepare your dish right before your eyes, Qsine, had both options for the first three courses plus the chef's vanilla sundae creation on display. Read about Le Petit Chef at Qsine here.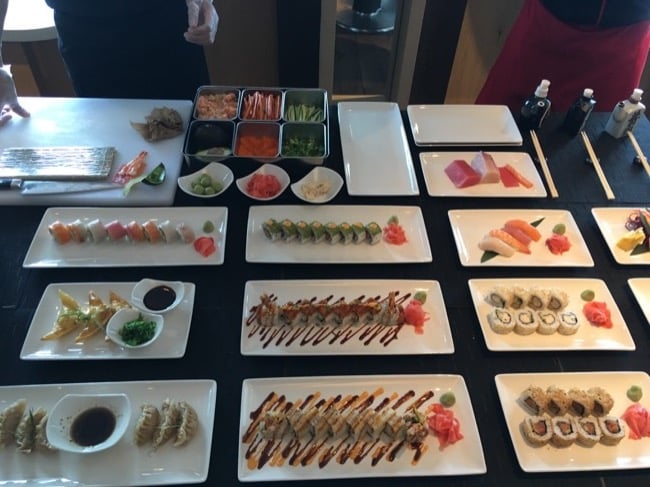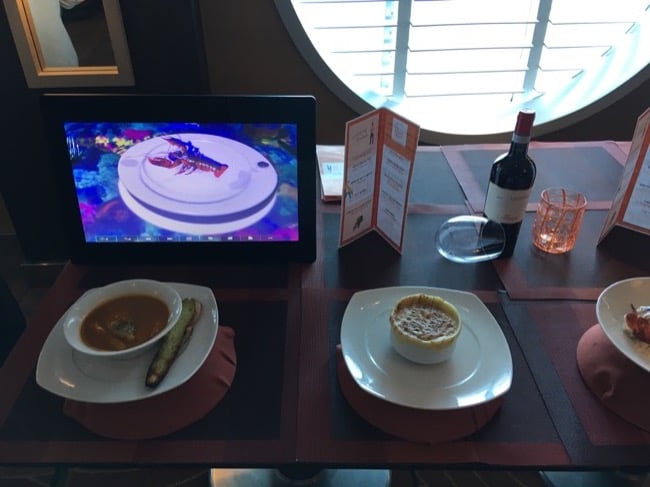 Another entry in the Celebrity Today that I had never seen was the "Celebrity Air Show." This turned out to be a paper airplane competition between passengers hosted by the cruise director. As he introduced the passengers and their planes, I saw some of the worst paper folding I'd ever seen. A few contestants admitted to never having made a paper airplane before.
As our cruise director called up the passengers and asked where they were from, he got a string of similar answers. One contestant from Florida. A second contestant from Florida. A third contestant from Florida. "Anyone on this ship not from Florida?" The next contestant was from Germany.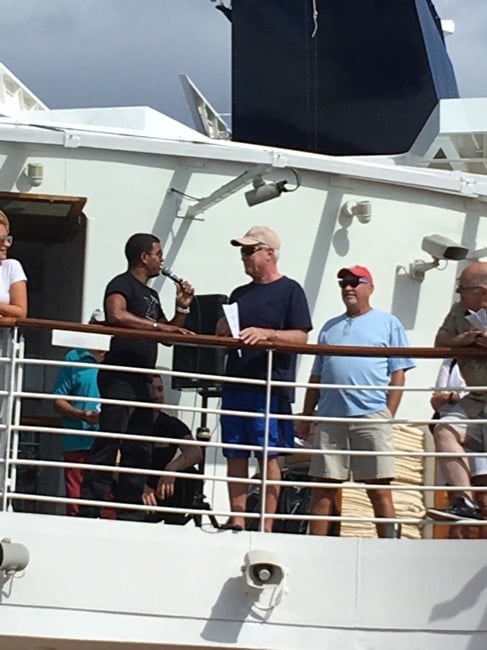 Speaking of things from Germany, the Oceanview Cafe served a Taste of Germany with sausages, red cabbage, spaetzle, and other typical German dishes. This was delicious. I've spent a couple of summers in Germany, and I have to say, this was pretty spot-on German food.
Another entry in the series of Oceanview Cafe wins is the Carving Extravaganza. My favorite was the leg of lamb. My least favorite was the Beef Wellington. I know the center is supposed to be rare, but the one I was served appeared not cooked at all. That one dish was an odd departure from an otherwise great buffet of lamb, poultry, and other beef roasts.
In the Oceanview Cafe, there are always cakes of all varieties. Two of my favorites were green tea and passion fruit among nine or ten varieties over the course of the cruise.
Follow along with me as I sail on Celebrity Infinity from November 15th to 19th
Celebrity Infinity Live Blog Preamble
Celebrity Infinity Live Blog Embarkation Day
Celebrity Infinity Live Blog Day 2 Key West
Celebrity Infinity Live Blog Day 3 Sea Day
Celebrity Infinity Live Blog Day 4 Nassau