Author: Bill November 22, 2016, Updated: May 5, 2018
Packing has become pretty automatic for us, but as we prepare for a sailing on Independence of the Seas we figured we should slow down and take a look at just how we pack for a short Caribbean cruise.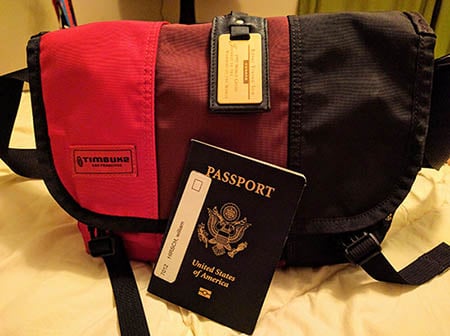 There are a ton of articles out there with packing tips, timelines, luggage recommendations, etc.  I've picked up some good pointers from some of them over the years, but ultimately have mostly shaped my habits and preferences based on personal experience, though I don't dismiss the ways of others.  Why?  Packing for any trip means selecting only a small subset of your belongings and transporting them in the most efficient and practical way you know in order to protect them while keeping them accessible.  In this way, packing is incredibly personal, and the methods quite subjective.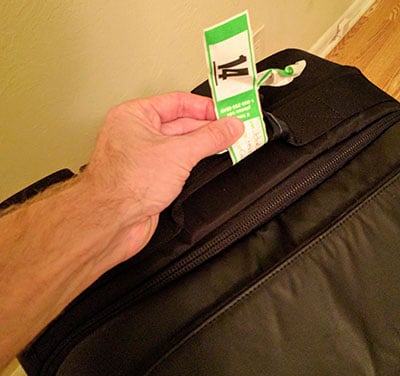 All of that in mind I always value additional opinions and angles, so I'm sharing mine with you.  I'll include both the bags and other gear that I carry around, as well as some tips about how much to pack, what items you don't need, etc.
If you're looking for a full cruise packing list (minus clothing, we don't even know your size), we've got you covered: Cruise Packing List
How much clothing do I pack?
I consider myself a reasonably light packer (sans gadgets) but on three and four night sailings I tend to intentionally over-pack.  These short cruises don't allow enough time to do laundry if I spill a gallon of catsup on my white shirt (why I had a gallon of catsup I still don't know), and a shorter itinerary means I can't easily mix and match, repeat items, or simply change my mind about what I'm wearing one day.  If you are on a longer sailing though, consider washing some clothes in the sink and then hanging them to dry in your stateroom - this is faster, easier, and cheaper than laundry service.  The ceiling is metal so you can use magnetic hooks like these to hang them up where there is good air-flow and less humidity than in your stateroom bathroom.
For this trip, I'm brining along one long-sleeve shirt, and six short-sleeve shirts.  Sure I'm wearing a shirt onto the ship, but I also know me... and South Florida - I'll want to shower and change before dinner and what I wear around the pool or in port on other days probably won't work at night.  I'll wear a pair of jeans on, pack some khakis to go with a sport-coat I'll wear for embarkation (just in case I end up venturing out on formal night).  Then there are the small items: a few pairs of shorts, socks, underwear, etc.  Now, one important thing for cruises - I always bring multiple bathing suits.  This way if I go for a swim on embarkation day, for example, I'm not sliding on an ice-cold bathing suit come day two.  This rotation greatly increases my personal comfort, and keeps Larissa from hearing me squeal as I get dressed.
Where does it all go?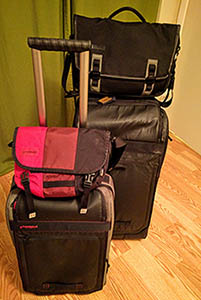 Some people are brand loyalists, and while I don't think I fit into that category, almost every bag we have for both travel and daily use is from Timbuk2 - but there are some exceptions.  We've continuously found they make bags with logical features, durable materials, and at a fair price.  As far as quality bags go, they are far from the most expensive, but they're not cheap either.  
We have a total of three Co-Pilot's from Timbuk2, two medium-sized models (which are the maximum allowable carry-on size for most airlines) and one extra-large Co-Pilot.  Ordinarily, for a four night cruise we'd take the two medium Co-Pilots, one for each of us.  This trip we're doing something a bit different however.  I need to bring my tripod and a few other large items which I don't want to carry on, so instead of carrying yet another bag, I realized that clothing for both of us, my tripod, shoes, and other odds and ends should all fit in our one extra-large Co-Pilot.
Allow me to gush about the co-pilots for a moment.  First off, they're very light weight - the medium sized bags are under 7 lbs.  They're seemingly indestructible, no matter how long it takes you to realize you've had it rubbing against the baggage carousel belt while waiting 15 minutes for your other bags.  They use skateboard wheels and bearings for the smoothest roll you can imagine, and this also means you don't have to hunt for anything special if you one day need to replace them - any sporting goods store has them in stock.  Some of the features make so much sense I don't know why all bags don't have them, such as neoprene on both sides of the inside zippers.  Ever over pack the inside of a bag and think it's going to rip open as you force the zipper closed?  The neoprene is very forgiving.  Lastly, these bags have handles on all four sides, a feature I didn't realize I needed until I had it and could grab my bag out of an overhead bin, from inside a trunk, from up on a shelf, etc - all without looking where to grab.
Update: Recently "smart bags" have become a thing, and while neat, there are some very compelling reasons to stick with a conventional bag - especially if you're flying.  We explain why and offer up some alternative recommendations.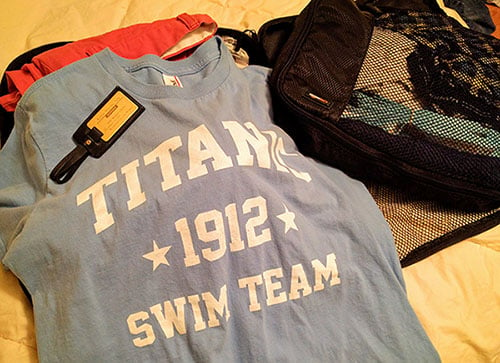 Alright, I'm done gushing - at some point I have to put stuff inside the Co-Pilots, and that's where packing cubes come in.  Packing cubes, if you're not familiar, are small, lightweight, partially mesh bags that you put clothing in and then load inside your luggage.  For some the appeal is organization, for others it's the ease of packing and unpacking, or the advantage of packing things tight while limiting creases.  While I'll admit I first tested the packing cube waters on a whim a few cruises ago, I've come to enjoy all three of those qualities.  I use a set from Amazon Basics (Amazon's product line).  They're reasonably priced and I don't think I could break them if I tried.  I use one large and one small, as does Larissa.  In these I was able to stuff all of those shirts, shorts, etc for this cruise.  I generally prefer to roll my shirts, and find that they don't wrinkle much at all this way so long as I hang them up once I am on the ship.
The last item that I put inside my co-pilot before heading out?  My toiletry bag.  It's always the last item because there is often something we stuff in at the last minute, such as contact solution.  For years I lead an insane life where I kept various tools and parts organized in toiletry bags, but never used them for packing.  One day I finally saw the light, and now my toiletry bag is always at the ready.  Because we travel so much, we try and keep a second set of everything in that bag, though as mentioned, there is usually some exception.  Once we arrive on board the Independence on Thursday, we'll hang up the bag in the bathroom without the need to unpack everything in the large, plush stateroom bathrooms we all know and love.  Use something that is waterproof and that you can hang up easily, we have a few of these.
Key Card Lanyards - Even though I rarely wear one.
Some people keep their key cards (aka Sea Pass, aka Sail & Sign card, etc) in their pockets or purses, while others prefer using a neck lanyard, sometimes with a pouch.  Personally, I often don't keep a neck lanyard around my neck.  I do however almost always keep my card attached to one of these lanyards.  Why?  Small cards are easy to lose - either permanently, or just for a moment as you're trying to pay for something.  By keeping my card on the lanyard it's easy to find in my pocket and grab.  When I carry around my small bag with me, I usually attach the lanyard to the bag strap, which makes it easy to simply grab the tethered card instead of digging through my bag.  If you want to be the most stylish person at sea and help support the site, pick up a CruiseHabit lanyard from our shop.  They're pretty nice (we use them) and cost less than what they charge you on the ship.  
What about the nerd stuff?
Anyone who knows me knows that I carry around every conceivable USB cable, battery backup, audio adapter, etc.  If you've watched my Periscopes you know this gear is essential wherever I go, and you can see here what I use.  Oh, and I never leave home without at least one laptop.  Some of this is honestly for work, but largely, I just like knowing I have everything I need.  Never does a trip involve worrying about chargers for example - they're always with me.  I carry all this mess around in a Timbuk2 Command Messenger, with a few small cases inside to keep things tidy and organized.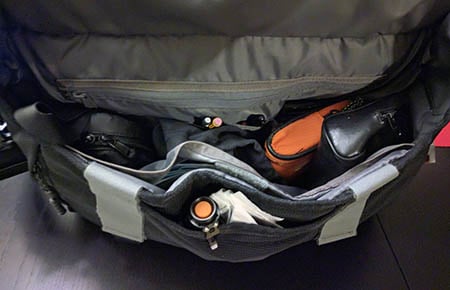 One thing you won't find me packing, despite it's popularity with others?  Power strips.  I personally just haven't found a need for them in my travels, even on ships much older than the one we'll be on this week.  Beyond that only certain types are permitted for safety reasons.  That safety article also has some recommendations for alternatives.  Most of my gadgets, except for my DSLR, which I'm not bringing on this trip, charge with USB.  I carry several USB power adapters, and find this is sufficient.  If I need more, I can always plug in my laptop, and use it as a large USB charging station.  The USB charger I carry also has a USB-C port which is great for quickly charging some newer phones, but also charges laptops including some Macbook models and my Dell XPS13.
Update: Since writing this I started using Tiles to track my bags and such.  Look for a review soon, but they're pretty neat - they help you find you bags (or other things) if you become separated.  
Random tips...
I packed our passports a few days ago, I tend to do this for all international travel so it's not a matter of having to remember to bring passports, they're already with me
I often wear my jacket onboard - but it can get warm.  I'm bringing a sport coat on this sailing, and as much as I don't want to wear a jacket on day one, it's less work than bringing a garment bag for one item
Similar to the passport rule, a day or two before, I removed any sharp tools or other contraband from my messenger bag so I don't forget the morning I leave
Because we live just 30 minutes from the port, we don't need to worry about TSA restrictions.  If you drive to the port, or are repacking after flying in, remember this as many of us just default to removing liquids and other things that aren't necessary for cruise travel
I put luggage tags on every bag.  All of them.  Why?  If I get separated from a bag it will just make it that much easier for someone to return to me.  It takes seconds, and if you need some nice luggage tags.  As updated above, Tile trackers help, too.
Before throwing my shoes in my suitcase, I put them in old plastic grocery bags. Sure my luggage has shoe compartments, but this extra protection is also a nice way to bring some extra plastic bags along just in case they're needed
What does your packing and gear list look like for short cruises?  Let us know in the comments below or reach out on Twitter or Facebook!