Author: bill April 5, 2020, Updated: April 13, 2020
COVID-19 has already changed most parts of our lives in some way.  At some point – hopefully sooner than later – we'll start to return to a new normal.  When that happens, and cruise ships start carrying guests once again, some things are likely to change – whether for months, years, or longer.  Let's play fortune teller and try and think of some of the changes we might see coming soon both before and during our cruises.
Convincing Consumers to Cruise Again
Marketing Cruises
Every cruise line has its own angle, its own distinction.  Carnival promotes the fun atmosphere, Royal Caribbean the wild onboard experiences, NCL the flexibility.  The same is true of premium and luxury lines – they've all got something unique to offer and they want to tell you about it.  Moving forward though, we could expect some new differentiators to make appearances in ads.
Might we see lines boasting about having "The Highest CDC Scores in the Business?"  Traditionally in marketing, you want to sell the positive, not mention a negative, but if everyone already has something on their mind, maybe confronting it head on will be the way.  Luxury lines might simply pivot things where they used to discuss spaciousness of accommodations and their ships, and make it clear that you won't ever feel crowded or need to be too close to fellow guests.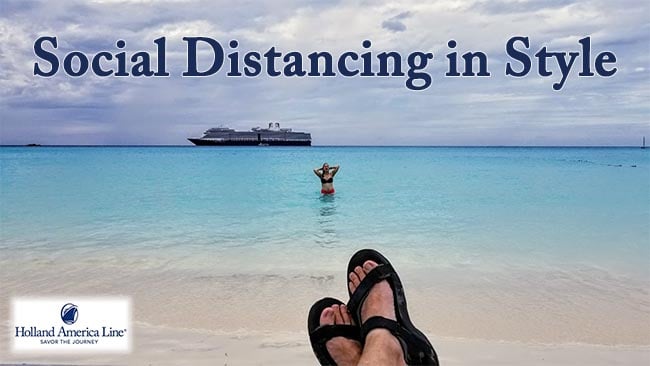 Cruise lines have for years coordinated with television stations and media outlets to highlight the awesome effort it is running these floating cities – and you can bet that worked to attract many people to cruising.  Future programs might even show of the enhanced sanitation procedures or fantastic onboard medical care available to guests who hopefully won't need it.
New Cancellation and Insurance Policies
There has always been a risk that any cruise you book might be one you have to cancel.  Now however, the world has experienced a shocking reality – that more things are beyond our control than most of us previously contemplated. 
As the coronavirus situation became a bigger concern, lines offered much more flexible cancellation/rebooking policies than were standard – and we'd be shocked to see those simply "go away". It's likely that both to alleviate apprehensions about making travel plans, and to genuinely help reduce future illness-issues, cruise lines will continue to make it easier than ever to reschedule a trip that you suddenly can't take because of illness, or aren't comfortable taking because of perceived risk.  This will also mean working with airlines and other vendors to account for pre/post cruise air, hotel, transfers and more.  Even if not booking these parts of your trip through the cruise line, it's not unlikely those industries will be facing some of the same challenges. 
Learn how to pick the right travel insurance for your next cruise.
Travel insurance might also be a more popular option for many guests, and cruise lines may want to somehow incentivize cruisers to purchase policies to increase overall guest experience when things don't go as planned.  Don't expect those policies to work like they have in the past though.  Traditionally, insurers had exclusions for pandemic-related claims, some of which have been waived.  These terms will be far more clearly outlined, or perhaps riders offered for pandemic-related coverage could be made available at additional costs.  Guests in the past months who chose not to cruise because of coronavirus may have been able to file insurance claims if they had a costly "cancel for any reason" (CFAR) policy – but many carriers have stopped offering CFAR coverage.  In fact, a number of insurance companies, especially in the UK, have stopped offering any type of trip insurance.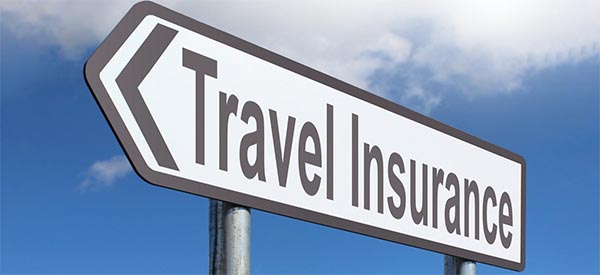 Checking In to Your Cruise/Embarkation Procedures
In the last couple of years, we've seen embarkation streamlined with lines like Princess, Royal Caribbean, and Celebrity Cruises using new apps, terminals, and shore-side technology to bring curb-to-ship times down to as little as ten minutes in many cases.  While these procedures and technologies are almost certain to become more widely adopted, other things may greatly impact how long it takes to board your cruise after first arriving to the terminal.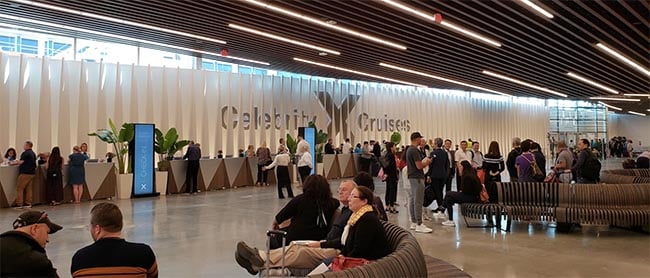 Since February we've seen lines implementing additional medical questionnaires and even guest temperature screenings.  It seems likely these procedures will stick around, with every guest being screened in various ways to ensure they're not likely to bring aboard a highly infectious disease. 
As the medical and research communities scramble to improve testing, treatment, and prevention of COVID-19, their potential advancements could inform what embarkation looks like.  Rapid-antigen-testing, for example, could even become requisite.  Will guests be tested at the terminal, and need to wait for results?  Perhaps occupational medicine centers or walk-in clinics will offer testing, and recent results must be provided at the terminal in order to board.
Depending on the procedures put in place, this could also mean that you'll need to show up earlier for your cruise than you did in the past, even if you might be boarding later.
More than Just Muster Drills
Muster drills are an important part of cruise safety for guests and crew, and over the years, the information at these assemblies has gone far beyond where to go in an emergency and how to don a life-vest.  Information about preventing fires onboard ships and hand-washing reminders have been prevalent for a while – just ask anyone who has sailed Royal Caribbean in the last five years how long it took to get the "Wash Your Hands" jingle out of their heads.
More information on muster drills here.
Muster drills could be a place to remind guests of other health matters in the future.  Sure, a greater emphasis on hand-washing is possible, but reminders to cover your mouth when coughing or sneezing, reporting any ailments to the medical center, and even assurances around cruise lines' outbreak procedures are all things we may be hearing the next time the bars close and we give our names to our station leaders.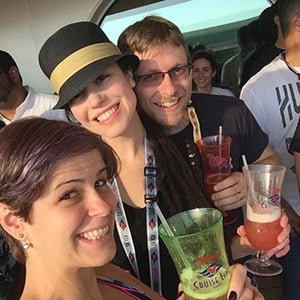 Bigger Focus on Sanitation
Cruise ships are not dirty – this myth however continues as people talk about "sick ships" as if the ships spread disease rather than the guests who sail them.  In fact, as we've written before, you're 35x as likely to get norovirus on land than on a cruise ship.  Despite the rigorous procedures lines have had in place for years, there is always room for improvement.  Some of that improvement could be in the ways that surfaces are cleaned (or even how visible those efforts are for the sake of guest comfort), or making more permanent procedures that are otherwise in use only during outbreaks, such as not putting shared condiment containers on tables.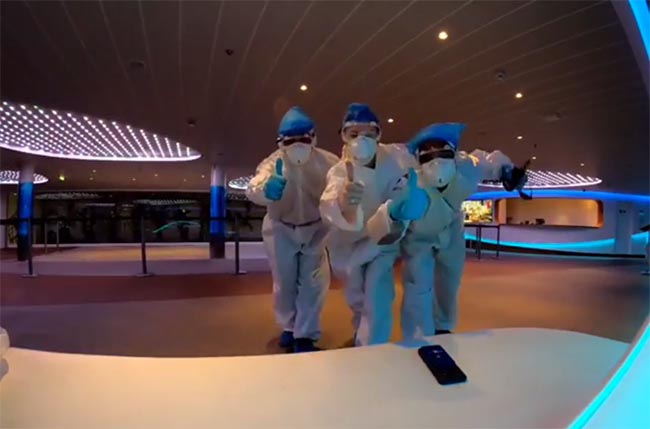 Additional hand-washing stations around ships, increased prevalence of sanitizer use, and shipboard cleaning procedures of course have to be balanced with guest comfort, space constraints, etc – but simple enforcement of existing best practices (for crew and guests alike) may be one of the most effective means.  Expect to hear more hand washing reminders than steel-drum music on your next Caribbean cruise.
Cost Cutting and Revenue Stream Changes
It's no secret that cruise lines are losing a lot of money every day that things are shut down.  They're businesses with massive operational cost – even in this rather unusual time that they're not operating.  There will be some pent up demand of course, but it will take time for many consumers to want to cruise with the enthusiasm they did months ago – largely in part because of the coverage of cruising during the start of this pandemic's impact to North America.
 On one hand, lines will want to incentivize consumers to cruise, and that's commonly done with sales/low prices.  On the other hand, the industry will need to make up for lost revenue. 
Cost Cutting
Some cost-cutting measures might be good things – like finding new ways to waste less food, or reducing fuel consumption.  Others however may be less palatable to guests.  We'll likely to see things that have been somewhat iconic but less important (to many, certainly not all) get cut.  Chocolates on pillows, high-end toiletries, complimentary cocktails at some events, and many more things could see the chopping block. 
Other cost cutting measures may not be as apparent at first, but could still impact guest experiences.  Lines reducing staffing could mean longer hold-times shore-side (another great reason to use a good travel agent), but shipboard this could mean slower service in some venues.  It's not inconceivable that some contemporary lines (like Carnival, Royal Caribbean, and NCL) could reduce house-keep staff and change to once-a-day room cleaning and turn-down service.  Guest entertainers could also be less common, in favor of greater utilization of house-bands and other full-time crew working to keep guests entertained. 
The towel animal population is already being thinned out.  What might be next?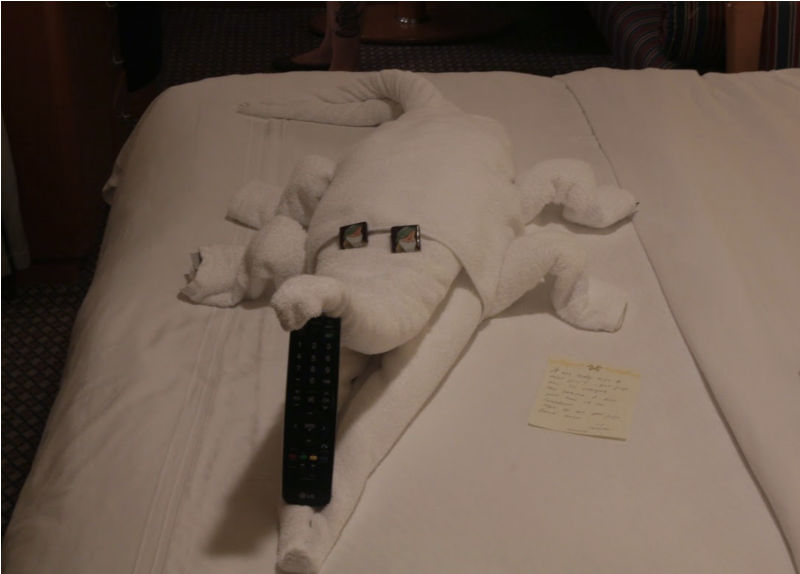 Revenue Changes
Lower lead pricing for cruises would seem likely for some sailings, especially if we see more ships in the Caribbean during what would be the Alaska cruise season.  Regardless of itineraries, low prices get people's attention, and may help bring them back to cruising when the dust settles.  Still, money needs to be made up.  Contemporary lines already rely on high onboard spend by guests to offset low fares.  We could see increases for the cost of specialty dining, drinks (including drink packages), an even greater onboard retail push, more spa services, etc.  Cruise lines won't be able to afford to simply lower rates and call it a day – not for a while at least, so expect that on many lines, they'll work hard to increase how much each guest spends on the ship.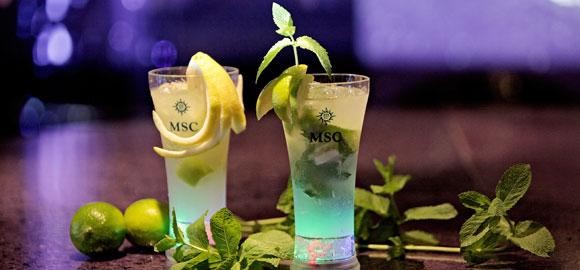 Summary
These are just some of the things we have been thinking about.  Of course, none of us can tell the future, so it will be interesting to see how we overcome some of these challenges in ways none of us can currently imagine.  Some of the things we mentioned though are likely to play out.  No matter what happens, once it's safe to do so, we'll be happy to get back to cruising – even if it's not exactly like it was not long ago.
In part two of this series we'll look at some other aspects of cruising that might change, including what future entertainment, ports, venues, and medical centers might look like.
It's important though to remember, that we must look ahead.  Things might get worse before they get better, but ultimately, they will get better, and we must plan for that day.  We must plan our vacations, look forward to going out with friends, and all of the things that right now, seem so far off.
Check out the video we posted on why planning your future vacation today can be a great way of looking forward.